Northland
October 29, 2009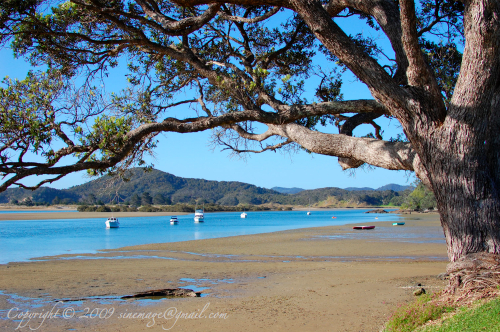 Paprika and I came back home on Tuesday night, a little bit tired but happy from this Labour week-end spent in the Northland.
This region is like picture-perfect, with a sub-tropical climate and vegetation and a very relaxed atmosphere. It was so pleasant to have a foretaste of summer: get rid of pullover, simply wear a tee-shirt and eat delicious ice-creams…
There were the unexpected: The flight delayed for a couple of hours on the way to go and return; my ankles swollen with an insect bite and a pouring rain before the last day; but the overall was nice !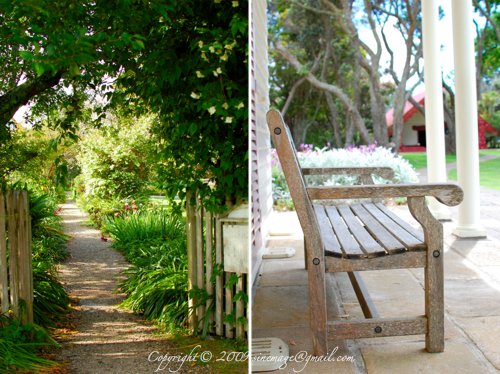 We mainly did the East coast and the Aipoura peninsula, also called the Far North.
Our drive starts from Auckland to reach Tutukaka coast at the end of the day and enjoy a lovely sunset at Matapouri with the Poor Knights islands in the distance.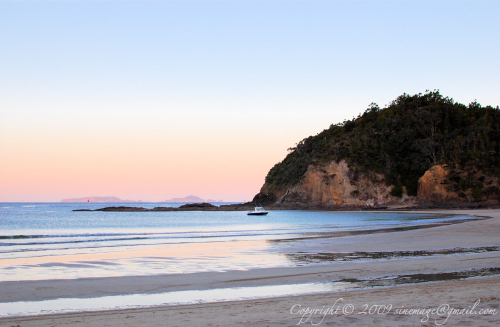 Further north, we continue to Bay of islands and visit Paihia and the Waitangi Treaty grounds with the Treaty House, the Māori meeting house, the very long war canoe and an extensive lawn overlooking the bay.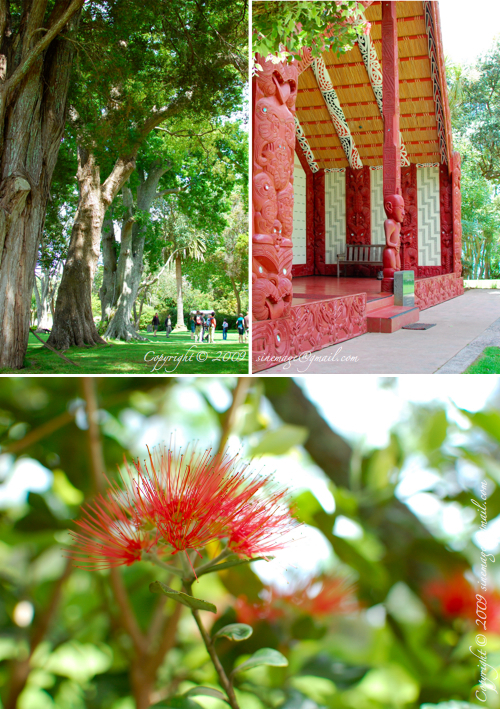 Third part of our journey, the Far North, starts in Ahipara at the southern end of the renowned Ninety Mile beach. We travel along the West coast on the beach, stop at Te Paki sand dunes for sand-tobogganing and finally reach Cape Reinga, where the Tasman sea meets the Pacific ocean; and then drive back along the East coast.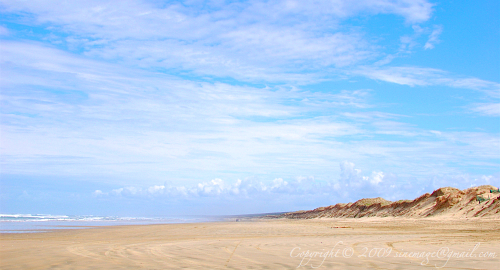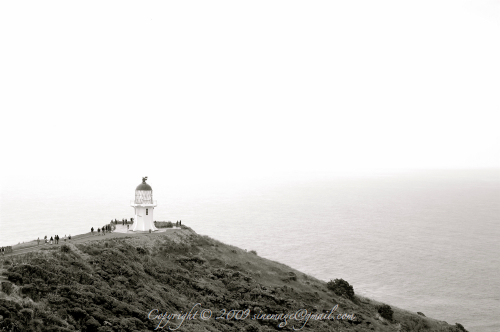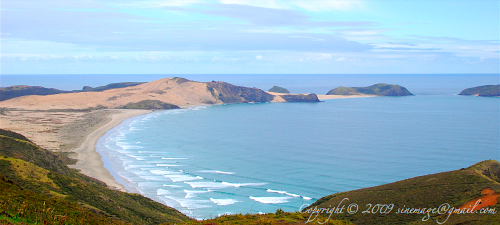 Unluckily we discover Karikari peninsula, Doubtless Bay and Matauri bay under the rain… The fog is so low that day, we just guess the outline of Cavalli islands. Despite the weather conditions, the spot remains beautiful.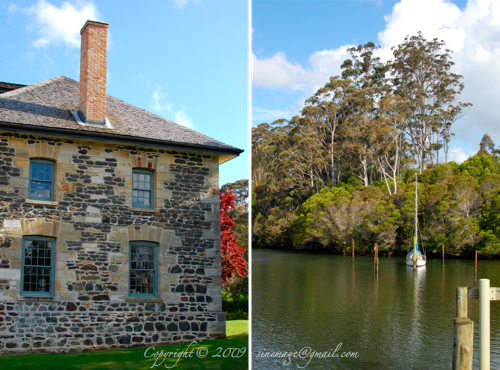 Before heading home, we relax in Kerikeri, a very peaceful town, eat sweet mandarins directly from the orchard, see historic buildings in a charming surrounding and chill out in a cosy cottage.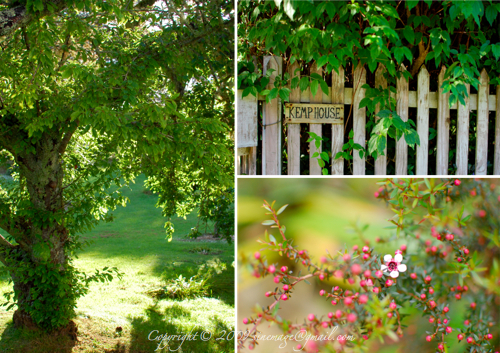 On the way to the airport, Paprika and I agreed: We'll have to come back and discover more about this region !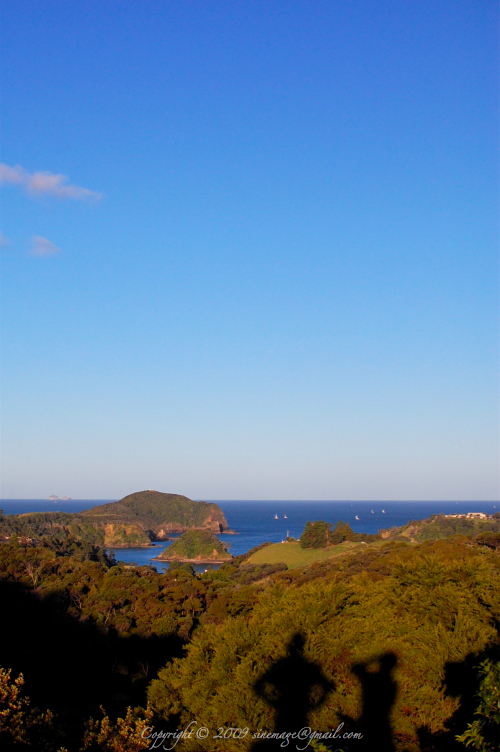 Want to see more about New Zealand ?
South Island, Hawke's Bay, Wairarapa , Manawatu and Wanganui regions.
_ _ _ _ _ _ _ _ _ _ _ _ _ _ _ _ _ _ _ _ _ _ _ _ _ _ _ _ _ _ _
Paprika et moi sommes revenus mardi soir, un peu fatigués, mais contents de notre long week-end passé dans le Northland.
Cette région est comme une image de carte postale avec son climat et sa végétation subtropicale et une atmosphère très relax. C'était si agréable d'avoir un avant goût de l'été: se débarrasser de son pull, se retrouver simplement en tee-shirt et manger de délicieuses glaces…
Il y a eu les impévus: Le vol retardé de quelques heures à l'aller et au retour; mes chevilles enflées par la piqûre d'un insecte et une pluie battante l'avant dernier jour; mais l'ensemble a été très plaisant !
Nous avons principalement fait la côte Est et la péninsule Aipoura, aussi appellée le Far North.
Notre route commence à Auckland pour atteindre la côte Tutukaka en fin de journée et profiter d'un magnifique coucher de soleil à Matapouri avec les Poor Knights islands au loin.
Un peu plus au nord, nous continuons vers Bay of islands et visitons Paihia et Waitangi Treaty grounds avec la Treaty House, la maison commune Māori, la très longue pirogue de guerre et la vaste pelouse dominant la baie.
Troisième partie de notre séjour, le Far North, démarre à Ahipara à l'extrémité sud de la fameuse Ninety Mile beach. Nous voyageons le long de la côte Ouest sur la plage, faisons un arrêt à Te Paki pour glisser du haut des dunes de sable et atteindre finalement Cape Reinga, où la mer de Tasman rencontre l'océan Pacifique. Puis retour par la côte Est.
Malheureusement, nous découvrons la péninsule de Karikari, Doubtless Bay et Matauri bay sous la pluie. Le brouillard est si bas ce jour là, que nous devinons à peine la silhouette des Cavalli islands. Malgré les conditions météo, le lieu reste très beau…
Avant de rentrer, nous faisons une halte à Kerikeri, une ville paisible; dégustons des mandarines très sucrées, directement du verger; faisons le tour des bâtiments historiques installés dans un cadre charmant et nous nous relaxons dans un confortable cottage.
En chemin pour l'aéroport, Paprika et moi étions d'accord: Il faudra qu'on revienne et qu'on découvre davantage cette belle région !
---
Comments
I love your photos and the region looks amazing! So lucky spring starts on your end, here winter is just starting (lots of frost and temp around 0c…). Enjoy the warm weather :) May
Magnifique, ça donne envie!! Botacook
Merci! Je n'imaginais pas que c'était si beau… à mettre sur ma liste (elle est longue!) Dominique (De vous à moi…)
What beautiful landscapes! So peaceful! great shots too! Cheers, Rosa Rosa
Gorgeous! Tea
Nice photos and I'm curious to what you think about the food in the restaurants you've been going to in NZ as you travel around? I notice that you have some very nice looking recipes (always beautifully photographed of course) using local produce but I haven't seen anything on your thoughts on NZ cusine. razzbuffnik
Magnifique!!!! mycookinghut
Thank you Razz. I've already expressed my thoughts about NZ cuisine there a while ago… But as you said, there is not to be discussion regarding tastes… Vanille
Your photos are so breathtaking. Thanks for sharing, I would love to visit NZ one day soon. shaz
Lovely, I love Northland! Alessandra
The views are absolutely breathtaking. What I wouldn't give to be there right now. Thanks for sharing. El
OMW. Thank God for photos Kitchen Butterfly
elles sont magnifiques ces photos, ah le bonheur des vacances! Miss B
What glorious pictures - magnificent! Nigel
Oh la la, c'est chouette! Déjà qu'en ce moment je rêve de voyage… Superbe! Flo Makanai