South Island
February 24, 2009
15 days later, tanned and sandflies bites on our legs, Paprika and I are back from our holidays.
A journey through three regions of the South Island : Canterbury, Marlborough and Nelson.
Our journey starts with an early morning flight to Christchurch and an aerial view of Canterbury plains and Banks peninsula.
Later that day, we play the perfect tourist visiting Christchurch's cultural precinct.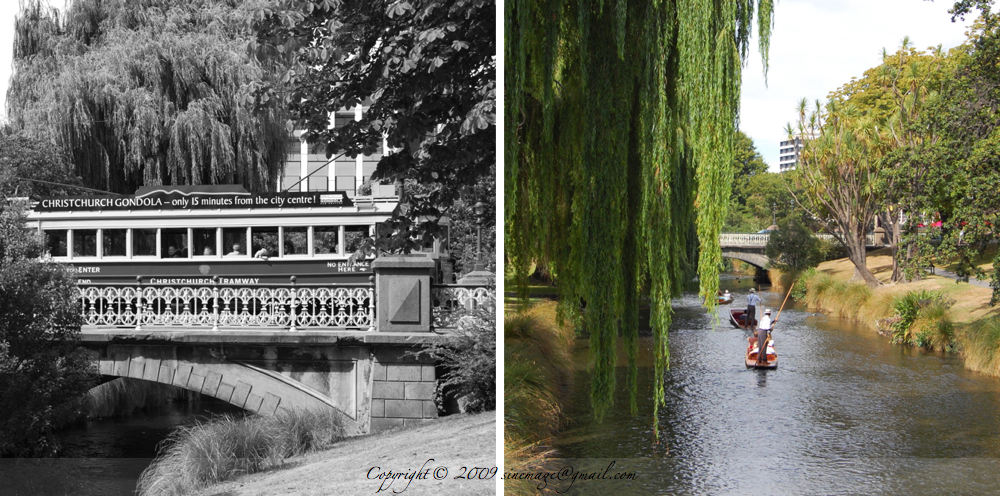 I liked this charming city: Avon river with weeping willows and boaters; old trams and a successful mix of architecture.
It is a hot summer day and there is entertainment everywhere: Young Irish dancers performing on Cathedral Square, R&B singers and dancers in the middle of the Arts Centre, a craft market and people sunbathing at cafés…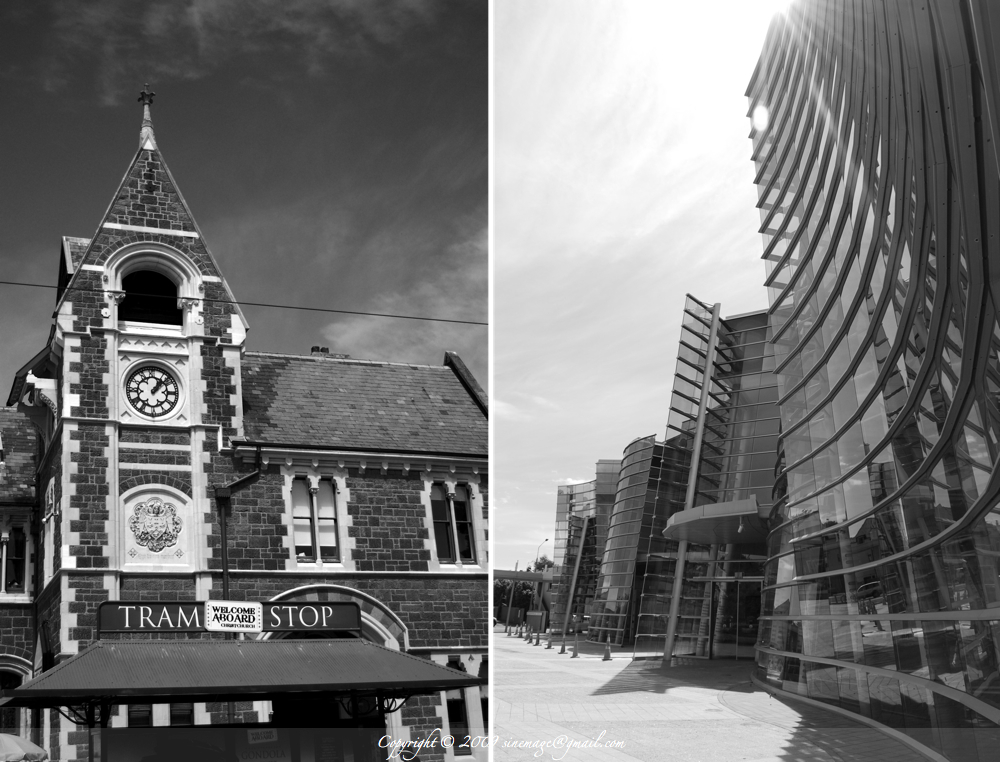 After all this buzz, Akaroa (Banks peninsula) looks like a peaceful town by the sea. Traces of the French settlement remains in many placenames there.
Banks peninsula is made by extinct volcanoes and the ride on Summit road gives an idea of the geological evolution.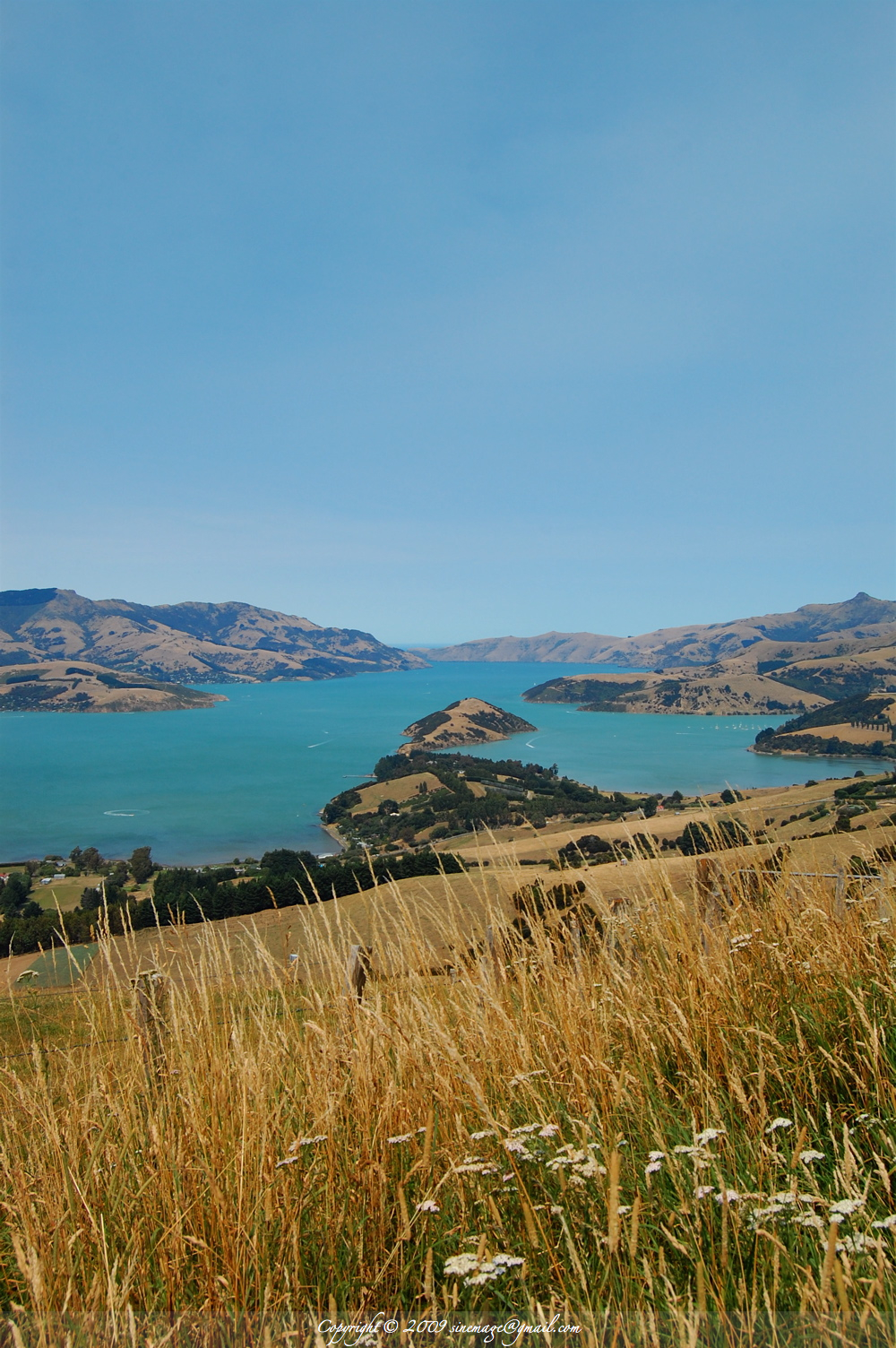 Further North, an other peninsula: Kaikoura. The programme: Watch whales and eat crayfish !…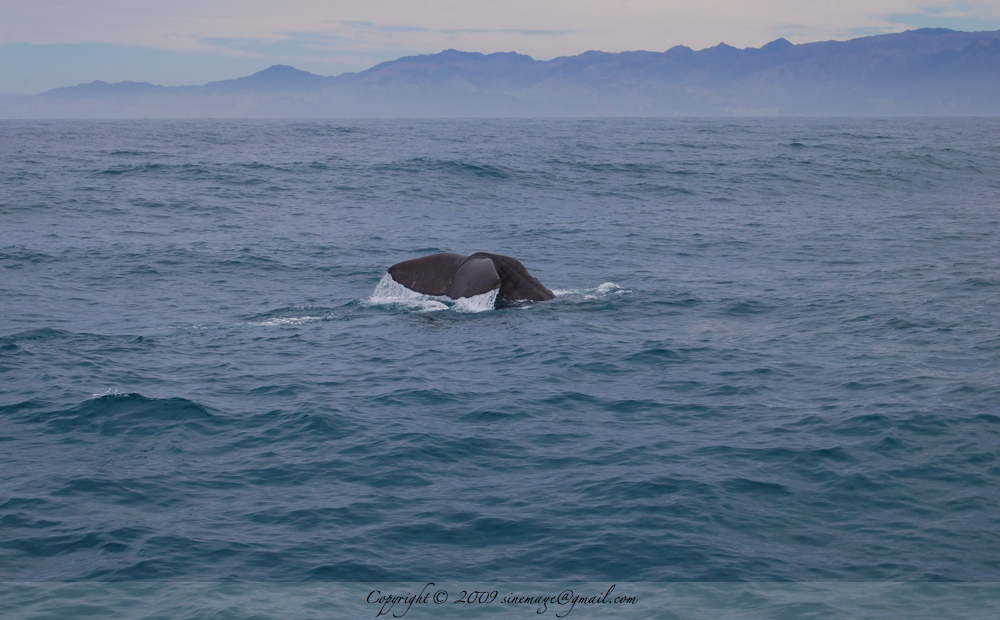 A strong swell and my seasickness allow me to see only a sperm whale and an orc (through the window).The boat goes until Kaikoura canyon (more than 1800m deep) to encounter these huge marine mammals. I'm really touched to see for the first time a whale…
Heading towards Marlborough Sounds, passing by Blenheim and then Havelock. Following the scenic road along Kenepuru Sound gives an insight of the beauty of these intricate sounds.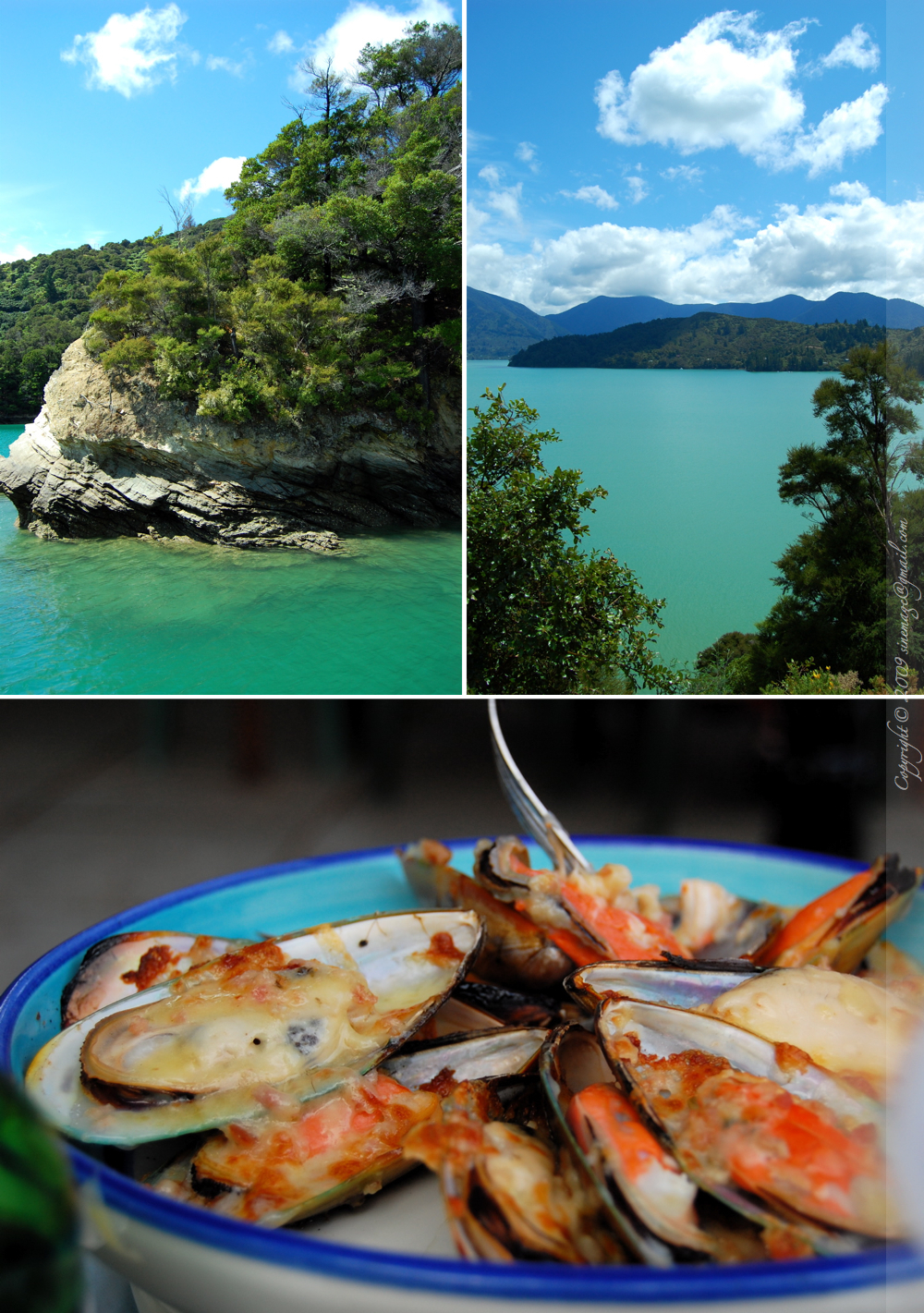 Plenty of surprises along the road : unexpected horses, hidden beach, quiet camping ground by the river…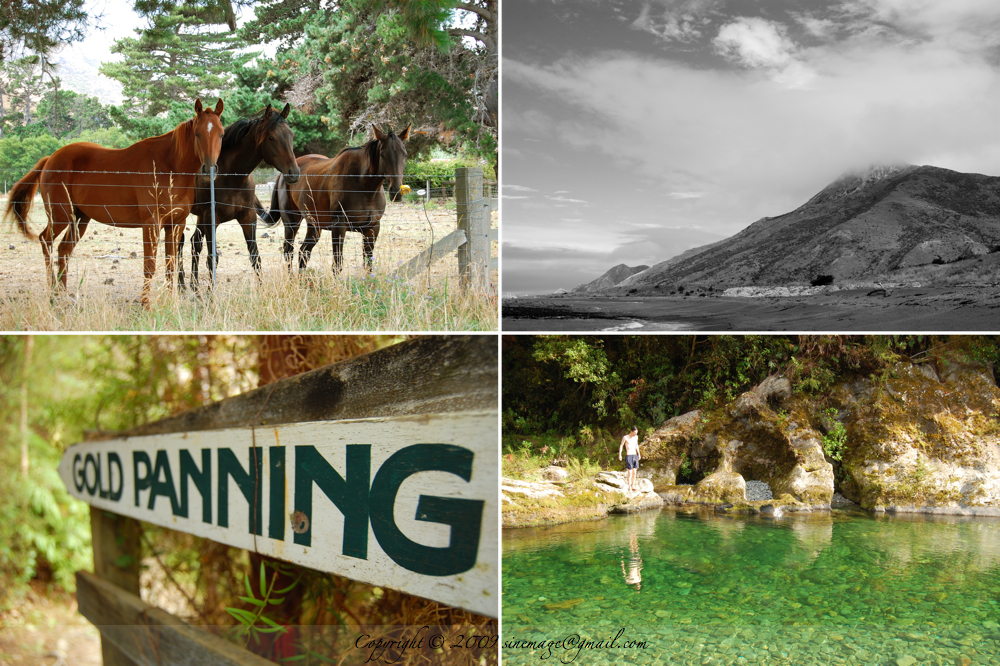 We leave Marlborough to Nelson.
Under a pouring rain we arrive at the eastern entrance of Abel Tasman national park.
For the first time, we kayak with (no luck) rain and an unexpecting swell… The camera placed at the front of the kayak in a waterproof box, did stayed in its box…
The day after, back to earth. We walk on the coastal track of the park, with the sound of cicadas and through a lush vegetation, punctuated with streams, falls and coves below.
After two days in the bush, we rest at Nelson city, drink some good coffee, eat scrumptious pastries (Sweedish Bakery) and stroll the streets.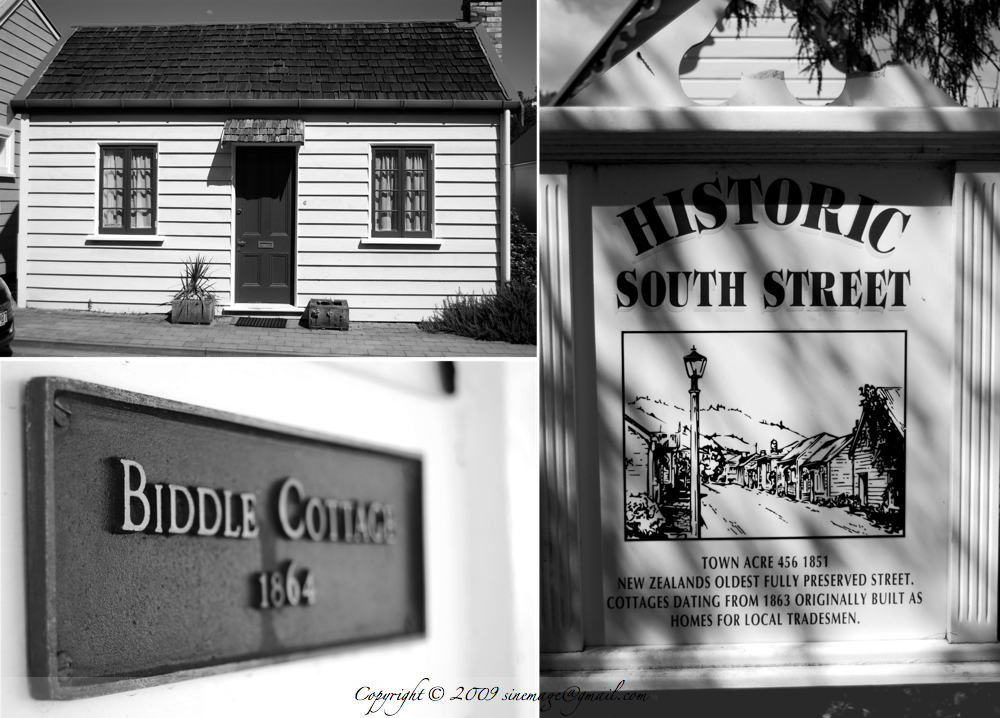 Then the last part of our trip: Golden Bay, the Western part of Nelson region.
A guided tour of Farewell Spit and its lighthouse. It's a 25km sand spit and bird sanctuary. Our guide is very passionate and shares his knowledge about this reserve with a real talent of story teller !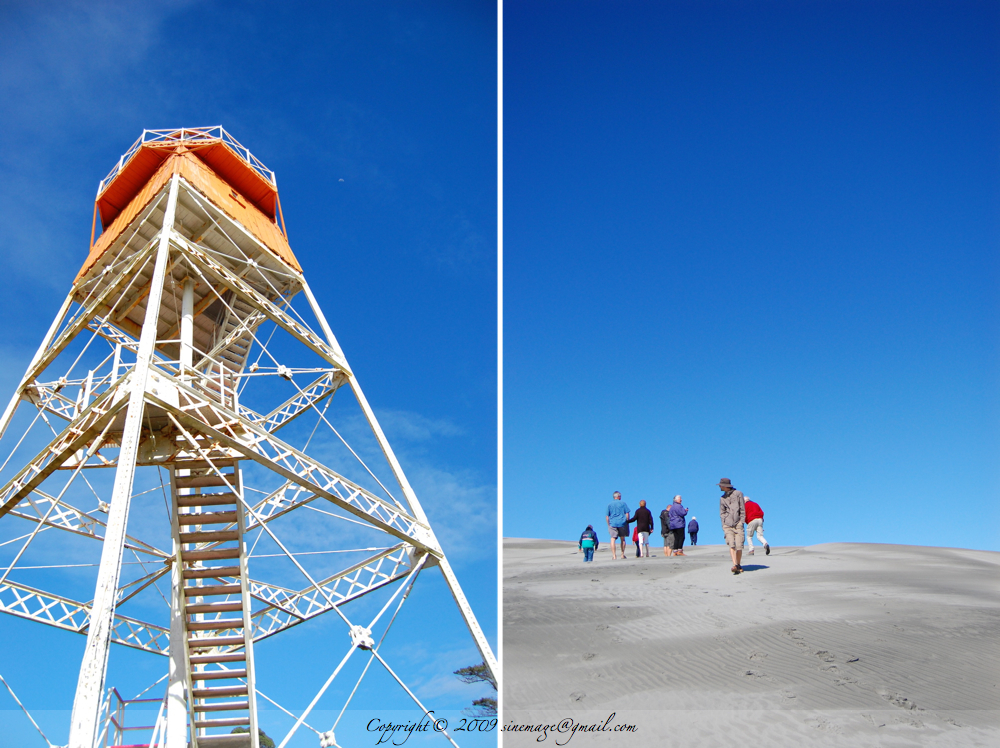 We spent our afternoon on Wharariki beach. One of New Zealand's best beaches. Only 15 minutes drive from Farewell Spit, the beach is accessible after a short walk. The site is stunning with dramatic rocks, white sand dunes in the background and almost anybody…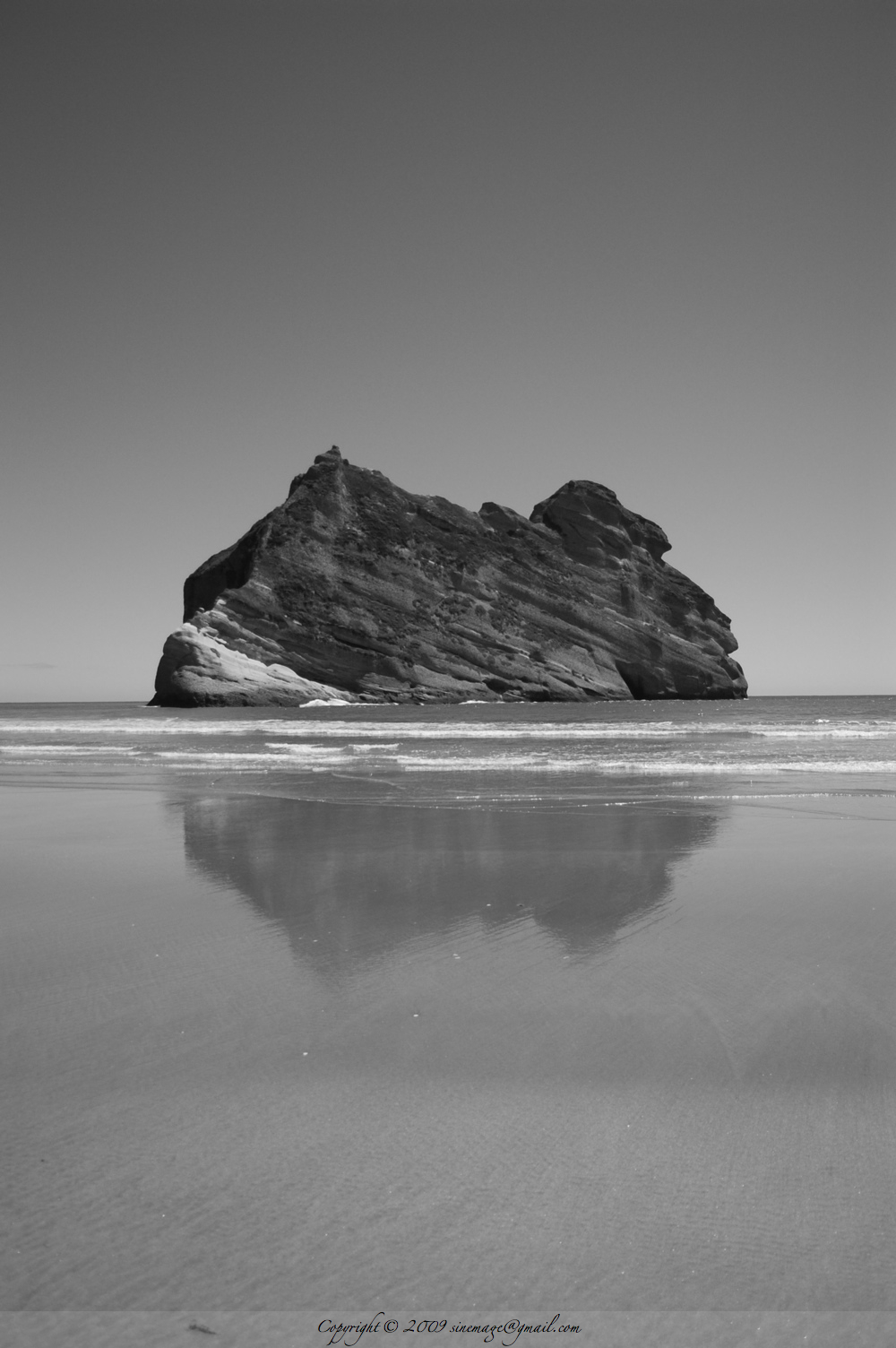 Amongst our leisure in Golden bay: Visit of  Pupu Springs and its extremely clear water; Fishing salmon in Anatoki river, then savour it smoked with different flavours; Small walk in the Western part of Abel Tasman park, discovering golden sand coves; Fresh and good food at Mussel Inn…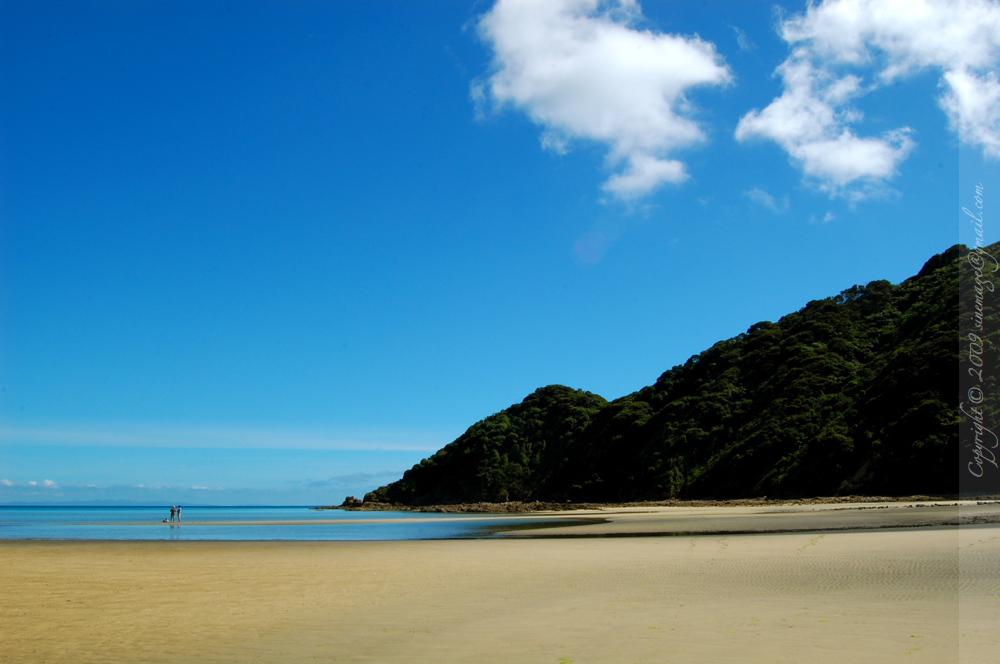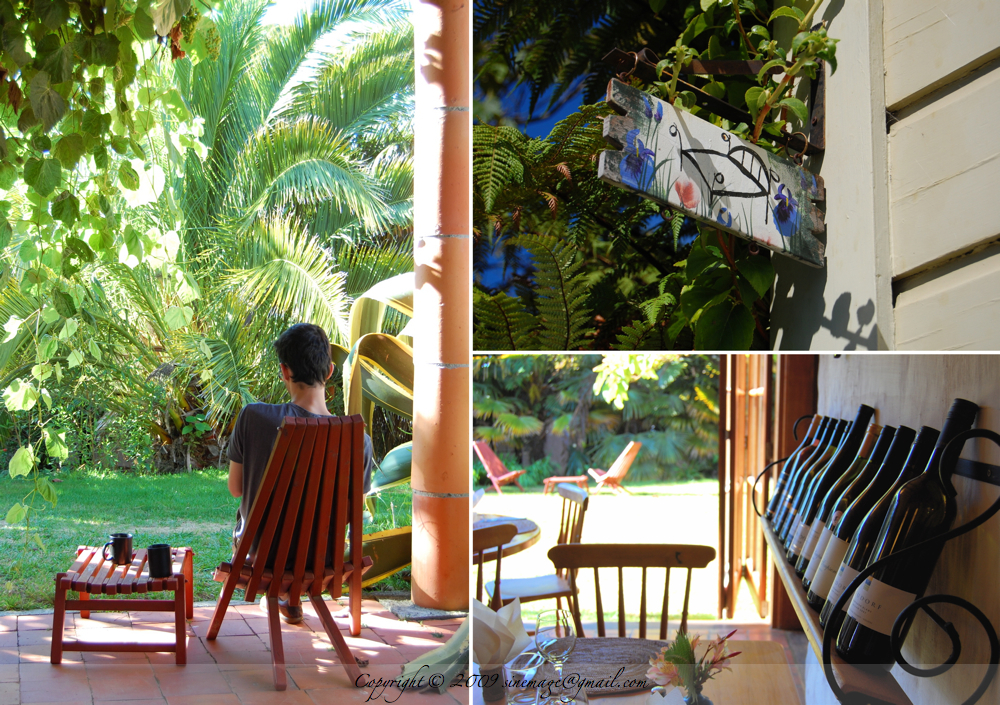 I felt a twinge of sadness to leave Golden bay, we had such a good time there…
But it's time to take the direction of Picton and cross the cook Strait with the ferry. One of the most spectacular cruises in the world… Well, it was raining endlessly. Luckily the swell was unusually small…
It was good to be completely disconnected for two weeks. My head is still full of images, but I can't insert them all here ! (I'll try to show them on More on Flickr)
The success of this trip is not only due to the great landscapes that we saw, all the range of animals we approached, but also all the nice people we met on our way, hosts who welcome us in their house, or professionals who give the best of themselves… I thank them all.  
For now, I have hundreds of feeds to read… So, see you soon !
Update:
Good food and places to stay that we liked and recommend:
Avocado Adventures: Linda+ Stu - Nelson city
Linda baked some fluffy muffins (yummy!) to welcome us and Stu gave us some great advices about places to visit for the rest of our trip. Very friendly couple and the self-contained apartment with seaview is very pleasant ! It's very well-equiped and ideal for a long stay.
Sans Soucis Inn: Vera+ Reto - Golden Bay, Pohara.
A relaxing place with a lush vegetation in the courtyard. The whole place was built by Vera and Reto themselves in a mediterannean style and it's eco-friendly. The food is also delicious and nicely served !   
The Sweedish Bakery & Cafe : 54 Bridge Street, Nelson city
The best pastries I ate so far in New Zealand ! Friendly service and delicious treats.
Mussel Inn:  Golden Bay, Onekaka
This quirky place serves simple and fresh food. They aslo brew their own beer.
Chalfield B&B: Gene + David - Between Havelock and Blenheim, Malrborough region.
Gene welcomes you in their home with a cup of tea and will be pleased to show you their alpacas.
I have uploaded more pictures on Flickr for those still interested to see a bit more...
______________________________________________
  Quinze jours plus tard, le teint doré et quelques piqûres de sandflies sur les jambes, Paprika et moi sommes rentrés de nos vacances. Un séjour à travers trois régions de l'île du Sud : Canterbury, Marlborough et Nelson.
Notre parcours commence par un vol matinal en direction de Christchurch et une vue aérienne des plaines du Canterbury et de la péninsule de Banks. Plus tard dans la journée, nous jouons les parfaits touristes en visitant le quartier culturel de Christchurch. J'ai aimé cette ville charmante: la rivière Avon avec ses saules pleureurs et ses canotiers; les vieux trams et le mélange réussi d'architecture.
C'est une journée chaude d'été et il y a des animations partout: De jeunes danseurs de claquettes  irlandaises sur la place de la cathédrale, des chanteurs et danseurs R&B dans la cour du Centre des Arts, un marché d'artisanat et les gens prenant un bain de soleil aux cafés…
Après tout ce bourdonnement, Akaroa (péninsule de Banks) ressemble à un paisible village au bord de l'eau. Les traces d'une colonie française transparaissent encore dans certains noms de rue. La péninsule de Banks est le résultat de volcans éteints et le trajet sur Summit road donne une idée de ces transformations géologiques.
Plus au Nord, une autre péninsule: Kaikoura. Le programme: Observer les baleines et manger de la langouste !… Une forte houle et mon mal de mer m'ont permis seulement de voir un grand cachalot et un orque (à travers la vitre celui-là). Le bateau conduit jusqu'au canyon de Kaikoura (plus de 1800m de profondeur) pour rencontrer ces énormes mammifères marins. Je suis très émue de voir pour la première fois une baleine…
Puis direction vers les Marlborough Sounds, en passant par Blenheim puis Havelock. Nous suivons la route pittoresque le long du Kenepuru Sound qui donne un aperçu de la beauté de cet enchevêtrement de bras de mer.
La route est pleine de surprises : de majestueux chevaux, des plages isolées, un camping retiré, au bord d'une rivière…
Nous quittons le marlborough pour le Nelson.
Sous une pluie battante nous arrivons à l'entrée Est du parc national Abel Tasman.
Pour la première fois, nous faisons du kayka sous (pas de chance) une pluie et une houle inattendue… L'appareil photo placé à l'avant du kayak dans une boîte étanche n'a pas quitté sa boîte…
Le jour suivant, retour à la terre ferme. Nous empruntons le parcours côtier du parc avec le son des cigales et une végétation luxuriante, ponctuée de cours d'eau, cascades et criques en contrebas.
Après ces deux jours passés dans la nature, nous nous reposons dans la ville de Nelson, savourons de bons cafés, de délicieuses pâtisseries (Sweedish Bakery) et flânons dans les rues.
Vient ensuite la dernière partie de notre voyage: Golden Bay, la partie occidentale de la région de Nelson.
Nous faisons un tour guidé de Farewell Spit et son phare. C'est une langue de sable de 25km de long et une réserve d'oiseaux. Notre guide est très passionné et partage son savoir avec un véritable talent de conteur d'histoires !
Nous passons notre après-midi à la plage Wharariki. Une des plus belles plages de Nouvelle-Zélande. A seulement 15 minutes de route de Farewell Spit, la plage est accessible après une petite marche. Le site est époustouflant avec ses énormes rochers, les dunes de sables blanc en arrière plan et quasiment personne…
Parmi nos loisirs à Golden bay: Visite de Pupu Springs et ses eaux extrêmement limpides; Pêche au saumon dans la rivière Anatoki puis le déguster fumé et aromatisé; Petite marche dans la partie ouest du parc Abel Tasman et découvrir des criques de sable blond; Manger des plats simples et frais à Mussel Inn…
J'ai un pincement au coeur en quittant Golden bay, nous avons eu tellement de bons moments… Mais le temps est venu de se diriger vers Picton et de traverser le détroit de Cook en ferry. Une des croisières les plus spectaculaires… Bon, pour nous, il a plu sans fin. Heureusement que la houle était inhabituellement faible…
Cela nous a fait du bien d'être complètement déconnectés pendant deux semaines. Ma tête est toujours pleine d'images, mais je ne peux pas les insérer toutes ici ! (Je vais essayer de les mettre sur sur Flickr)
Le succès de ce voyage n'est pas seulement dû à la beauté des paysages, ni au panel d'animaux que nous avons pu approcher, mais surtout à toutes les belles rencontres que nous avons faites sur notre chemin: hôtes qui nous ont accueillis chez eux, ou professionnels qui donnent le meilleur d'eux-mêmes… Je les remercie tous.  
A présent, j'ai quelques centaines de feeds à lire…
A très bientôt !
---
Comments
whoa! that's all I can say. The photo of the cove taken from above with people in the pool of water is really making me dream, especially here in the bleak of a NOrthern winter… Sylvie
I have not been to Golden Bay but I hear it is sensational. Lovely photos. Welcome home. barbara
So beautiful! These landscapes are stunning and your pictures are gorgeous! Thanks for sharing… Cheers, Rosa Rosa
J'aime ces paysages luxuriants de verdure tropicale qui ressemblent à ceux de la Réunion, ces eaux limpides aux reflets verts et turquoise, et la sérénité qui se dégage des clichés que tu as pris dans cette magnifique maison dont le jardin semble superbe… Botacook
PS : la photo de la baleine est superbe! Botacook
Botacook, merci ! Oui c'est vrai que parfois la végétation ou le relief me rapelle un peu mon île… Rosa, you're welcome. I'm happy that you enjoy it ! Barbara, thank you. Golden Bay is a region that worth a visit… Sylvie, they could film 'Robinson Crusoe' here !… Vanille
I am so envious! Whenever I come to your blog I always feel like I have had a little holiday myself. (Just wish I had the tan!!) Nicisme
Magnifique reportage et photos! Ca me donne envie de me balader! Tartelette
such breathtaking images. you have a gorgeous blog! Aran
Amazing photos! Very good looking blog you have here :) asti
Nic, that's a very sweet compliment… Tartelette, merci. Aran, thank you. Asti, thank you. Vanille
Merci de nous faire partager ces belles photos. C'est une région du monde que je ne connais pas du tout: tu me fais envie. J'ai parcouru le reste du blog… j'adore. je le mets dès aujourd'hui dans mes favoris. Merci! Dominique
Coucou tata c'est lauriane juste pour te dire que tu m'impressionnes tes photos sont toujours superbes !!! T'es super doué :D j'adorrrrrrrre ^.^ Bisous ! Lauriane