Coconut & Plum Clafoutis
February 12, 2013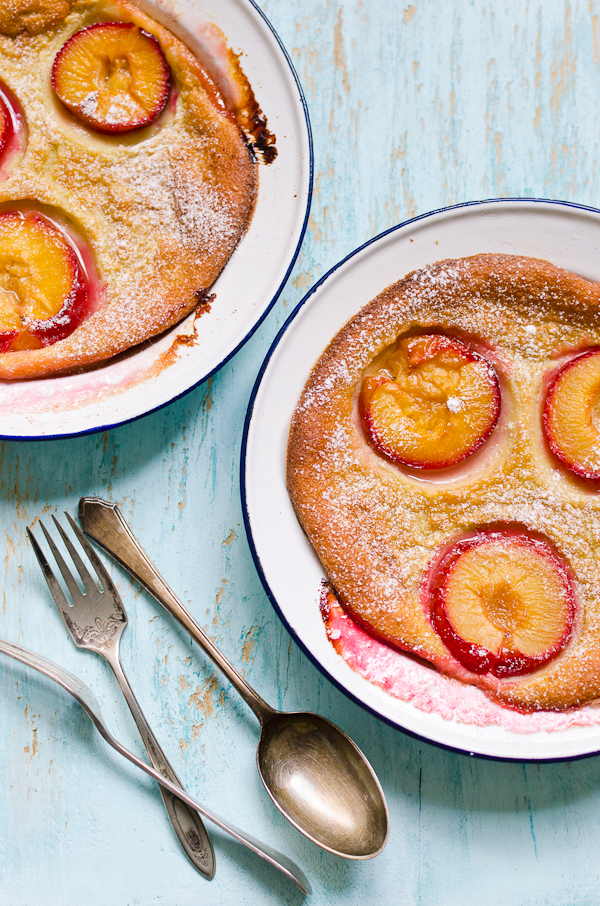 Paprika and I are back from our short break in Sydney. Our stay was nice and oddly I did not take a lot of pictures. This is so unlike me... And the photos I took make a very heterogeneous mix. I may share them at some point when I figure out a theme.
Until then, here's a plum clafoutis I did to use the coconut milk I had left in the fridge.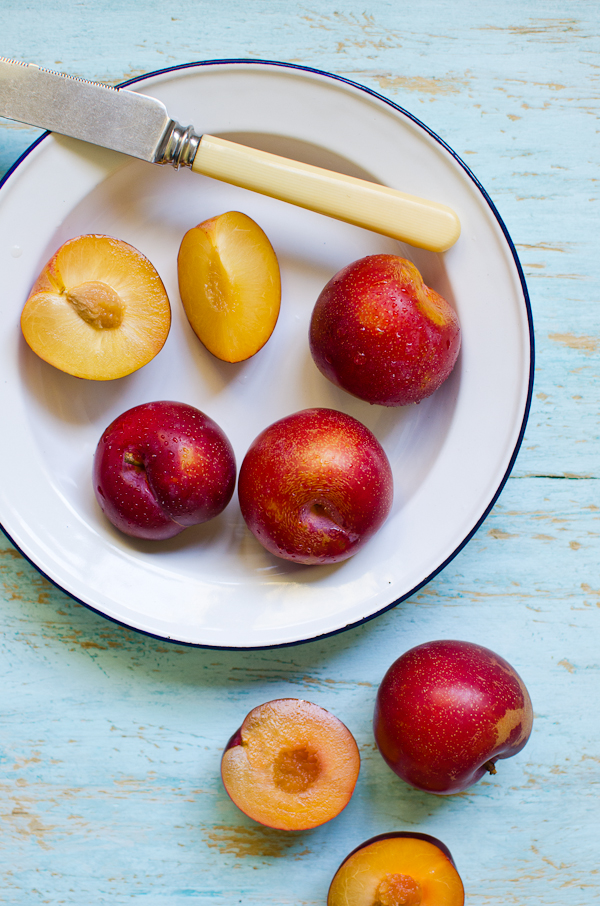 Funny to see how certain desserts make a regular appearance on our table and the blog. Clafoutis is one of them. Versatile and easy are maybe the reasons that explain this choice. Here I like how the tartness of the fruit is balanced with the sweetness of coconut. A simple way to enjoy summer stone fruits.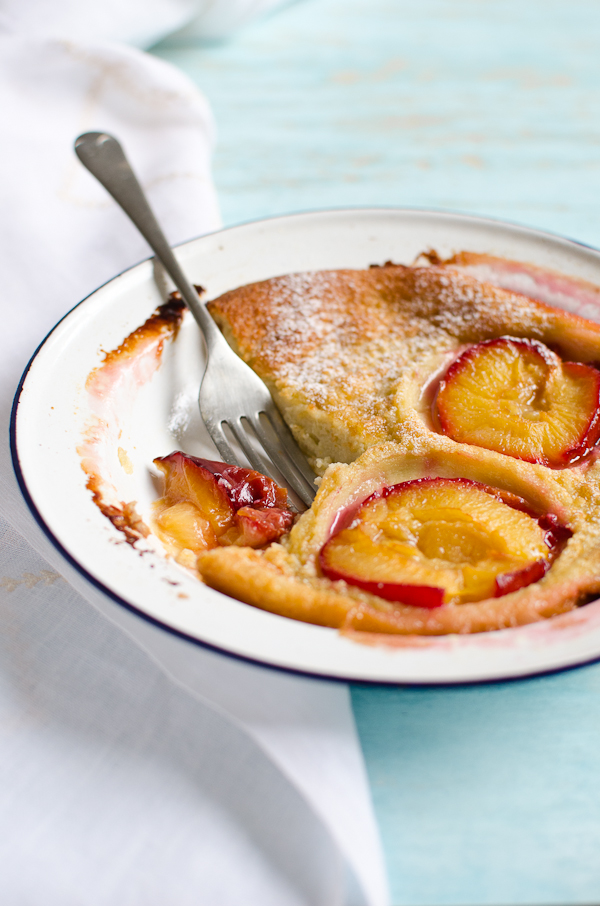 Coconut and Plum Clafoutis
- 3 plums halved and pitted
3 eggs
75g flour
70g brown sugar
250ml coconut milk
50g unsalted butter
A pinch of salt
1 tbsp of plum brandy</em>
Preheat oven to 180°C. Place butter in a small oven proof dish and let it melt in the oven. In a bowl, whip together eggs, salt and sugar. Add gradually flour and mix. The batter should be smooth. Remove the melted butter from the oven and pour it in the batter. Add coconut milk, plum brandy and stir. Grease the sides and bottom of the dish/ shallow plates and dust lightly with flour. Place fruits cut side up in the dish and pour the batter. Bake for 35 minutes or until golden on top. Sprinkle icing sugar on top and serve still warm.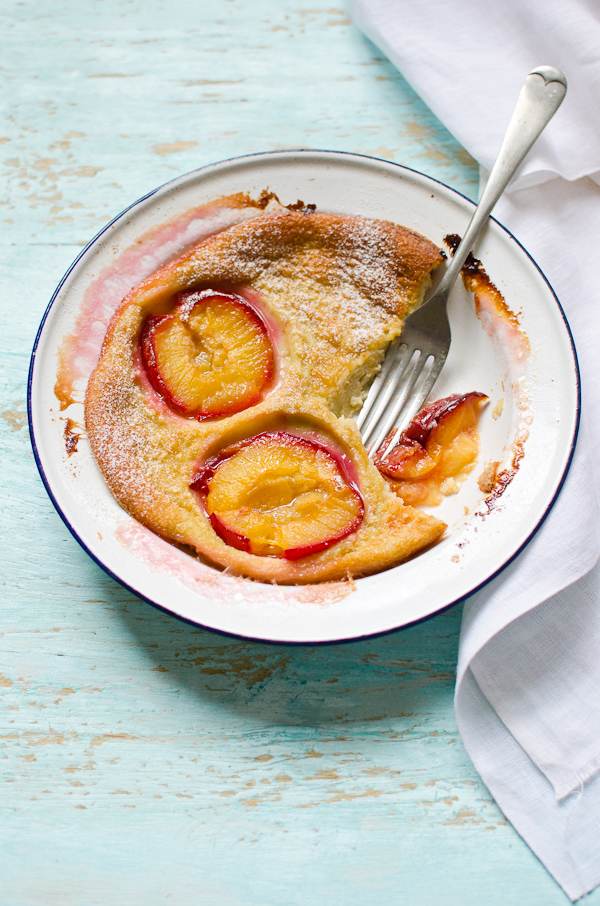 _ _ _ _ _ _ _ _ _ _ _ _ _ _ _ _ _ _ _ _ _ _ _ _ _ _ _ _ _ _ _
Paprika et moi sommes de retour de notre petit séjour à Sydney. Ce fut bien et bizarrement je n'ai pas pris beaucoup de photos. Cela ne me ressemble pas... Et les photos prises forment un mélange hétéroclite. Je les partagerai sans doute lorsque j'aurai trouvé une cohérence d'ensemble.
En attendant, voici un clafoutis au coco et aux prunes que j'ai fait pour utiliser le reste de lait de coco que j'avais au frigo.
Intéressant de voir comment certains desserts font une apparition récurrente sur notre table et le blog. Le clafoutis est l'un d'eux. Versatile et facile sont sans doute les raisons qui expliquent ce choix. Ici, j'aime comment l'acidité du fruit est compensé par la douceur du coco. Une façon simple de profiter des fruits d'été.
---
Comments
Your blog is a visual feast! Love it! Lizzy (Good Things)
Gorgeous pictures and clafoutis! That flavor combination is perfect. Cheers, Rosa Rosa Mayland
I love clafoutis! I like to do apple clafoutis in this cold wheather that is now on Portugal. Like to eat it right after it's out of the oven. But on spring, when the flood of cerises comes, I like to make cerise clafoutis, and it's so fresh! Like that I can use the cerises I have so they won't rot and go to the garbage, and make a nice fresh spring cake :) Never thought doing with plums, so bigs, but that an idea when the plums time arrived! Kisses THe Daily Miacis
this sounds quite delicious and delightfully do-able. i love simple desserts.. c cecilia
Such lovely photos! I love clafoutis. I made a cherry and plum version with a short dough crust some time ago, and it is still one of my favorite desserts. Using halved plums is a gorgeous idea. Natasha
oh those plums…I'm really longing for the summer here digging out ourselves of the snow!! piszke
Rosa, thank you dear ! The daily Miacis, yes I like to make clafoutis with various fruits depending on the season. So versatile. Cecilia, me too ! Natasha, we are both clafoutis lovers. Liren, to be in the moment or to capture the moment, that's not always easy… And thank you for stopping by. CrackingTheBean, thank you ! Piszke, yes such a contrast to see part of the northern hemisphere covered in snow when we enjoy summer down here… Vanille
That is often how I feel when I take some time away with the family. I often don't take as many photos, it can be refreshing to step away from the camera. Then again, when I return, I regret not having taken more! Anyway, the clafoutis is lovely. I love making it with coconut milk, too, and I can't wait until plums are in season here so I can attempt this beautiful combination. Liren Baker (@kitchconfidante)
Wow, this looks absolutely amazing. The pictures are almost like I can just take a chunk from the screen. Can't wait to try this! :) CrackingTheBean
Looks absolutely yummy! mycookinghut
Love that recipe, thanks for sharing! IRENA & dots
[…] nature, Vivianes multicultural heritage has a great influence on her cooking. You can find french clafoutis and madeleines, hungarian kalács, túrós táska and cabbage rolls aside with recipes that are […] Food blogs I love: @ Downunder | nadel&gabel
Looks good! isabelle804