Well Seasoned
September 17, 2011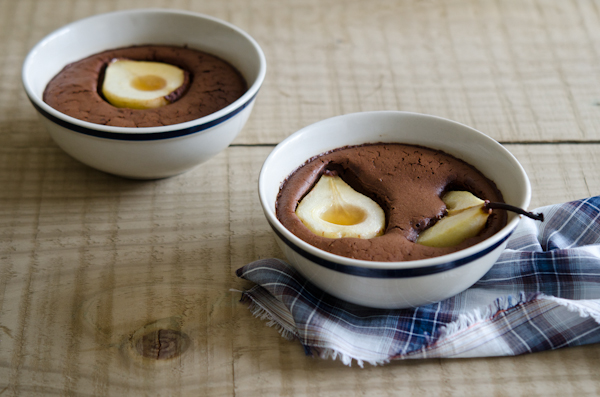 The weather has been so unpredictable these last days. It's Spring. Thunderstorm and hail one day and big blue sky the next one. Lunching on salad today and soup yesterday. Wooly in the morning and tee-shirt in the afternoon. No time to be bored.
The change of season is more than welcome though and means introduction of new ingredients in the diet. I personally can't wait for asparagus to appear on market stalls. Fruit wise, we'll have to be more patient and stick with the usual suspects for a while until exciting summer fruits arrive...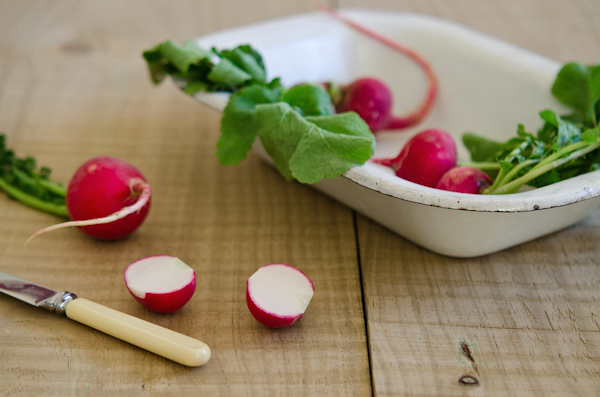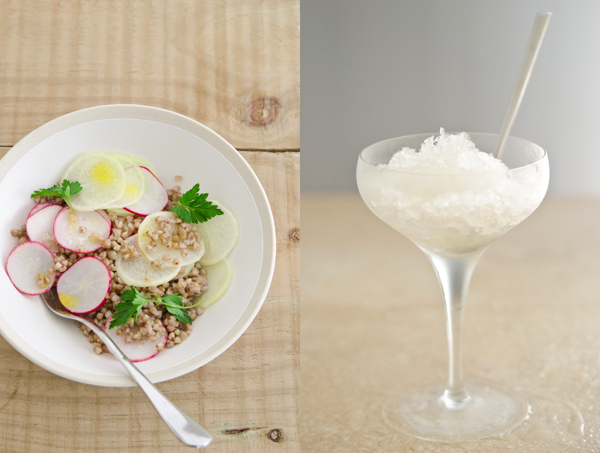 As I write these lines, it's a perfect day. A granite kind of day. So different from the one when I baked the chocolate and pear clafoutis.
In the middle of the afternoon, suddenly, it felt like someone switched off the light. Thunderstorm. Soon followed by hail. Very intense and strong. Hailstones noisily smashed against the roof. In minutes, the pathway to our house, the deck and surrounding roofs were all white. Like a déjà vu.
Everything seemed so quiet afterward. In the oven, the clafoutis was slowly baking and releasing a comforting smell of chocolate...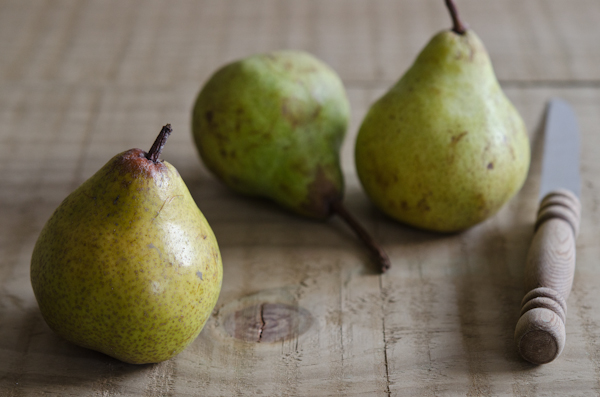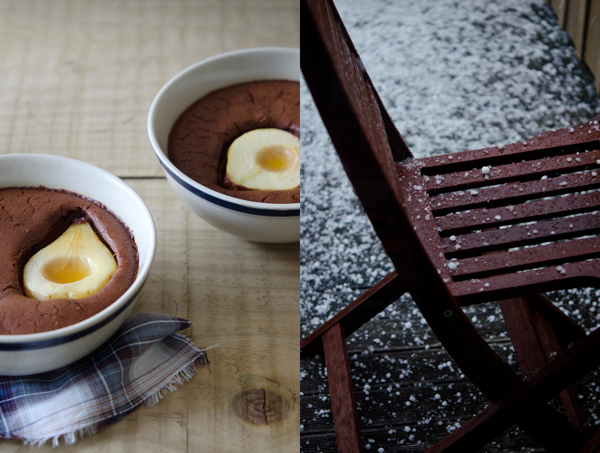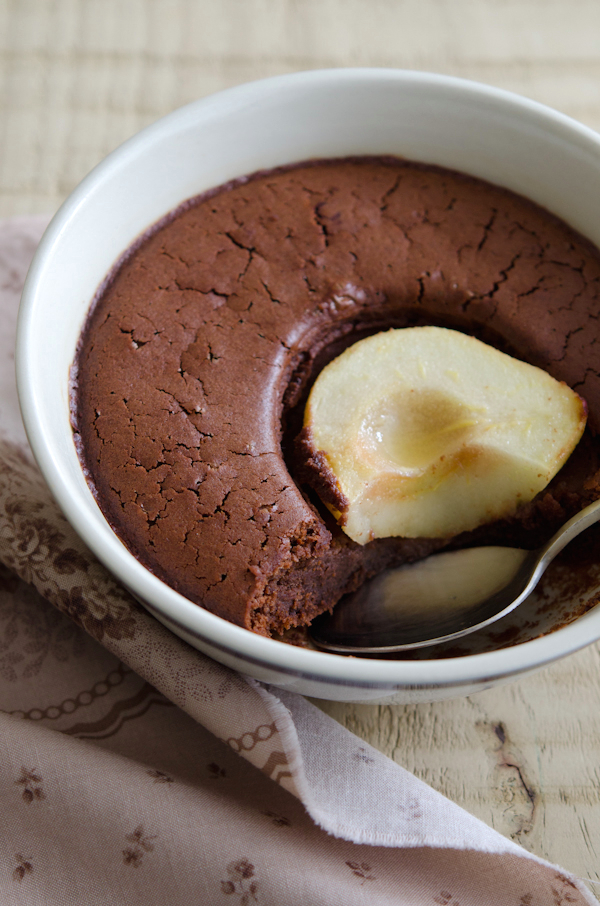 Adapted from that recipe, this version is made of buckwheat flour which goes really well with chocolate and give an interesting texture too.
Chocolate & Pear Clafoutis - 100g buckwheat flour - 2 eggs - 70g brown sugar - 1tbsp cornstarch, sifted - 1tbsp unsweetened cocoa powder, sifted - 25cl milk (1cup) - 70g dark chocolate melted - 60g unsalted butter melted - 2-3 pears, cored and sliced - A pinch of salt - 1tbsp of rum - Lemon juice to sprinkle pears
Preheat oven to 175°C. In a bowl mix together the flour, salt, cornstarch and cocoa. In an other bowl whip eggs and sugar for a minute. Add the flour mix step by step and keep on whisking. Add melted butter mix well and then add melted chocolate and rum. Pour milk and stir. Pour batter in a well greased cast iron skillet or individual ramekins. Top with pears slices or wedges. Bake for 45 minutes or 35 minutes if small portions.
_ _ _ _ _ _ _ _ _ _ _ _ _ _ _ _ _ _ _ _ _ _ _ _ _ _ _ _ _ _ _
Le temps est des plus imprévisible ces derniers jours. C'est le printemps. Orage et grêle un jour, grand ciel bleu le jour suivant. Déjeuner d'une salade aujourd'hui et d'une soupe la vieille. Lainage le matin et t-shirt l'après-midi. Pas le temps de s'ennuyer.
Le changement de saison est plus que bienvenu néanmoins et cela veut dire l'introduction de nouveaux aliment dans le régime alimentaire. Personnellement, j'ai hâte de voir les premières asperges sur les étals du marché. Côté fruit, il faudra encore être patient jusqu'à l'arrivée des premiers fruits d'été...
Au moment où j'écris ces lignes, c'est un jour parfait. Le genre à savourer un granité. Si différent de celui où j'avais préparé ce clafoutis poire chocolat.
Au milieu de l'après-midi, soudainement, c'était comme si quelqu'un avait éteint la lumière. Orage. Suivi de près par la grêle. Très forte et intense. Les grelons s'abattaient bruyamment contre le toit. En quelques minutes, l'allée menant à la maison, la véranda et les toitures environnantes étaient toutes blanches. Comme du déjà vu.
Tout semblait si calme après coup. Dans le four, le clafoutis continuait à cuire doucement et diffusait une bonne odeur de chocolat...
Adaptée de cette recette, cette version est faite avec de la farine de sarrasin qui va très bien avec le goût du chocolat et apporte une texture intéressante au clafoutis.
Clafoutis Chocolat et Poire - 100g farine de sarrasin - 2 oeufs - 70g sucre roux - 1 c.à.s maïzéna tamisé - 1 c.à.s cacao tamisé - 25cl lait - 70g chocolat noir fondu - 60g beurre doux fondu - 2-3 poires, épépinées et tranchées - 1 pincée de sel - 1 c.à.s de rhum - Jus de citron pour humecter les poires
Préchauffer le four à 175°C. Dans un bol mélanger la farine, le sel, la maïzéna et le cacao. Dans une jatte fouetter les oeufs avec le sucre. pendant une minute. Ajouter le mélange de farine peu à peu et continuer de fouetter. Ajouter le beurre, bien mélanger puis verser le chocolat et le rhum. Ajouter le lait et bien mélanger. Verser l'appareil dans une poêle en fonte bien graissée ou des petits ramequins. Disposer les morceaux de poire sur le dessus. Cuire au four pendant 45 minutes ou 35 minutes si petites portions.
---
Comments
Love that pudding, you should enter it for Sweet NZ, this month the host is Allison of Pease Pudding, the link is here. ciao Alessandra Alessandra
This chocolate and pear clafoutis is lovely! There could not be a more perefct flavor combination… Cheers, Rosa Rosa May (@RosasYummyYums)
Beautiful chocolate color paired with the opaque pears. I have yet to make a clafouti but it's getting higher on my list. We're finally getting some much needed rain here. I love the rain and it immediately makes me relaxed. Happy Spring to you. Snippets of Thyme
this looks gorgeous~ onceinabluemoon
Loving that clafoutis…pear and chocolate so wonderful together. Mairi @ Toast
Love how some rum spikes up the clafoutis. Can't think of a better way to enjoy a hailstorm. Liren
Alessandra, I'll check it out. Rosa, thanks ! Sarah [Snippets of Thyme] Yes, you're welcoming the rain while I welcome sunnier days. Enjoy Fall on your side. Onceinabluemoon, thank you. Mairi, thank you. A classic combination I'm really keen on. Liren, thanks. Vanille
The weather at where I am is bi-polar like yours too! 5 minutes, rain. The next 4, sun. It's crazy! Anyways, the pears and chocolate look scrumptious! Pears + chocolate aren't a common pairing, huh? ^^ http://milk-and-tea.blogspot.com Kathy
Kathy, thank you for your kind words. Jennifer, thank you. It'll be even better with new season pears. Beth Michelle, thank you. Blandine, glad to know you'll try it. Let me know how it turns out for you. Laura [Hungry & Frozen] thank you. Can't help but think of people outside at this time. Must have been an experience ! Vanille
gorgeous! sounds perfect for the impending autumn over on this side of the world :) Jennifer
This is beautiful. What a wonderful fall dessert. Lovely photos Beth Michelle
Here in Europe autumn has arrived, and the weather is so inpredictable too! But I love the change of seasons. Your clafoutis looks so delicious, I will definitely try it this autumn. Blandine
Those puddings are so beautiful, I just want to climb on in. The hail was so strange, but a little exhilarating too - the city suddenly turned white in the middle of the day and then back to normal as soon as it had begun. Laura X hungryandfrozen
This. Looks. Scrumptious! Absolutely decadent. I can't wait to try it! Carissa @ Pretty/Hungry
ici les poires arrivent et le froid avec elles, cette recette est donc parfaites pour les jours à venir merci à toi bisous Delphine delphcotecuisine
The weather has "officially" warmed up here but I don't believe it just yet! Love what you have done here…the chocolate and pear in a clafoutis is a perfect marriage! Thank you! Peter G @ Souvlaki For The Soul
"A granite kind of day" – the perfect description; I know exactly the type you're hinting at. Some of the best desserts, comforts in general, are beautifully plain. Yours is especially comforting thanks to the whimsical placement of the pears. A delightful pairing of the fruit and chocolate. I need to think out of the box more often as you do. heather
Chocolate and pears are beautiful together especially the way you've presented them here. Sylvie @ Gourmande in the Kitchen
bartlett pear with chocolate…..what's a lovely combo! La Petite Vancouver
These look so delicious! Perfect for the cold evening we have tonight. Looks like it will have to be another weekend spent in the kitchen… Love the blog too x Anna
The spring started kind of the same way here too! There was no snow .. but heavy rain .. non stop and then it would suddenly get sunny and warm. And now that we are approaching Fall .. i have a feeling it will play the same game once again :) Pears are one of my fav fruit and when you mix those with chocolates .. it can just make me do my happy dance :) kankana
I might have to make these for lunch with the last pears I have on the counter. One cool thing I find about dark chocolate & pears together, is they appeal to only 2 out of the 4 Marshall family members, oh dear that's possibly a bad thing! ;-) bron
Perfection. I'm bookmarking this for when I crave (yet another) chocolate dessert and need to assure myself it's not so bad because some fruit is buried in it. pickyin @ LifeIsGreat
I love clafoutis but have never had a chocolate version. I love the contrast between the chocolate and the pear. And that little radish salad just screams "spring", even if the weather doesn't always know what it's doing ;) milliemirepoix
[…] Chocolate & Pear Clafoutis Source: atdownunder.com […] Chocolate & Pear Clafoutis | Chocolate | Scoop.it
Sounds wonderfully warm and decadent. Perfect for the weather. Spring has been a bit erratic here too :) shaz
Stunning! It looks just gorgeous. And radishes are among my favourite veges :) timeforalittlesomething
Vanille, your clafoutis look beautiful. I love chocolate and pears as a combination - they just seem to work so well together. Am enjoying the start of spring - I had my first asparagus and Nelson scallops yesterday :-) Sue xo Couscous & Consciousness
Looks yummy! mycookinghut
Cela donne trop envie… de manger (surtout!!) comme de le préparer rien que pour le plaisir…. Dad
[…] atdownunder.com via amanda on PinterestPear and chocolate! The perfect ending! If you enjoyed this post, please […] Pinterest Pear Recipe Roundup
Beautiful photos! I'd love to know what type of camera you use. Your entire blog is just lovely. pressedinbrooklyn
Hi, Great post ! - the chocolate & pear clafoutis looks divine. lovefoodpinny
Miam !!!!! :p Lauriane
Unbeatable combination - trumps Escoffier's classic PBH in my view. I like the look and sound of your recipe better than mine. Will Kerry