Plum(p)
January 29, 2014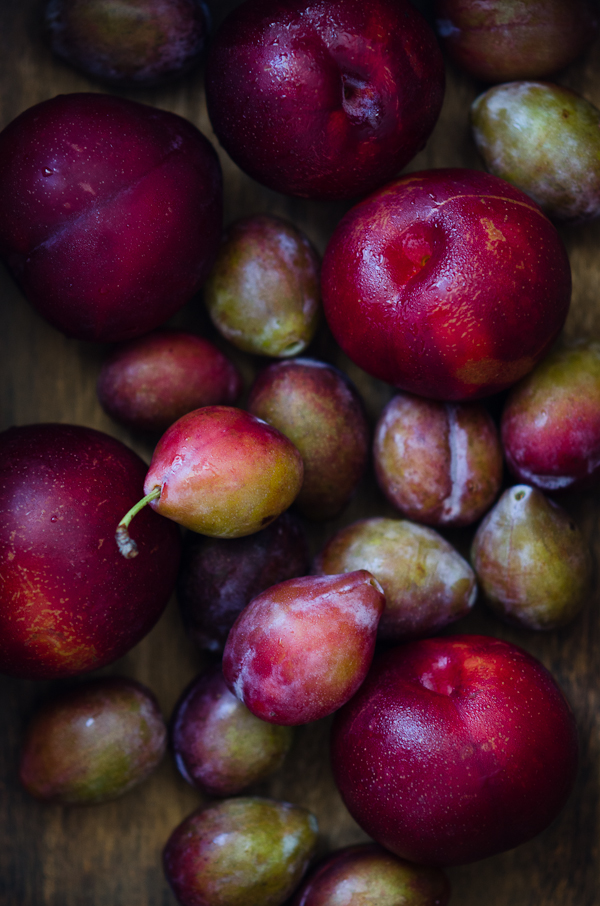 I'm all inspired by the goodness of food I have in my kitchen lately. From that beautiful and tasty garlic to sweet plums and green almonds, I feel spoilt. Of course, I could not resist making a tart with some of the plums. Classic. The quintessence of summer.
The cute sugar plums are new to me. I like their shape, size and colours. I've prepared a part of them in a simple dessert, with yogurt, honey and fresh almonds. A treat on a balmy day.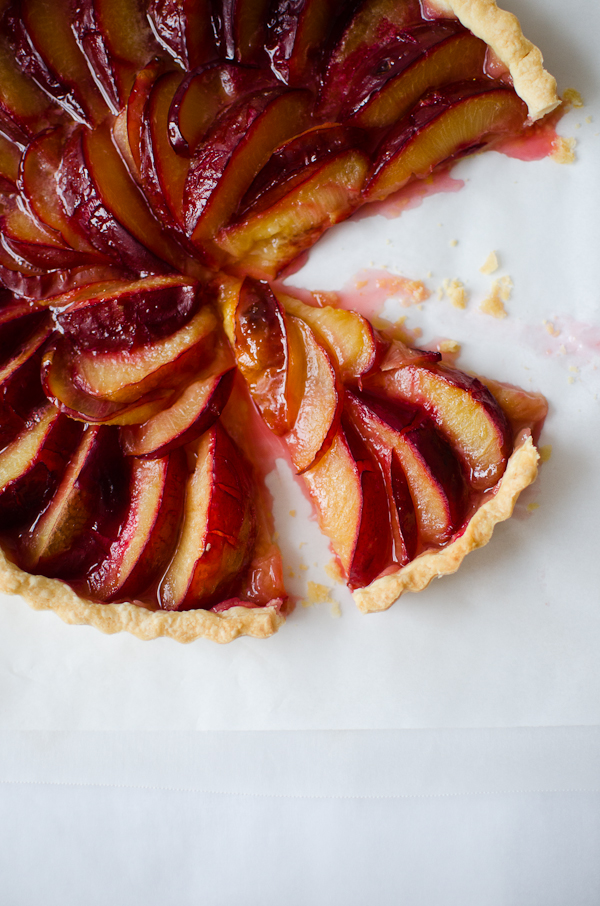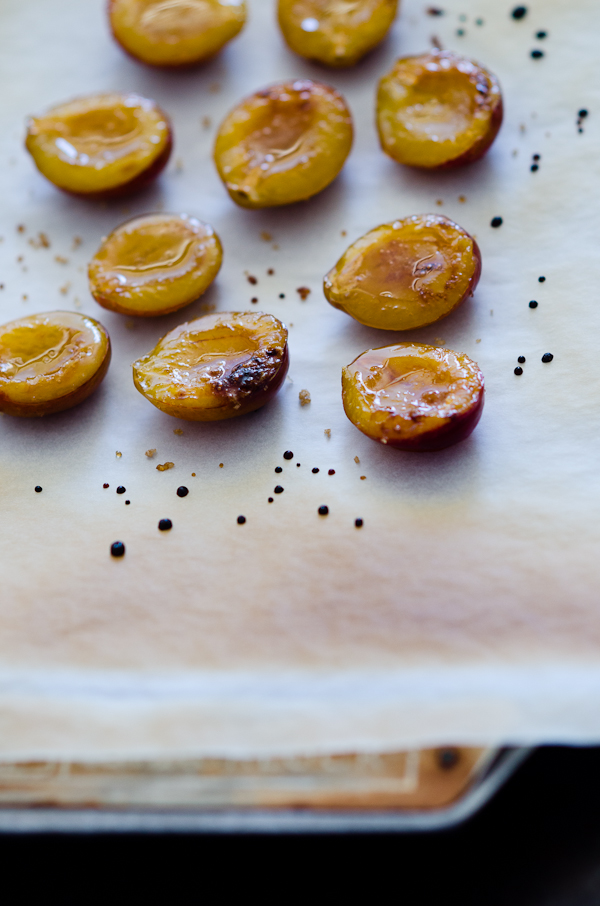 Roasted Sugar Plum with Yogurt Honey and Fresh Almonds (for 4)
6 sugar plums, halved and stone removed 1 tbsp sugar 4 tsp honey 8 heaped tbsp yogurt Dozen fresh almonds, cracked open and finely sliced (or lightly toasted almond flakes)
In a small plate spread sugar and stamp the cut side of each plum with sugar to coat. Place them on a baking tray lined with baking paper. Grill (broil) the plums for a couple of minutes or until the sugar starts to bubble and caramelise. Remove from oven and let them cool for 5 minutes. Scoop yogurt into glasses/ramekins, top with plums, drizzle with honey and sprinkle almond.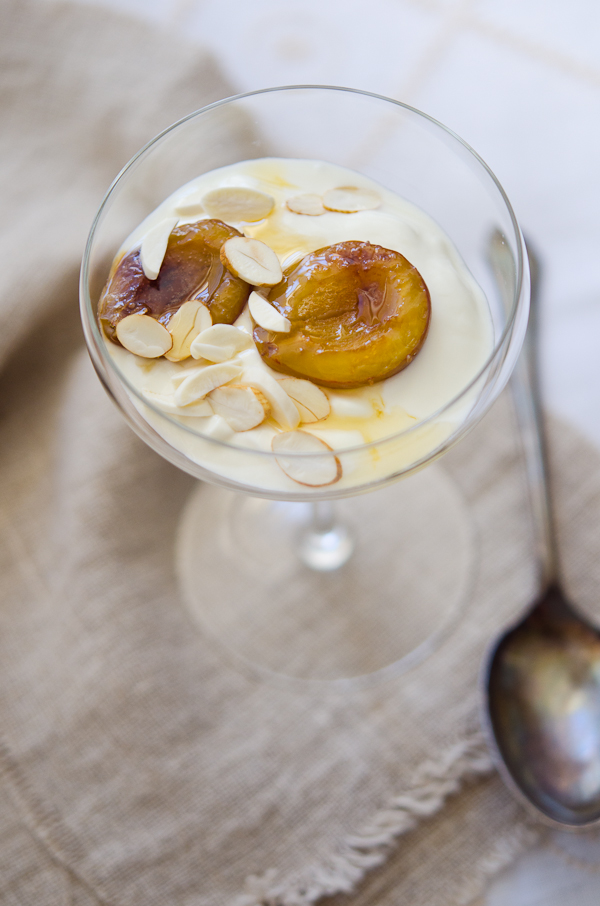 I also want to thank you for your kind words on the previous post. It means a lot to me. Merci.
_ _ _ _ _ _ _ _ _ _ _ _ _ _ _ _ _ _ _ _ _ _ _ _ _ _ _ _ _ _ _
Je suis vraiment inspirée par la saveur des produits dans ma cuisine dernièrement. Entre ce superbe ail, très goûteux, les prunes sucrées et les amandes fraîches, je me sens gâtée. Bien sûr, je n'ai pas pu m'empêcher de faire une tarte avec une partie des prunes. Classique. La quintessence de l'été.
Les sugar plums, toutes mignones, sont une nouveauté pour moi. J'aime leur forme, petite taille et couleurs. Je les ai préparées dans un dessert tout simple, grillées et servies avec du yaourt, miel et amandes fraîches. Un délice.
Prunes Grillées, Yaourt, Miel et Amandes Fraîches (pour 4)
6 petites prunes, coupées en deux et dénoyautées 1 c.à.s sucre 4 c.à.c miel 8 c.à.s bombées de yaourt 1 douzaine d'amandes fraîches, fendues et amandes finement coupées (ou des amandes éfilées légèrement grillées)
Dans une petite assiette mettre le sucre et presser la face coupée de chaque prune contre le sucre. Placer les prunes sur une plaque de cuisson recouverte de papier sulfurisé. Griller pendant quelques minutes jusqu'à ce que le sucre se caramélise et commence à buller. Retirer du four et laisser refroidir 5 minutes. Répartir le yaourt dans des verres ou ramequins, poser les prunes sur le dessus, verser le miel et les amandes.
---
Comments
YUM! (& I love the pics!) This Sydney Life
Rosa, I share your love for plums ! Baking with Gab, thank you ! Dad, je t'attends pour le quatre heures ;) Beiink, thank you. Hopefully it cheers you up ! What Jessica Baked Next, let me know what you think if you try it. Rhiannong, Thank you ! This Sydney Life, nice to connect with Kiwi blogger in Sydney ;) Vanille
Vanille…some of the best food photography on the web. Truly!! thyme (sarah)
I love desserts with plums and both of those look delicious! rhiannong
Looks delicious, really want to try the recipes you've included! Lovely photos too :) What Jessica Baked Next…
A delightful dessert! Plums are my favorite fruits. Cheers, Rosa Rosa Mayland
This looks absolutely gorgeous!! Your photography is beautiful. Baking With Gab
Cela donne faim ! Ta tarte me fait vraiment envie et je ne dirai pas non à la préparation au yaourt !!! dad0410
Even if it's winter in my part of the world, this is so delicious. beiink
*gorgeous photography. inspired to make my grandmother's plum wahe, a swiss plum tart with custard. * Chaya & Sara
Stunning. simple and special.. c cecilia
[…] Raspberry Donut Cakes - hungry girl por vida Blackberry Scones with Honey Butter - Jam Hands Plum(p) – At Down […] Food News Thursday, January 30 - Food News Journal : Food News Journal
Sarah, you make me blush ! Chaya & Sara, thank you. The wahe looks delicious, I should try it. Cecilia, thank you. Vanille