Winter Food Gathering For The Simple Things
January 13, 2014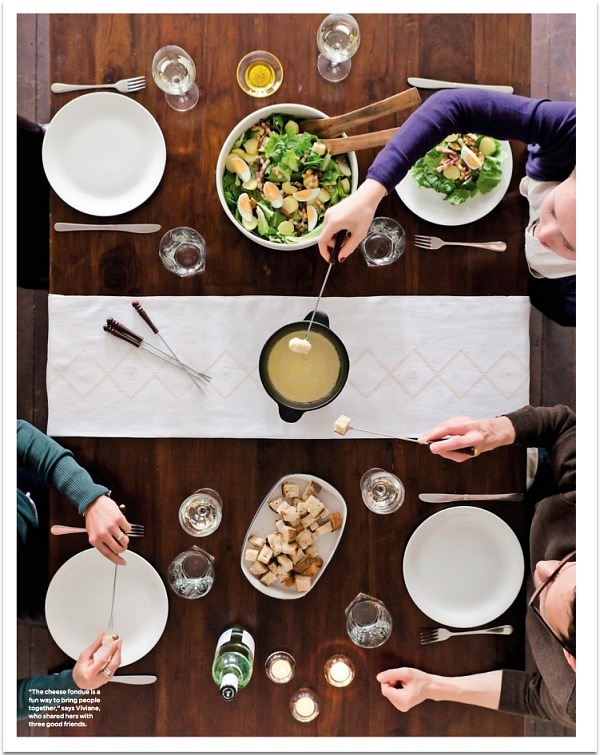 I worked last spring on a food feature published in the current issue of UK-based lifestyle magazine The Simple Things. Comforting winter food is on the menu including a friendly way to entertain, a cheese fondue.
It's been great fun and challenge to do this shoot. I liked the creative process to build it and all the team work.
The Simple Things celebrates the things that matter most. I appreciate their philosophy as it's about slowing down, making mindful choices, being curious, and gathering friends, family and the fruits of the land. And the conviction that the small, simple things we do will make a difference in the long run.
The latest issue is now on sale and available for Ipad too.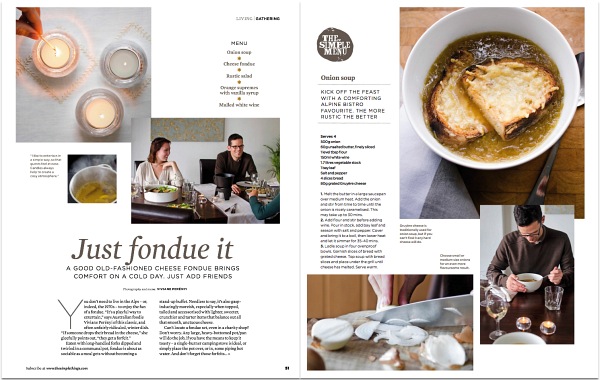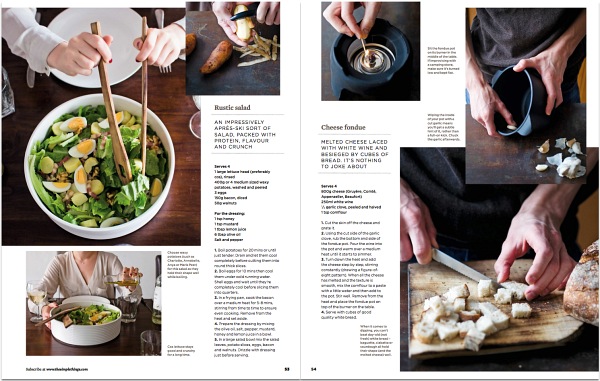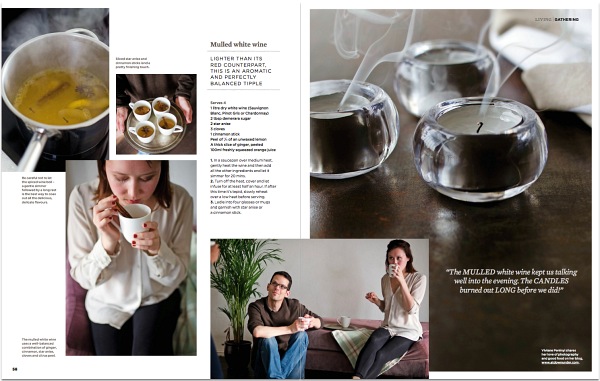 _ _ _ _ _ _ _ _ _ _ _ _ _ _ _ _ _ _ _ _ _ _ _ _ _ _ _ _ _ _ _
J'ai travaillé le printemps dernier sur cet article publié dans la dernière édition du magazine d'art de vivre anglais The Simple Things. Au menu plats réconfortants d'hiver et l'art de recevoir en toute simplicité avec une fondue au fromage.
Ce fût une séance photo très fun et un défi à la fois. J'ai aimé le processus créatif pour le mettre en oeuvre et le travail d'équipe.
The Simple Things célèbre les choses qui ont le plus d'importance. J'aime leur philosophie parce qu'il s'agit de prendre son temps, faire des choix attentifs, être curieux, et réunir amis, famille et produits de la terre. Et la conviction que les petites choses simples, feront la différence au final.
La toute dernière parution est actuellement en vente et disponible également pour Ipad. --- ## Comments > *Trop Bien !!! Tellement fière de toi !!!* > **dad0410** > *that onion soup recipe looks so good! * > **[Chaya & Sara](http://retrolillies.wordpress.com)** > *Congratulations on publication of such a challenging assignment! Lovely photos.* > **[Margot](http://sevilo.co.nz/blog)** > *Congrats on the feature! Lovely food and pictures. Cheers, Rosa* > **[Rosa Mayland](https://www.facebook.com/Rosa.J.May)** > *Féliciations Viviane ! J'aime beaucoup Simple Things magazine et ta série de photos ! :)* > **[christelle is flabbergasting](http://www.christelleisflabbergasting.com/)** > *The spread looks wonderful - congratulations!* > **[Baking With Gab](http://bakingwithgab.wordpress.com)** > *Gorgeous spread. Great idea of the runner to catch the inevitable drips around the the fondue.* > **[Bunny Eats Design](http://bunnyeatsdesign.com)**