And Me Berry !
December 18, 2012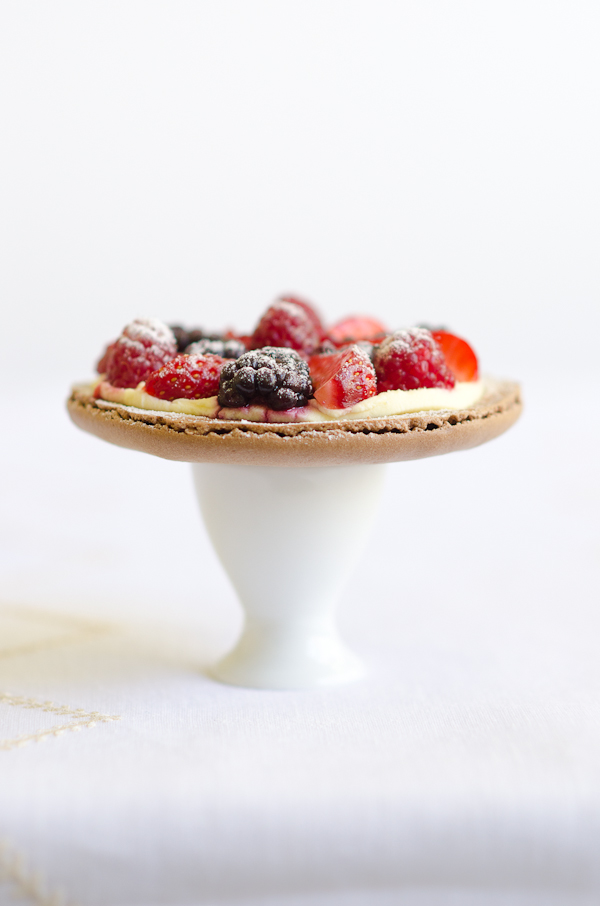 One cut after another the paper Christmas tree I'm crafting is taking shape. I'm excited and going to share it with you soon... But for now let's speak about the dessert I told you about in my previous post. Not a conventional Christmas dessert, a tart. But not any kind of tart, a macaron tartlet. And the dessert Paprika and I agreed to have on our table for the Christmas eve dinner- even if I know I'll prepare a beigli too. Summer fruits and berries are plentiful right now and this tart makes a good use of them. The original idea was found in a bakery in Paris, during our trip last July. We were invited for a dinner and we brought the dessert. We knew that our host is very fond of strawberries, so we chose a tart nicely garnished with fruits rouges -mixed berries. The dessert was a hit. Not so keen on berries (except for blackberry) and macaron myself, I was the first surprised to say that I like it. So much that I thought of recreating the tart back in my kiwi kitchen this summer.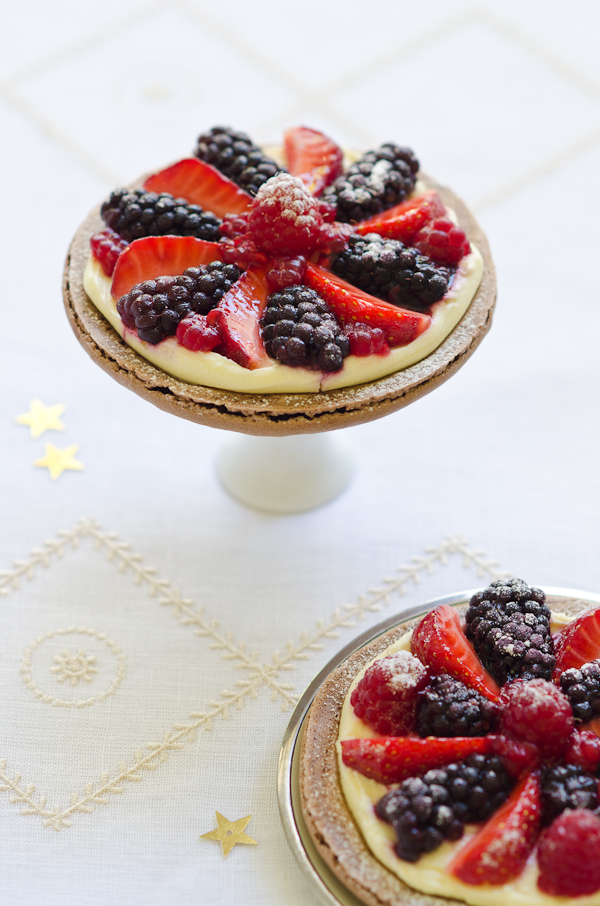 And here it is. It was not that obvious though. After a first failing attempt to make the macaron base, I've read and watched different resources over the net and in books before giving another try. Here's a medley from my readings. I was all excited when I saw the little pied forming under the macarons and the shells remaining intact. All this -endless- sifting time was finely rewarded !
Once you are done with the base, the tart is easy to assemble. And the macaron shells can be made one or two days ahead and kept in an airtight container. On the day, I advice you to dress the tartlets a couple of hours before and let them rest in the fridge.
I promise you that you'll like this tart and your guests too !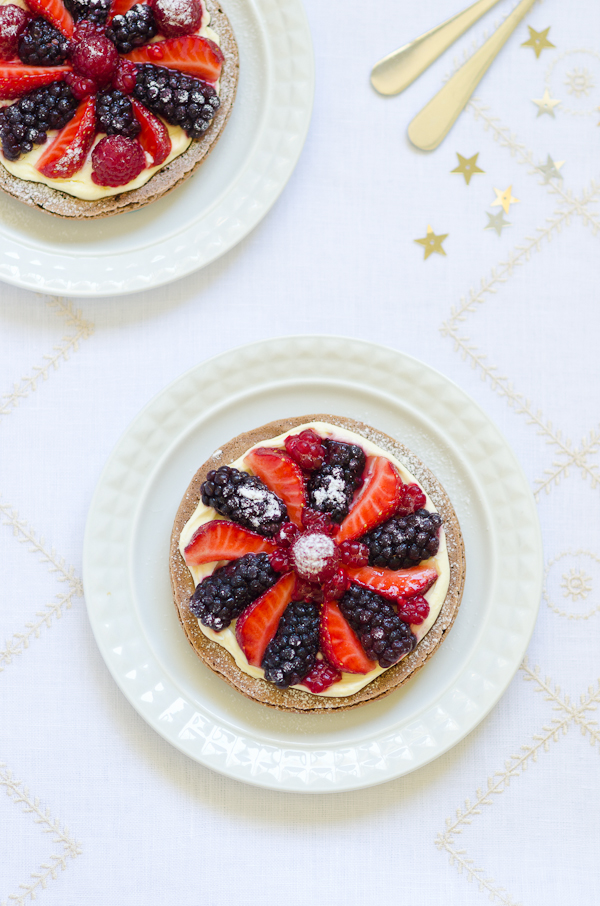 Mixed Berry Macaron Tartlets (Makes 6)
Macaron Base
3 large egg whites at room temperature 65gr / 5 tbsp granulated sugar 85gr / 2/3 cup ground almonds 150gr / 1 1/2 cup powdered sugar 1 1/2 tbsp of unsweetened cocoa powder
In a food processor pulse together ground almond, powdered sugar and cocoa to a fine powder. Sift the mixture through a sieve and keep aside. Prepare two baking sheets lined with baking/ parchment paper. Draw 10cm / 4 inches diameter circles on baking paper, allowing large spacing between each circle (3 circles on each baking sheet). Turn over the baking paper on the baking sheet. In a clean and dry mixing bowl, using an electric beater, beat egg whites on high-speed until they are foamy. Gradually add the granulated sugar to the egg whites. Keep beating until the meringue is stiff, firm and has a glossy texture. Gently fold in the sifted almond mix and using a spatula stir to incorporate the almond mix. (This video tutorial was helpful for the macaronnage step). Fill a piping / pastry bag with the batter. Pipe the batter onto the center of the circles drawn previously on the baking paper. Keep in mind the batter tends to spread so pipe a smaller circle of batter to reach the final wanted diameter. Rap firmly the baking tray on the work surface a couple of times to even the surface. Let dry the macaron at room temperature for 30 minutes or more until the batter does not stick to your finger when you touch it (mine took more than one hour). Place an oven rack in the middle of the oven and preheat the oven to 150˚C / 302˚F. Place the baking sheet on an oven grid above the oven rack and bake for 20-22 minutes. Remove the baking sheet from the oven and allow macaron shells to cool for a couple of minutes on a wire rack before removing them from the baking paper. Proceed with the second batch the same way.
Garnish
270gr mascarpone 350gr (about 3 cups) mixed fruits rouges (strawberry, raspberry, blackberry…) Icing sugar for sprinkling.
Spread mascarpone on the macaron shell and lay over fruits (sliced if necessary). Let rest the tartlets in the fridge and remove them 10-15 minutes before serving. Sprinkle icing sugar on top and serve.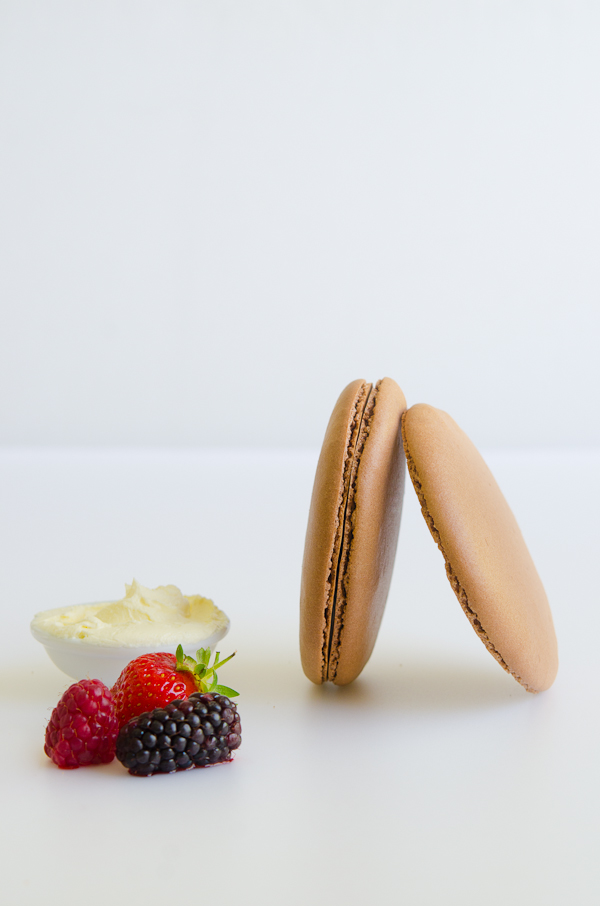 _ _ _ _ _ _ _ _ _ _ _ _ _ _ _ _ _ _ _ _ _ _ _ _ _ _ _ _ _ _ _
Une découpe après l'autre, l'arbre de Noël en papier prend peu à peu forme. Je suis excitée à l'idée de le partager avec vous très bientôt... Mais pour l'instant parlons de ce dessert que j'avais évoqué dans mon précédent billet. Pas un dessert de Noël très conventionel, une tarte. Mais pas n'importe quelle tarte, une tarte macaron. Et le dessert sur lequel Paprika et moi nous sommes mis d'accord et qui figurera sur la table du réveillon de Noël- même si je sais que je préparerai un beigli aussi. Les fruits d'été se trouvent en abondance en ce moment et cette tarte fait bon usage des fruits rouges. L'idée originale a été toute trouvée dans une boulangerie pâtisserie à Paris, lors de notre séjour en juillet dernier. Nous étions invités à un dîner et nous nous sommes arrêtés pour acheter le dessert. Nous savions que notre hôte aime les fraises alors nous avons opté pour une tarte aux fruits des bois. Le dessert a fait l'unanimité. N'étant pas très fruits rouges (à part pour les mûres) ni macaron moi-même, je fut la première étonnée d'avouer que j'aimais la tarte. Si bien que je me suis dis que je devrais essayer de la recréer de retour dans ma cuisine kiwi cet été.
Et la voilà. Ce ne fut pas sans peine néanmoins. Après un premier essai râté du biscuit macaron, j'ai lu et regardé un peu partout sur le net et dans des livres avant de me lancer dans une seconde tentative. Il s'agit donc d'un mélange de mes diverses lectures. J'étais toute excitée lorsque j'ai vu le pied se former sous les macarons et les coques intactes. Tout ce temps -interminable- à tamiser était finalement récompensé !
Une fois la base faite, la tarte est simple à monter. Les coques de macarons peuvent être faites quelques jours à l'avance et se conservent dans une boîte hermétique. Le jour même, je vous conseille de préparer les tartelettes quelques heures à l'avance et de les conserver au réfrigérateur. Je vous promets que vous aimerez ce dessert et vos invités aussi !
---
Comments
I adore this. What a wonderful idea for a tart base! Liren Baker (@kitchconfidante)
just stumbled across your blog, and this recipe looks absolutely delicious. hope to try it sometime over the holiday, thanks for sharing! mary @ B&Gjournals
Such immaculate looking macarons - the smooth finish makes me so jealous (my one and only attempted resulted in tasty but cracked ones). These are such a lovely idea. Lesley
Thank you all ! Always a pleasure to know you enjoy it and may try it too ! Vanille
Wow! whisksandchopsticks
Hopped onto your site from Meeta Wolfe's tweet… how stunning. and what a beautiful, yet simple logo you have! Wishing you a Merry Christmas much in advance:) IshitaUnblogged
So beautiful. Light and elegant, the perfect end to a rich holiday meal. Sylvie Shirazi (@gourmandeinthek)
Oh my lord!!!! That is simply stunning!!!! And I am looking forward to the photos of your paper tree!!! What an idea!!! [email protected]
It's been way too long since I've visited but it's okay because it means that I can really get my fill of your art, your food and the amazing photography that transports. Happy Holidays! Cynthia
Simply gorgeous! Nic
Beautiful idea :-) xx Emma Galloway
Waouh ! Sandrine
Oh my goodness, this tart looks really tempting! Can I get a slice?? lapiubelladitutte
Oh my… you just hit me in the heart! Macarrons+Berrys=true love for me. If I was a man you would have me conquered my the stomach (as we say by this sides!). And I agree with foodsforthesoul, it looks so perfect that you won't want to eat it. Kisses and Happy Christmas! sleepingwithacat
wonderful idea and I love your Christmas tree also! peasepudding
Totally gorgeous and a wonderful idea. I love macarons and think I'll give these a whirl over the summer break. Thanks for this inspiration. Domestic Executive (@domesticexec)
What a gorgeous dessert; they almost look too perfect to eat! (You take beautiful photographs too!) foods for the soul
So pretty and refined! I love the idea. Very original. Cheers, Rosa Rosa Mayland
Oh my goodness. Shannon.Kennedy
Ca a l'air délicieux ! daryouchka
Lovely idea Viviane. Happy Holidays Vera
Stunning! What a great idea. joshuafagans
beautiful photos! And the recipe sounds superb. I must try this in the summer! Anna
These are gorgeous! Love this time of year with the abundance of berries. Beth
I absolutely love these tartlets! mycookinghut
nice, nice!!!!!! cakegardenproject