Roll Up
December 13, 2012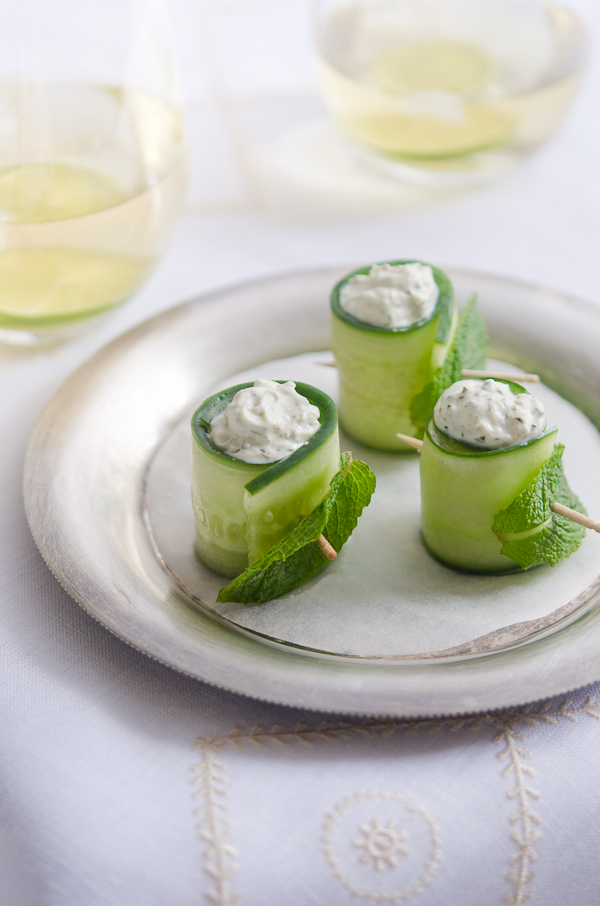 It's this time of year when we are all busy thinking Christmas. There's the gift hunting session, the present wrapping time, the Christmas tree decoration and the menu planning... I'm happy I've done the two first ones, but still need to craft the tree of this year... And for the food, I have some ideas. I've started to test some of them in the kitchen. And I'll share with you soon the dessert I plan to make for this Christmas.
But for now, let's start with the apéro.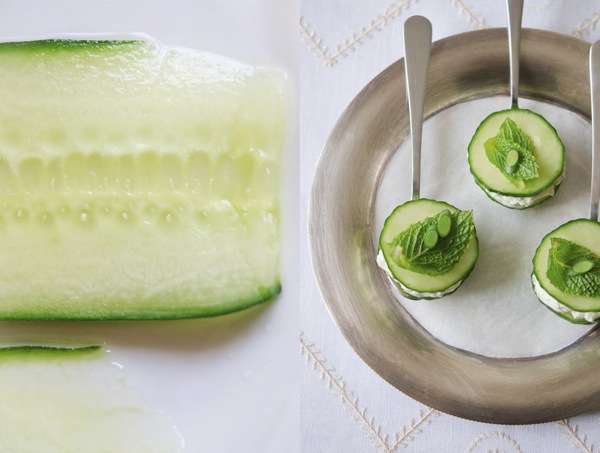 I remember as a child when my sisters and I would gather around the table and prepare different canapés to be served as appetizer on Christmas eve dinner. They would look pretty, all laid on large trays, looking like an edible patch work. I have kept this tradition of serving canapés for many years. Recently I've tried to bring variety as well. And that's how these tzatziki rolls and mini sandwiches came in my mind. Fresh, creamy and crunchy all at once they are easy to assemble. I like how the small bites served with pre-dinner drinks can set the mood of the dinner to come. And I'm thinking seafood for the main...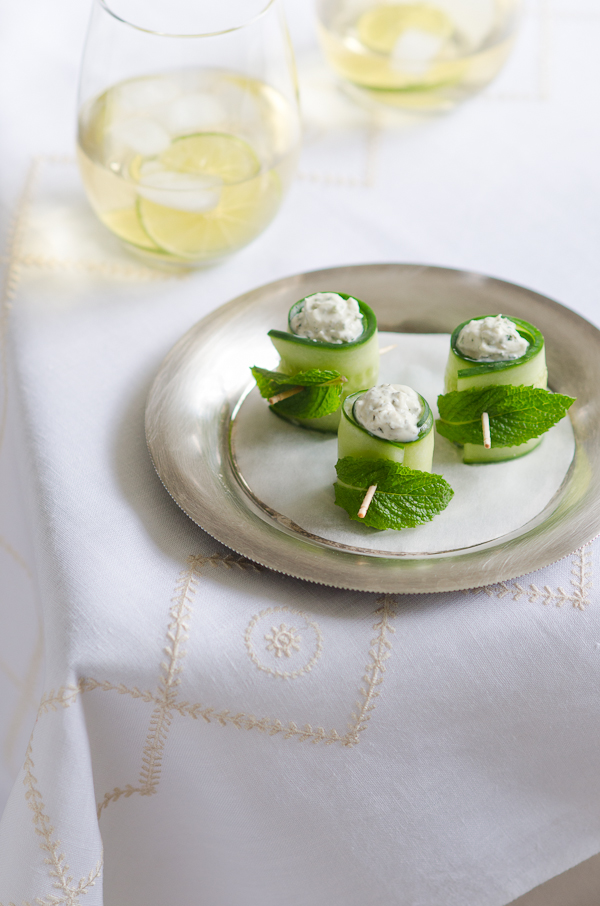 Tzatziki Roll Makes a dozen 2 small Lebanese cucumbers, ends cut off and then finely sliced (2-3mm) lengthwise. 330g yogurt, drained 1 small bunch of mint, rinsed and leaves finely chopped + extra leaves kept for garnish 1 garlic clove mashed or 1 big garlic spear head finely chopped Salt and pepper
Lightly sprinkle salt over each side of cucumber slices and let them rest for 20 minutes. In a bowl mix together drained yogurt, chopped mint, garlic / garlic spear, salt and pepper. Rinse cucumber slices under running water and pat them dry. Lay cucumber stripe flat, scoop a teaspoon of yogurt, place it at the extremity of the stripe and roll. Fasten the roll with a toothpick and a mint leave. Keep on with the rest of cucumber slices and yogurt filling.
</em>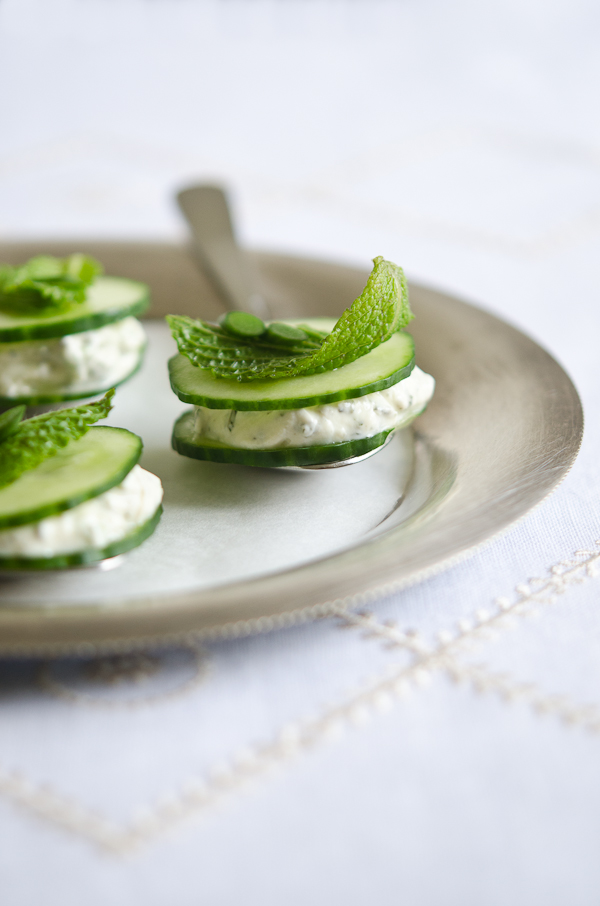 _ _ _ _ _ _ _ _ _ _ _ _ _ _ _ _ _ _ _ _ _ _ _ _ _ _ _ _ _ _ _
C'est le moment de l'année où nous sommes tous occupés en pensant Noël. Il y a la quête des cadeaux, la séance d'emballage des présents, la décoration de l'arbre de Noël et l'élaboration du menu... Je suis contente d'avoir accompli les deux premières étapes, mais il me reste encore à faire l'arbre de cet année... Et question menu, j'ai déjà quelques idées. Certaines d'entre elles que j'ai commencé à tester en cuisine. Je partagerai très prochainement avec vous le dessert que je compte faire pour ce Noël.
Mais pour l'instant, commençons par l'apéro.
Je me rappelle lorsque j'étais gamine, mes soeurs et moi nous nous regroupions autour de la table de la cuisine pour préparer différents canapés que nous servions comme mise en bouche le soir du réveillon. Ils étaient adorables, disposés sur de grands plateaux, tels un patchwork comestible. J'ai conservé cette tradition des canapés pendant quelques années. Récemment j'essaie également d'apporter un peu de variété. Et c'est comme ça que ces rouleaux et mini sandwiches au tzaziki me sont venus à l'esprit. Frais, crémeux et croquant à la fois, ils sont facile à réaliser. J'aime comment ces petites bouchées servies à l'apéritif peuvent donner le ton du dîner qui va suivre. Et je pense aux fruits de mer en plat principal...
---
Comments
Great for apèritif! mycookinghut
[…] Tzatziki Rolls: At Down Under […] 20 Appetizers for the Holidays | A Cedar Spoon | A Cedar Spoon
They are gorgeous! Sammy
Absolutely beautiful. I love tzatziki. This must be the most gorgeous presentation of tzatziki ever. thepaddingtonfoodie
Look lovely. Will make for Christmas. Thank you! lea
This is a cool way to create healthy appetizers…. Priya Krish
Fresh, pretty and delicious! Cheers, Rosa Rosa Mayland
I never had a Tzatziki Roll. It looks delicious! eclecticlamb
These green beauties would be unusual as a Christmas eve diner dish in Poland from where I come from. I always have a few traditional dishes on my table because I like them but as my kitchen is quite far away from traditional kitchen I think they would look beautiful on white tablecloth on this day. Angela
How cute! They look delicious :) Bluejellybeans
So beautiful and yet so simple! Love it! Sarah
[…] http://atdownunder.com/2012/12/13/roll-up/ […] Cool as a Christmas Canapé Cucumber. Viviane's Tzatziki Rolls. | The Paddington Foodie
Hello. I made these last night for a drinks party and have just posted an entry about them on my blog. They were superb! thepaddingtonfoodie
I am always in awe of your creativity when it comes to food and styling. I shall be adding these to my Boxing Day menu when we have visitors coming. Domestic Executive (@domesticexec)
What a simple and delicious canape. Lovely styling and photography too. Alexandra
Beautiful V and how refreshing for our summer days! peasepudding
Priya, yes let's be creative ! Rosa, merci ! Eclecticlamb, make it and let me know what you think. Angela, I like to mix traditional and contemporary approaches when it comes to Holidays feasts as well. Enjoy this festive season ! Bluejellybeans, thank you ! Sarah, glad to know you enjoy the idea ! Alessandra, happy holidays to you and your dear ones ! Suebthefoodie, thank you ! Kelihasablog, you're welcome ;) Alexandra, served on small piece of toast the roll would make indeed interesting canapé. Thank you for your kind words. Lea, enjoy ! My Cooking Hut, indeed ! Peasepudding, We just had the most gorgeous week-end that make me want to say 'Wellington keep it on' ! Vanille
Cool as a cucumber! They look so appetizing - love how you have styled them. Wonder if my cottage cheese and chives would stay inside?! Lesley
Once drained the cottage cheese should make a nice alternative too. Vanille
Simple, elegant , visually appealing, and tasty what else could one want. Happy holidays Vanille from the USA. Iain Dorman
Looks delicious! :D kelihasablog
Thank you Vanille:) Happy Holidays to you too! Angela
Such an elegant idea! Love it! Will pin it into the Raw board :-). Happy Holidays Alessandra Alessandra Zecchini (@AleZec)
Such lovely photography! suebthefoodie
Very cool ideas… thanks! :D kelihasablog