A Fall Picnic
April 26, 2012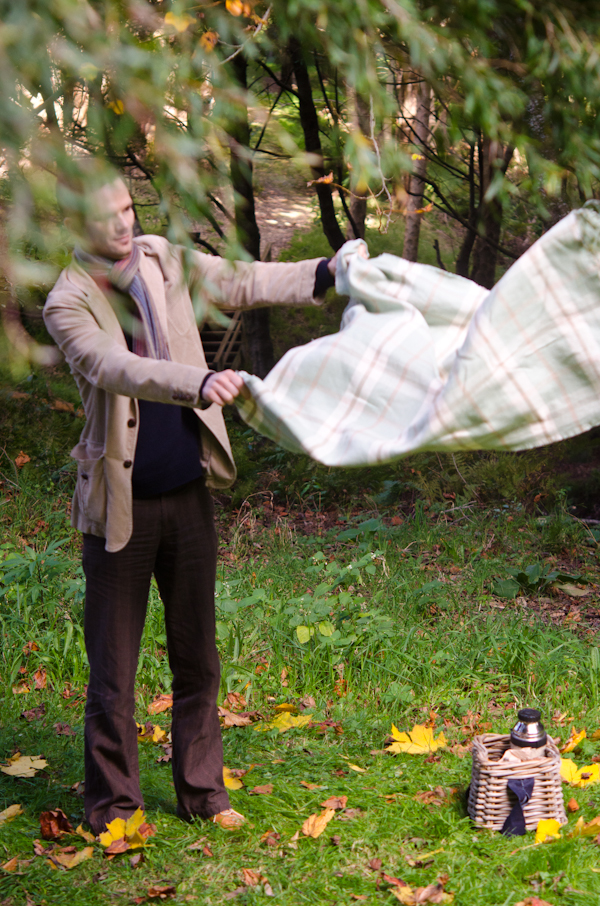 It was a beautiful autumn day. Paprika and I wanted to get the most out of it and have a good time outside, before days get shorter and cooler. So we packed our picnic and hunted for a nice spot in a short driving distance.
Time went by at a leisure pace. We wandered around and spotted a couple of wild inedible mushrooms. We read with the light gently filtering through the foliage. And we casually ate on the grass.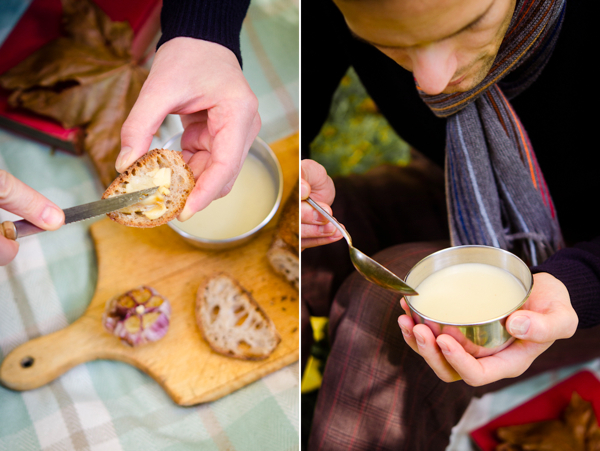 The food was simple and inspired by the season. To start and to keep us warm we had a celeriac and jerusalem artichoke soup with a roasted garlic spread on sourdough bread. This soup is going to be made again very soon. A delight this artichoke taste in the middle of autumn... Then, the mushroom and polenta galette, which is a savory interpretation of this recipe, was generously sliced. As we were replete afterward, we kept the chocolate and nashi pear cake for later in the afternoon.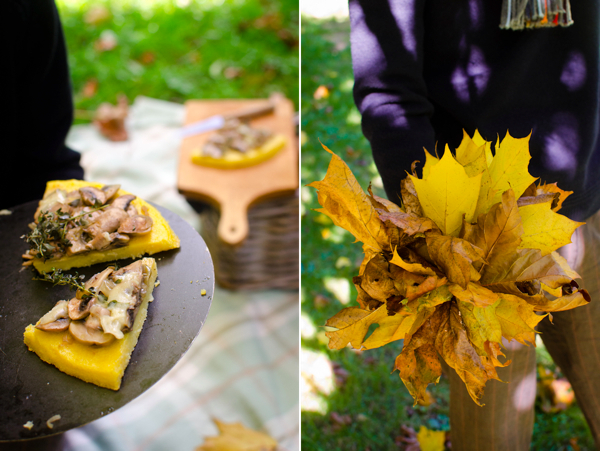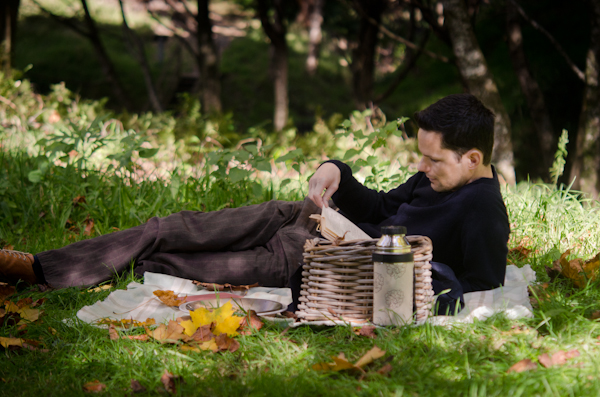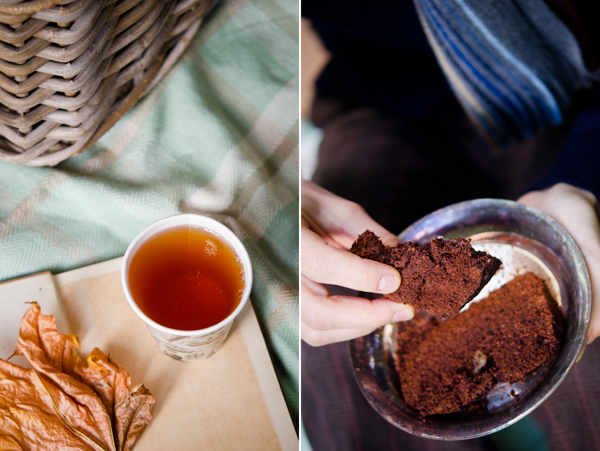 At the end of the day, the wind started to blow and the sun was slowly setting behind the hills, allowing a cool air to settle. It was already time for us to pack our staff, head home and get cosy inside...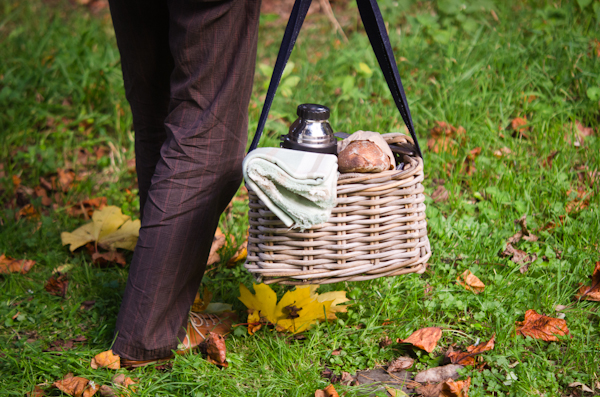 In or out, I wish you all a good week-end !
_ _ _ _ _ _ _ _ _ _ _ _ _ _ _ _ _ _ _ _ _ _ _ _ _ _ _ _ _ _ _
C'était une belle journée d'automne. Paprika et moi voulions en profiter au maximum et passer un bon moment en extérieur, avant que les jours se fassent de plus en plus courts et froids. Nous avons donc emballé notre pique-nique et nous sommes partis à la recherche d'un endroit sympa à une courte distance en voiture.
Le temps s'est écoulé à un rythme tranquille. Nous nous sommes baladés dans les alentours, avons trouvé quelques champignons sauvages non comestibles. Nous avons bouquinés sous une lumière filtrant gentillement à travers le feuillage. Et nous avons cassé la croûte dans l'herbe.
Une nourriture simple et inspirée par la saison. Pour commencer et pour nous garder chauds une soupe de topinambour et céleri rave avec du pain frotté à l'ail. Une soupe qui va être refaite très bientôt. Un vrai régal ce goût d'artichaut au milieu de l'automne... Ensuite, la galette de polenta et champignons, laquelle n'est autre qu'une interprétation salée de cette recette, fut généreusement coupée. Comme nous avions mangé à satiété, nous avons gardé le gâteau au chocolat et poire nashi pour plus tard dans l'après-midi.
En fin de journée, le vent a commencé à se lever et le soleil déclinait doucement derrière les collines, laissant l'air frais s'installer. C'était déjà le moment pour nous de plier nos affaires, prendre la route du retour et se mettre au chaud...
Dehors ou dedans, je vous souhaite à tous un bon week-end !
---
Comments
I want to eat everything! The soup, the spread, the bread, the galette, the cake. What a lovely picnic. leaf (the indolent cook)
Can you share the recipe for chocolate and nashi pear cake?? I very much like the sound of it! Thanks! Harriet
Sigh! So beautiful, it almost makes me want to hurry through the spring and summer seasons so we can get to autumn in the Bay Area! Something to look forward to :) Kitchen Confidante (@kitchconfidante)
It doesn't look cold at all! Good series of pics. Elisa
A lovely picnic! Autumn is such abeautiful season. Bon WE! Cheers, Rosa Rosa May (@RosasYummyYums)
*This post all the more makes me long for a proper picnic basket and thermos. My kind of day, and in the best season! Cheers to many more of these, *Heather** heather
Tes photos sont vraiment magnifiques, quand travailles-tu pour de grands magazines?? Tu y ferais merveille! Tes photos sont tellement vivantes! Flo Makanai
That sounds like the perfect afternoon, I love a day spent relaxing outdoors. Sylvie Shirazi (@gourmandeinthek)
Wonderful fall picnic! mycookinghut
A lovely spread! Lesley
Oh, I just love this post from beginning to end. The heat is beginning to swelter here so I am happy that somewhere people are reveling in my favorite season - fall. Lovely, lovely photos. thyme (Sarah)
You're an amazing cook AND photographer! That looks like such a gorgeous day that you had. :-)) Sugar and Spice (Shirleen)
Harriet, I would like too, but need to make it again and write down proportions this time ;) Hopefully I'll share it soon. Vanille
I guess after your freezing and snowing spring episode you'd feel it like summer ;) Vanille
What a great day - you have given me inspiration to organize a picnic myself. Thanks for sharing. The Style Dancer
What a wonderful way to spend the afternoon - thanks for taking us along! anne Zen and Genki
What a wonderful looking picnic :) Beautiful pictures as always & I especially love the sound of that soup, anything celeriac works for me, one of Winter's treats that I really look forward too. Mairi Herbert (@ToastNZ)
Stunningly beautiful photos, Viviane, looks like a great, delicious day out! easyfoodhacks
Picnics and autumn don't always go together but with the wonderful weather we've been having it's great to see your picnic adventure. Domestic Executive (@domesticexec)
I love this post! Gorgeous, gorgeous. Some of your best photography I think! Lovely looking picnic. timeforalittlesomething
You have the skill to make everything look so poetic and picturesque. It is interesting that the world I'm used to is getting ready for the summer, but down where you are, the day is getting shorter and colder. Beautiful picnic!! Kaho
[…] Down Under – A Fall Picnic. You must visit this post – Viviane has outdone herself with this picnic and […] Friday's Favourite Five | Time for a Little Something
Looks like a beautiful autumn picnic. I have been in Sydney a lot lately only getting back this evening and the temp drop was a shock. peasepudding
J'adorrrre ça avait l'air super ce pique-nique ! Vous avez sûrement TRÈS, TRÈS, TRÈS, TRÈS (ect…) bien mangé :) Lauriane