Keep It Simple
April 12, 2010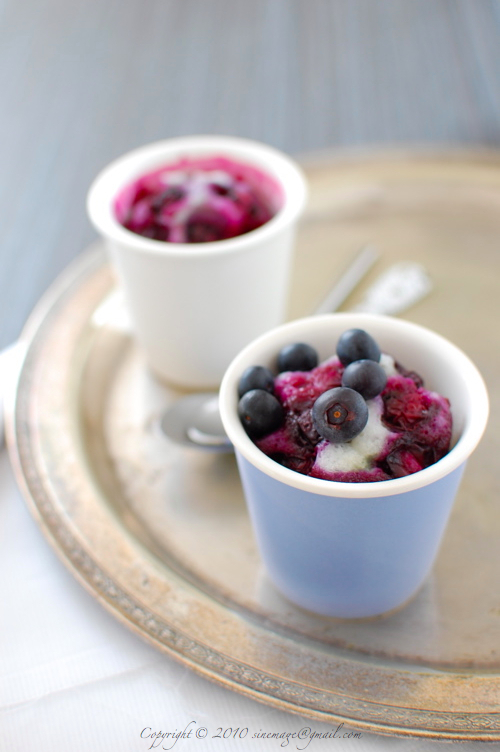 Did she say soon ?
Yes, she wrote soon ! … Okay.
First, there was my long hesitation in front of no bake possibilities: omelette soufflée, crêpes, pancakes, semifreddo, jam… ? Then I tried different preparations. Afterward, it was already the week-end [Paprika and I enjoyed a beautiful Saturday by the way] And…and finally it's more than time to share this simple coconut steam cake with blueberry, unanimously appreciated.
As you can see, I played on the safe side here. I already made different versions of steam cake before, but this a new combination that works well too.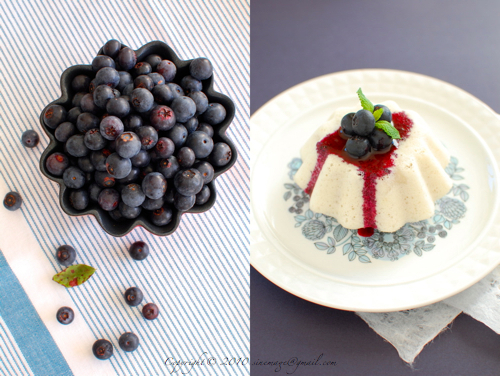 Coconut Steam Cake With Blueberries (makes 4 small ramekins) 80ml coconut cream 60g rice flour 25g caster sugar 2 egg whites 50g blueberries
Mix together rice flour and sugar // Add coconut cream // In a separate bowl whip egg whites until firm peak // Fold gently in the flour mixture and combine softly // Add blueberries to the batter // Grease moulds and pour the batter (3/4 full) // Steam for 25-30 minutes
_ _ _ _ _ _ _ _ _ _ _ _ _ _ _ _ _ _ _ _ _ _ _ _ _ _ _ _ _ _ _
A-t-elle dit bientôt ?
Oui, elle a écrit bientôt ! … Ok.
D'abord, il y a eu une longue hésitation devant les possiblitées de cuisson sans four qui s'offraient à moi: omelette soufflée, crêpes, pancakes, crème glacée, confiture… ? Par la suite j'ai fait différents essais. Puis est arrivé le week-end [Paprika et moi avons profité d'un beau samedi, d'ailleurs] Et…et finalement il est plus que temps de partager ce simple gâteau vapeur au coco et à la myrtille unanimement apprécié.
Comme vous pouvez le voir, j'ai préféré la jouer sûr. J'ai déjà réalisé différentes versions de gâteau vapeur auparavant, mais cette association de saveurs est nouvelle et marche très bien également.
Gâteau Vapeur au Coco et à la Myrtille (pour 4 petits ramequins) 80ml crème de coco 60g farine de riz 25g sucre en poudre 2 blancs d'oeuf 50g myrtilles
Mélanger la farine et le sucre // Ajouter la crème de coco // Dans un second bol battre les blancs d'oeuf en neige ferme // Incorporer délicatement les blancs en neige dans la préparation // Ajouter les myrtilles // Graisser les ramequins et les remplir au 3/4 // Cuire à la vapeur pendant 25-30 minutes.
---
Comments
Simple, but so delicious! Cheers, Rosa Rosa
Fantastic! Alessandra
*We made a coconut steam cake with caramelized bananas last year for a friend's birthday. He's originally from the Phillippines and it's a traditional dessert for birthdays. He was surprised and amazed to see we attempted it – and succeeded! It was delicious. Your mini shaped cakes look great! Cheers, *Heather** heather
These are absolutely gorgeous! Wow!! Kaitlin
Kaitlin, Rosa, Alessandra, thank you ! Heather, caramelized bananas…must be indeed delicious ! Vanille
Ahhhh, blue berries… Cynthia
I will take the risk of sounding completely silly but since I have no experience with real Asian food I'll go ahead and ask anyway. How do you steam it? In a steam oven? Bamboo steamer? How does the steam reach inside the mould or is it just about heat? :B Elisa
This looks light and tasty, now I just need to convert the amounts to US standard. Valen
Absolutely GORGEOUS photography. Saw the lead photo on Tastespotting and HAD to come by. The photo had me grabbing for a spoon and pawing at my computer screen. A beautiful and easy recipe, for sure. Thanks for sharing! Brooke @ Food Woolf
Cynthia, thank you for stopping by. Elisa, everything you listed will do or with a steam cooker. And if you have none of them you can still use, like me, a simple pan filled with water and a colander placed above it. You should just make sure the water is enough for 30 minutes of evaporation, the level does not reach your cake tins and to place a clean tea towel underneath the lid to avoid water droplets falling in your cake. Hope you will give it a go now ! Valen, the egg whites make indeed these little cakes really light. Happy baking ! I mean steaming… Brooke, thank you for your kind words ! Vanille
Show stopping opening picture! Then comes the recipe…so good! Helene
Love the stunning simplicity of this cake. I'm bookmarking this recipe, as I think I'll really love the end result :) Y
I'm thinking about making these for the weekend but I can't get coconut cream where I live, I've seen (through a quick google search) that you can substitute it with a mixture of cream and coconut essence but coconut essence isn't available here either. Is it ok if I substitute it with coconut milk? Emma
Yes, Emma, coconut milk will make a good substitute. The fat content is less than the cream, but the texture of the cake should not be altered. Hope you like it ! Vanille