Apricot, Last Episode
January 28, 2010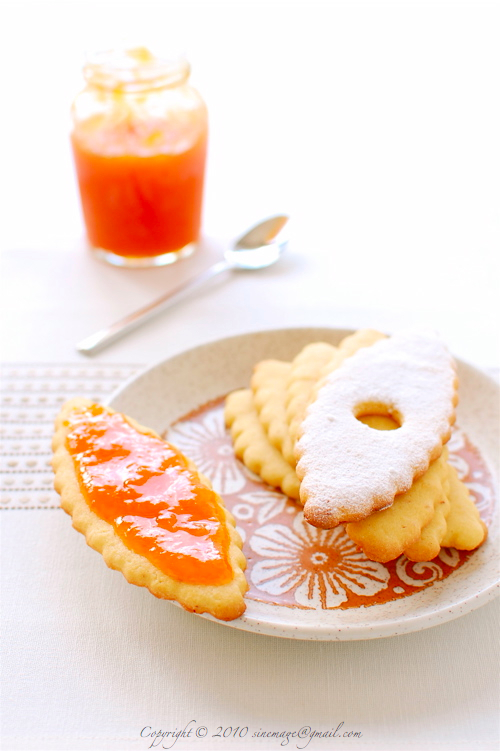 When my sister was here, I cooked every day and was pleased to do so. Unluckily, I didn't bake as much as I wanted.
I even didn't get the chance to make a galette des rois, before she leaves…
The day before her flight, she told me how much she liked the little cookies I made and sent for Christmas 2008. That's long time ago ! I was surprised she remembers them. So the last evening, with the help of my niece, who likes cooking and baking too, we made some cookies.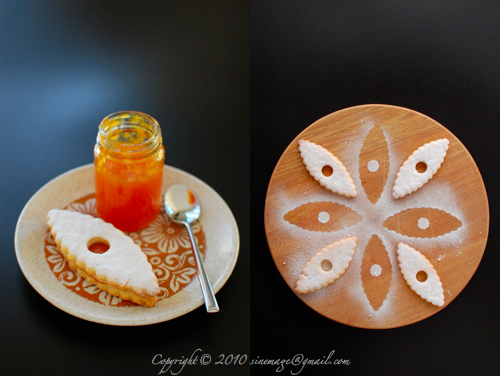 I made cookies again lately, to eat with homemade apricot jam. Classic, but good.
I also tried to flavored frozen yogurt with jam. This one was a little bit too tangy for my taste bud, but refreshing, specially these last days which have been pleasantly warm.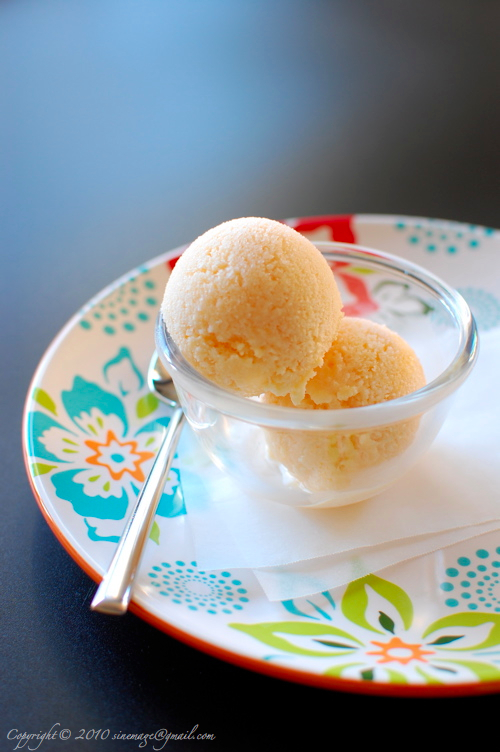 Now, I swear this is my last apricot-related post !
Cookie recipe here.
_ _ _ _ _ _ _ _ _ _ _ _ _ _ _ _ _ _ _ _ _ _ _ _ _ _ _ _ _ _ _
Lorsque ma soeur était là, j'ai cuisiné tous les jours et j'étais contente de le faire. Malheureusement, je n'ai pas fait autant de pâtisserie que j'aurais voulu. Je n'ai même pas eu la chance de faire une galette des rois avant qu'elle parte… La veille de son départ, elle m'a dit combien elle avait aimé les petits sablés que j'avais fait et envoyé pour le Noël 2008. C'était il y a longtemps ! J'étais surprise qu'elle s'en souvienne. Donc le dernier soir, avec l'aide de ma nièce, qui aime cuisiner elle aussi, nous avons fait des sablés.
J'en ai refait dernièrement, des sablés. Pour les manger avec la confiture d'abricot maison. Classiques mais bons.
J'ai aussi essayé d'aromatiser du yaourt glacé avec de la confiture. C'était un peu trop acidulé à mon goût, mais rafraîchissant, surtout ces derniers jours qui ont été agréablement chauds.
A présent, je promets que c'est la dernière fois que je vous parle d'abricot !
Recette des sablés par ici.
---
Comments
I can never get enough of apricot-related dishes/recipes! Those cookies look delightful and so does that ice cream! Cheers, Rosa Rosa
What beautiful cookies! I wasn't a fan of apricots until I found out how good "real" ones taste when I started shopping at the farmer's markets. Keep posting about them I'd be happy to read more :) shaz
*If you want to post more about apricots, please, go right ahead! These are dainty little cookies, perfect with tea or a latte I'd presume. Do you have a recipe for the frozen yogurt? Cheers, *Heather** heather
Heather, I did not follow any recipe for the frozen yogurt. And honestly I don't remember the proportions… Vanille
Adorable cookies! And lovely photos! Now I really want some apricot jam :). Susan
Beautiful photographs…. :) Gala
one of my favorite fruit, when I can find it perfectly ripe. Too may times, a late freeze get them… and the trees don't like our hot & humid summers here in the the Northern Virginia Piedmont. The frozen apricot yogurt looks luscious… Sylvie, Rappahannock Cook & Kitchen Gardener
Beautiful photos! More apricot related posts please! :D Y
Thank you everyone for your comments. I'm glad to read apricot lovers like me ! ;) Vanille