On Beans
March 15, 2013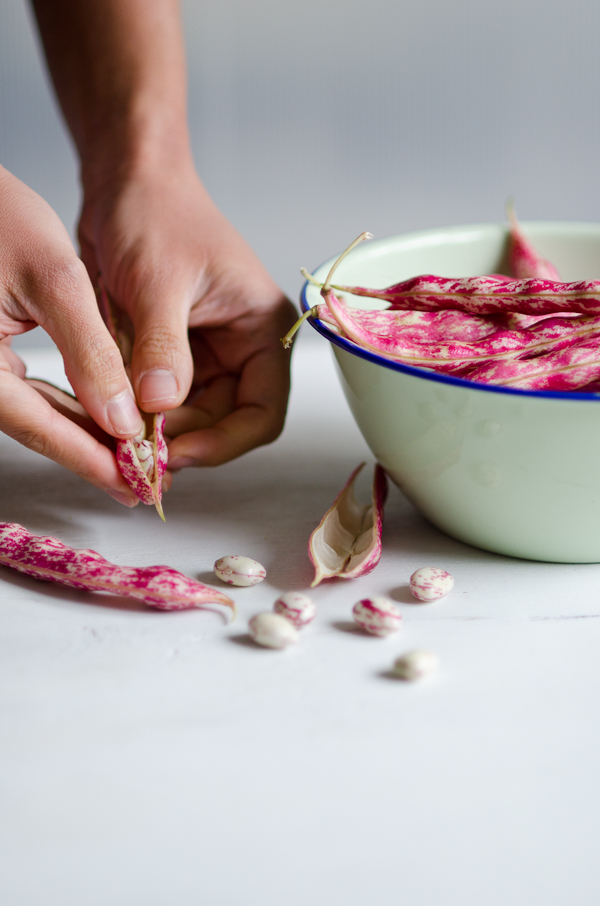 There are activities strongly associated with a specific time of year. Seasonal. Shelling beans is one of them.
The transition between summer and autumn is truly a prolific time. A glorious blend made of fresh apples, sweet pears, aromatic grapes and end-of-season peaches and plums. On the vegetable side, there's plenty too. Specially beans. Green beans -les haricots verts- snake beans and shelling beans...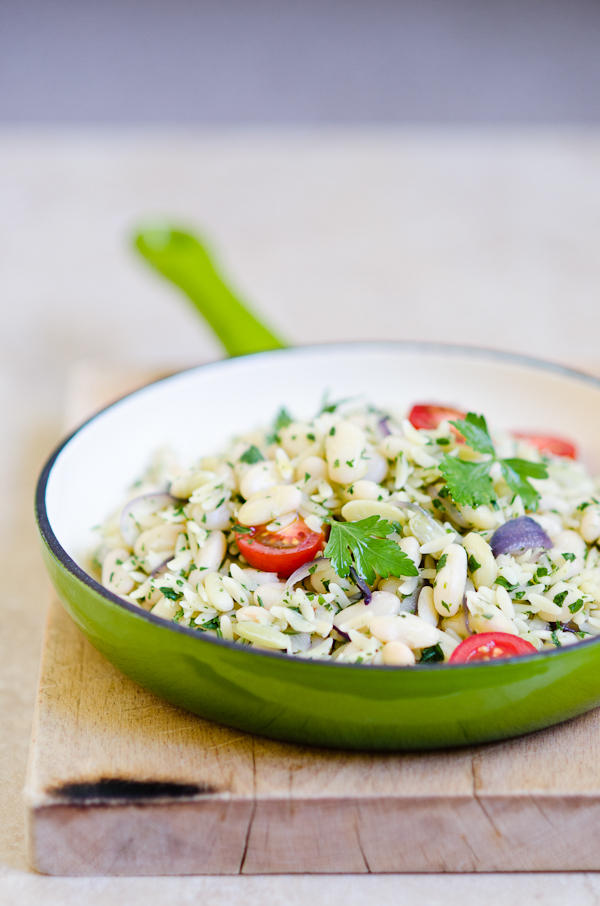 Paprika and I were all happy to find the shelling beans this year. And we bought a lot of them. Afterward came the time to gather around the bulky bag, release one after another the beans from their pods, weigh and pack them.
Beans are a staple in Réunion. So I prepared some the way I was used to eat them when I was young, stewed with onion, garlic and bay leave to serve on rice. And because the sunny and warm days kept going, I also wanted to try something different and fresh. This salad makes a good use of sweet tomatoes, parsley for a fresh note and nutty white beans. A good accompaniment to a grilled meat.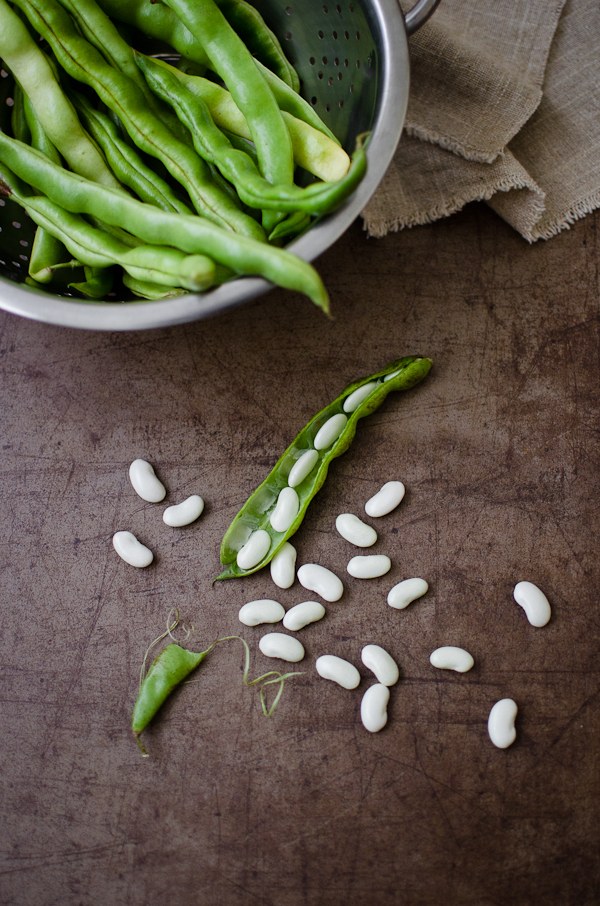 Risoni Tomato and Bean Salad (for 2)
300 g fresh white beans, shelled 100 g risoni 6-8 small tomato, like cherry tomato, halved Half red onion, finely sliced 1 plump garlic clove, crushed A small bunch of flat parsley, finely chopped 1 bay leaf 1 small shallot Salt and pepper Olive oil
In a sauce pan over medium-high fire, place the beans, bay leaf, shallot and salt in plenty of water. Cover and let it boil. Then reduce the heat and let it simmer for 20-25 minutes or until the beans are tender, but not too soft. In the meantime cook the risoni following the package instructions. Drain and rinse under cold water. Add a splash of olive oil and stir to coat and prevent sticking. Keep it aside. When the beans are cooked drain them and remove the bay leaf. In a skillet over medium fire, heat the equivalent of 1 to 2 tablespoon of oil and cook the onion until translucent and soft. Add garlic and stir until fragrant. Add the beans and risoni and stir gently. Add fresh parsley and stir to coat. Add tomatoes and season to your liking. It can be served warm or cold. Just add a splash of olive oil if served cold.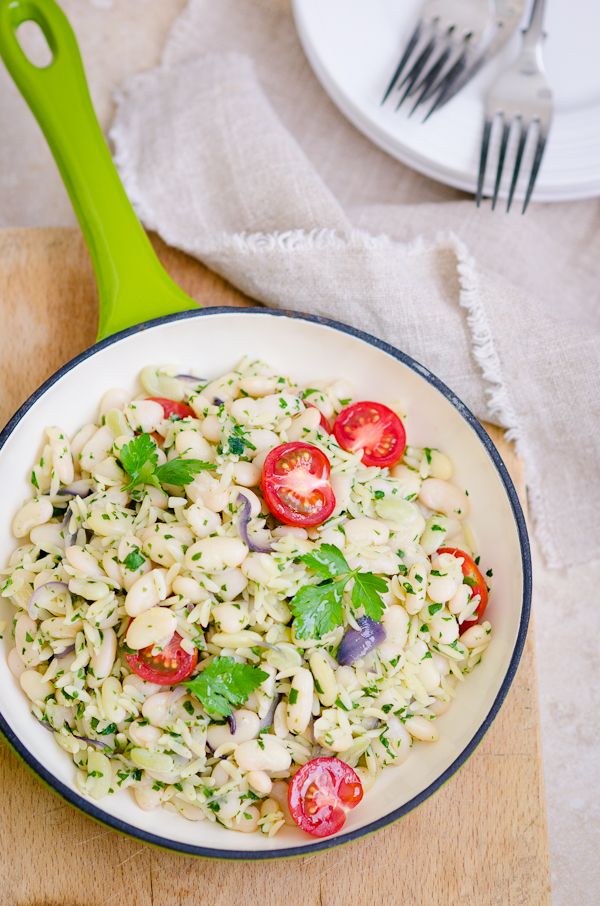 _ _ _ _ _ _ _ _ _ _ _ _ _ _ _ _ _ _ _ _ _ _ _ _ _ _ _ _ _ _ _
Il y a certaines activités fortement associées à un moment spécifique de l'année. Saisonnières. Ecosser les haricots est l'une d'entre elles.
La transition entre l'été et l'automne est réellement une période prolifique. Un merveilleux mélange fait de pommes croquantes, de poires sucrées, de raisins parfumés et de pêches et prunes de fin de saison. Du côté des légumes, c'est l'abondance aussi. Spécialement avec les haricots. Haricot vert, haricot-kilomètre ou haricot frais à écosser...
Paprika et moi étions tout contents de trouver les haricots frais cette année. Et nous avons fait notre stock. Après est venu le temps de se regrouper autour de notre butin, retirer un à un les haricots de leurs cosses, les peser et les mettre en sachet.
Le haricot est un aliment de base à la Réunion. J'ai donc préparé une partie comme j'avais l'habitude d'en manger quand j'étais plus jeune, mijotés avec un oignon, de l'ail et du laurier et servis avec du riz. Mais comme les beaux jours ont continué de se poursuivre, j'ai voulu aussi essayer quelque chose de différent et frais. Cette salade fait bon usage des tomates sucrées, du persil pour une note de fraîcheur et des haricots blancs frais. Un excellent accompagnement à une viande grillée.
---
Comments
I am extremely fond of fresh beans and can't wait to eat them again. This salad is just amazing! Cheers, Rosa Rosa Mayland
And it looks beautiful too.. what a super recipe, maybe I should plant some more beans this year.. c cecilia
I am looking forward to fresh beans, it will be a while, for me. Lovely photos, the colors are just perfect. Liren Baker (@kitchconfidante)
While you are gearing up to welcome Autumn, I am all set for Summer and this salad would truly fit both the season. Love orzo and those fresh beans are a great combination. Kankana
Love the striking green frypan! I have this pistachio coloured cookware too. Your salad is very appetising! Lizzy (Good Things)
I love the beautiful marbled colors of the first ones, cranberry beans? Sylvie Shirazi (@gourmandeinthek)
Sylvie, I presume that's how you call them in the US. A pity they lose their nice colour once cooked. Vanille
Yes, borlotti beans, found at Moore W. and the white ones on the farmers market. Vanille
I've added you to the Feast Your Eyes list of my links to food sites I love. Lizzy (Good Things)
Thank you very much Lizzy ;) I'll update my links too ! Vanille
[…] MEAL Kale and Fig Salad – Pure and Simple Risoni Tomato and Bean Salad – At Down Under Roasted Polenta-Crusted Potatoes – Simple Bites Zucchini Ribbon Salad – Proud Italian Cook Wild […] Design Crush » An Easter Lunch
Beautiful clicks! Love this recipe, very fresh and healthy! mycookinghut
The dish is so beautiful! :) M just in love with the beans! :) Looking forward to your next post!! coolruchi
These pictures are beautiful! sani panini
Cecilia, yes, you should, just because you can and fresh beans are a treat ;) Sani, thank you ! Rosa, thank you ! Your turn will come very soon ;) Lizzy, I like to have a pop of colour in the kitchen as well. Hope you'll have a try at the salad ! Vanille
This is really nice, and a recipe and activity I can totally relate with :-). Alessandra Zecchini
Those beans in the first picture are so beautiful I almost wouldn't want to shell them! Are they borlotti beans? hungryandfrozen
*Beautiful photos. * gustatori