Say Cheese
September 08, 2012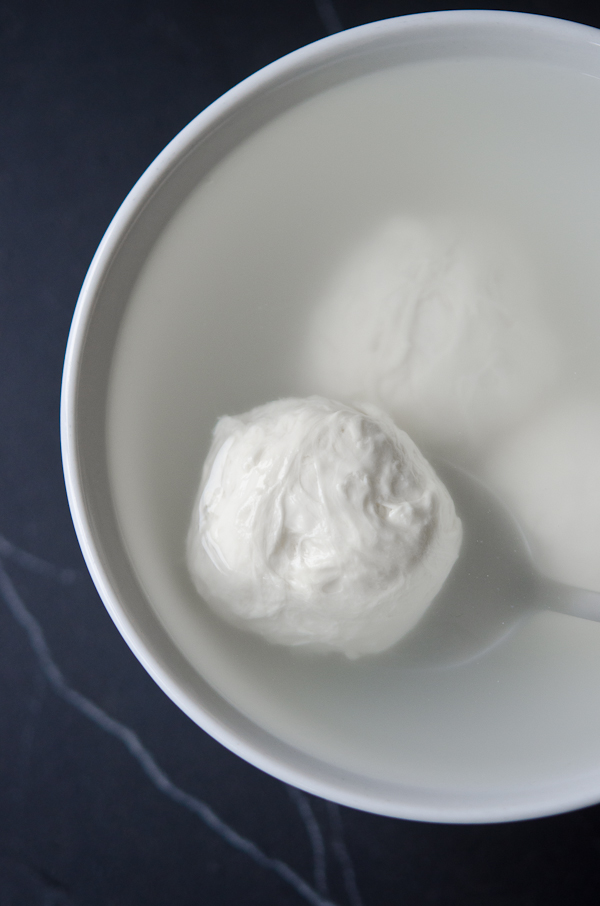 Two weeks ago I attended the second edition of the New Zealand Food Blogger conference held this year in Wellington. Two excellent days filled with demonstration, tasting, presentations, workshops, good food and people who all have an interest for it. Special thanks to Allison and Shirleen who did a fantastic job organizing this conference.
There are many detailed accounts about this event, so please go and read more about it chez Alessandra, Sue, Lydia part 2 & 3, Celia day 1 & 2, Lesley, Carmella, Jemma, Emma and Lucy...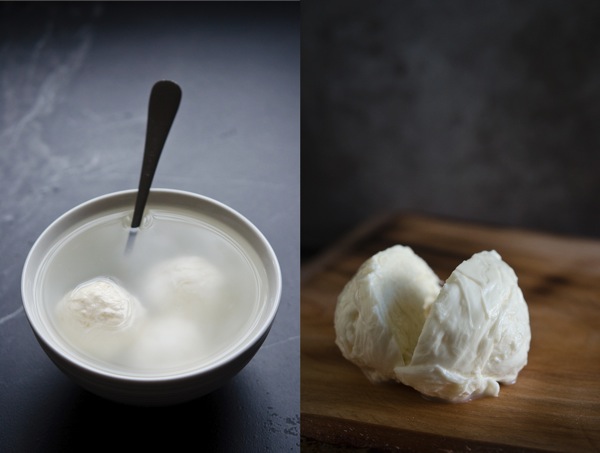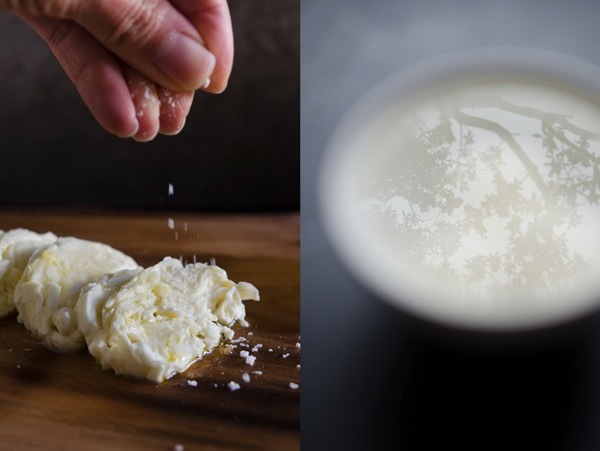 August was the month of first time. First time I exhibited my work and first time I was given the opportunity to lead a food photography session. The former took place in Hungary and the later in Wellington at this conference. Both experience have been exciting and challenging at the same time, yet there's nothing like sharing what you like to do with people...
Still part of the conference, I attended Allison's workshop on cheese making, where we were shown how to make mozzarella. Because I was offered a cheese making kit from Mad Millie at the end of the two days, there was no reason not to practice what I have learnt during the workshop.
As you can see, I still need to work on nicely shaping the ball. Though, a part of me quiet like it this way with all the irregularities. With a drizzle of olive oil and a sprinkle of sea salt flakes or on toast with dried tomatoes, it makes a simple and tasty snack. I bet I will do this again in summer with fresh tomatoes and basil...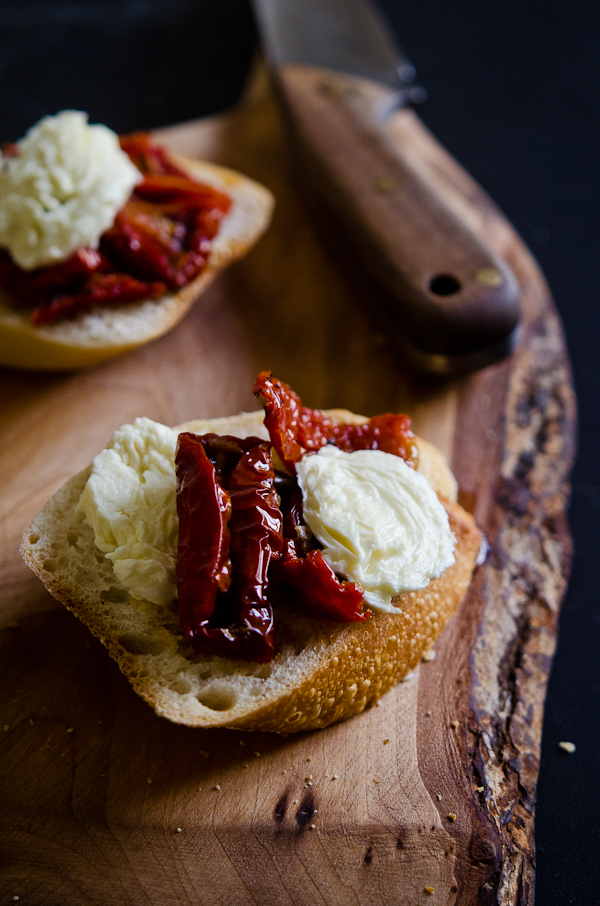 Mozzarella Makes 3 medium size balls Recipe from The Gourmet Gannet
2 litre full cream milk (not homogenized) 1 tsp citric acid, diluted with 1 tsp water 1/2 tsp not iodized salt 1/2 tsp rennet or 1/4 Mad Millie vegetarian tablet, diluted with tsp water
In a pan add milk, salt, acid citric and gently heat to 32˚C (90˚F). Add diluted rennet, stir well and leave for 20 minutes to allow curds to form. Cut curds into 1cm cubes with a knife. Heat gently to 41˚C (105˚F) slowly forming the curd into a ball with a slotted spoon. This should gradually come together into a 'milk brain' shape. Do not force or squeeze the curd together. Do not overheat. Remove from heat. In a small pan heat some sterilized water to 70˚C (158˚F). Place a ball of curd into the hot water (inside a sieve for ease of lifting out) to cook and stretch the curd. Roll around with a wooden spoon. It should start to become stretchy/sticky. Take the ball out of the water and stretch (do not pull, let gravity do the work) then fold, then shape into a ball shape. Plunge into a bowl of ice cold water. This helps cool the cheese quickly and retain its shape. Eat immediately or it can be retained in the fridge in a sealed container for a few days. Remember, it has no preservatives. Note: Too acidic will be too stretchy. Not enough, will snap.
The NZFB conference 2012 was generously sponsored by:
Le Cordon Bleu | Chocolate Festival | T Leaf T | Moon Over Martinborough | Harper Collins | The Kitchen Maid | My Darling Lemon Thyme | Grow from Here | Yellow Brick Road | Archer McRae | Positively Wellington Tourism | Viviane Perényi | Alessandra Zecchini | L'Affaire au Chocolat | Six Barrel Soda | The Dumpling House | The Gourmet Gannet | People's Coffee | Wellington on a Plate | Boulcott Street Bistro | Foxglove | Monsoon Poon | The General Practitioner | Coco | The Tasting Room | Ti Kouka Cafe | Maginnity's | Fork & Brewer | Hummingbird | Floyds | Liquid Winks | Pop Dining | Moore Wilson | Regal Salmon | Floriditas | Little Penang | All Good Bananas | Aroha Drinks | Kokako | Little Bird Organics | R Qute | The Collective Dairy | Eco Store | Mad Millie | Holy Moly Icecream | Intercontinental | So D'lish | Sugar and Spice and All Things Nice | Peasepudding | Eat and Greet | Wellesley Hotel | Omega Seafood | Bongusto | Pork | Saint Clair | Manowar Vineyards | Neudorf | Equagold | Love Plant Life | 100 Percent Nutz | Zipleaf
_ _ _ _ _ _ _ _ _ _ _ _ _ _ _ _ _ _ _ _ _ _ _ _ _ _ _ _ _ _ _
Il y a de cela deux semaines j'assistais à la seconde édition de la New Zealand Food Blogger conference tenue cette année à Wellington. Deux jours excellents remplis de démonstration, dégustations, présentations, ateliers, tout plein de bonnes choses à manger et en compagnie de personnes qui ont toutes un intérêt pour la cuisine. Un grand merci à Allison et Shirleen qui ont fait un travail fantastique pour l'organisation de cette conférence.
Il a de nombreux compte-rendus très détaillés de la conférence, que je vous encourage à découvrir chez Alessandra, Sue, Lydia partie 2 & 3, Celia jour 1 & 2, Lesley, Carmella, Jemma, Emma et Lucy...
Août a été le mois des premières fois. Première exposition photos et première fois que j'ai l'occasion de mener un atelier de photo culinaire. La première a pris place en Hongrie et la seconde à Wellington pendant la conférence. Deux expériences excitantes et comme un défi à la fois. Néanmoins rien de mieux que de partager ce que l'on aime faire avec d'autres personnes...
Toujours lors de la conférence, j'ai assisté à un atelier fromage, où Allison nous a fait une démonstration pour la réalisation de la mozzarella. Comme j'ai reçu un kit fromage Mad Millie à la fin du deuxième jour, il n'y avait pas de raison de ne pas pratiquer ce que j'avais appris.
Comme vous pouvez le voir, il y a encore du travail à faire dans le façonnage des boules. Bien qu'une partie de moi les aime plutôt bien comme ça, avec leurs irrégularités. Avec un filet d'huile d'olive et un peu de fleur de sel ou sur des toasts avec des tomates séchées, cela donne un snack simple et bon. Quelque chose me dit que je vais le refaire cette été avec des tomates fraîches et du basilique...
---
Comments
Looks wonderful…. yum! kelihasablog
*We've made mozzarella several times, but this method differs slightly when you drop the curd into hot water prior to stretching. Yours looks much more supple than ours, which is more firm and perfect for slicing. Thanks for sharing your recipe and photo inspiration! *Heather** heather
I really loved making mozzarella at the conference! Yours looks delicious, especially served so simply :) timeforalittlesomething
beautiful V, I like the irregular shapes too, it looks more homemade. I'm glad you got to make the cheese, that's the biggest compliment a teacher can have :o) peasepudding
Wonderful! One of these days, I'll really have to make my own cheese. your mozarella looks so moist and luscious. Great clicks too. Cheers, Rosa Rosa Mayland
Gorgeous photos - you've got me wanting to make mozzarella. How wonderful it would be to consume them when they're so fresh. leaf (the indolent cook)
Hello - it was a pleasure to meet and talk with you at conference. Thank you for linking to my blog too. Your photos, as ever, are most beautiful, especially the one of the reflection of the tree. I wish I had a fraction of your talent. However, I am determined to learn more on photography so I at least have the basics. This cheese-making class looked good too - hard to choose between the pastry and the cheese, but I have this thing about pastry. Lesley
WOW, looks amazing :) Love your blog מתכונים
Just beautiful! I can only imagine how fresh and creamy it must taste. Sylvie Shirazi (@gourmandeinthek)
Oh, cheese, I can't resist ! And it looks gorgeous ! Sarah
Rosa, once you have gathered the ingredients, it's not too complicate to do. I'm going to make another batch today ! Leaf, thank you. You should give it a try ! TimeForaLittleSomething, Alli really made it look easy and it is in the end. Heather, I see you have mastered the process ;) I hope to get there one day… Kelihasablog, thank you ! Peasepudding, thanks. You'll be responsible for a weekly dose of fresh mozza ! Lesley, it was nice to see you again. And I'm glad to hear you are decided to improve your photographic skill ! Sylvie, that's the cheese lover in you who speaks ;) Sarah, thank you ! Vanille
This looks fantastic. I also tried a Mad Millie cheese kit recently and made halloumi and ricotta so far. Mozzarella looks great too. Bunny Eats Design
I'm looking forward to trying out the Gourmet Gannet recipe which is a slightly different methodology I was taught. Yours looks delicious. Domestic Executive (@domesticexec)
CHEESE! SO yummy looking! Gorgeous! Zen and Genki
These photos are super helpful in illustrating the cheese making process. As they say, a picture is worth a thousand words. Fantastic job! dfrancis