Cookie Time
May 25, 2012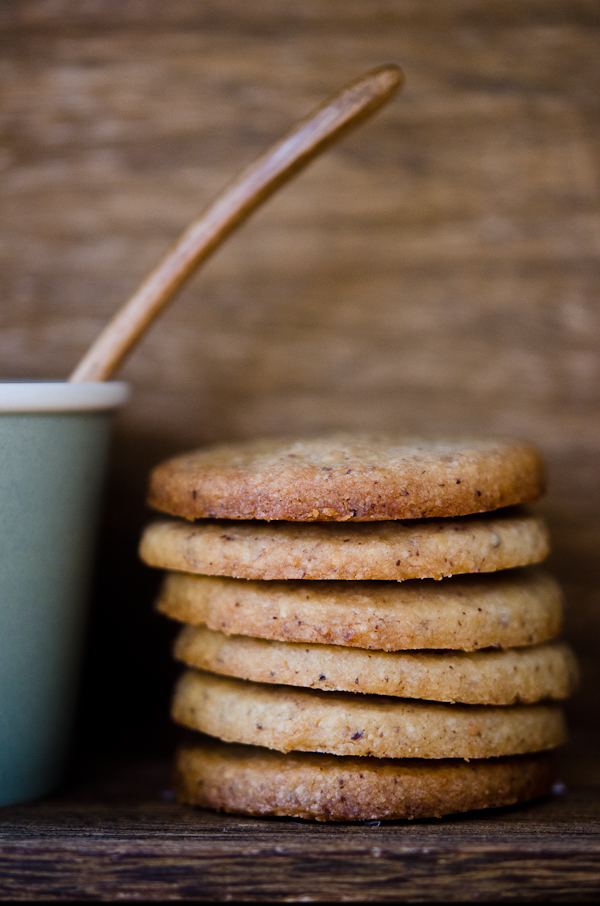 I can't believe that in a week time it'll be the very half of the year. 2012, you're going fast ! In the same time, I look forward to this second half of year. Travel and meeting people, new and loved ones, make me all excited about this time to come ! Anticipation works like a good fuel...
But for now it's about these cookies. Light and nutty. Hazelnut-y I should say. If you have followed the blog for a while, you should know by now that when it comes to nut, I'm all for it.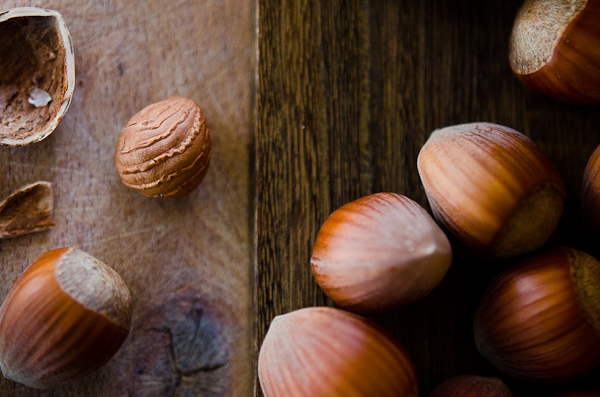 Like walnut, hazelnut has an interesting pattern on the shell and on the nut itself, with in plus this beautiful warm colour that gave its name to a shade of brown. Lovable all around !
From hazelnut, the cookies keep none of the visual characteristics but its taste, which is enough to qualify them as good. And after reading this who knows they might have mighty power too... They are yet another version of those cookies.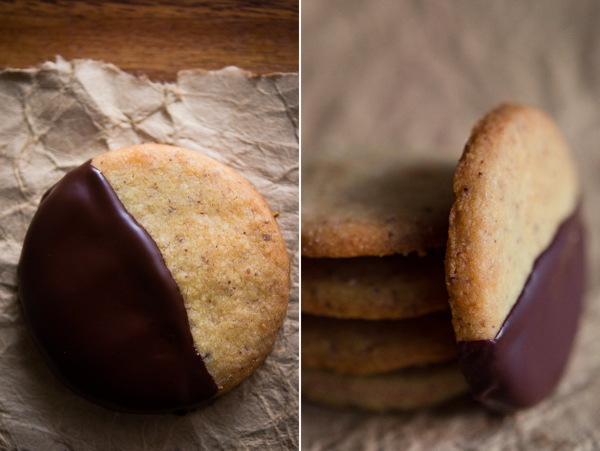 Hazelnut Cookies Makes 25-30
210gr flour 80gr ground hazelnut 200gr unsalted butter, soften and diced 60gr finely ground brown sugar or icing sugar 200gr chocolate for dipping (optional)
In a bowl mix with your hand all the ingredients to form a smooth paste. Let it rest covered in a cool place (not the fridge) for 30 minutes to one hour. Butter two baking trays -or line them with baking paper. Preheat oven to 180°C/356°F. Roll down the dough on a lightly floured work surface and cut out cookies. Bake for 10-12 minutes or until lightly golden. Remove carefully from oven (they will be still soft) on to a cooling rack. Melt chocolate in a water bath and dip half cookie in it or alternatively just coat with a spatula half of each cookie with chocolate.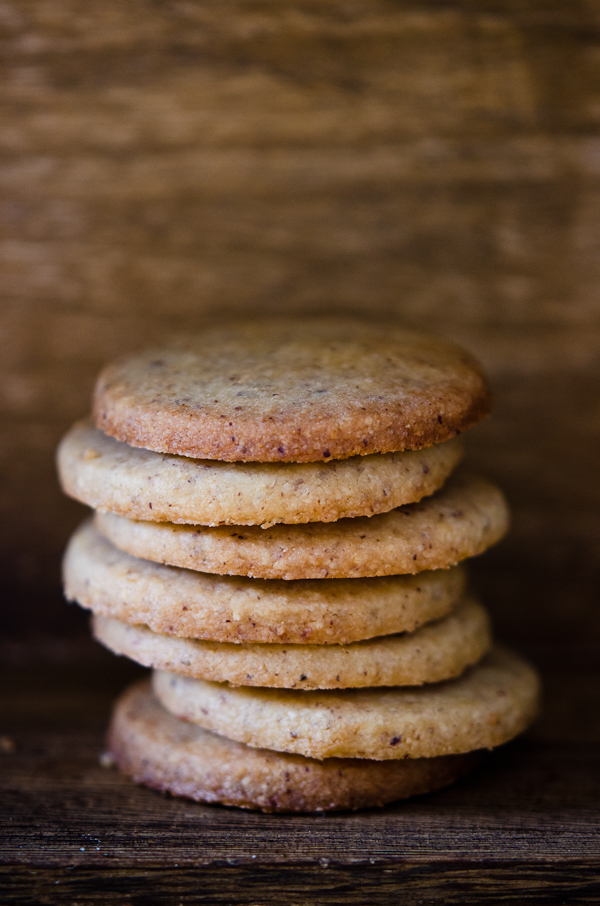 _ _ _ _ _ _ _ _ _ _ _ _ _ _ _ _ _ _ _ _ _ _ _ _ _ _ _ _ _ _ _
Je n'arrive pas à croire que dans une semaine, nous serons à la moitié de l'année. 2012, tu vas vite ! En même temps, j'attends avec impatience cette seconde partie de l'année. Voyage et rencontres en perspective, me rendent d'avance toute excitée ! L'anticipation marche comme un moteur...
Mais pour l'instant il s'agit de cookie. Légers et au bon goût de noix. Noisette plus précisément. Si vous avez suivi le blog depuis un certain temps, vous devez savoir à présent que lorsqu'il s'agit de noix, je suis totalement acquise.
Comme la noix de Grenoble, la noisette a un motif intéressant sur la coque et la noix en elle-même, avec en plus, cette belle couleur chaude qui a donné son nom à une nuance de marron. Adorable, n'est-ce pas ? De la noisette, les cookies n'ont gardé aucune des propriétés visuelles mais son goût, ce qui est suffisant pour les rendre bons. Encore une autre version de ces cookies.
Cookies à la Noisette Pour 25-30
210g farine 80g poudre de noisette 200g beurre non salé, ramolli et coupé en cubes 60g sucre roux finement moulu ou du sucre glace 200g chocolat pour le glaçage (optionnel)
Dans une jatte mélanger à la main tous les ingrédients for obtenir une pâte lisse. Laisser reposer couvert pendant 30 minutes à une heure dans un endroit frais (pas le réfrigérateur). Graisser deux plaques de cuisson -ou les doubler de papier sulfurisé. Préchauffer le four à 180°C. Etaler la pâte sur une surface légèrement farinée et découper les cookies à l'emporte-pièce. Cuire pendant 10-12 minutes ou jusqu'à ce qu'ils soient légèrement dorés. Retirer du four et transférer avec soin sur une grille. Faire fondre au bain-marie le chocolat et tremper la moitié de chaque cookie ou avec l'aide d'une spatule tartiner chaque moitié.
---
Comments
They look picture-perfect. I love the chocolate dipped version! Villy
Thank you for sharing, these look amazing. Oster's Mom
Mmmhhh, fabulous! Hazelnut cookies are delicious and yours look amazing. Cheers, Rosa Rosa May (@RosasYummyYums)
*HELLO, I HAVE NOMINATED YOU FOR THE ONE LOVELY BLOG AWARD!!CHECK OUT THIS LINK! * pause
Those cookies look so delicious. Your photography is gorgeous it really caught my eye and made me want to read more :) veghotpot
Stunning! Beautiful biscuits, light and photography, I wish I could reach right in and grab a few and cosy up to the heater… girlinafoodfrenzy
Je suis obligée de faire ce recette parce que j'adore les noisettes ! Shannon.Kennedy
These look fantastic!! We have hazelnut trees in our yard so I always have some on hand. I think I would love these - I have to remember them for when I'm craving cookies :) Heidi @ Food Doodles
Mmmm…hazelnut is so good. Thanks for sharing. I look forward to making these. tomorrowswisdom
Oster's Mom, thank You for coming around here and your kind words. Villy, thank you ! Rosa, merci et bon week-end à toi ;) Pause, thank you for the nomination. Veghotpot, thank you ! Girlinafoodfrenzy, help yourself :) Shannon, tu me diras ce que tu en penses alors ;) Heidi, you're a lucky one to have a hazelnut tree ! Tomorrowswisdom, thank you, let me know how it turns out for you. Vanille
Simple perfection or perfect simplicity :). My last autumn hazelnut harvest will end in a cookie like this. piszke
Lovely, lovely, lovely!!! Kayi and Zara
Oh Vanille, these look so beautiful. And only 4 ingredients! Will have to try it soon. Enjoy the bounty of autumn :) Shaz
i love hazelnuts, mild flavor . dipping them in chocolate feels so magical ;-) shruti
Hazelnut cookies with chocolate… my favorites!! :-). Ciao Alessandra PS liberally pinning your pics!! Alessandra Zecchini (@AleZec)
Vanille, your photography is stunning. Hazelnuts - they remind me of English Christmases and cracking them in front of the fire. Love your work! thefoodsage
Love nut cookies - whatever the nuts may be. They always make cookies more interesting - texture and flavour wise. These hazelnut cookies look really. I'm thinking if the dipping chocolate could be 1/2 choccy and 1/2 Nutella…might work. Whatdya think? :-)) Shirleen @ Sugar and Spice
Beautiful photograph of those hazelnut cookies. Just gorgeous. We were in Oregon, US recently and drove by miles of Hazelnut orchards. I had never seen these orchards before and they were so beautiful. Restaurants put out bowls of hazelnuts at the end of the meal. I am now in love with the beauty of hazelnuts. Thyme (Sarah)
Piszke, köszi szepen ;) Kayi and Zara, thank you ! Shaz, Yep, enjoying Autumn until the last bit, cause as you know winter will follow… Thyme, yes I heard that US and Italy are the first producers of hazelnuts. Shirleen, that's definitely a good idea, it'll be even more hazelnut-y ! Shruti, the chocolate does add a little extra ! TheFoodSage, thank you. Funny to see how some food have a strong image associated to them. Vanille
Stunning photos - love the cookies too. mycookinghut
Those cookies look really delicious. I love you first photo, it's just perfect ¡¡ El Oso con Botas
Oh this is heaven…the pictures the cookies themselves and then you add the chocolate!! Sylvie Shirazi (@gourmandeinthek)
beautiful, i love the autumnal colours and ground hazelnuts are so underused here. [email protected]
So beautiful! I love that photo of them half dipped in chocolate ;) timeforalittlesomething
I love these, especially the chocolate-dipped ones. And only 5 ingredients? I'm there. athena
Such stunning photos. Absolutely gorgeous. Emma Galloway
Superbe blog que je viens de découvrir avec ravissement Merci pour ce beau partage lesdelicesdecathy
Wow ! Je crois que je vais essayer cette petite merveille de recette ! ;) Mathilda
Oh my! Your photos are amazing! These cookies look divine, can't wait to try out the recipe! Lydia Grace
[…] Thimbles // Brownie Cookies // Hazelnut Cookies // Cream Pie […] Summertime Essentials: Homemade Picnic'n Cookies / H&H Blog
made these for a bake-sale fundraiser tomorrow. I cut them shortbread style though. They look and taste delightful! I have enough hazelnuts for a batch for the family. But I think this time I'll add dried cranberries to the dough. Wonderful basic recipe, thank you so much. This will be a staple in our home from now on. MarlisB
So glad to know this ! Hope you'll raise a lot of fund for tomorrow ! Vanille
[…] mono-ethylglycolene (just making this up)  or peanut butter in it, I decided on some lovely hazelnut cookies found on a blog titled At Down Under. Specifically I had run a search entitled 'eggless […] Hazelnut-Cranberry Shortbread with Chocolate Drizzle « Archie! DOWN!
[…] if you do not have hazelnuts you can add other kinds of nuts as well. the hazelnut version is from atdownunder. […] hazelnut biscuits // haselnuss-kekse | Foodiesgarden