In the Studio With Sandrine
May 08, 2012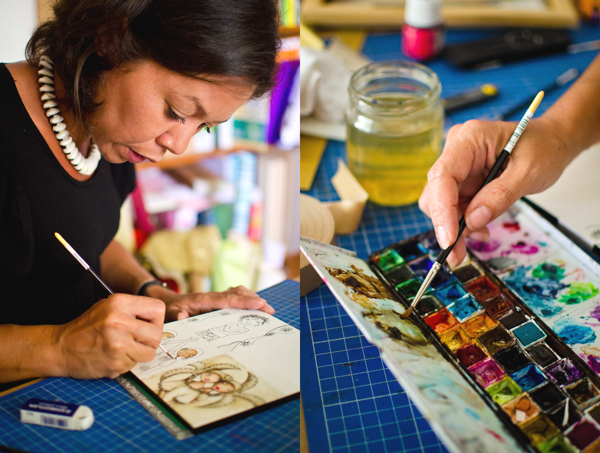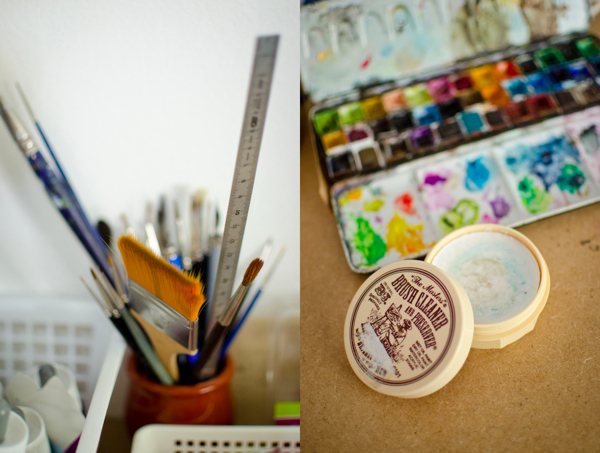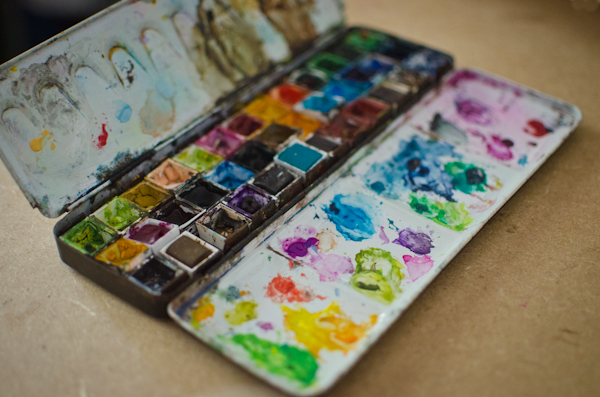 Back in March during my stay in my home island La Réunion, I jumped at the opportunity to capture my sister Sandrine, in her studio where she paints and frames.
Some of you may remember this post when I introduced you to her work. This time, I invite you to join me and sneak a peek at her creative space and the making of her work.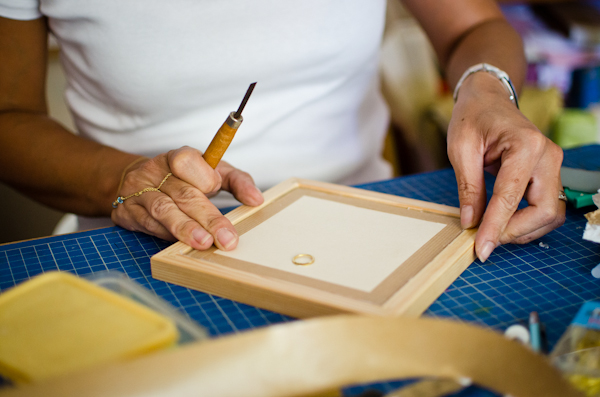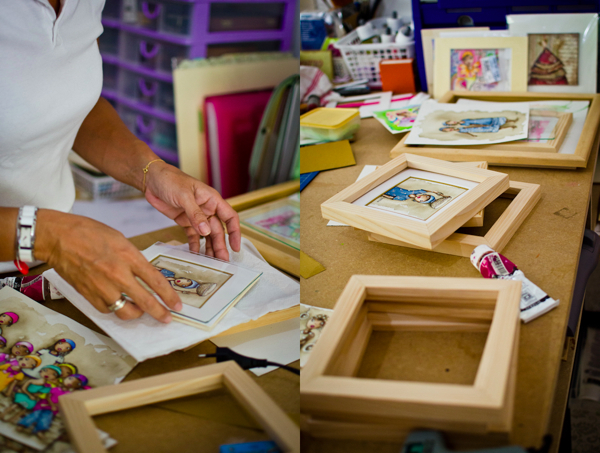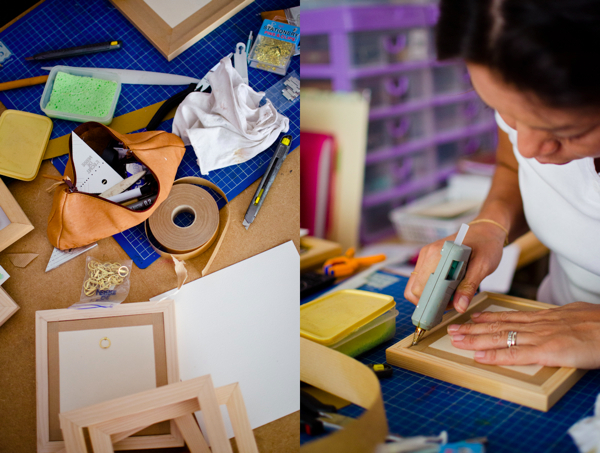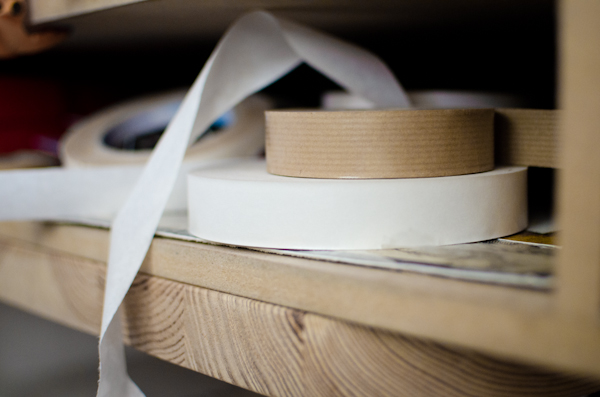 A playful use of colours and the presence of little figures are recurrent elements in Sandrine's work. Watercolour is her favorite medium in which she likes to express herself. And when questioned about her watercolours, she likes to quote Chardin: Je me sers des couleurs mais je peins avec mes sentiments -One makes use of colors, but one paints with emotions.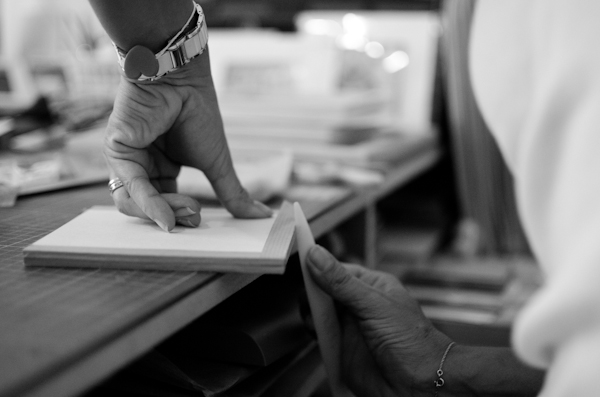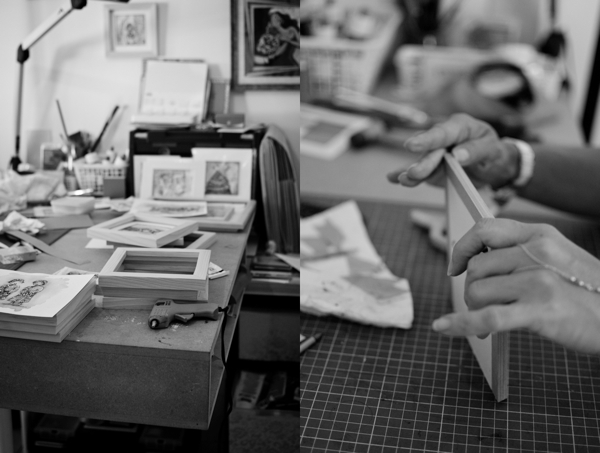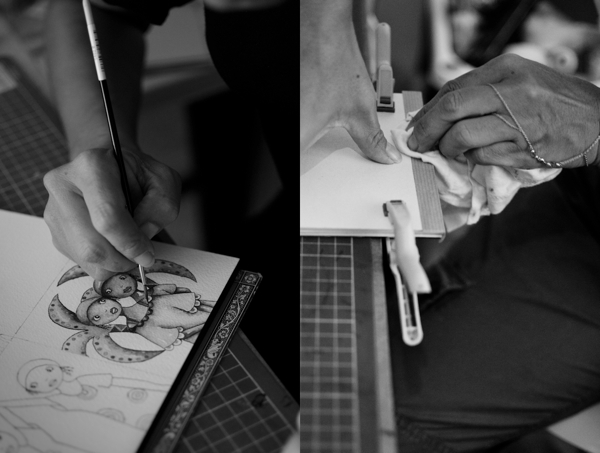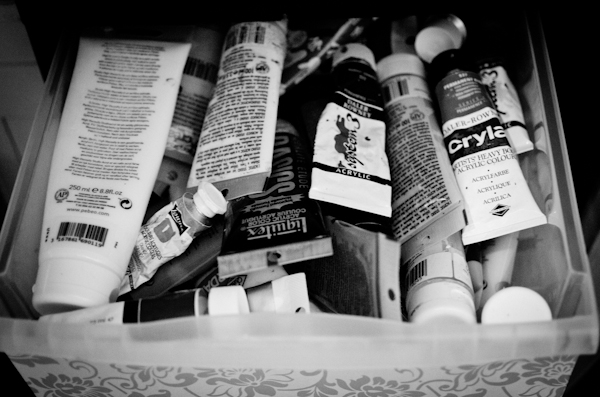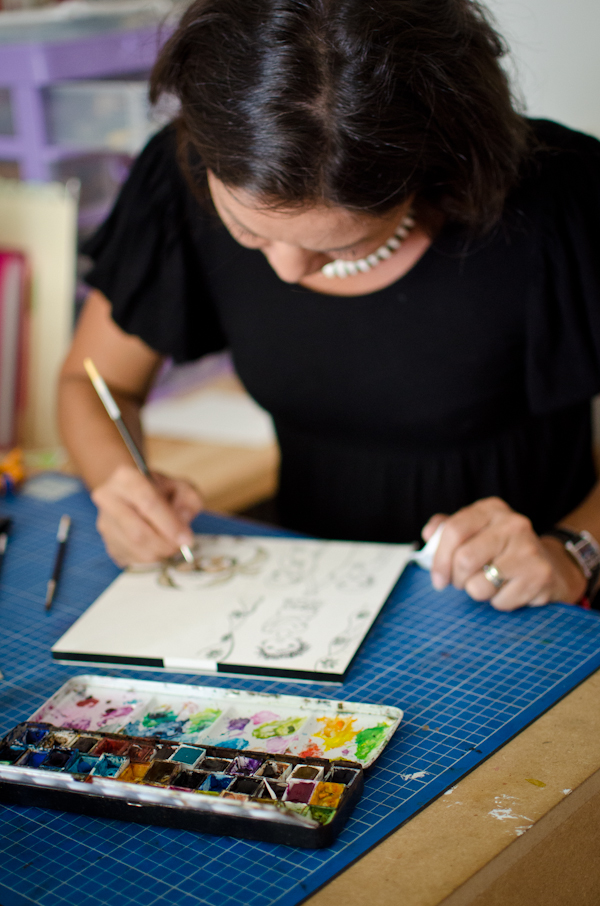 You can see more of Sandrine's creative framing here. Follow her blog and twitter. And original watercolours are for sale at her shop.
---
Comments
Lovely watercolors! Thanks for sharing. Cheers, Rosa Rosa May (@RosasYummyYums)
You and your sister have an amazing gift! Such creativity Viviane. :-) x Shirleen @ Sugar and Spice
Rosa & Barbara thank you ladies ! Vanille
Wow this is wonderful. Thanks for sharing! allesistgut
You are a creative family. Her work is lovely. Barbara
Oh Lovely!! Ta soeur et toi êtes décidément très talentueuses, et j'aime profondément vos délicatesses: oui vous êtes des artistes du coeur, et quels jolis coeurs! Merci beaucoup pour ce partage, qui nous ouvre encore un peu plus ta porte… Je t'embrasse! Flo Makanai
Vivi, le travail de Sandrine est si vivant au travers des photos. Un grand bravo à chacune pour vos talents respectifs. Maya
Oh, it makes me so very happy to watch an artist at work! You can see the love for the work in front of the lens…and your love for your sister shines on out from behind it too. Such a pleasure to read and see this post. Thank you! anne Zen and Genki
Her work is so beautiful and your photographs are stunning, thanks for sharing :) Bluejellybeans
You sisters are amazingly talented!! Lovely. Soma
Ces photos lui ressemblent beaucoup ! Elles sont magnifiques !!! Yes "sisters are amazing talented" comme dit Soma… Lou
So nice to see an abundance of talent and creativity run in your family. Her illustrations and watercolor work are lovely. athena
Such a talented family! I love your sister's work - just charming! -Liren Kitchen Confidante (@kitchconfidante)
Her artwork is wonderful! I love the whimsical and playful style of it. My Mother in Law just gave me one of her paintings for my birthday. I was so thrilled. These make the most special of gifts when you know the artist or read about their story. What a talented sister. Thyme (Sarah)
C'est ma maman !!!!! It's my mother !!!!!!! hihi superbe tes photos tata ^^ ps: j'ai mis en français et en anglais pour que tout le monde le sache bien =p lauriane ♥