Ceviche & Tacos with The Pop Up Cooking School
November 12, 2014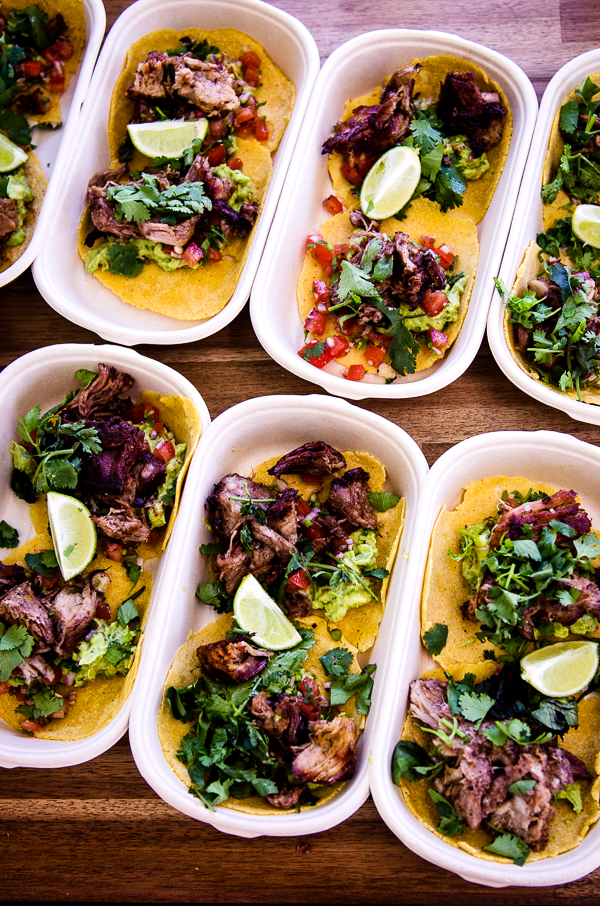 Last Saturday I was in Bondi Farmers Market where I photographed the opening of The Pop Up Cooking School, the new venture of chef Julien Vasseur. Imagine a cooking class set outdoor on a grassy patch, where you can learn how-to, get tips from an experienced chef, try your hands at making a dish and then eat delicious food al fresco. Pretty cool, right ? The opening class was about ceviche and tacos. After the demonstration, that included pico de gallo, tomato chipotle sauce, guacamole, handmade tortillas, and braised and fried pork, students could go and make their very own ceviche. If you're around Sydney, go and check their website for a full program of the upcoming classes.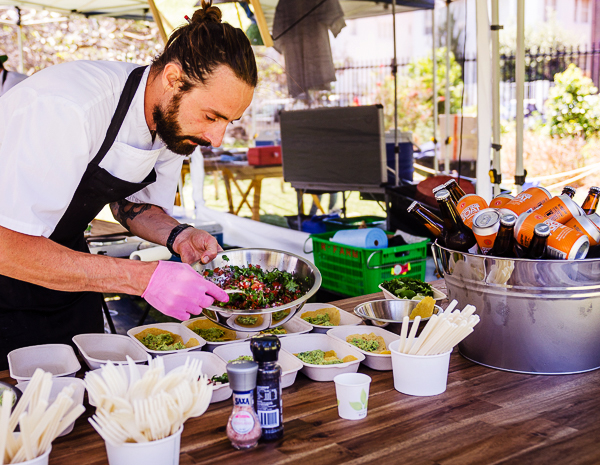 Chef Julien Vasseur dressing plates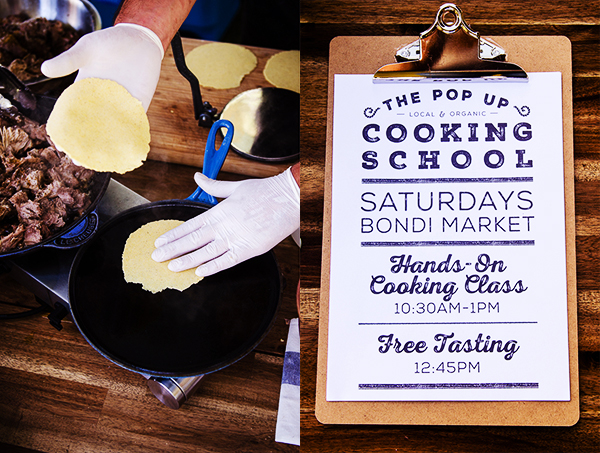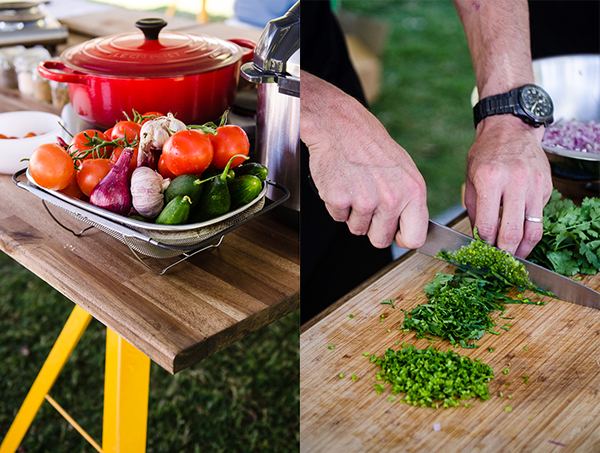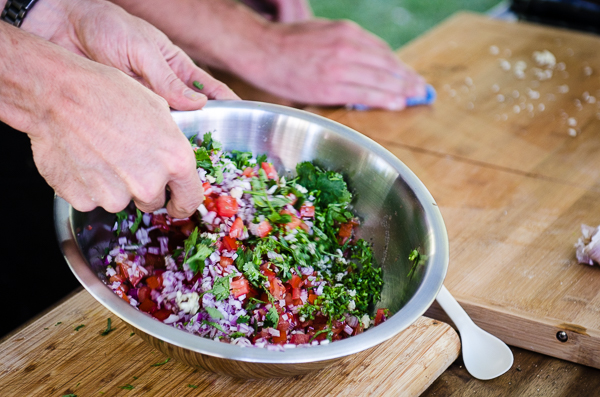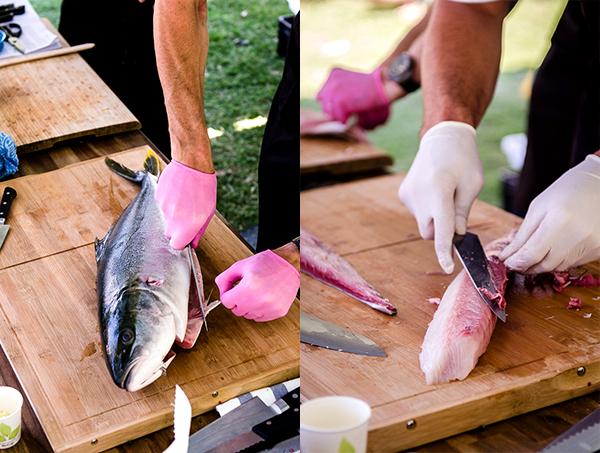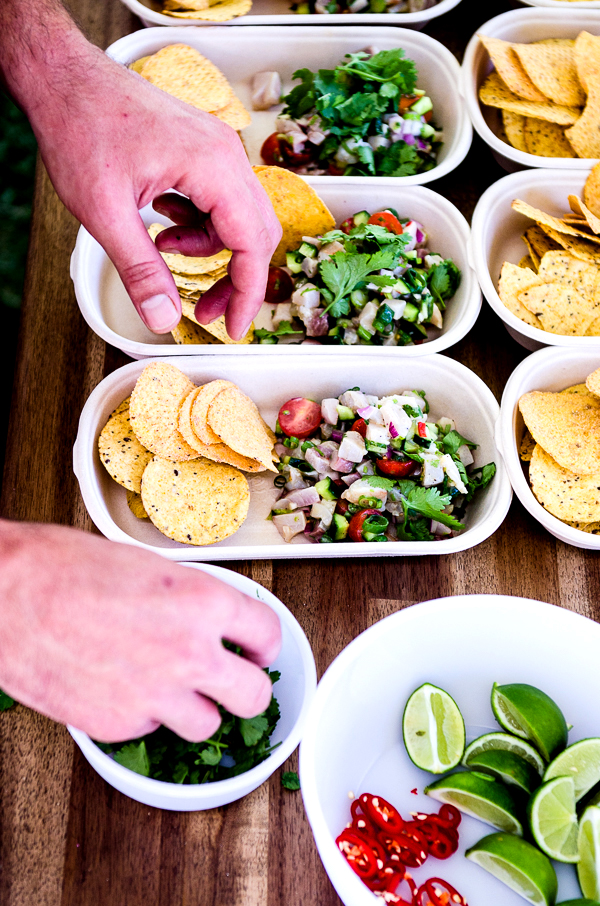 And here's the kingfish and shrimp ceviche recipe that chef Julien kindly agreed to share:
Kingfish and Shrimp Ceviche
800g kingfish (or any other white flesh fish) filets, pinboned, skinned 300g fresh shrimps peeled, deveined and cut into 1cm cubes 1 small cucumber (seeds removed) 1/2 punnet cherry tomatoes 1 red onion 2-3 chillies 1/2 bunch spring onion 1 bunch coriander (cilantro) 5 limes 1 orange, juiced Olive oil Salt and pepper
Dice the kingfish into 1cm cubes and place in a bowl with the shrimps, lime, and orange juice. Reserve in the refrigerator. Finely dice onions, chillies and coriander (stem included) and place in a bowl. Cut the cherry tomatoes in half, dice the cucumber and add to the rest of the ingredients. Check the fish, it should be firm and look opaque. Mix all the ingredients in a large bowl and season with salt and pepper and drizzle with olive oil. Add lime juice and pepper to taste if needed. Serve immediately with corn chips or sopes.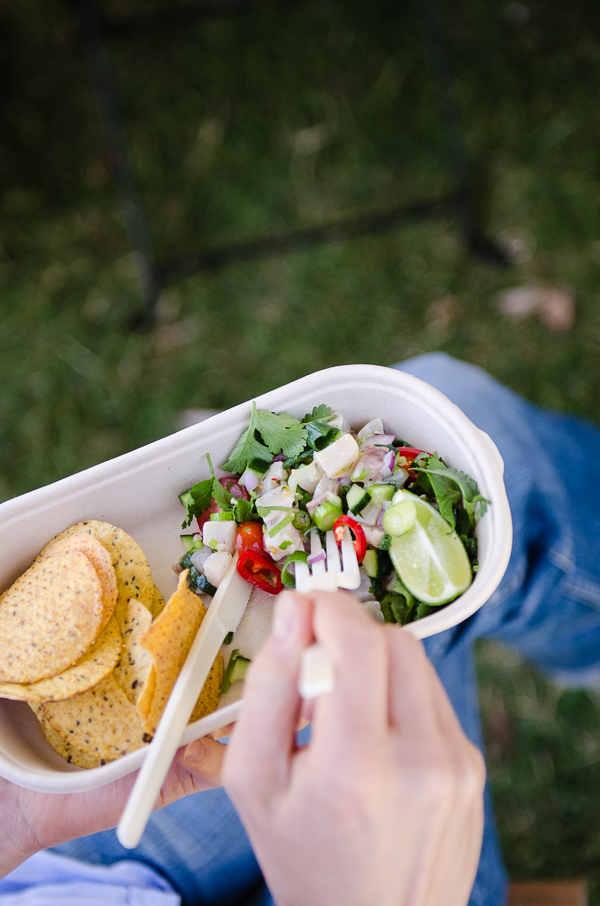 _ _ _ _ _ _ _ _ _ _ _ _ _ _ _ _ _ _ _ _ _ _ _ _ _ _ _ _ _ _ _
Samedi dernier j'étais au marché de Bondi où j'ai photographié l'ouverture de The Pop Up Cooking School, la toute nouvelle entreprise du chef Julien Vasseur. Imaginez un cours de cuisine en plein air sur la pelouse, où vous pouvez apprendre la technique, recevoir des conseils d'un chef expérimenté, essayer par vous même d'executer ce que vous avez appris et au final déguster un délicieux repas en plein air. Plutôt sympa, n'est-ce pas ? Le thème du tout premier cours était tacos et ceviche. Après la démonstration comprenant pico de gallo, sauce tomate au chipotle, guacamole, tortillas maison et porc braisé, les élèves ont pu réaliser leur propre ceviche. Si vous êtes du côté de Sydney, allez voir leur site pour le programme complet des prochains cours, ça promet !
Et voici la recette de ceviche poisson et crevette que chef Julien partage gracieusement:
Ceviche Poisson & Crevette
800g de poisson à chair blanche en filets, désarêté et sans peau 300g de crevettes fraîches, déveinées, décortiquées et coupées en cubes de 1cm 1 petit concombre (graines retirées) 1/2 barquette de tomates cerises 1 onion rouge 2-3 piments 1/2 bottes d'oignons verts 1 bouquet de coriandre 5 citrons verts 1 orange, pressée Huile d'olive Sel et poivre
Couper le poisson en petits cubes de 1cm et placer dans un bol avec les crevettes, le jus de citron vert, orange et réserver au réfrigérateur. Couper finement les oignons, piments et coriandre (y compris la tige) et placer dans un bol. Couper les tomates cerises en deux, couper en petits cubes le concombre et ajouter aux autres ingrédients. Vérifier le poisson, il doit être ferme et opaque. Mélanger tous les ingrédients dans un grand bol, assaisonner de sel et poivre et verser un peu d'huile d'olive. Ajouter du jus de citron vert et du poivre au besoin. Server immédiatement avec des chips de maïs ou sopes.
---
Comments
Looks really good, love the pictures! Food looks amazing! Lynz Real Cooking
Scrumptious cerviche and lovely pictures! Wishing you a Happy New Year! Cheers, Rosa Rosa Jeanne Mayland
Thank you Gabby and Chaya ! Glad to know you enjoyed the post ladies 😉 Vanille
What a fantastic idea! Thanks for capturing and sharing this event. I am going to have to share it around my own town :) inspiredmood
Wow, what a beautiful idea! I would go in a heart beat if I only lived a little closer! littlerodgers
Thank you Viviane, love the post! We can share with our French family too :) The Pop Up Cooking School
That's right ! Hope they will enjoy it as well ! Vanille
Love the photos - everything looks great! Baking With Gab
Such gorgeous, vibrant pictures!! Everything looks SO good. Chaya
Everything looks sooo delicious! thetinyuniverseblog
Felt you could eat them off the photos…really like the idea. mollybakescakes
Looks amazing! Think I'll start to bring this at school and work :) Sara
Yummy:D Nasuko
Looks absolutely delicious! The photos are gorgeous! Julie Yates
Beautiful photos!! Sounds like it was a very fun day, an outdoor cooking class sounds perfect to me!! Thank you for sharing =) elyann14
Your content is amazing! And the food looks delicious wandercress
Wow, that dish looks amazing and super unique!!! Love all those beautiful photos!!! Hope you will keep sharing:) Jessi
You have an awesome blog! The photos are fantastic. It's Cooking With Magda
First time on your blog and everything looks so delicious here! beautiful pics.. Priya
wow! first time on your blog and everything looks delicious here.. beautiful pics.. Priya Shiva
I just noticed the date Vivian, on your post. All's well with you, and it's just blog fatigue… (I don't post much anymore myself) Sylvie in Rappahannock
Beautiful recipe. Raymond
*Sharing the taco love! * Cat
Long time sine I've been here. Your photos are even more stunning that I remember Vivian - so vivid. And what fun that event seems to have been. (and those are totally my kinds of flavors!) Sylvie in Rappahannock