Plum and Chocolate Cakes
April 02, 2014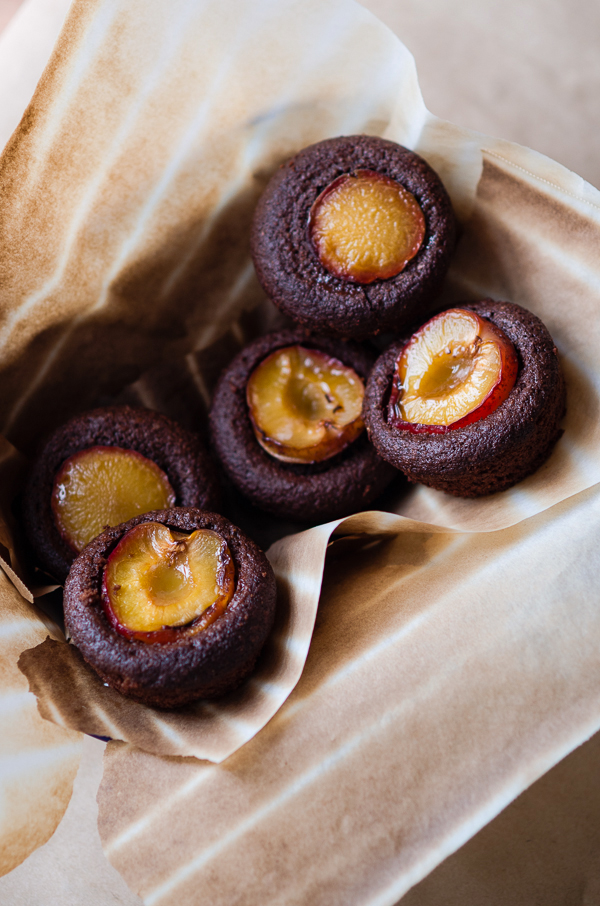 I can't say there's a lot of baking done those days. Might be the constant warm weather or maybe the erratic oven I have that deter me from one of my favourite pastime... Lately, I spent my time preparing editorial photo shoots and meeting lovely people along the way. So in the kitchen, it stays simple.
After putting my hands on some Whittaker's chocolate though, the idea of making a chocolate cake was quick to follow. It's ages we didn't have any chocolate cake, I said to Paprika. So here they are, baked in muffin tins, these plum and chocolate cakes are a free interpretation of the recipe in Béa's cookbook. Plum and chocolate is a lovely combination and useless to say the cakes disappeared quickly.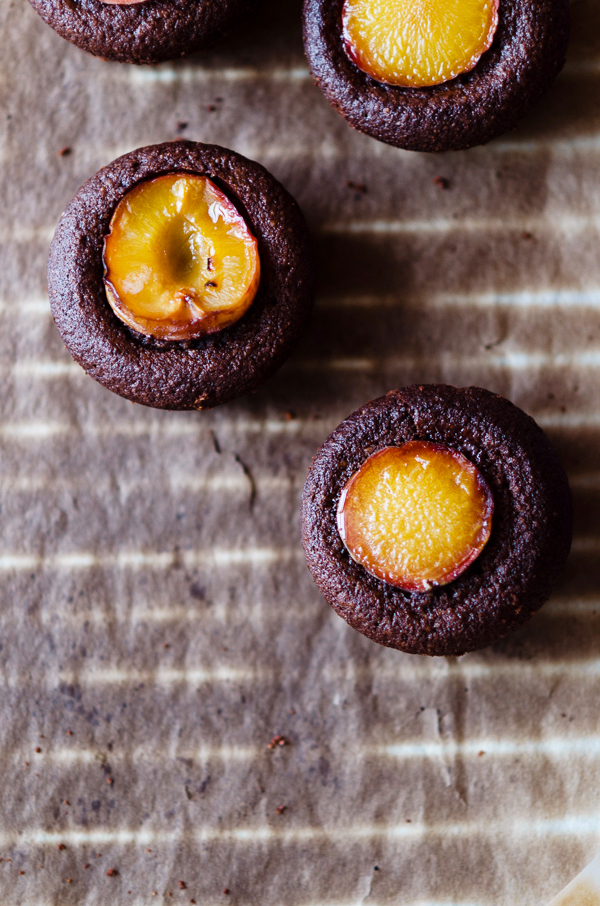 Plum and Chocolate Cakes (makes 10-12)
100 gr almond meal 30 gr wholemeal flour (or amaranth flour for a gluten-free cake, as in the original recipe) 2 eggs 3 small plums, pitted and sliced 70 gr sugar 75 gr chocolate 5 tbsp olive oil (or 90 gr unsalted butter, as in original recipe) 1 pinch salt 1/2 tsp baking soda 1/2 tsp baking powder 1 tbsp fruit brandy Honey
Preheat oven to 180ºC (350ºF). Melt the chocolate with olive oil in a bain-marie and set aside. In a bowl, combine the almond meal, flour, salt, baking powder and baking soda. With a hand-held mixer whip eggs and sugar until the batter is light and pale in colour. Stir in the fruit brandy, then the melted chocolate and the flour mixture, until just combined. Pour the cake batter into muffin moulds lined with paper liner and arrange the slices of plums on top. Place in the oven and bake for 20 minutes or until the blade of a knife inserted in the middle comes out dry. Remove from the oven, lightly brush plum slices with honey and let cool before removing from moulds.
_ _ _ _ _ _ _ _ _ _ _ _ _ _ _ _ _ _ _ _ _ _ _ _ _ _ _ _ _ _ _
Je ne peux pas vraiment dire que je fais beaucoup de gâteaux ou autre ces derniers temps. Ca doit être le temps constamment chaud ou peut être mon four très capricieux qui me dissuadent de m'adonner à l'un de mes passe-temps favoris... Dernièrement, mon temps a été pris par la préparation de shoots et la rencontre de personnes charmantes par la même occasion. Alors en cuisine, ça reste simple.
Néanmoins après avoir mis la main sur du chocolat Whittaker's, l'idée d'un gâteau au chocolat a suivi rapidement. Cela fait une éternité que nous n'avons pas mangé de gâteau au chocolat, j'ai lancé à Paprika. Donc les voilà, cuits dans des moules à muffins, ces gâteaux au chocolat et à la prune sont une libre interprétation d'une recette tirée du livre de cuisine de Béa. Prune et chocolat est une délicieuse association et inutile de dire que ça n'a pas fait long feu.
---
Comments
That looks so lovely. And delicious (as all foodshots do :-))! Karin
I love these cakes! There are no plums in April here, but plum brandy is seasonal in every month of the year :) piszke
I love the use of almond flour in this recipe. Also, the unusual pairing of plums with chocolate. Jessica @ www.caretakerskitchen.com
Beautiful little cakes…! What can go wrong with cholocat & plum? Great match for the eye , and surely the stomach (the latter I have to guess unfortunately)! sabine
A delicious combination! Those cakes look very tempting. Cheers, Rosa Rosa Mayland
Quel joli blog que je viens de découvrir !!! Hâte de parcourir les archives pour découvrir les autres articles :) A très vite ! Fanny Fanny
Those small cakes make me speechless… your "free interpretation" is a masterpiece. I'm going to mark this in order to prepare them as soon as possible! thank you for sharing this… lapetitecasserole
They look delish and I love the addition of olive oil in cupcakes. dzdzdan14
Sabine, thank you. Agree, nothing can go wrong with chocolate. Rosa, merci ;) Fanny, merci et bienvenue ! LaPetiteCasserole, You're welcome ! Let me know how they turn out for you. Dzdzdan14, indeed a tasty and dairy-free alternative. Through Oana's Lens, it was a first for me too and I pretty like it. TinyWhiteCottage, great to read it inspires you ! The Saint Jeffreys, plum brandy would be best to pair with the plums. Here I used a flavoursome grape brandy we have at home. Vanille
These cakes are so cute! Have never tried chocolate and plum together, so I guess it's time to :) Through Oana's Lens
The color contrast between the plums and chocolate is stunning. These are such wonderful little cakes. I love the idea of the sweetness of the plums in place of a sugary icing. Inspired! tinywhitecottage
These are so cute! What a great idea to combine chocolate and plums…did you use plum brandy, too? The Saint Jeffreys