Cranberry Clafoutis
May 18, 2013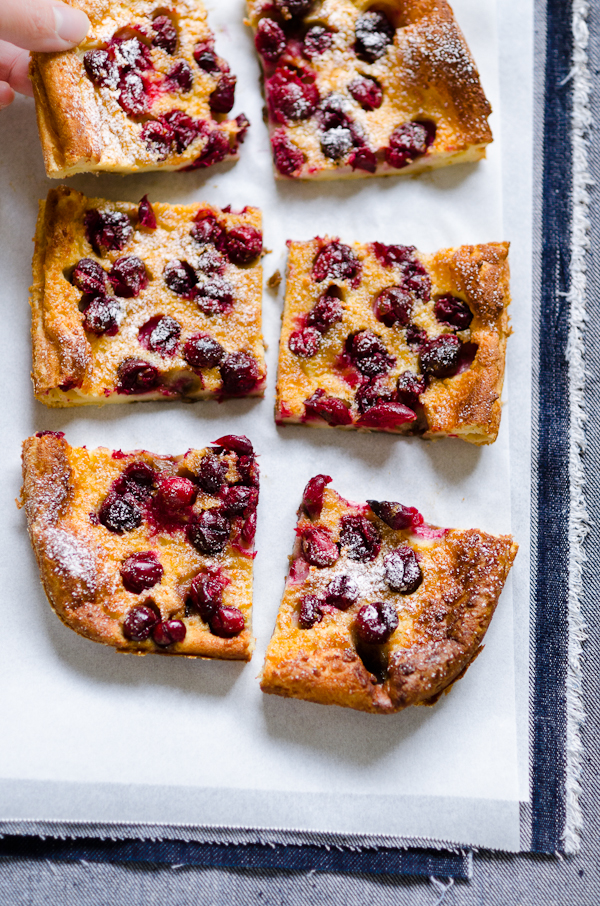 If you think clafoutis is for summer, you should think twice.
In our home, clafoutis is made all year round. Reinterpreted with fruits each season has to offer. And I find it particularly comforting during the cooler days.
When I saw the cranberries in the shop the other day, I instantly pictured them in a clafoutis. I remember last year when I baked this cake and tasted these ruby berries for the very first time. It was a lovely way to be introduced to them.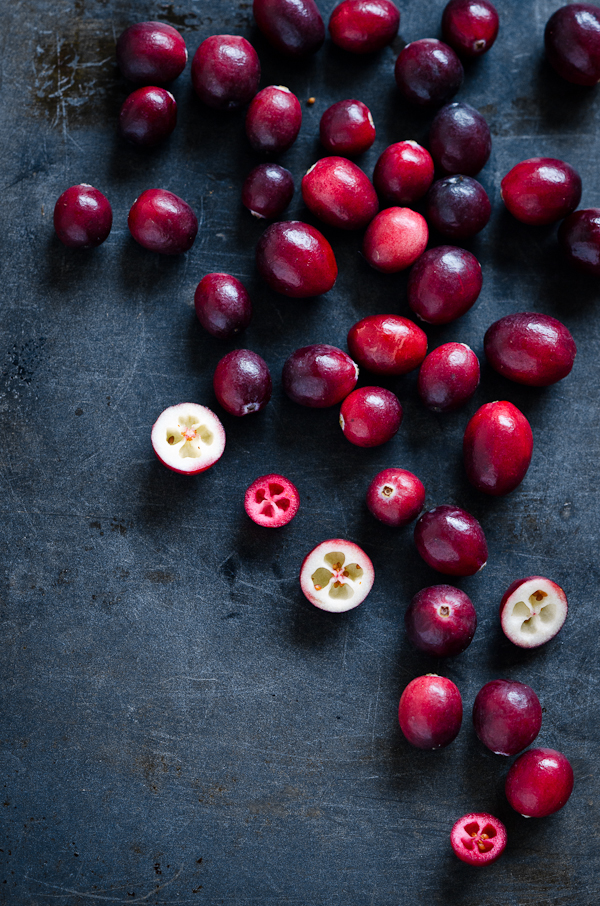 After a couple of misfortunes in the kitchen this week, it was good to bake this clafoutis that turned out simply delicious.
The cranberries are pre-cooked with muscovado to offset the sourness and the batter is lightly flavoured with pink grapefruit zest which works nicely with the berries. Enjoy !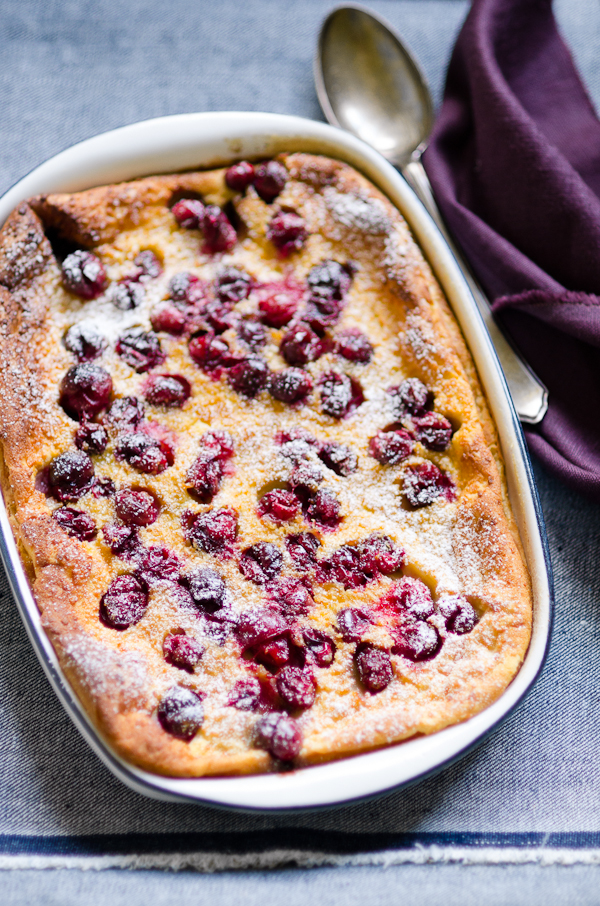 Cranberry Clafoutis
- 120g cranberries
15g unsalted butter

3 tbsp muscovado

3 eggs
100g flour + extra for coating the dish
250ml milk
60g unsalted butter
70g brown sugar
1/4 pink grapefruit zest, finely grated
A pinch of salt
1 tbsp brandy (optional)</em>
In a small saucepan under medium fire, place butter and muscovado, stir and allow to melt. Add cranberries and stir for a couple of minutes until the fruits are well coated. Remove from fire and keep it aside. Preheat oven to 180°C. In an ovenproof shallow dish, place butter and let it melt in the oven. In a bowl, whip together eggs, salt and sugar. Keep on whisking and gradually add flour. The batter should be smooth. Remove the dish from the oven, pour melted butter in the batter and mix. Pour milk, brandy and stir. With a paper towel brush the remaining butter on the side and bottom of the dish. Spoon some flour, rotate and tap the dish to coat evenly the sides and bottom of the dish. Pour the batter and place fruits. Bake for 30-35 minutes or until golden on top. Sprinkle icing sugar on top and serve still warm.
---
Comments
Très alléchant ce clafoutis ! Gisèle
Looks really yummy! I have never tried making clafoutis with cranberry before and think this is a great idea! mycookinghut
[…] Cranberry Clafoutis (atdownunder.com) […] Cherry Clafouti – A Deliciously Simple Dessert | Seattle Foodshed
Splendid and extremely tempting! Your pictures are wonderful. Cheers, Rosa Rosa Mayland
I've gotta say, using muscovado to offset the tartness of the cranberries is brilliant. Most people would just toss them in sugar. Jacob
Agree! Clafoutis is an all season creation :) Love the cranberries in this one. I reckon their mild tartness balances the sweetness of the custard :) [email protected]
You know, I ADORE clafoutis! lizzygoodthings
Oh dear at kitchen misfortunes, I've had a few, too. I so rarely see cranberries that aren't frozen, I didn't realise they were so pale inside. This clafoutis looks beautiful! hungryandfrozen
Such a beautiful recipe. Love the use of cranberries, plus muscovado and grapefruit to complement it all! leaf (the indolent cook)
Fantastic, and you don't even need to pit cherries :-). I hope that you are well XX Alessandra Alessandra Zecchini (@AleZec)
That looks so yummy! nadel&gabel
Love your use of cranberries (which I love) and your photos are beautiful. Can't wait to try! sweetbakedlife
I completely agree with you. So, while you enjoy yours in cold days, I am planning to enjoy mine on a summer night with sweet cherries in it :) Kankana
I adore clafoutis! Funnily I am making a cherry one today as we are heading towards summer time. Yours look divine. Meeta
this is so lovely! [email protected]
Rosa, thank you ! Jacob, in fact I actually ran out of sugar. And the muscovado brings out more flavour. Asha, yes that's exactly what I liked the balance between the sweetness and tartness. Lizzygoothings ;) Hungryandfrozen, you can find fresh ones now at Moore Wilsons (where else!) Leaf, thank you ! Alessandra, exactely ! Nadel&gabel, it was indeed ! Sweetbakedlife, let me know how it turns out for you. Kankana, oh, enjoy yours ! Meeta, we are on the same wavelength ;) thank you ! Kulsum, thanks ! Vanille
[…] November, Starbucks debuts their Cranberry Bliss Bars. Cranberry Clafoutis gives them a serious run for their money. (via At Down […] FANTASTIC FALL FLAVORS | Best Friends For Frosting