You Rockmelon !
January 15, 2013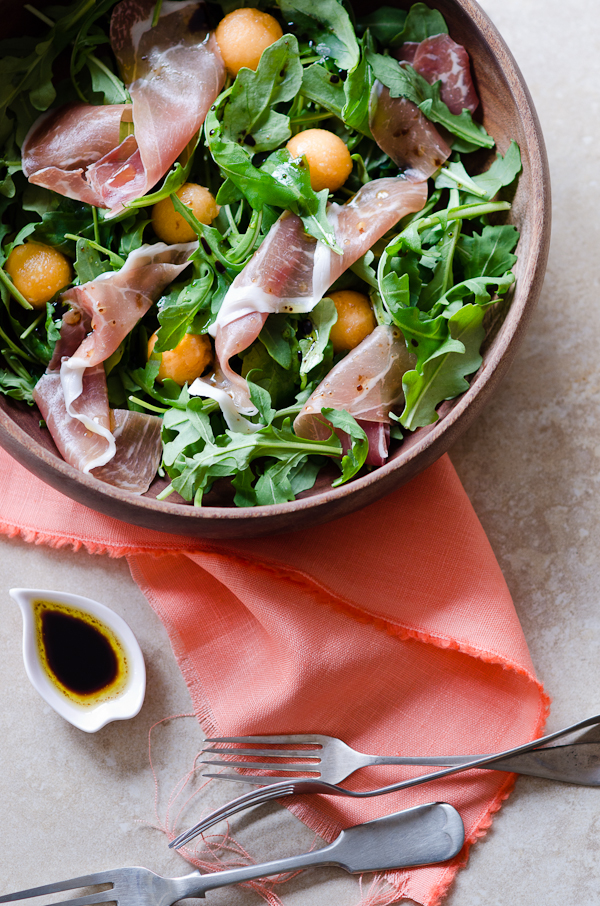 The sweet fragrance was promising. After the first slice, we knew that it was a good pick. Juicy and flavoursome rockmelon. We ate half of it sliced and wrapped in Parma ham. A classic I like to indulge in when it's summer.
Here's a salad version completed with tasty rocket leaves and a balsamic vinaigrette. Pine nuts could be a good addition as well I think. For next time...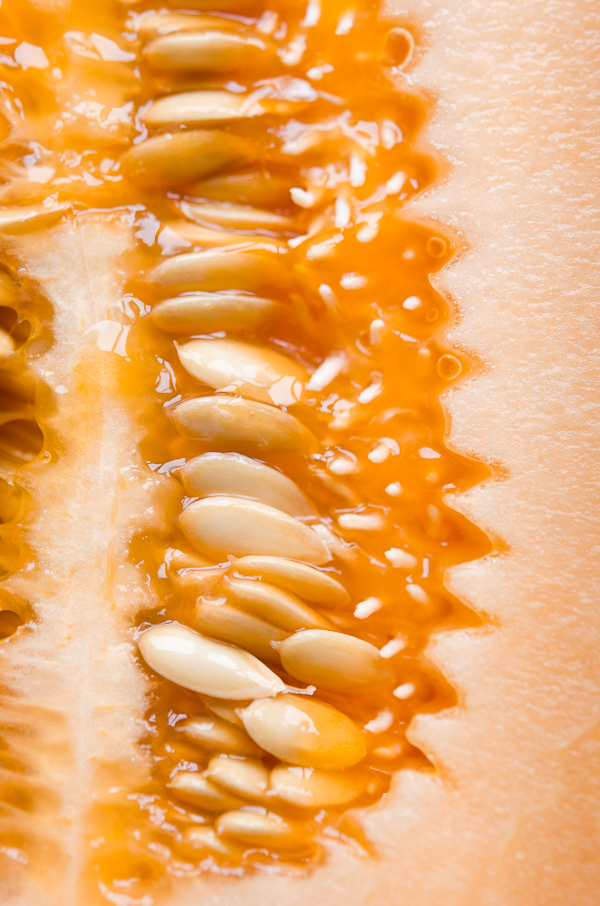 Since that very first rockmelon of the season, I've been slightly obsessed with it and made delicious and thirst-quenching smoothies. And I'm thinking granita too. As soon as the sun will make its appearance again...
As a side note, the very first issue of Common Magazine is out. Common is a New Zealand periodical about art, literature, design and food, in which I've contributed with a couple of summer recipes. If you wish, you can support this publication and order it online.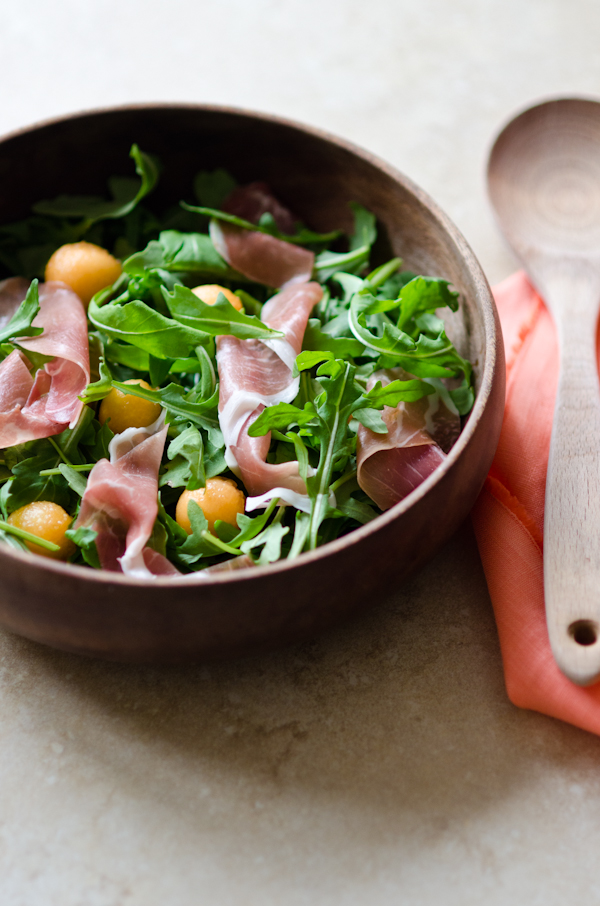 Rockmelon, Parma Ham and Rocket Salad (For 2)
125g rocket leaves Half rockmelon 6 to 8 parma ham slices Handful pine nuts (optional)
Dressing 4 tbsp olive oil 1 tsp balsamic vinegar salt and pepper </em>
Remove the seeds from the rockmelon. Scoop flesh with a melon baller or alternatively slice melon, cut out skin and dice the flesh. Prepare the dressing by mixing all the ingredients to get an emulsion. Adjust seasoning to your liking. Pour over the rockmelon, rocket and parma slices. Serve with fresh crunchy bread.
_ _ _ _ _ _ _ _ _ _ _ _ _ _ _ _ _ _ _ _ _ _ _ _ _ _ _ _ _ _ _
Le parfum était prometteur. Après la première tranche, nous avons su que c'était une bonne pioche. Un melon juteux et aromatique. Nous avons mangé la moitié, tranché avec du jambon de Parme. Un classique que je prend plaisir à manger en été.
Voici une version en salade avec des feuilles de roquette et une vinaigrette balsamique. Des pignons de pin pourraient être un bon supplément également. Pour une prochaine fois...
Depuis ce tout premier melon de la saison, je suis restée quelque peu obsédée et j'ai fait de délicieux et rafraîchissants smoothies. Et je pense au granité aussi. Dès que le soleil aura fait son retour...
Par ailleurs, la toute première édition de Common Magazine est sortie. Common est un magazine Néo-Zélandais qui parle d'art, litérature, design et cuisine, et pour lequel j'ai contribué avec quelques recettes estivales. Si vous le souhaitez, vous pouvez soutenir cette publication et la commander en ligne.
---
Comments
Love that juicy, glistening shot of the rockmelon! It is indeed a delicious fruit. leaf (the indolent cook)
A delightful salad! So summery. Cheers, Rosa Rosa Mayland
I love seeing your beautifully photographed summer posts in our California winter! I've learned a new word today, too. Never heard it called rockmelon before. That's fun. Oranges and Avocados
Yes bring back the sunshine so we can enjoy more salads and smoothies down under. Beautiful photos, I look forward to reading more of your delicious recipes. Nicola :) Nicola Galloway
Such lovely images, I particularly like the rockmelon's close up. Sylvie Shirazi (@gourmandeinthek)
Might buy me a rockmelon at the market this Sunday. :-) Shirleen @ Sugar and Spice
Sylvie, I know we both share a love for close up shots ;) Couscous & Consciousness, thank you Sue. I wish you all the best for 2013 ! Vanille
Gorgeous, Viviane - rock melon and Parma ham is one of my favourite combinations. I haven't had a nice rock melon yet this summer - but I definitely want one now. Happy New Year to you :-) Couscous & Consciousness
Leaf, I've been caught by the simple beauty of it too. Rosa, it was indeed; and so simple to make. Oranges and Avocados, actually rockmelon -or cantaloupe for you- seems to have a lot of different names, but it's how we call it down here ;) Thank you for coming around. Nicola, thank you for your kind words. Just a matter of time and patience until the return of the glorious sun ;) Shirleen, yes, pick one that smells good ! Vanille
Beautiful! I love these flavours, so perfect for Summer :) mairi29
Classic and lovely combo that I love! mycookinghut