Coromandel
January 07, 2013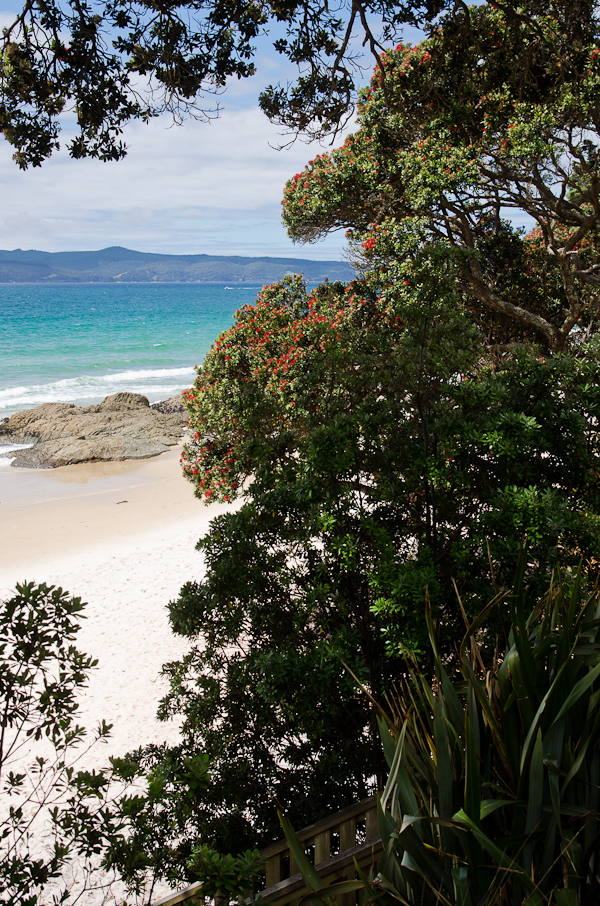 I hope you had a great time during the holidays and that you welcomed with joy this brand new year of 2013 !
Paprika and I went up north for a couple of days, in beautiful Coromandel. We traveled the peninsula from East to West. We truly enjoyed the relax atmosphere, the beautiful beaches, alfresco lunches under plum trees and the fresh seafood locally produced.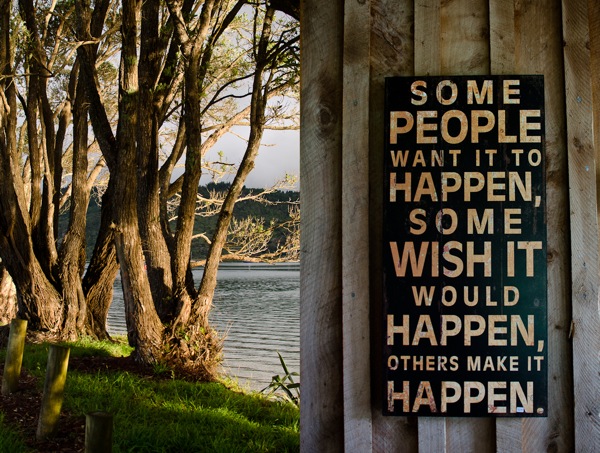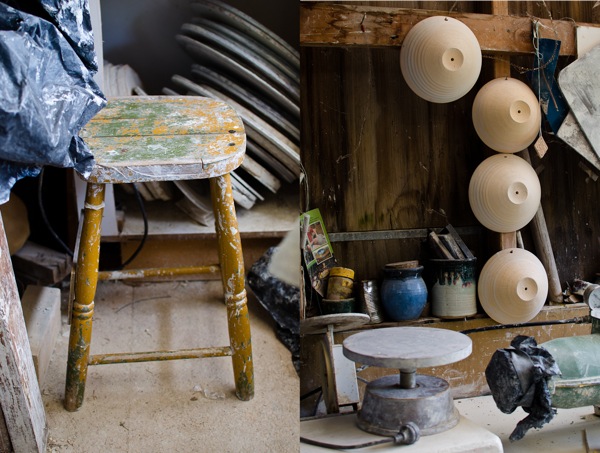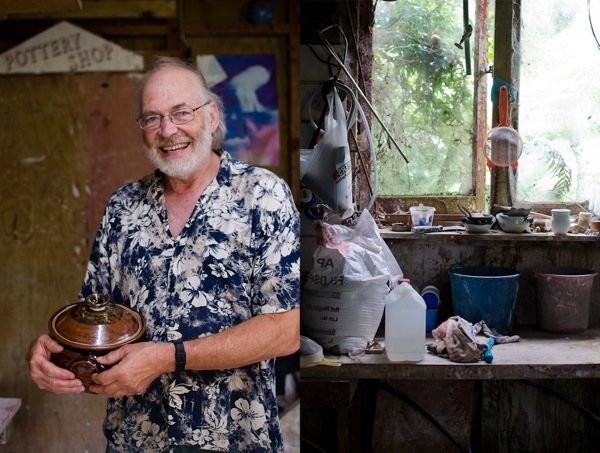 We visited Alan Rhodes pottery studio and gallery. Yes, I like to have a look at artist workshop... Alan told us about his craft and how he uses the clay extracted from his own land to create the glazed pots. I could not help, but have one of the pieces myself, a pretty blue bowl.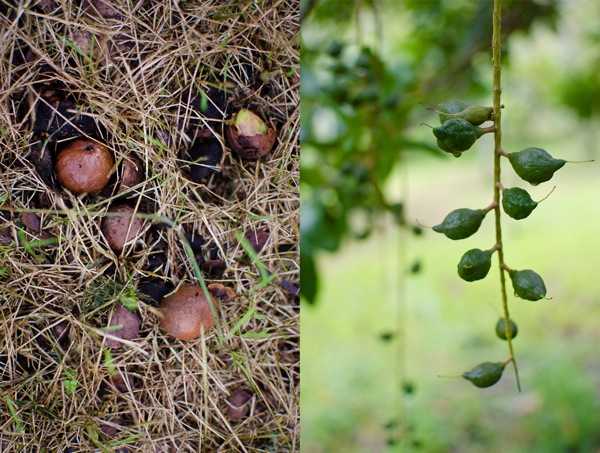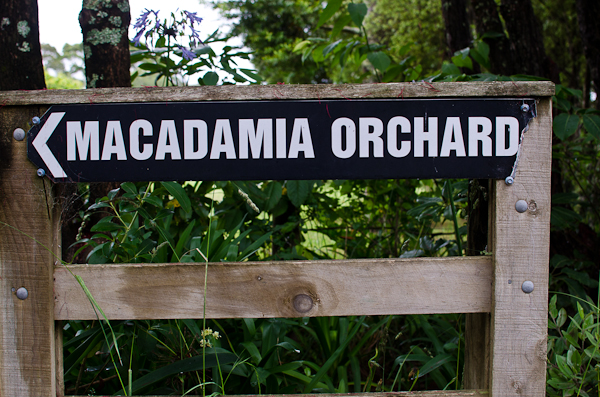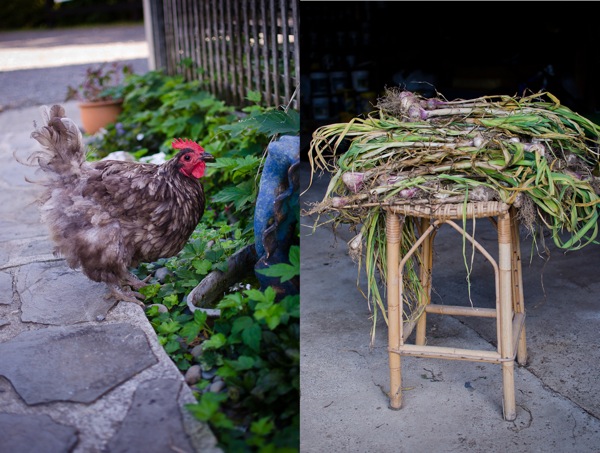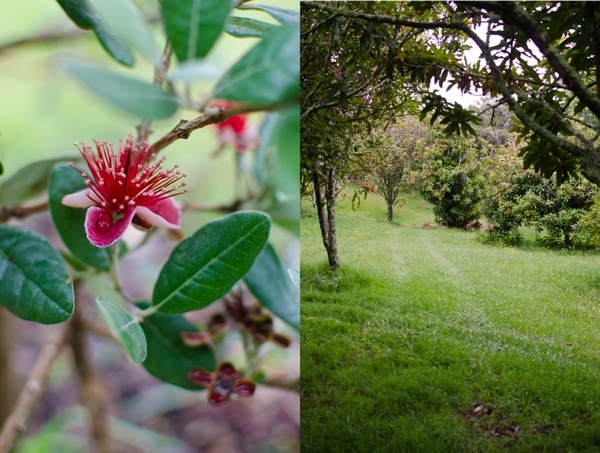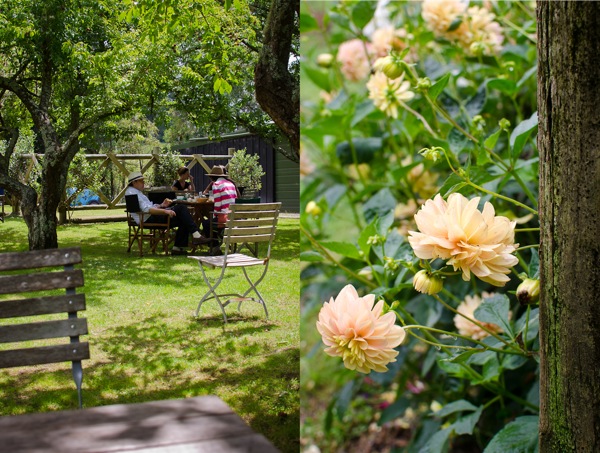 I also came back from our journey with macadamia nuts. The orchard located nearby the renowned cathedral cove can be viewed. The nuts usually harvested in winter were hanging on the branch of the tree still young and green. I have already made a good use of the nuts. Ground and mixed with shredded apple they made a good filling for this year galette. A tasty twist to the usual frangipane.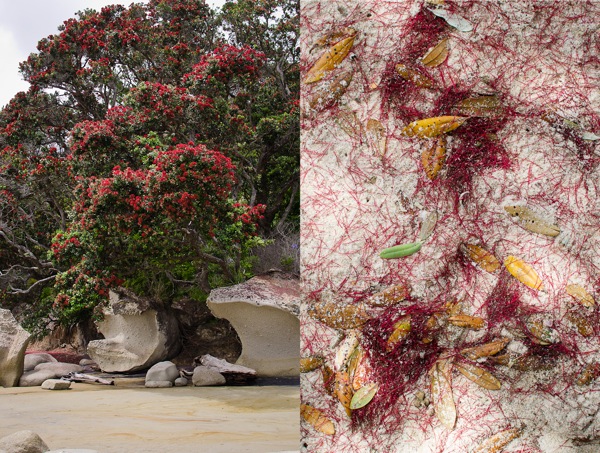 And of course Coromandel is all about the beach. More often than not fringed with pretty pōhutukawa, in bloom at this time of year. We visited the popular and touristic Hot Water Beach and Cathedral Cove, but preferred the charm and the tranquility of many others. Specially Otoma beach, the East end, is worth the drive on the gravel road.
I wish you all a beautiful year 2013 !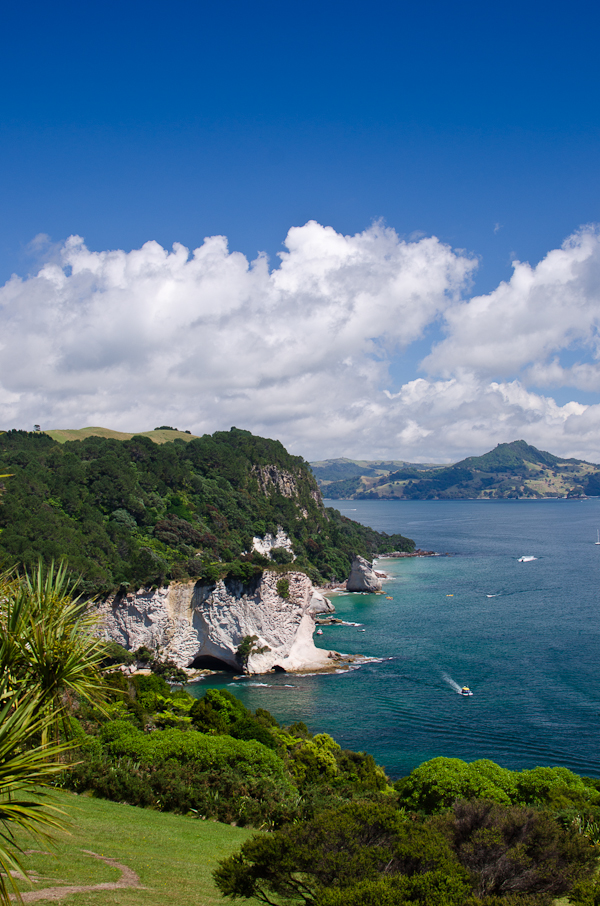 We liked the food at: Pepper Tree, Coromandel town. Colenso Cafe, Whenuakite.
_ _ _ _ _ _ _ _ _ _ _ _ _ _ _ _ _ _ _ _ _ _ _ _ _ _ _ _ _ _ _
J'espère que vous avez passé de bonnes fêtes de fin d'année et que vous avez accueilli cette nouvelle année 2013 dans la joie ! Paprika et moi sommes partis pour quelques jours dans la belle région de Coromandel. Nous avons découvert la péninsule d'Est en Ouest. Nous avons réellement apprécié l'atmosphère relax, les belles plages, les déjeuners en plein-air sous les pruniers et les fruits de mer produits localement...
Nous avons visité le studio et galerie de poteries d'Alan Rhodes. Oui, j'aime jeter un oeil au studio d'artistes... Alan nous a parlé de son savoir-faire et comment il utilise la glaise extraite de sa propriété pour créer ces poteries. Je n'ai pas pu m'empêcher d'avoir une de ces céramiques moi-même, un joli bol bleu.
J'ai également ramené de notre séjour des macadamias. Le verger situé non loin de la fameuse plage de cathedral cove peut se visiter. Les noix généralement collectées en hiver étaient suspendues aux branches encore jeunes et vertes. J'ai déjà fait bon usage d'une partie des macadamias. Moulues et mélangées à de la pomme râpée, elles ont fait une bonne garniture pour la galette de cette année. Une petite variante à la traditionelle frangipane.
Et bien sûr Coromandel est surtout connue pour ses plages. La plupart du temps bordées de pōhutukawa, en fleur à cette période de l'année. Nous avons visité les très populaires et touristiques plages de Hot Water et Cathedral Cove, mais nous avons préférés le charme et la tranquillité de bien d'autres. Spécialement Otoma beach, à son extrémité Est, qui vaut le détour sur la route gravillonnée.
Je vous souhaite à tous une belle année 2013 !
---
Comments
The cove and the beach looks so inviting! Wish I was there right now. Sylvie Shirazi (@gourmandeinthek)
Such a stunning travel post filled with great energy! Gorgeous photography! marla
Lovely place wen
Je te souhaite à mon tour une très belle année 2013… Et merci de m'avoir fait rêver la temps de quelques photos, le dernière est spectaculaire, cela donne envie de faire ses valises! Bises Dominique Dominique (De vous à moi…)
I've been to NZ a couple of times, but am not familiar with Coromandel. It looks like a beautiful place. Thanks for sharing! leaf (the indolent cook)
Wow……is this Paradise ? Caused me to rush to Google Earth ! Stunning. Happy New Year from Stephen at The Perrigaux Kitchen :) Stephen Perrigaux
Happy 2013 Viviane. This is a lovely post and reminds me that the Coromandel is a place that I have yet to explore in NZ. Looks gorgeous and the perfect place to relax. Domestic Executive (@domesticexec)
I was in Coromandel too! We went to Opoutere, it was magical. Sasa
What a beautiful place! Really peaceful looking. That last picture is amazing! Cheers, Rosa Rosa Mayland
Makes me want to hop in the car and go (it's under 2 hours from here!). Soon. I particularly like the photos of the pottery studio. Happy New Year Viviane and long may we have such beautiful images to view from you. Lesley
Beautiful pictures! Looks heavenly :D kelihasablog
Wen, it truly is. Sasa, Coromandel is very popular holiday destination and I know why now ;) Rosa, yes perfect place to unwind really. Dominique, je te souhaite beaucoup de voyages et belles rencontres pour cette année 2013 ! Leaf, you're welcome ! Stephen, no trick here, all true ! Domestic Executive, I know, discovering NZ one region at a time… Next one should be more in the South Island for me. Lesley, totally understand why so many Aucklanders go there. Wish you a great time there too. Kelihasablog, thank you ! Vanille
I have lovely family in Coromandel so it is lovely to see pictures from there online. It is a gorgeous restful place and I'm glad you enjoyed your time there. Calico Stretch
Breathtaking! IRENA & dots