Muffins & Greens
November 23, 2012
</br>There's a lady on the farmer market who sells all sort of herbs and greens. I usually go and visit her small stand when I need fresh herbs. And from time to time, depending on the season, there's a bunch that catch my attention. She has become my usual purveyor of kale and I've discovered Vietnamese mint and Thaï basil through her. Lately when I spotted snow pea shoots, I was curious to try. I mainly added them to mixed salad. They have a mild taste of pea, add crunch and color. I have to say that I like to see how vegetables make their appearance one after another as we are going towards warmer days. Like characters stepping on a stage and telling us a story with each season being a different act. </br>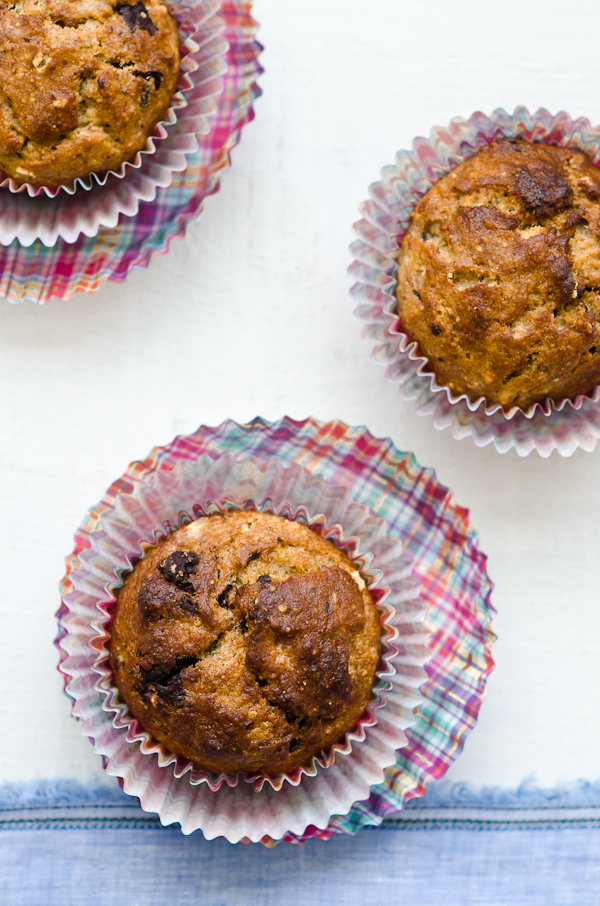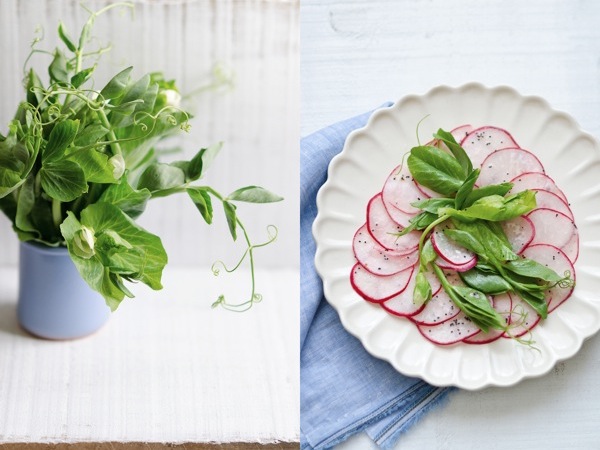 </br>As part of the natural cycle, produce mature and sometimes overripe, like the bananas I had at home. In our household, this rarely happens as they are usually all gone before they reach this stage. My first thought was turn them into a banana bread and then I remembered a recipe from Béa's book. I've made slight changes with almond for hazelnut and the mix of flours I had in stock. I think the taste remains pretty similar and both Paprika and I have enjoyed much these muffins. They aren't too sweet and the combination of flours and nut brings out well the taste of banana and the chocolate bites are a bonus. </br>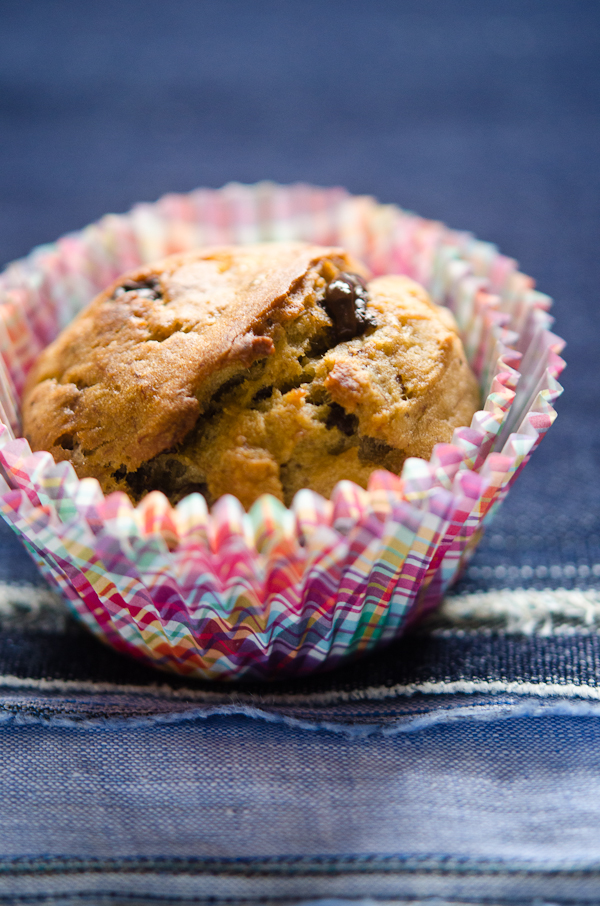 Banana and Chocolate Muffins adapted from La Tartine Gourmande Cookbook - Makes 12 Personal changes are mentioned between brackets
1 cup / 120g quinoa flour (rice flour) 1/2 cup / 70 g buckwheat flour 1/2 cup / 60g hazelnut flour 40g roasted hazelnut, roughly chopped (100g almond meal instead of the hazelnut flour + roasted and chopped hazelnuts) 2 large eggs 1/2 cup / 100g sugar cane 8 tbsp / 113g unsalted butter, melted 3 ripe bananas, mashed with a fork (4 ripe bananas) 1/4 cup plain yogurt (omitted) 3/4 cup / 90g dark chocolate, coarsely chopped 1 tsp baking powder 1/2 tsp baking soda 1 pinch of sea salt
Preheat oven to 350˚F / 180˚C. Line a muffin pan with 12 paper liners or use silicon muffin molds. In the bowl of a stand mixer, beat eggs with the sugar until pale in color. Stir in the melted butter (and the yogurt). In another bowl, combine flours, salt, baking powder, and baking soda. Stir the dry ingredients into the egg mixture, until just combined. Add the bananas and chopped chocolate and mix gently. Divide the batter among the muffin holes, place in the oven and bake for 25-30 minutes, until the blade of a sharp knife inserted in the middle of the muffins comes out almost dry. Remove from the oven and let cool briefly, then invert onto a cooling rack to cool completely.
_ _ _ _ _ _ _ _ _ _ _ _ _ _ _ _ _ _ _ _ _ _ _ _ _ _ _ _ _ _ _
Il y a cette femme au marché qui vend toutes sortes d'herbes et plantes. En général je vais lui rendre une petite visite lorsque j'ai besoin d'herbes fraîches. Et de temps en temps, selon la saison, il y a un bouquet qui attire mon attention. Cette marchande est devenue mon fournisseur de chou frisé et j'ai découvert la menthe vietnamienne et le basilic thaï par son biais. Dernièrement lorsque j'ai vu ces pousses de petits pois, j'étais curieuse d'essayer. Je les ai principalement préparé en salade. Elles ont un goût tendre de petit pois, ajoute du croquant et de la couleur. Je dois dire que j'aime voir comment les légumes peu à peu font leur entrée alors que nous allons vers les beaux jours. Comme des personnages montant sur scène et narrant une histoire avec chaque saison étant un acte différent.
Partie intégrante du cycle naturel, les produits deviennent mûrs et parfois trop, comme les bananes que j'avais à la maison. Chez nous, c'est quelque chose qui arrive rarement, elles sont généralement entièrement consommées avant qu'elles atteignent ce stade. Ma première pensée a été de les utiliser dans un banana bread et puis je me suis souvenue d'une recette dans le livre de Béa. J'ai fait quelques changements avec des amandes au lieu des noisettes et le mélange de farines que j'avais. Je pense que le goût reste fidèle et Paprika et moi avons bien apprécié ces muffins. Ils ne sont pas trop sucrés et la combinaison de farine et noix fait bien ressortir l'arôme de banane et les morceaux de chocolat sont un bonus.
---
Comments
Oh this post reminds me how I must sow some more radish seed, the ones I have are growing far too big and fast for my liking…hehe I prefer them when they are small. Salad and muffins are the perfect lunch at this time of year, are they not? I love the fluted frame on your plate, in fact all the textures and freshness in these images. Stunning! Beautiful! bron
I love the look of that salad, pinned in raw and vegan :-). The muffins look delicious too, I haven't used buckwheat flours in ages, should look out for some. Have a good week ciao Alessandra Alessandra Zecchini (@AleZec)
I am glad to have found this beautiful blog. Such lovely pictures. chefconnie
Those muffins must taste wonderful and the salad looks delightful! I am a big fan of herbs as they are indispensable when cooking. Cheers, Rosa Rosa Mayland
Ils sont super appétissants ces muffins ! Sandrine
Joliment présentée cette salade et très tentants ces muffins. Gisèle