Season of Renewal
October 08, 2012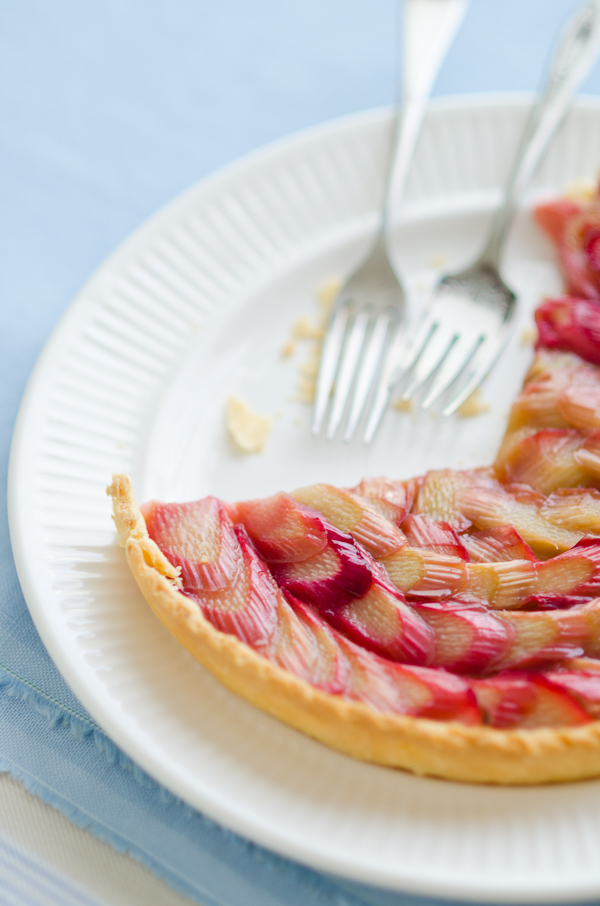 If spring had legs, they would be long and pink like a rhubarb stalk. Or would they be slender and green like an asparagus ? The cheeks surely would be plump and rose as a radish.
A graceful girl, Spring, with a delicate floral scent and an optimist mind.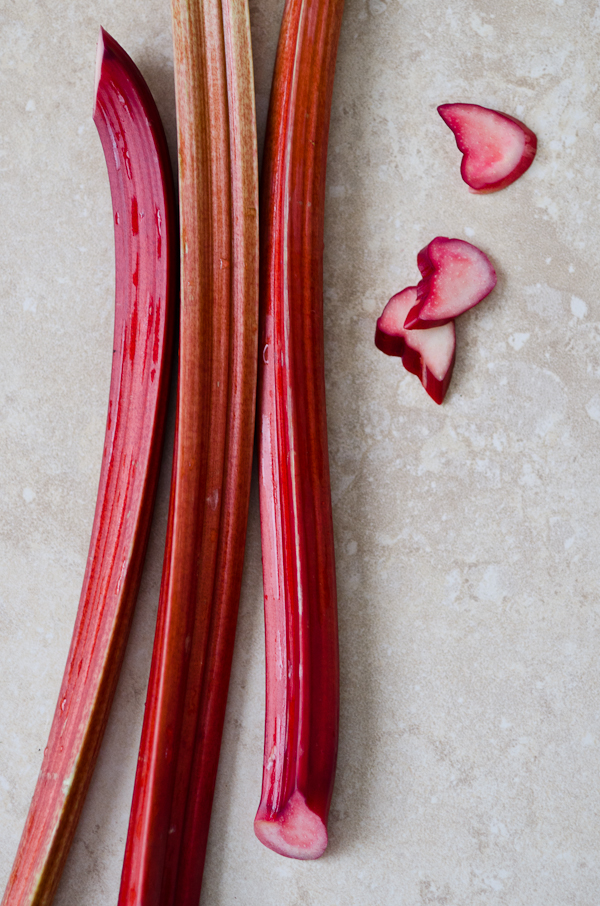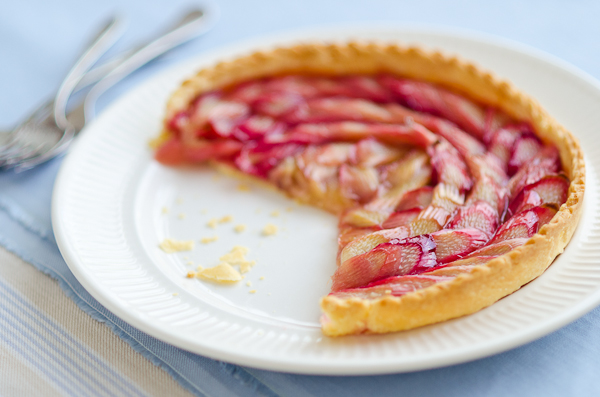 Spring the season of renewal. We are enjoying all the best of it right now. New food in the plate, first lunches on the deck, trees in bloom and arrival of ducklings...
Lately when it comes to dessert, it often includes rhubarb. Crumble, tart, compote... I put it everywhere. I like it. And the good thing is that I'm slowly converting Paprika to the particular taste of these pink stalks...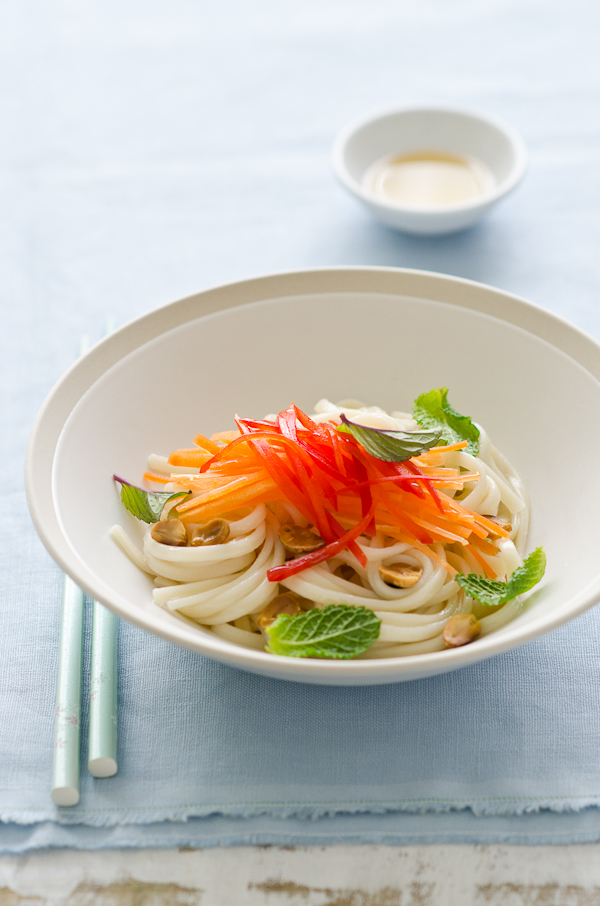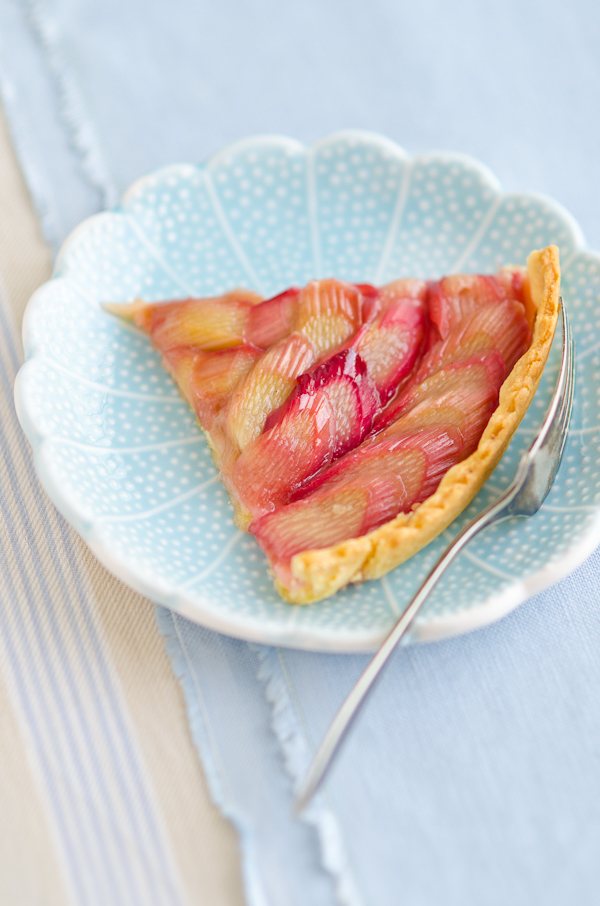 Rhubarb Tart
Pastry
140g flour 75g unsalted butter, diced 30ml water 1 pinch of salt
Filling 4 large rhubarb stalks, rinsed and cut in 45° angle slices 3 tbsp brown sugar + 1 vanilla tsp for sprinkling</em>
In a large bowl mix together flour and salt. Add butter to flour and mix with your finger tips to get a fine sandy texture. Add water and mix quickly but lightly with your hand to form a ball. Do not overwork the dough. Flatten the dough into a thick disc and wrap it in cling wrap. Let it rest for one hour in the fridge. In the meantime, toss sugar over rhubarb slices, mix and let marinate. Preheat oven to 200°C. Roll down the dough on a dusted flour surface. Place the pastry in the tart pan and trim the edge. Prick the bottom of the dough with a fork. Line over it a baking paper and fill it with baking ceramic pie weight or dry beans. Bake for about 15 minutes. Remove from oven and remove ceramic weights. Place rhubarb slices into the shell tart. Sprinkle with vanilla sugar and bake for 10-15 minutes. Remove from oven and turn out of the tart tin. Let it cool on a rack. Best served lukewarm.
_ _ _ _ _ _ _ _ _ _ _ _ _ _ _ _ _ _ _ _ _ _ _ _ _ _ _ _ _ _ _
Si le printemps avait des jambes, elles seraient longues et roses comme les tiges de rhubarbe. Ou seraient-elles élancées et vertes comme des asperges ? Les joues seraient à coup sûr fuchsia et pleines comme un radis. Une jeune fille gracieuse, le printemps, avec un délicat parfum floral et un esprit optimiste.
Le printemps, la saison du renouveau. Et nous profitons de tout ce qu'elle a de meilleur à offrir en ce moment. Nouveaux légumes dans l'assiette, premiers déjeuners sur le deck, les arbres en fleur et l'arrivée des canetons...
Dernièrement, lorsqu'il s'agit de dessert, cela inclut souvent de la rhubarbe. Crumble, tarte, compote... J'en mets partout. J'aime ça. Et la bonne chose est que je convertis doucement Paprika au goût particulier de ces tiges roses...
---
Comments
Ta tarte à la rhubarbe me fait vraiment envie ! Cela fait bien longtemps que je n'en n'ai pas mangé !!!!!! Sandrine
Here the autum has begun and it's a little bit strange to see a rhubarb recipe. ;) I am so looking forward to bake rhubarb cake next spring. Yours look so delicious. Could eat a piece of it immediately. :) Have a nice day! allesistgut
Love rhubarb - I'll give mine another week before diving in. Love the fact you've so carefully layered your tart - beautifully styled. Domestic Executive (@domesticexec)
I had never thought to slice or arrange the rhubarb like that - it looks so lovely! Margot
A beautiful tart! Rhubarb is so delicious. Enjoy spring! Cheers, Rosa Rosa Mayland
Great photos! benleeirene
Ooh I love rhubarb! Looks delicious. I love your gorgeous blue plate too :) The Melbourne Food Snob
Spring there and Autumn here - so funny. Loved your post! bitebymichelle
I've never tried this before, but it looks amazing! I'm going to try to copy and file in my already overstuffed, cookbook if you don't mind. :D kelihasablog
Beautiful photos! Rhubarb isn't something I like to eat but I wish I did because they are so gorgeous. The tart is such a showcase! Keep Calm and Eat On
Enjoy your spring there! The photos are stunning! Villy
Benleeirene, thank you. Domestic Executive, you're lucky to have homegrown rhubarb. I'm jealous ! Margot, that's the way French like to make their tart ;) Rosa, thank you dear ! Sandrine, j'en ai mangé une part de plus en pensant à toi ! Allesistgut, thank you. Enjoy Fall on your side of the world ! The Melbourne Food Snob, thank you ! Bitebymichelle, thank you ! Villy, I do and thank you ! Keep Calm and Eat On, rhubarb tastes special. Not sure I would have liked it as a child. Thank you for your kind words. Big Hungry Gnomes, thank you very much. Vanille
Your rhubarb tart looks utterly stunning and your photographs are beautiful. Thanks for sharing Big Hungry Gnomes
I think that this is the prettiest rhubarb tart that I have seen :-). Ciao Alessandra Alessandra Zecchini
So sweet and soft are your photos. I've never seen a rhubarb tart like that…it is so pretty. Enjoy your spring! thyme (sarah)
Your pictures are wonderful. So fresh looking. I wish I could get my hands on some rhubarb this time of year. Heather
Stunning photographs. Thank you for sharing! Kx Kate Olsson
A classic combination Beautifully photographed. cquek
Your blog is beautiful and this tart looks wonderful! marla meridith
Your rhubarb tart looks absolutely divine! :-) After Taste
Lovely looking tart! mycookinghut
*I love rhubarb! You should enter this in my Power of Pink Challenge for a chance to win a $100 donation to the charity of your choice. * Jen @ BeantownBaker.com
Beautiful Viv, must go and check my rhubarb. peasepudding
Oh you are making miss spring already and we have barely started into fall! There's something special about rhubarb isn't there, nothing quite like it. Sylvie Shirazi (@gourmandeinthek)
this is one beautiful rhubarb cake! kristinsnomnom
Your blog is absolutely amazing. The photos are so gorgeous I can't stop looking at all your posts!!! erika
Gorgeous photos, you really capture that rhubarb perfectly chezmaree
Beautifully arranged tart! Inspired me to make some too, I think I'll try some with some earl grey custard filling. Thanks for sharing Irene @ A Swoonful of Sugar
so beautiful and wish I could taste them! Hope you're enjoying the spring, look forward to reading more of lovely posts! keiko
Sheer delight on a plate, my dear! Just beautiful! Zen and Genki
what wonderful pictures, cant wait to try this recipe. tartanpancakes
Lovely dish! Would you be happy to link it in to the new Food on Friday which is all about rhubarb? This is the link . I do hope to see you there. Cheers Carole
[…] Piece of rhubarb tart. Recipe here. […] Blending… 11. June 2014 | tulen loobin su katusele kive!
[…] I baked another of these amazing rhubarb tarts. I love it! Recipe here. […] Street food festival… 15. June 2014 | tulen loobin su katusele kive!
[…] piece of a rhubarb tart and coffee. I used this recipe to make the rhubarb tar. It was super easy an […] Rhubarb tart… 10. June 2014 | tulen loobin su katusele kive!
Thank you for the lovely rhubarb tart recipe :) It was simple enough that a baking failure, like myself, could do it. I opted for a bit more rhubarb on top and had no patience to arrange it as neatly as you did, but the result was tasty still :) I liked it so much that I had to make this tart several times in a row :P annika
[…] Rhubarb tart. I made the rhubarb tart again. At Down Under. […] September 28 2014… rhubarb | RAWRRRR!!!… Dragon will eat you!!
Thanks Annika for reporting back. I'm glad to read you enjoyed the tart ! Vanille
[…] we got back home I finished making rhubarb tart from my own rhubarbs. Recipe if from At Down Under. And how I found it was that my friend made it who's food blog I'm watching so I wanted […] July 22 2014… rhubarb tart | RAWRRRR!!!… Dragon will eat you!!
Looks stunning! Would love to make it for my birthday next week. Do you know for how many people this tart is? Christianne
Christianne, the tart is around 20cm diameter and I would say it serves 4-5 people, but you can double the proportions for a bigger tart. Happy baking ! Vanille
[…] used this recipe. Believe it or not, I had a hard time finding a good tart recipe. Rhubarb tarts must not be […] Honey Rhubarb Tart | never settling
[…] Piece of rhubarb tart. Recipe here. […] Blending… 11. June 2014 – tulen loobin su katusele kive!