Coconut & Chocolate Steam Cake
August 03, 2012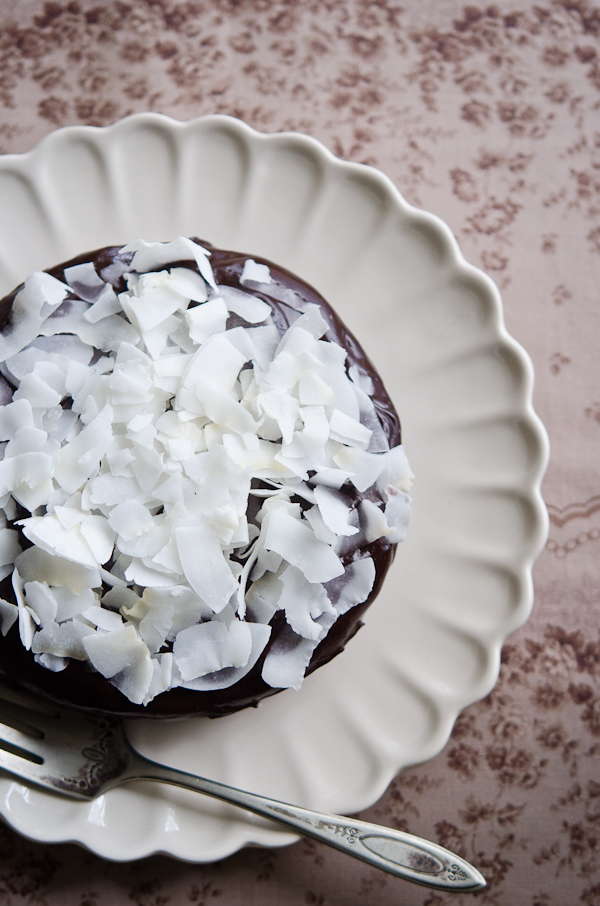 After a very good time in Paris, Paprika and I are back in Magyarország -Hungary- enjoying the ever charming Budapest...
Before I'm able to share more about our trip, here's a little sweet I've made a couple of weeks ago in my kiwi kitchen.
In my little notepad I had scribbled lamington. The initial idea I had in mind. An excuse to use the light and crisp coconut chips I had in the pantry. From there the idea evolved into this cake that requires no baking.
A steam cake with a subtle coconut flavour frosted with a generous chocolate crème anglaise and topped with the delicate curls of coconut chips...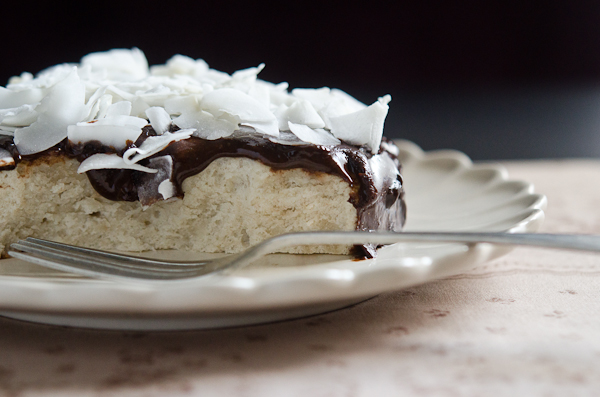 Coconut & Chocolate Steam Cakes (makes 6 little cakes)
120g rice flour 50g caster sugar 200ml coconut milk 4 egg whites
In a bowl mix together rice flour and sugar. Pour in coconut milk and and stir. In a separate bowl whip egg whites until firm peak. Fold gently in the flour mixture and combine to have an homogenous batter but still foamy. Grease well moulds with vegetable oil and pour the batter in (3/4 full). Steam for 25-30 minutes.
Chocolate crème (you will have more than needed for the cakes) 100ml coconut milk 50g dark chocolate 2 egg yolks 25g sugar
In a little sauce pan over low fire, warm coconut milk and chocolate. In a bowl, whip egg yolks and sugar until pale. Pour the hot chocolate and coconut milk over the eggs and keep on whipping. Pour the sauce back into the sauce pan and over low fire stir constantly until the sauce starts to thicken - between 5 to 10 minutes. When the desired consistency is obtained. Coat each cake with the crème and sprinkle on top the coconut chips.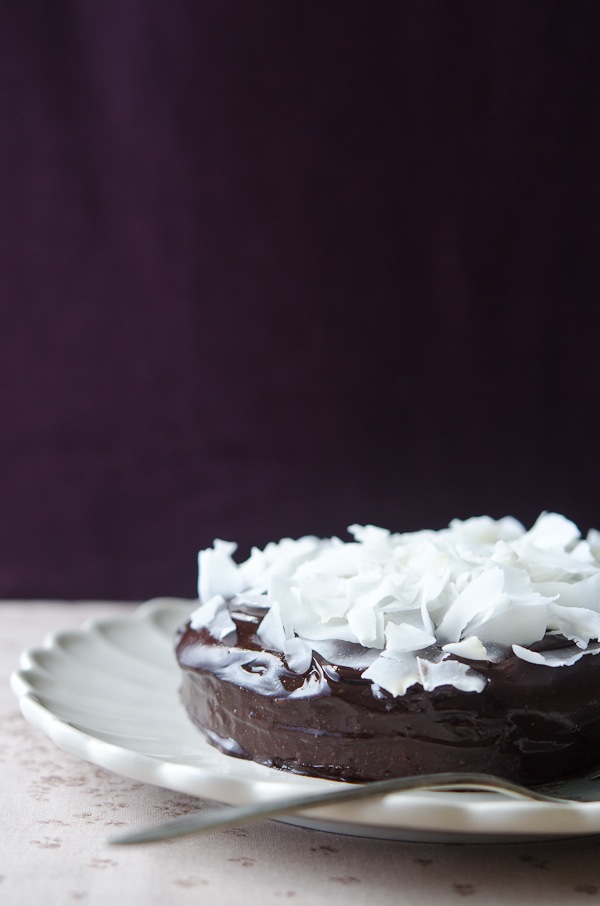 _ _ _ _ _ _ _ _ _ _ _ _ _ _ _ _ _ _ _ _ _ _ _ _ _ _ _ _ _ _ _
Après un superbe séjour à Paris, Paprika et moi sommes de retour à Magyarország -Hongrie- et profitons de la charmante Budapest...
Avant que je puisse partager davantage sur notre voyage, voici une petite douceur que j'avais faite il y a quelques semaines dans ma cuisine kiwi.
Dans mon calepin j'avais griffoné lamington. L'idée initiale que j'avais en tête. Une excuse pour utiliser les lamelles de coco légères et croustillantes que j'avais dans le placard. De là, l'idée a évolué pour devenir ce petit gâteau qui ne demande aucune cuisson au four.
Un gâteau vapeur au coco nappé d'une généreuse crème anglaise au chocolat et garni de délicates volutes de coco...
---
Comments
Heaven on a plate right there. Zen and Genki
*My husband and I baked a banana steam cake for our friend's birthday several years ago. He's Filipino and apparently that cake is traditional, something he remembered from his childhood. It had a coconut icing similar to what you made, minus the chocolate, of course. Shredded, toasted coconut to finish a wonderful dessert! I love your big coconut flakes – I've not seen those. Cheers, *Heather** heather
Wow, une belle invention qui semble aussi délicieuse… et belles photos, as always :) frogncie
Lapetitebaker, thank you ! The Kitchen Maid, oh, thank you very much! Shruti, let me know how it turns out for you. Auntie K, you should try it. Steam cake is easy and a nice alternative when one doesn't want to turn on the oven. Girlinafoodfrenzy, good to know this little cake has inspired you ! Bunny Eats Design, Thank you. The second serving, it was indeed ! Flo, merci. Il faudra que tu me dises si tu as fais évoluer cette recette et fait naître une nouvelle ;) Oui, c'est dommage pour cette fois, mais ce n'est que partie remise ! Dimitra, thank you ! Dave Caufield, steam cake is fairly easy. Frogncie, merci tout plein ! Vanille
Ohh those shreds of coconut look so pretty. Love how light and soft these sound, being steamed rather than baked. Enjoy your travels - Hungary is beautiful! hungryandfrozen
Yum yum yum yum. I wanna make this and wonder if I could use normal wheat flour rather than rice flour? Hmmm, might just try anyway so I don't have to go out first :o) Calico Stretch
That cake looks amazing! Surely quite addictive. cheers, Rosa Rosa May (@RosasYummyYums)
This is amazing looking! Love how pretty the pictures are :) ashley
*That is such a beautiful cake! I love the contrast of dark brown and the white coconut flakes. Gorgeous pictures! I would like to invite you to Yumgoggle. Your phenomenal photos have caught our attention, we have been on the lookout for unique and interesting bloggers since we launched our food photo submission site. * yumgoggle
This looks amazing! lapetitebaker
These are surely the most elegant lamingtons I've ever seen! The Kitchenmaid
love the combination , i'm yet to try a steamed cake shruti
Omygosh, this is the first time I heard about steamed cake. I must try it! auntie k
Wow, just found your gorgeous blog! So beautiful, I love these little cakes! They look so delicious! :) Amy
Such a lovely light cake and beautiful recipe. I especially like the combination of coconut milk and shredded. Very inspired :) girlinafoodfrenzy
Gorgeous photos. I love that plate. It's perfectly precious. I had lamingtons for the first time in years. Your steamed cake is a great tribute to a classic. Bunny Eats Design
Delicious! the second serving
Très intéressante recette, qui me met l'eau à la bouche. Il ne me reste qu'à trouver un bon substitut aux blancs d'oeufs, pas toujours simple. Je regrette bien de ne pas avoir pu trouver l'opportunité de "monter" à Paris lorsque vous y étiez, mais la vie est ainsi faite en ce moment… Bonne continuation de séjour européen, une grosse bise! Flo Flo Makanai
Great flavour combinations for a cake, would love a slice right now and it's only breakfast time here! Nic
It looks amazing! Thank you very much for the recipe! Dimitra Dimitra
This looks absolutely sinful! Can't wait to try my hand in making it. Wish me luck. Dave Caufield
Looks wonderful! Enjoy your travels and eat your way through your trip. We can live vicariously through your postings. : D kelihasablog
[…] Coconut & Chocolate Steam Cake (atdownunder.com) Rate this:Share this:FacebookPinterestTwitterStumbleUponTumblrEmailPrintLike this:LikeBe the first to like this. Posted in: Cheap Meals | Tagged: Bake, Cake, Coconut, Coconut cake, Coconut cream, Cook, Cool Whip, Eagle Brand, Easy Coconut Cake Recipe […] Easy Coconut Cake « Thrifty Livin
Miam !!!! J'aimme <3333 sa l'air Cro bon !!! SluRp !!! ;p Lauriane
[…] as I was browsing foodgawker, as I do many a day, I came across this recipe for a coconut chocolate steam cake. I was intrigued. There's coconut milk in both the cake […] White on Rice » Coconut? Chocolate?