Cheers
November 08, 2011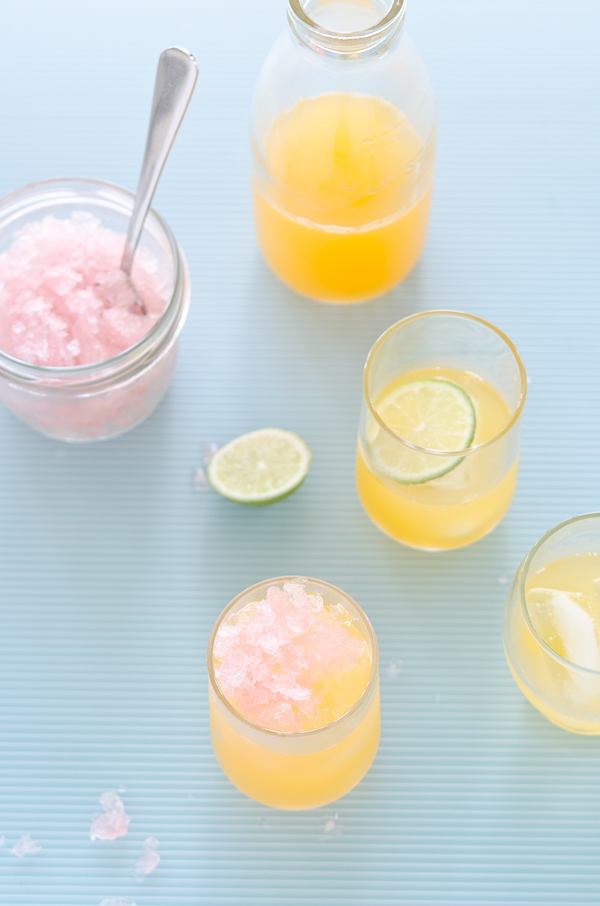 I look forward to this new week. Because after the last disappointing one I had, this week will be under the sign of meeting. Like minded people. And that's a good perspective...
In the same idea of gathering, Barbara is hosting a special Hay Hay it's Donna Day and inviting everyone to share a drink to celebrate the 10th anniversary of the Donna Hay Magazine. I contribute to this virtual bar with an orangeade with rhubarb granita. A beverage to keep cool kids and grown ups alike...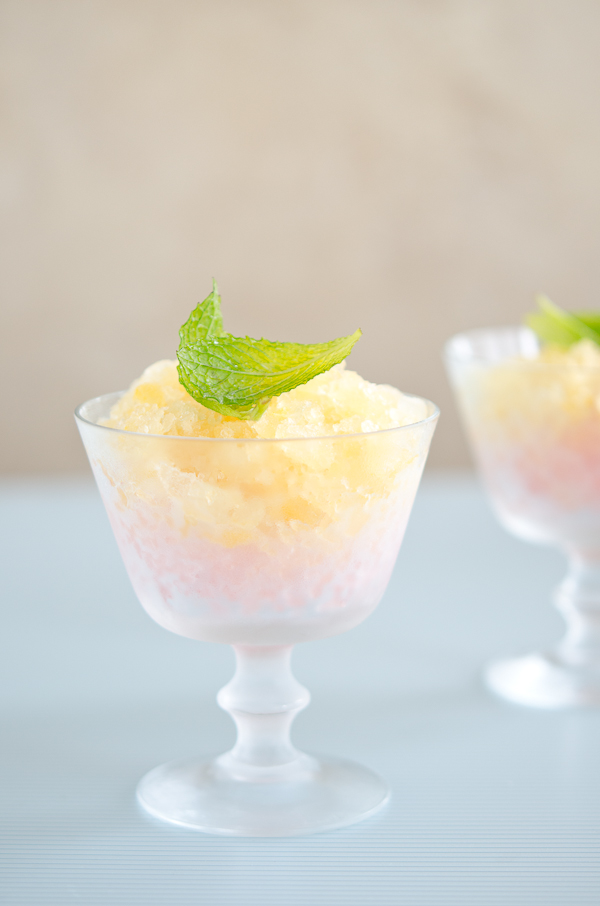 While most of you are getting cosy in the northern hemisphere, here, days are getting longer. Yes, summer is almost at our door step. Or at least it feels like that some days...
This post is therefore a visual ode to the beautiful season, to warmer and light-filled days, to the return of open shoes and laid-back atmosphere...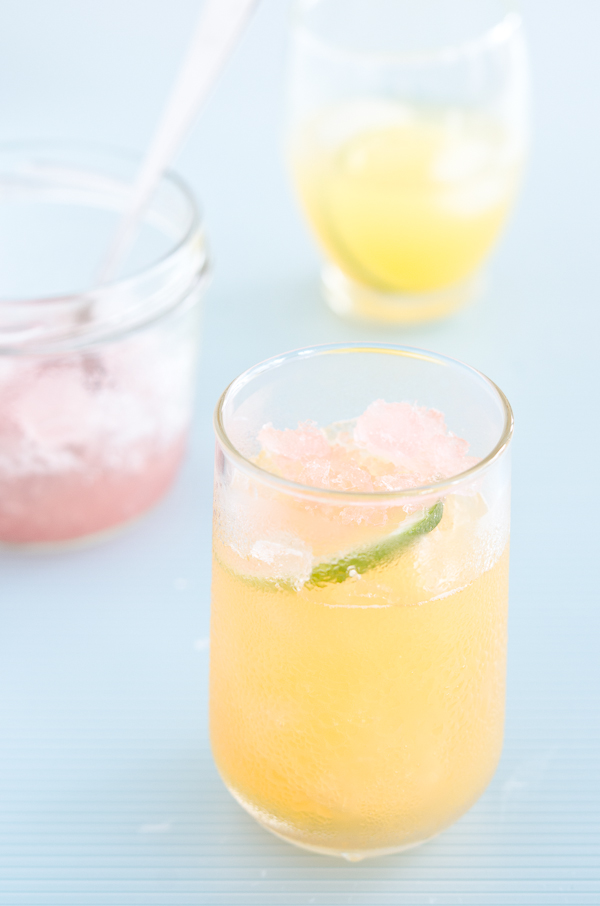 Orangeade & Rhubarb Granita (Makes about 4 cups)
6 oranges 500ml (2cups) water 50g (1/3cup) sugar</em>
250ml (1cup) water 5 tbsp rhubarb syrup
The day before, prepare the granita. Mix in a shallow container water and rhubarb syrup and freeze overnight. Then with a fork break the flavoured ice. Prepare the orangeade mixing the fresh orange juice, water and sugar until sugar is dissolved. You may add sugar depending on how sweet your oranges are. Serve cold with a slice of lime, ice cubes and rhubarb granita on top.
_ _ _ _ _ _ _ _ _ _ _ _ _ _ _ _ _ _ _ _ _ _ _ _ _ _ _ _ _ _ _
Je me réjouis de cette nouvelle semaine. Parce qu'après la semaine dernière qui fût décevante pour moi, celle-ci sera placée sous le signe des rencontres. Avec des personnes aux mêmes intérêts. Et ça, c'est une bonne perspective...
Dans le même esprit de réunion, Barbara organise un spécial Hay Hay it's Donna Day et invite tout le monde à partager une boisson pour célébrer le 10ème anniversaire du magazine Donna Hay. Je contribue à ce bar virtuel avec une orangeade et son granité de rhubarbe. Une boisson pour garder frais, sans distinction, petits et grands...
Alors que la plupart d'entre vous dans l'hémisphère nord commencez à vous mettre au chaud, ici les jours se font de plus en plus longs. Oui, l'été est à portée de main. Ou du moins, c'est l'impression que l'on a certains jours...
Ce billet, par conséquent, est une ode visuelle à la belle saison, aux jours de plus en plus chauds et remplis de lumière, au retour des chaussures ouvertes et à l'atmosphère relax......
</p>
Orangeade & Granité de Rhubarbe (Pour environ 1 litre)
6 oranges 500ml eau 50g sucre
250ml eau 5 c.à.s sirop de rhubarbe
1 citron vert
La veille, préparer le granité. Mélanger dans un récipient peu profond l'eau et le sirop de rhubarbe et mettre au congélateur toute une nuit. Ensuite casser la glace à l'aide d'une fourchette. Préparer l'orangeade en mélangeant le jus fraîchement pressé des oranges, l'eau et le sucre jusqu'à ce qu'il soit bien dissout. Vous pouvez rajouter du sucre selon l'acidité de vos oranges. Servir froid avec une tranche de citron vert, quelques glaçons et le granité de rhubarbe sur le dessus.</em>
---
Comments
Alessandra, see you on Saturday ! A la carte Kulinaria, thank you ! Glad to know it could contribute to a good quick of the day ;) Rosa, thank you ! Kathryn, I do feel the same when you're having your Summer in the Northern hemisphere… Keep warm and thank you ! Sylvie, I know we are both Summer kind of girls ;) Line, merci tout plein ! Barbara, thank you for hosting this HHDD. An excellent idea ! Yes, look forward to the conference. Asha, thank you dear ! Vanille
It was lovely meeting you too V, hope to catch up again. Very impressive styling, absolutely gorgeous. :-) easyfoodhacks
Leaf, thank you ! Indeed really refreshing. Mel, happy to read it could bring a little bit of sunshine to your day ! Leemei [My Cooking Hut] ;) And congrats again for your book ! Sarah @ Two Tarts, thank you ! Laura [Hungry and Frozen] you're so right here ! We missed you on Saturday… Alli [Peasepudding] thanks. Was great to meet you and everyone else ! You did a great job ! Thank you to make it happen ! Vanille
It looks beautiful. Lovely meeting you on Saturday, hope you had a good trip back. peasepudding
Ah, this is beautiful and makes me wish that summer wasn't over and the colder months weren't ahead! Sylvie @ Gourmande in the Kitchen
This looks so pretty and refreshing! Blandine
ça l'air si bon les photos son excellentes comme toujours! Line
I love the pastel colours! And it must surely taste so refreshing and delicious… leaf (the indolent cook)
A lovely contribution Vanille. Thank you. Beautiful colours and I like the rhubarb and orange combo. Have a great time at the conference. Barbara
This granita looks so deliciously refreshing – makes me wish it wasn't winter here in the Scotland… Your photographs are stunning as well, they've definitely brightened up my day! Mel
LOVE!!!.. love the styling and the soft colors!! Asha
For all that rhubarb is sour, can be stringy, and has poisonous leaves, it produces one of the most beautiful coloured and delicately flavoured syrups. I'm glad someone many years ago decided to try cooking it! hungryandfrozen
Looks really refreshing! I want summer! mycookinghut
I have to admit, I'm a bit jealous of that warm weather you're having! But, even though it's getting chilly here in Chicago, this granita looks incredible, and your photography is absolutely stunning! Kathryn O
Are you coming to the food bloggers conference? Love the Orangeade & Rhubarb Granita, and the colours in the photos look great! I don't no much about Donna Hay (I only have a single magazine that someone passed me years ago, maybe 10?) but I am sure that she would approve of your styling here :-) Ciao Alessandra Alessandra
All photo are really beautiful again! It is a good start of my day… :) A la carte Kulinaria
What a delightful granita! So pretty. Cheers, Rosa Rosa May (@RosasYummyYums)
Love the colors and flavors…this is gorgeous!! So glad I came across your blog via HHDD :) joey
lovely glowing photographs today, I love it! Sarah @ Two Tarts
Great to meet you on the weekend…so much fun. I love the sound of these drinks….perfect for Summer :) Mairi Herbert (@ToastNZ)
Im so down with granita! Miss T
These 'icy' photos are giving me chills!! Wish rhubarb wasn't so expensive here in Dubai. Sukaina
oh and were just getting into the lovely warmer weather here in Melbourne too - bring on the granitas and love Donna Hay's works, ten years has flown by! jas