Makara
September 13, 2011
Let's go down a narrow and winding road to a little village called Makara. The interest of this seaside village is not really the pebble beach, but rather the view to enjoy after walking along the coastline and then climbing up the steep hills. On a clear day, you get a glimpse of the Marlborough sounds on the other side of the strait. And to fully enjoy the serenity of the place, always choose a windless day, as it can be very exposed.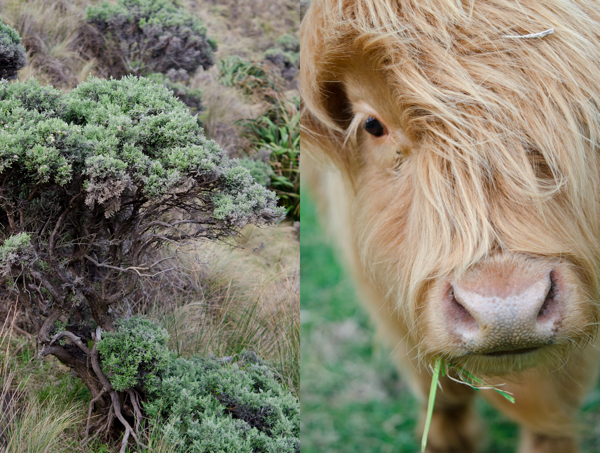 For me, what gives also some charm to this place is the little valley where the road passes along green pastures and follows the gentle stream running to the sea. It's just half an hour from the CBD, but you feel totally immersed in the country. Depending on the season, I like to see how the light, vegetation and colours give a different feeling to this place yet with a constant sens of harmony.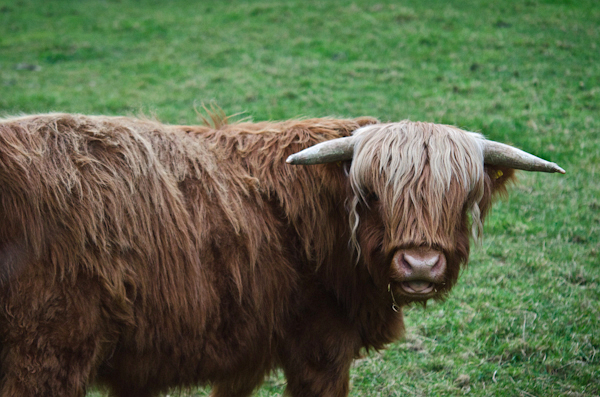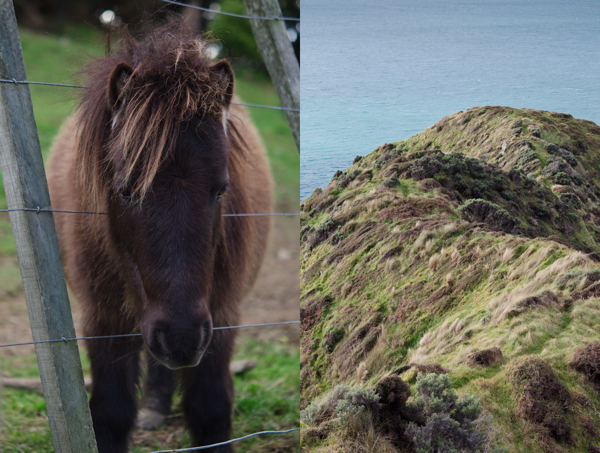 _ _ _ _ _ _ _ _ _ _ _ _ _ _ _ _ _ _ _ _ _ _ _ _ _ _ _ _ _ _ _
Prenons la route étroite et sinueuse qui nous mène jusqu'au petit village de Makara. L'intérêt de ce village en bord de mer n'est pas vraiment la plage de galets, mais plutôt la vue que l'on peut admirer après avoir marché le long de la côte puis grimpé au haut des collines escarpées. Par jour de beau temps, on peut apercevoir les Marlborough sounds de l'autre côté du détroit. Et pour pleinement apprécier la sérénité des lieux, toujours choisir un jour sans vent, car les crêtes sont souvent exposées.
Selon moi, ce qui donne également du charme à cet endroit, c'est la petite vallée où la route passe le long des verts pâturages et suit le cours du ruisseau qui se jette à la mer. Nous sommes à une demie-heure du centre ville de Wellington, mais on se sent totalement immergé dans la campagne.
Selon la saison, j'aime voir comment la lumière, la végétation et les couleurs donnent une atmosphère différente tout en gardant un sens d'harmonie permanent.
---
Comments
Just beautiful. Especially that first photo with all of the changes in light as it passes over the hills. Snippets of Thyme
Woolly highland cattle! We have some on our island as well, always make me feel like hugging them, but it's advisable not to do so. Elisa
Oh, what a beautiful place. So peaceful and soul-uplifting. Thanks for sharing those gorgeous pictures with us. Cheers, Rosa Rosa May (@RosasYummyYums)
Superbe endroit! Merci pour la balade, bises… dominiques
Sarah [Snippets of Thyme], Elisa, Rosa & Dominique thank you ladies ! Vanille
I never get tired of admiring your photos of these beautiful places near you. It's like a little virtual escape, perhaps one day I will get the chance to see it in person. Sylvie @ Gourmande in the Kitchen
Moi je voulais te remercier de traduite tout ton blog en français ! il faut du courage car c déjà long d'en mettre un à jour régulièrement, mais dans les 2 langues, c encore plus fort !! les photos sont superbes, merci, IsaZ à Québec isaZ
You take such great photographs. I love Makara and you've captured it so well. I love the pictures of the animals! timeforalittlesomething
*I think I'd like to spend a few days with the donkeys and cattle in that countryside. Serenity at nature's finest. A few days of silence (on a non-windy day, of course) is just what I need. Thanks for the peaceful visions. Cheers, *Heather** heather
Just beautiful. I can't believe I have only stumbled upon your blog now, I'm really enjoying your gorgeous photography. Emiko