In the Kitchen With Mike
September 08, 2011
Born and raised in Wellington, Mike Eastwood is the proud resident of the capital of New Zealand. Mike is also the generous and creative mind behind Tuesday Night Dinner, a potluck dinner with a weekly theme. Hosted for more than a decade by Mike himself, the dinner now moves from place to place around Wellington. Entrepreneur by day and passionate cook the rest of the time, Mike agreed to be portrayed doing one of his favourite past time. And I'm particularly happy to open this series of Face & Place with Mike.
So please follow me in his kitchen for the making of a delicious three course meal for 7 lucky guests.
* Smoked Eel Caesar salad * Fettuccine with Mushrooms & Cream Sauce * Poached Rhubarb and Strawberries with Vanilla Ice Cream *
Partly assisted by Grace, Mike shared and patiently explained to his lovely and young sous-chef about ingredients and tastes throughout the cooking process. Always casual, his approach involves all the senses. Meanwhile guests were chatting, having a drink and appetizer with the freshly made chicken liver mousse on slice of bread...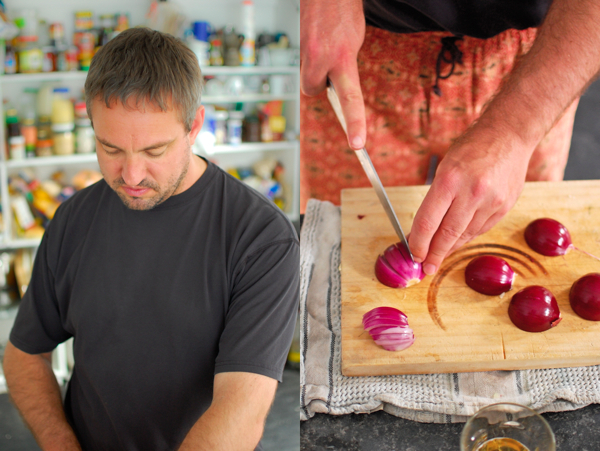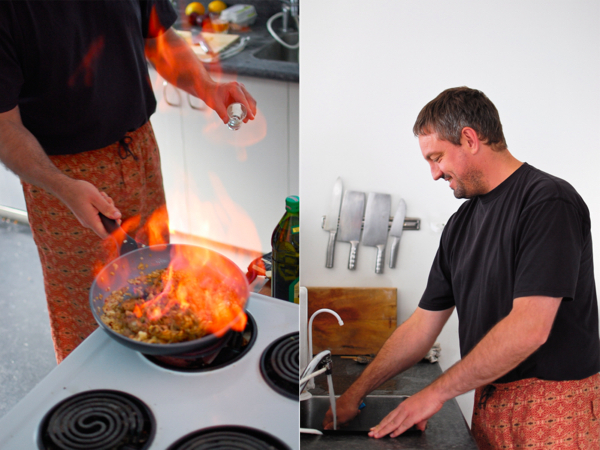 Chopping red onions and flambeing chicken livers for the making of mousse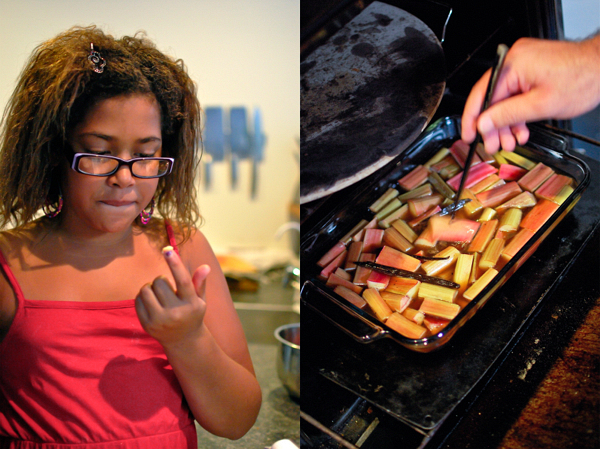 Cooking with the heart. Tasting and testing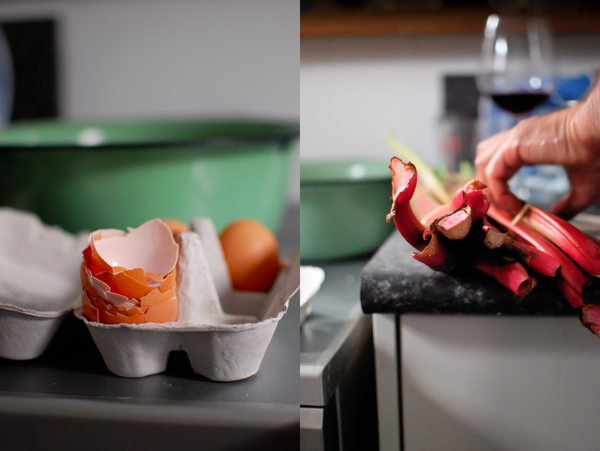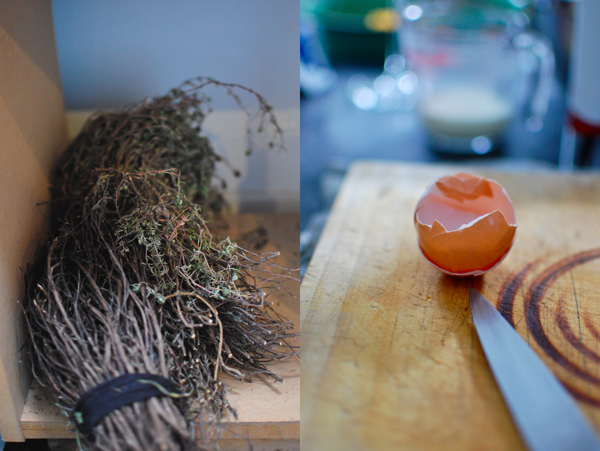 Still life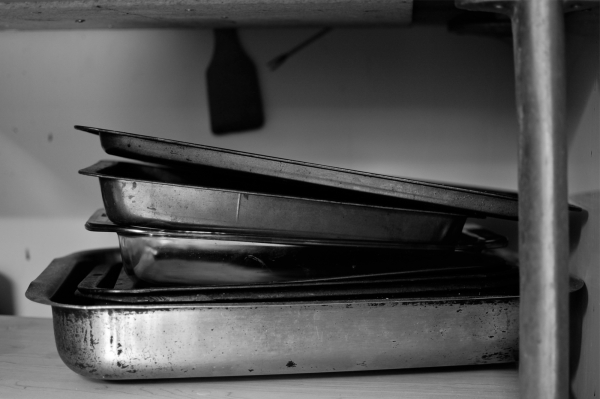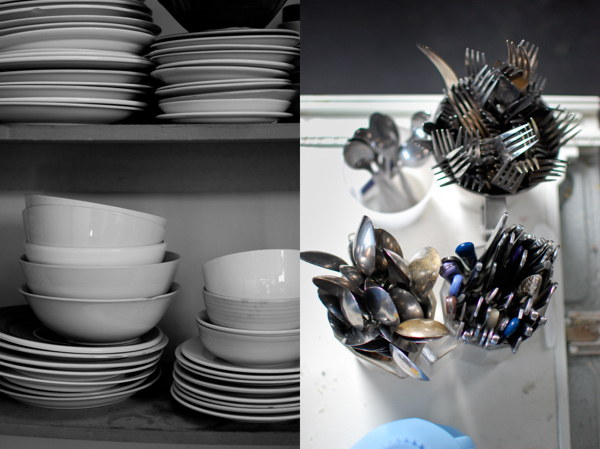 The props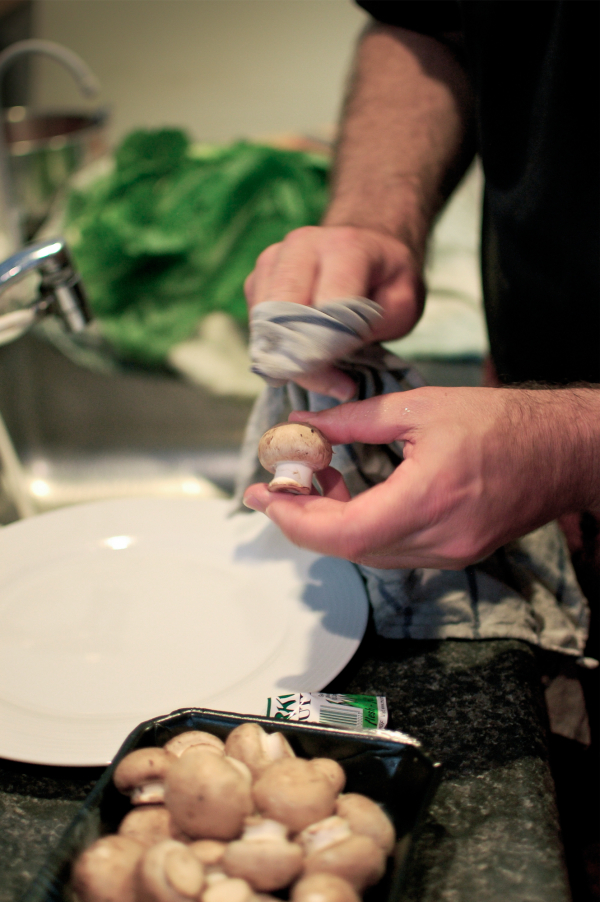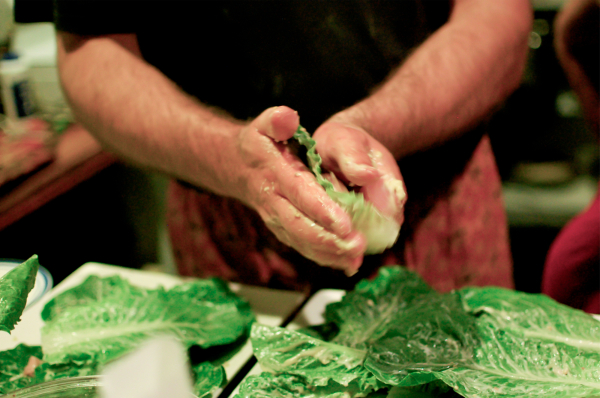 Polishing mushroom and coating salad leaves with mayonnaise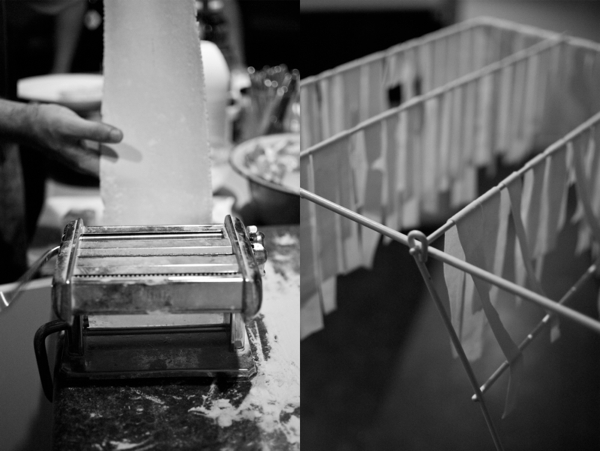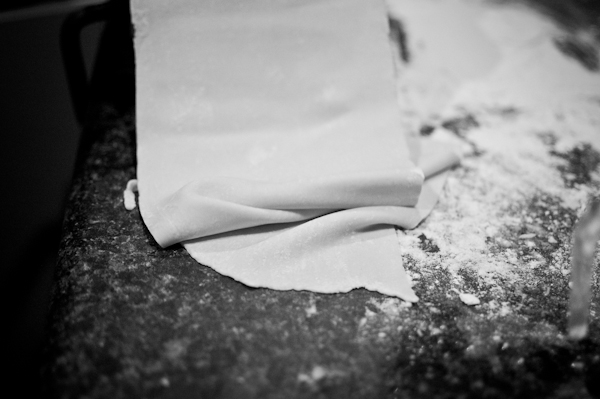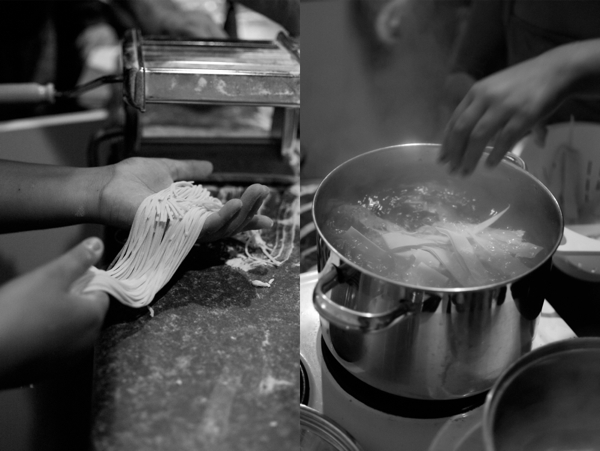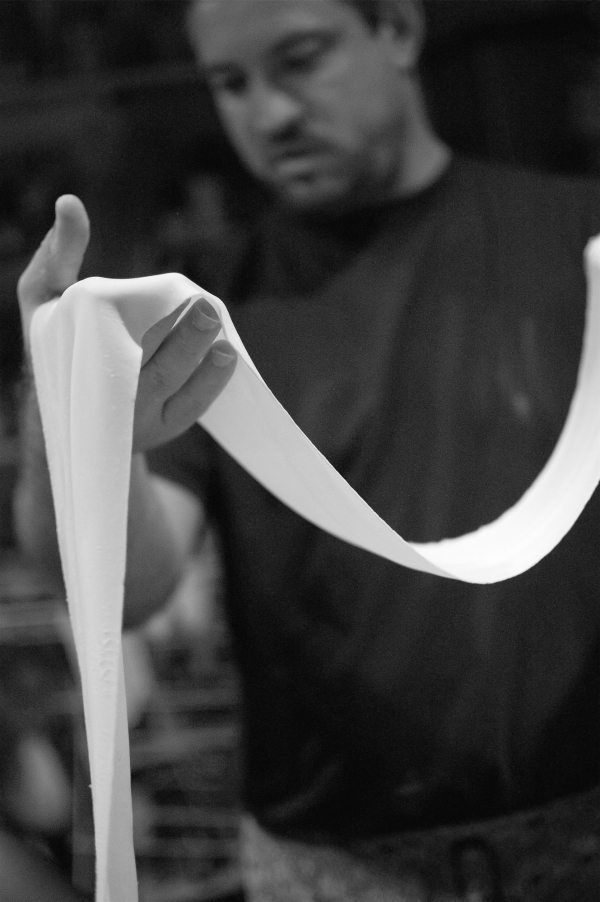 Mike's speciality: fresh pasta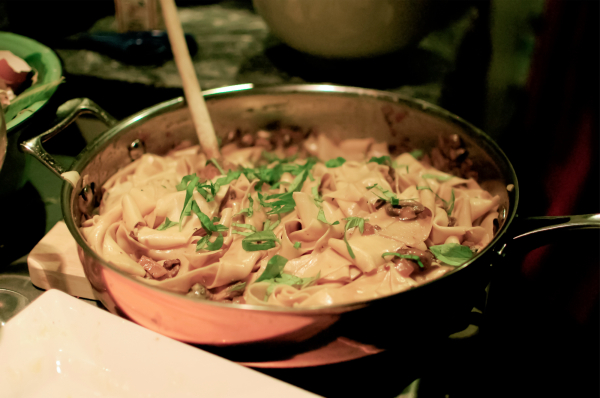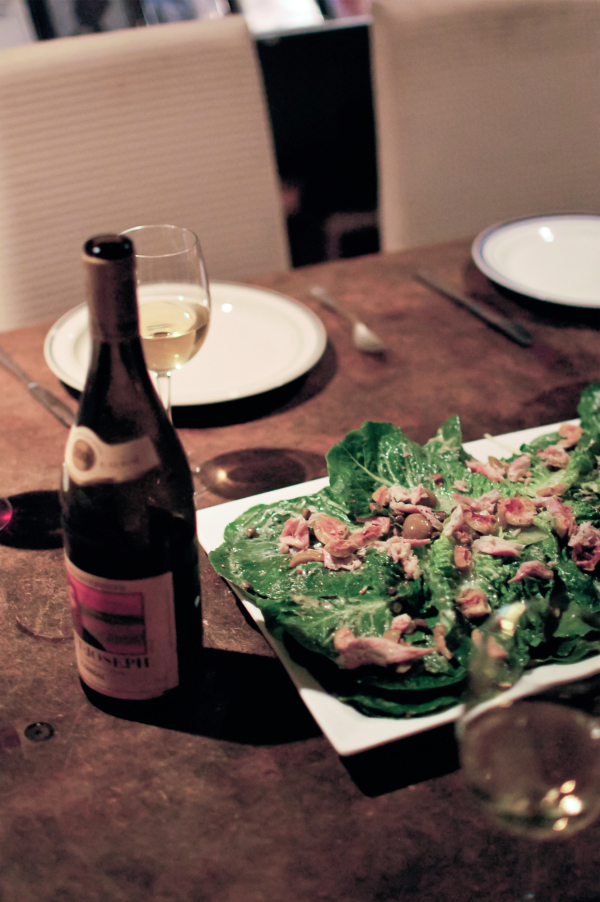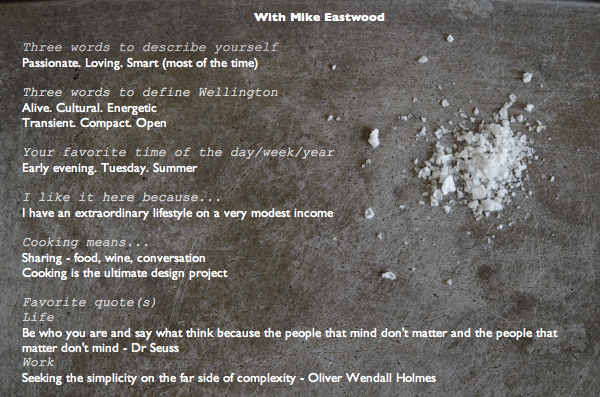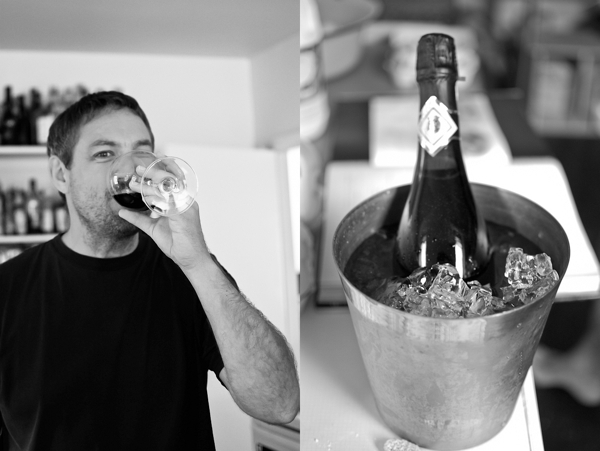 Cheers !
_ _ _ _ _ _ _ _ _ _ _ _ _ _ _ _ _ _ _ _ _ _ _ _ _ _ _ _ _ _ _
Né et élevé à Wellington, Mike Eastwood est le fier résident de la capitale de la Nouvelle Zélande. Mike est également l'esprit généreux et créatif derrière le Tuesday Night Dinner, un dîner hebdomadaire à thème. Organisé et hébergé pendant plus d'une décennie par Mike lui-même, le dîner à thème se déplace à présent chaque semaine autour de Wellington. Entrepreneur le jour et cuisinier passionné le reste du temps, Mike a accepté d'être représenté pendant l'un de ses passe-temps favoris. Et je suis particulièrement contente de démarrer cette série Face & Place avec Mike.
Alors, suivez moi dans sa cuisine pour la préparation d'un délicieux repas pour 7 invités.
* César salade à l'anguille fumée * Fettuccine aux champignons et à la crème * Crème glacée à la vanille accompagnée de rhubarbe pochée et fraises *
Partiellement assisté de Grace, Mike partage et explique patiemment à sa charmante et jeune sous-chef les ingrédients et saveurs tout au long des préparatifs. Toujours relax, son approche implique tous les sens. Pendant ce temps les invités bavardent, prennent l'apéro et dégustent en amuse-bouche la mousse de foie de volaille fraîchement préparée sur des toasts...
---
Comments
What a wonderful experience. The meal looks amazing. That bowl of pasta is so beautiful! Snippets of Thyme
nice little photo essay James O'Shea
A terrific experience, indeed! His meal looks out of this world. Cheers, Rosa Rosa May (@RosasYummyYums)
Such beautiful photos. Love that flambeing chicken livers and those props SIGH!! and fresh pasta.. so yummy. kankana
Beautiful pictures :) Glad to find your blog through Kankana! Grishma
While I believe the food itself would be incredible, your photos elevate it all to a whole level of deliciousness! Tuesday nights with Mike sound like great fun. hungryandfrozen
Très belles photos pour une expérience originale… rien qu'en les regardant on imagine un repas délicieux qu'on adorerait partager! Bises… dominiques
I love your beautiful photographs! They're amazing. This meal looks so delicious. timeforalittlesomething
Great photos and movements, it must have been lots of fun!! Only one thing I will never get used to is to see Kiwi cooks (and British, Australians…Anglo saxons in general in fact) sucking their fingers when cooking. I don't know about France, but in Italy we use spoons for tasting, and fingers are allowed only occasionally when licking the bowl (after the food has been made). The funny things is that lots of people think that it is an Italian thing… maybe they saw Nigella do it when she was making some Italian sauces :-). Mystery! What do you think? I have put the blog candy on my blog now, if you or any of your readers are interested in winning Party Food for Girls :-). Ciao Alessandra Alessandra
Thank you all ! Glad you enjoy it ! Alessandra, you make me smile with your observation. It may be a cultural thing, I don't know. Even if I do use spoon when I cook, I don't think in term of finger vs spoon but rather about cleanness. I have to check it out now about the Party Food for Girls ! Vanille
Thank you Vanille You captured the magic. BIG GRIN -Mike Tuesday Night MikeMike Eastwood
Wonderful! Love your pictures as always… so sad to miss all these so special dinners! julie
P & I are going to host a dinner mid-october. Would have been lovely to have Oli and you with us ;) Vanille
It really is my pleasure Mike ! Vanille
Yes, it is about cleanness for me too, I use my hands a lot to cook, so I cannot use them to taste food unless it is already in my plate… if my Mother could see this!! :-) Alessandra
it's a great idea and something I would like to get going here in Auckland but the uptake seems to be a bit slow, perhaps Wellingtonians are a bit more relaxed and accepting about eating at peoples places they don't particularly know. peasepudding