Sticks & Stalks
August 31, 2011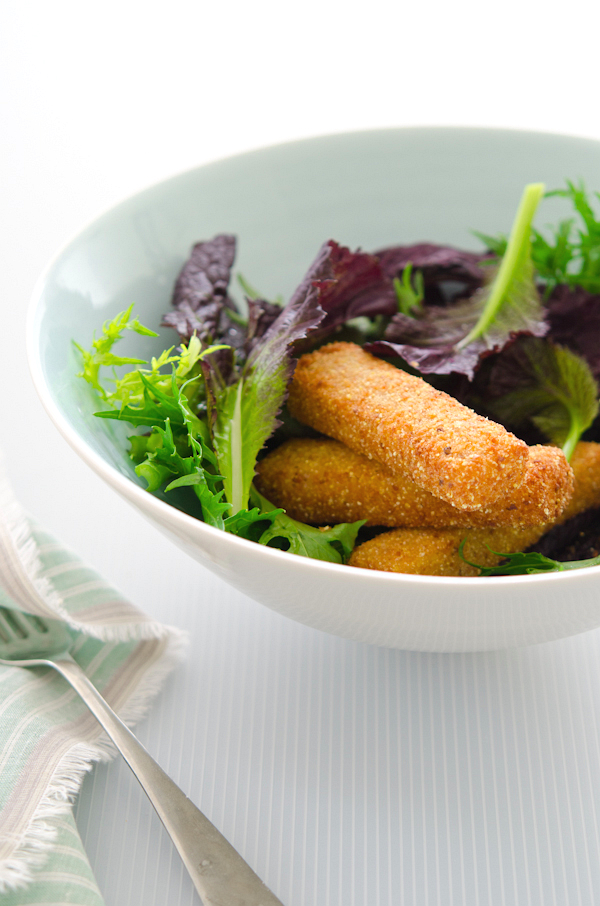 The postman rang at the door on Saturday morning and woke us up. Not a bad thing after all. On this way, we started the day earlier than we usually do on week-end. And we enjoyed more of the glorious sunny day.
Coming back from the farmers market, I was all happy with my finds: Big bunches of mizuna and red mustard.
As the weather was so Springy, Paprika and I quickly agreed to lunch on the fresh mix of greens and cheese sticks. But not any kind of cheese. Du Comté ! If you don't know it yet, you must taste it and you'll know what I mean.
The warm cheese coated in breadcrumbs is a pure melting goodness, balanced with the peppery taste of mizuna and red mustard leaves.
My kind of lunch. Simple, fresh and tasty.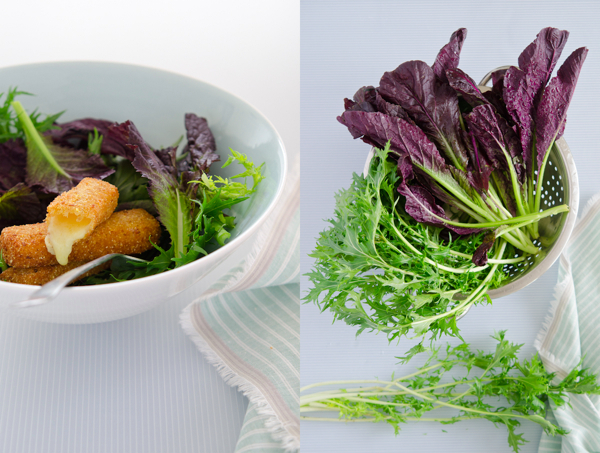 On the same easy way, I made a fruit salad for dessert. I got nice stalks of rhubarb as well at the market and I was curious to prepare it raw for a change.
The vegetable thinly sliced, is soaked in sugar for an hour and then mixed with orange segments, mint and coconut chips. A nice combination: tangy, sweet and refreshing.
Paprika skipped that one. He's not a big fan of rhubarb and the raw version did not convince him either.
Never mind it was a double serving for me and I felt just spoilt...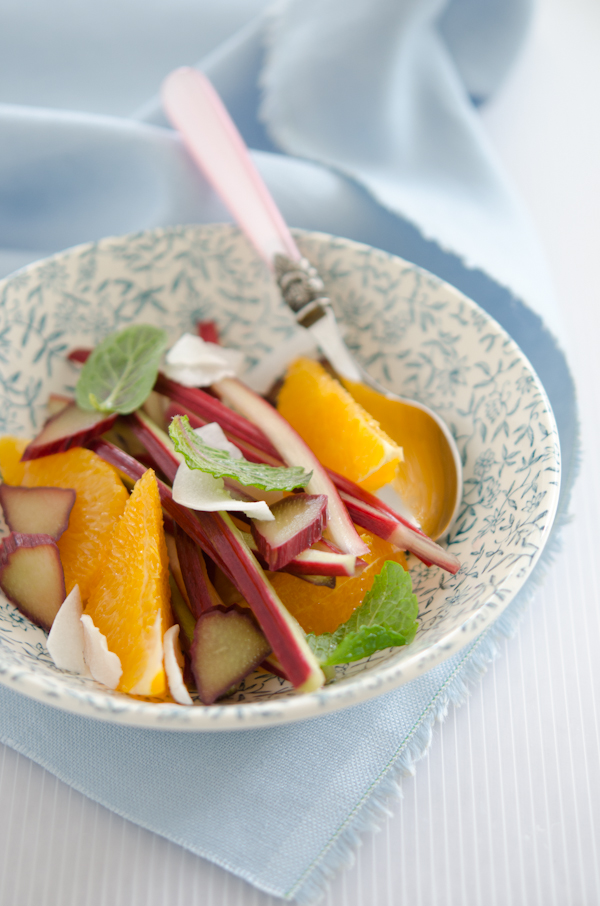 Comté Sticks (For 2 as a main) 2 slabs of Comté (100gr each), skin trimmed (if you can't find Comté, try with a tasty semi-hard cheese) 1 egg whipped with 2 tbsp milk 80gr breadcrumbs 25gr polenta 125ml (1/2cup) milk 1 heaped tbsp cornstarch 400ml vegetable oil
In four separate shallow plates place milk, cornstarch, egg mixture and breadcrumbs and polenta mix. Deep one by one cheese slab or stick -if you prefer to make it that way- in the milk. Strain well and coat all over in the cornstarch. Remove the excess of cornstarch and deep in the egg mixture. Strain well and then coat with breadcrumb/polenta mix. Press firmly on six sides of the slab to ensure an even coating. Repeat a second time, the coating of egg and breadcrumb/polenta. In a skillet heat the oil. To test oil temperature, drop breadcrumbs in. They should fry and brown quickly. Prepare a plate lined with absorbent paper. Fry slabs/sticks by batch -if necessary- to ensure they do not stick in the skillet. Cook for about 10-15 seconds on each side or until lightly golden. Drain well and place on absorbant paper. Serve hot.</em>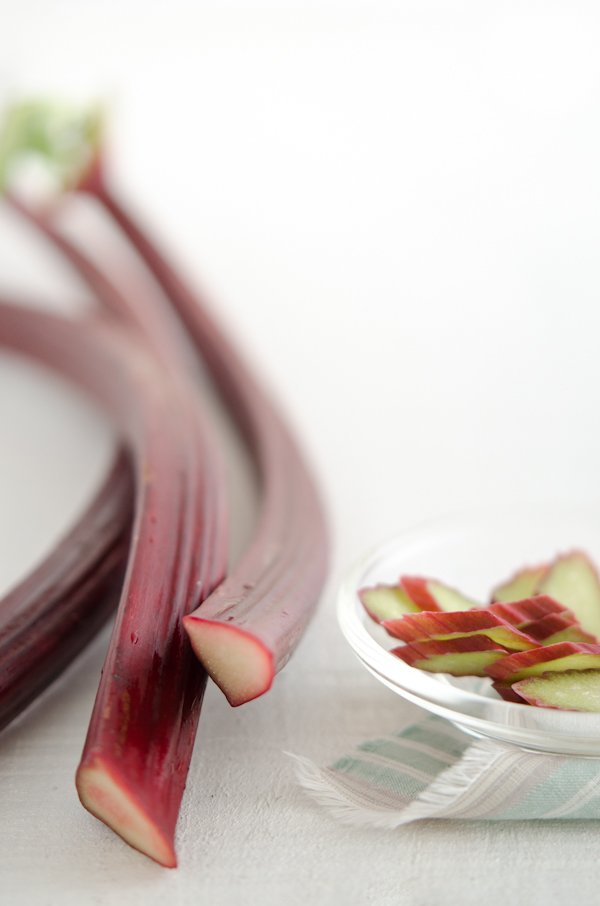 _ _ _ _ _ _ _ _ _ _ _ _ _ _ _ _ _ _ _ _ _ _ _ _ _ _ _ _ _ _ _
Le postier a sonné à la porte le samedi matin et nous réveillé. Pas une mauvaise chose, après tout. De cette façon, nous avons démarré plus tôt que nous le faisons habituellement le week-end et nous avons davantage profité de la belle journée ensoleillée.
De retour du marché, j'étais contente de mes trouvailles: de jolies bottes de mizuna et de moutarde brune.
Comme le temps était si printanier, Paprika et moi nous sommes rapidement mis d'accord pour manger le mélange de verdure et des panés de fromage. Mais pas n'importe quel fromage. Du Comté !
Le fromage chaud enrobé de chapelure est un pure délice fondant, juste équilibré par le goût piquant de la mizuna et de la moutarde. Mon genre de déjeuner. Simple, frais et goûteux.
De la même façon, facile, j'ai fait une salade de fruits pour le dessert. J'avais ramené également de belles tiges de rhubarbe du marché et j'étais curieuse de la préparer crue pour changer.
Le légume finement débité, est macéré dans du sucre pendant une heure, puis mélangé à des quartiers d'orange, de la menthe et des copeaux secs de coco. Une bonne combinaison: acidulée, sucrée et rafraîchissante.
Paprika a zappé la salade. Il n'est pas fan de rhubarbe et la version crue ne l'a pas converti. Peu importe, ça a été double portion pour moi et je me suis sentie plutôt gâtée...
</br> Panés de Comté (Pour 2 personnes)
2 tranches de Comté (100gr chacune), peau coupée 1 oeuf battu avec 2 c.à.s lait 80g chapelure 25g polenta 125ml lait 1 c.à.s bombée maïzéna 400ml huile végétale pour la friture
Dans quatre assiettes creuses répartir le lait, la maïzéna, l'oeuf, et la chapelure mélangée avec la polenta. Plonger une à une les tranches de fromage dans le lait. Bien égoutter et enduire de maïzéna sur toutes les faces. Retirer l'excédent de fécule et tremper dans l'oeuf battu. Egoutter puis enduire du mélange chapelure/polenta. Bien presser fermement sur toutes les faces pour s'assurer que l'ensemble soit homogène. Répéter une seconde fois, le trempage dans l'oeuf puis dans la chapelure. Dans une poêle chauffer l'huile. Tester la température en jettant un peu de chapelure. Elle doit frire et roussir rapidement. Préparer une assiette doublée de papier absorbant. Frire les tranches de Comté par fournée si nécessaire -pour éviter qu'elles ne se touchent pendant la cuisson. Cuire pendant 10-15 secondes sur chaque face ou jusqu'à ce que les panés soient légèrement dorés. Bien essorer et mettre sur le papier absorbant. Servir chaud.
---
Comments
The Comté is tempting; we rarely have it but for a treat only as it can be difficult to find and quite pricey. Red mustard is completely new to me, though we do love regular green mustard very much, so the hunt is on for seeds to grow in our garden next year. Overall a marvelous, fresh, sunny near-spring day it would seem! *Heather p.s. Have you confirmed the almond allergy? I hope not.* heather
Yum! Who could resist these?! Not me! Must try to find some Comté, as I've not had the pleasure either sadly. bron
These are beautiful! Crumbed cheese sticks seem like a distant childhood memory, but one I'd happily revisit, especially if they contained Comté… I got some of those red greens from the market this weekend, too. So colourful! milliemirepoix
I must try the raw rhubarb, looks good! A bit like a sour grass that I used to munch in the fields in Italy when I was a kid. The cheese sticks…. golly, my kids would love those!!! Ciao Alessandra Alessandra
Delicious food! So fresh and scrumptious. I particularly like the Comté sticks. Cheers, Rosa Rosa May (@RosasYummyYums)
I've never tried Comte before, but I've never known a cheese I didn't like :) These sticks look so deliciously simple & satisfying. Kathryn | Dramatic Pancake
Love all of it, bravo! Too bad my kids can't eat Comté, they would love those sticks. And I'm quite fond of the raw rhubarb. Makanai (@Makanai)
You've just made my husband a very happy man, Comté is his absolute favorite cheese and I know he will adore this recipe. Sylvie @ Gourmande in the Kitchen
This looks nice. Great presentation, sounds yummy. You have great pictures, are you a professional photographer because this is great work. Elle Marie
This looks so fresh and appetizing! Dimitri @ The Last Piece of Cake
Rosa, it was like celebrating Spring a couple of days ahead ! Kathryn, it's true, cheese is probably one of the best thing we created ! Heather, I honestly can't wait to see all the good and nutritious food you'll plant in your garden ! And allergy not confirm by GP… Bron, I'm sure you'll like it ! Millie, it's true that red mustard is really eye catching and I like its taste. Alessandra, if you're keen on rhubarb will like it raw too. Flo [Makanai] thanks ! First time for me for the raw rhubarb and sure I'm going to make it again as soon as I there'll be more on the market. Sylvie, it seems I would get on well with your husband ;) Elle Marie, thank you! To be considered. Dimitri [The Last Piece of Cake] thank you ! Vanille
mmmmm, fried cheese……. nicole
Oh lala… j'aime le Comté!! mycookinghut
Cheese sticks are always so yum. I never had Comté and I should look for that now. The dishes are looking so light and perfect spring-y kankana
Looks heavenly. Have only had Comte once before, would love to try the deep-fried stick version. Interesting to see you double dip them, must ensure a lovely crust. And I adore rhubarb, I actually don't mind them raw either, happy to chomp on a piece or two as I prepare them for the pan, so the salad sounds delightful :) shaz
The simplicity and the beauty of your photographs amazes me! I really need to have my first time with polenta. Got a bag and it has been many months now..and i have never had raw rhubarb either :) Soma
At first glance, I thought the photo was of the common fish stick. But Comté sticks! How delightful (and delicious). I love the photo where the cheese is oozing. It's gorgeous. I'm not really familiar with rhubarb but never imagined you could eat it raw. I guess I've always been told the leaves were toxic so even the safe to eat stalks frightened me just a little. Bunny Eats Design
Hi Vanille, Looks like the Comte sticks have really stuck a cord ! If any of your bloggers want to try some Comte I'd be only to happy to discount the price to $50/kilo (normally $75/kilo). All they need do is mention your blog ! Cheers, Anthony Gamboni Gamboni's Deli Karori Anthony
Gorgeous photography! I love the look of this meal. timeforalittlesomething
Yummmmm. I am so glad to have found a fellow australian blogger! Wohoo will be following you form now on! Melissa Darr
Love your blog!!! thedfoodblog73
Hiya Viviane, Merry Christmas ! How was the fois gras? Regards, Anthony Gamboni Anthony