The Antidote
August 19, 2011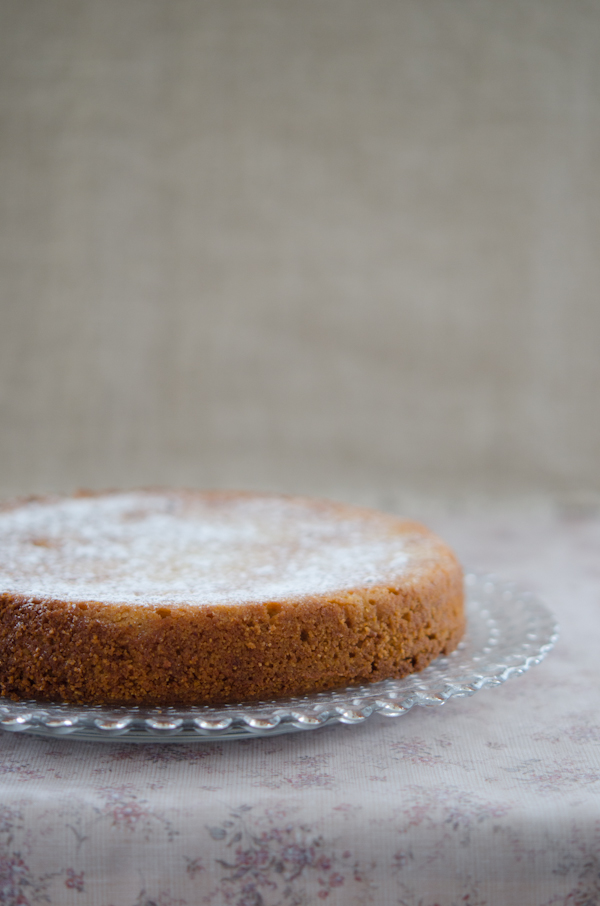 </br>
It was the middle of the week and that day I knew I was going to prepare a salad for lunch. An antidote to the gloomy weather. One with polenta fingers and purple mustard greens, bought at the farmers market on the week-end. After the meal, I felt like baking.
Outside the rain had washed away the layer of snow from roofs and hills. It was now the endless lapping of water drops sometimes mixed with hail. Still on the kitchen counter, there was the polenta. I was ready to pack it into the pantry and after a second thought I kept it there. Yes, I would need more. For a cake this time.
</br>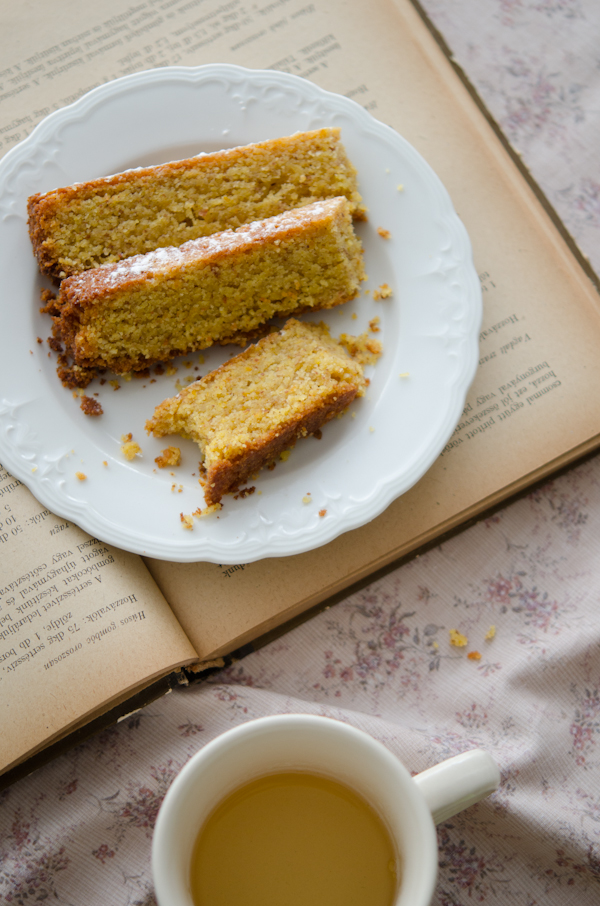 </br>
Time had finally come to try to recreate at home a cake that I like and eat almost every time we go to that deli.
After a full hour in the oven, the cake came out with a strong orange scent and a thin golden crust on the edge. The texture rich in butter is quite crumbly but really moist and Paprika and I liked the cake that way. Plain. It worked like an antidote too, a good and sweet one.
I've omitted the syrup knowing it would suit our taste, but feel free to soak the cake with the additional preparation. I'll definitely do this cake again and maybe steal Laura's idea spreading almonds on the bottom of the pan for extra crunch and an interesting pattern once the cake is turned out of the pan.
</br>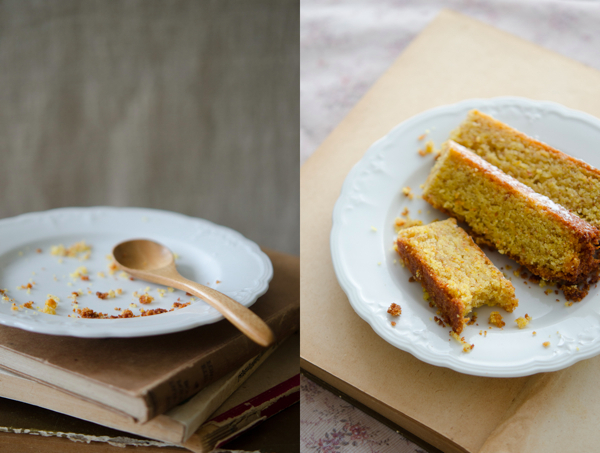 Orange and Polenta Cake
Adapted from Monica's recipe.
160g (1cup) fine polenta (cornmeal) 150g (1 1/2 cup) ground almonds 250g (1 1/3 cup) butter, at room temperature and diced 150g (3/4 cup) caster sugar 1 orange zest finely grated 60ml (1/4 cup) orange juice about 1/2 orange 3 eggs, separated  1tbsp peachcello (or any spirit or why not orange blossom water) 1 pinch of salt </p> Syrup 60ml (1/4 cup) orange juice about 1/2 orange 50g (1/4 cup) caster sugar</p>
In a bowl, cream butter, orange zest, sugar and salt. Add egg yolk one after another, mixing well after each addition. Add ground almonds, polenta and orange juice and mix Preheat oven to 160°C (320°F) In another bowl, whip egg whites to soft peaks and slowly fold into cake mix Line a 21 cm cake pan with baking paper and pour in the batter Bake for 60 mins or until skewer comes out clean Prepare the syrup combining in a little sauce pan, orange juice and caster sugar. Heat until sugar dissolves and pour onto hot cake.
</br>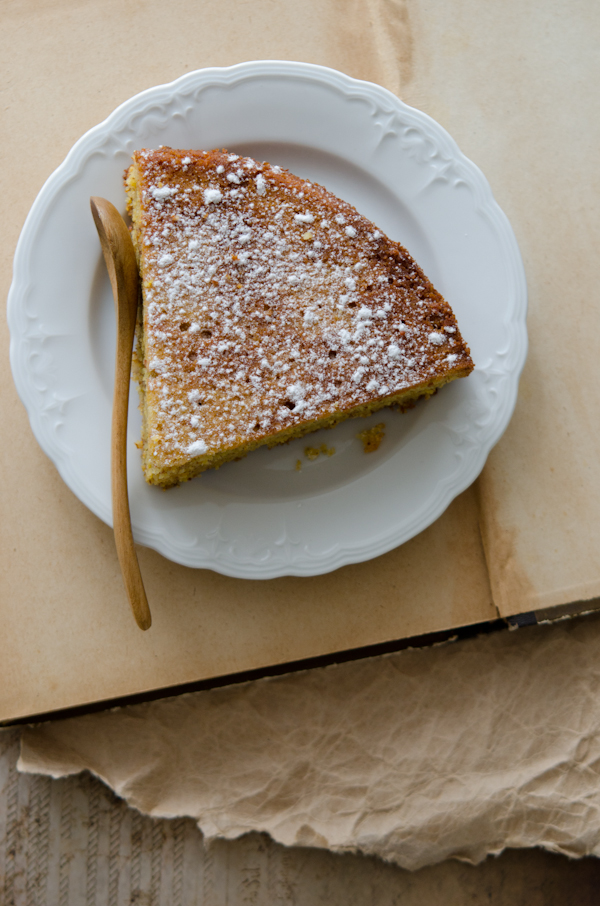 _ _ _ _ _ _ _ _ _ _ _ _ _ _ _ _ _ _ _ _ _ _ _ _ _ _ _ _ _ _ _
C'était le milieu de la semaine et je savais ce jour là que j'allais préparer une salade pour le déjeuner. Un antidote contre le temps morose. Une salade avec des doigts de polenta et des feuilles de moutarde brune, achetées au marché le week-end. Après le repas, j'étais d'humeur à faire un gâteau.
Dehors la pluie avait fait fondre la couche de neige restée sur les toits et les collines environnantes. C'était à présent le clapotis sans fin des gouttes d'eau parfois mêlées de grêle. Toujours sur le comptoir de la cuisine, il y avait la polenta. J'étais prête à la ranger dans le placard, mais après seconde réflexion, je l'ai laissée là. Oui, j'en aurais encore besoin. Pour un gâteau cette fois.
Le temps était finalement venu d'essayer de recréer le petit cake que j'aime et mange quasiment chaque fois que nous nous rendons à cette pizzeria-traiteur.
Après une bonne heure dans le four, le gâteau est ressorti avec un arôme prononcé d'orange et une fine croûte dorée sur le bord. La texture riche en beurre est assez friable mais très moelleuse et Paprika et moi l'avons aimé tel quel. Nature. Il a marché comme un antidote, lui aussi, doux et bon.
J'ai omis le sirop, sachant que cela conviendrait davantage à notre goût, mais n'hésitez pas à imprégner le gâteau de cette préparation sucrée. Je le referai sans aucun doute et peut-être volerai-je l'idée de Laura en répartissant des amandes dans le fond du moule pour un peu plus de croquant et un motif intéressant une fois le gâteau démoulé.
Gâteau à la Polenta et à l'Orange
Adapté d'après la recette de Monica.
160g polenta fine 150g poudre d'amande 250g beurre, à température ambiante et coupé en dé 150g sucre 1 zeste d'orange finement râpé 60ml jus d'orange (environ 1/2 orange) 3 oeufs, séparés  1c.à.s de peachcello (ou autre spiritueux ou pourquoi pas de la fleur d'oranger) 1 pincée de sel </p> Sirop 60ml jus d'orange (environ 1/2 orange) 50g sucre</p>
Dans une jatte, réduire en pommade le beurre avec le zeste d'orange, le sucre et le sel. Ajouter les jaunes d'oeuf un à un, en mélangeant bien après chaque addition. Ajouter la poudre d'amande, la polenta et le jus d'orange et mélanger. Préchauffer le four à 160°C. Dans une autre jatte, battre les blancs d'oeuf en neige et les incorporer délicatement à la préparation. Doubler un moule de 21 cm de diamètre avec du papier sulfurisé et verser l'appareil à gâteau. Cuire pendant 60 minutes ou jusqu'à ce qu'une pointe enfoncée en ressorte à peu près sèche. Préparer le sirop en mélangeant le sucre et le jus d'orange dans une petite casserole. Chauffer jusqu'à ce que le sucre se dissolve, puis verser sur le gâteau encore chaud. </br> --- ## Comments > *Any orange cake has my name written on it...I love the one with almond meal and I now MUST try this one with polenta. Thank you for sharing and enjoy your weekend!* > **[Peter G @ Souvlaki For The Soul](http://souvlakiforthesoul.com)** > *Just discovered your blog and enjoyed this post. Your photography is stunning!* > **[lastpieceofcake](http://thelastpieceofcake.wordpress.com)** > *My kind of cake Vanille :-). and yes, crunchy almonds in the bottom could work too, but even as it is it would be good for me :-). Why don't you enter one of your cakes for Sweet NZ? anyone would do, even old posts :-). Nothing to be won, it is not a competition, just a collection or sweet recipes from NZ blogs. info here http://alessandrazecchini.blogspot.com/2011/07/calling-all-kiwi-bloggers-sweet-new.html ciao Alessandra* > **[Alessandra](http://alessandrazecchini.blogspot.com/)** > *Il a l'air bien réconfortant en effet ... photos superbes !* > **[argoneone](http://atasteofmylife.wordpress.com)** > *Oooooooooooh, just makes me want to leave my desk at once to reach my kitchen and begin to bake!!* > **[flomakanai](http://www.makanaibio.com)** > *Peter, I'm really pleased to read you want to try the cake ! Let me know how you liked it. And enjoy your week-end too ! Last Piece of Cake, thank you and welcome ! Alessandra, being Italian I'm not that surprised it's your kind of cake ;) Thanks for reminding me about Sweet NZ. I'll enter I promise. Argone, merci ! Flo, thanks, you touch me with your heartfelt reaction ! Rosa, it was good and all gone rather quickly ! Soma, do try. The polenta really brings an interesting texture to the cake.* > **Vanille** > *A great antidote to gloomy weather indeed! It must taste wonderful. Cheers, Rosa* > **[Rosa May](http://www.facebook.com/Rosa.J.May)** > *what a beautiful sounding (and of course looking cake) I will take in anything orange and I have never baked with polenta. This I have to make.* > **[Soma](http://www.ecurry.com)** > *mmmm - how delicious and such an often used thing - polenta in cakes, especially orange ones. Also unusual as I've literally *just* finished reading a recipes on bella eats for a gorgeous peach and cornmeal cake! Clearly the universe is trying to tell me something here....* > **[jas](http://www.glutenfreescallywag.com)** > *I love this kind of simple cake more than anything fancy. Feels a bit grown-up, somehow. Perfect for a rainy day :)* > **[milliemirepoix](http://milliemirepoix.wordpress.com)** > *That looks yummy! Orange, almond, polenta, sounds like great combination. I will definitely try this recipe. Beautiful pictures, too!* > **[Julia](http://nadelundgabel.wordpress.com/)** > *Some of the best cakes are beautifully plain, although I can definitely recommend those almonds ;) this sounds like a perfect meeting between beautiful texture and beautifully flavoured ingredients.* > **[hungryandfrozen](http://www.hungryandfrozen.blogspot.com)** > *Just stumbled on your blog and I'm in love! Beautiful design, great recipes, gorgeous photos. This cake looks so simple and yet so delicious. Will definitely be back!* > **[Kathryn | Dramatic Pancake](http://www.dramaticpancake.com)** > *Came across this through foodgawker and absolutely looks delicious! I can't wait to try it out!* > **[toritakesabite](http://toritakesabite.wordpress.com)** > *I tried a cornmeal cake this summer & it tasted awesome.Your orange & polenta cake sounds over the top.Cant wait to try it sometime. Your pictures are beautifully soothing to the eyes.* > **[Tanvi](http://sinfullyspicy.wordpress.com)** > *i am going to make this for sure !! ...with the syrup :)* > **[paula](http://www.podandthreepeas.blogspot.com)** > *Millie, I guess the 'less is more' theory is right in that case ;) Jas, Bella's cake looks delicious. Something to try when Summer will be back ! Julia, thank you and enjoy the cake ! Laura [Hungry And Frozen], I know we are both big almonds eater ! Kathryn, thank you for your kind words and welcome ! Paula, glad to read you're going to make it. Enjoy ! Toritakesabite, thank you ! Tanvi, thank you. Let me know if you make it.* > **Vanille** > *This is very similar to a favorite cake of ours, made with polenta, orange zest + juice and extra virgin olive oil, then basted with the homemade orange syrup after baking. Ours has the sugar level decreased as well, and it didn't suffer at all for it. I've never heard of peachcello, but now I must find it in the store or find a separate recipe. The intriguing liqueur makes this cake all the more special. Cheers, *Heather** > **[heather](http://squirrelbread.wordpress.com/)** > *The texture of this cake looks wonderful. I have never used polenta in a cake although I have seen several recipes for it. Lovely photos.* > **[barbara](http://www.winosandfoodies.com)** > *Love the way you write. It makes me feel like baking a cake now.. except it's so warm these days .. i avoid turning on the oven! I have used polenta a lot but only in savory dish but this sounds interesting and with orange flavor .. amazing. :)* > **[kankana](http://www.sunshineandsmile.com)** > *So lovely! I can absolutely see how this can lift one's mood!* > **[Liren](http://kitchenconfidante.com)** > *Loooks good! will try this later this afternoon. Great post!* > **[ellamarie](http://ellemarie.jp/)** > *Now I really want to make myself a polenta-based cake! As a huge fan of polenta, combining it with orange and whipping it up into a cake is such an innovative idea. I think adding the almonds at the bottom will definitely give it a more interesting texture ;) I should seriously consider trying to bake this myself...* > **[The Dinner Belle for KimberlyBelle.com](http://www.kimberlybelle.com)** > *I'm drooling all over my keyboard. This looks fantastic and I can't wait to give your cake a try. I wonder if you could make muffins with this for a sweet breakfast as well?* > **[RChristopher](http://saturdaydish.com)** > *Heather, I stumbled upon a little bottle of peachcello in a mediterranean food store and was curious to try. Useless to say I like it ;) Barbara, I did not bake with polenta that much either. But I do like the taste and texture of this cake and no doubt I'll make it again. Kankana, thank you. I bet any citrus flavour will do, but I orange always has my preference vs lemon. Liren, thank you ;) Ellemarie, thank you. Enjoy your cake ! The Dinner Belle, if you are a fan of polenta, then all I can say is: give it a go ! RChristopher, I did not try to bake this cake as muffin, but I guess it should be fine too. A sweet way to start the day !* > **Vanille** > *Beautiful and simple, always the best!* > **peasepudding** > *That looks really good. I've never tried polenta before, however it looks scrumptious* > **[La Petite Vancouver](http://www.lapetitevancouver.com)** > *Polenta is very good in cookies to make them more crunchy. 1/3-2/3 polenta:cake flour ...and I CAN read the book!! (looks lke a family heritage)* > **[piszke](http://www.piszke.blogspot.com)**