Warm Up
August 01, 2011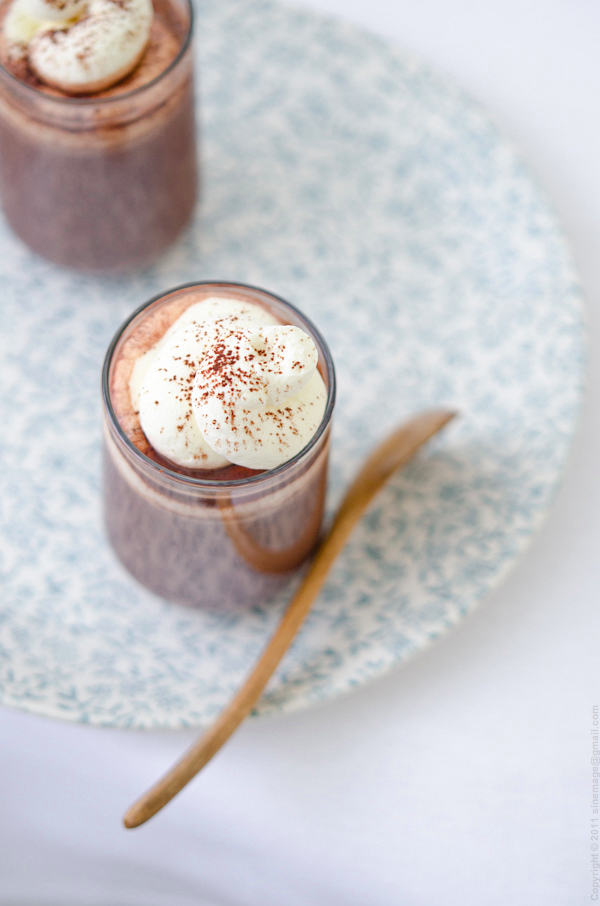 It may be too early to speak about Spring down here, but it surely is on the way, as days are getting brighter and longer.
Early mornings and nights remain chilly though; And one of the little pleasure of the season is not only to indulge in comforting dishes, but also enjoy hot beverage.
Sometimes, at night, Paprika and I like to have a hot chocolate in place of a dessert. Such a sweet, easy and quick way to keep warm.
Depending on your taste or your diet you may want to prepare it and spicy it up, use chocolate or vegetarian milk... The most important is to use the best quality ingredients you can afford.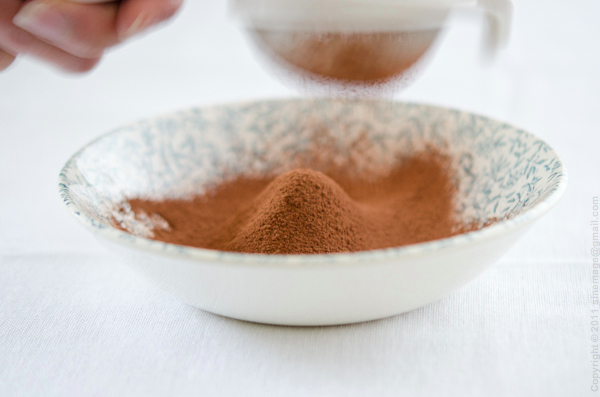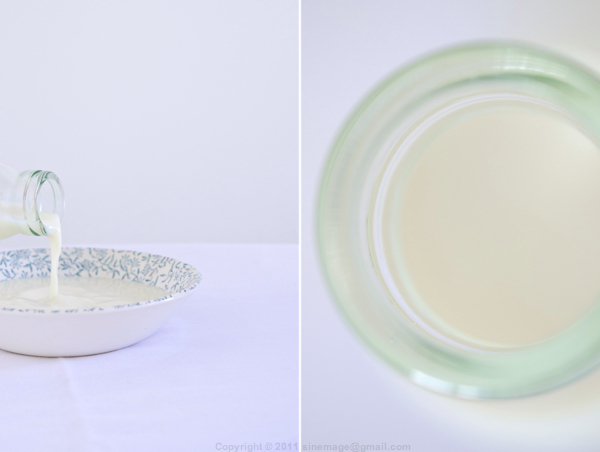 Here, our preference goes for a thick hot chocolate, made of full fat raw milk, rich in cocoa and enhanced by a subtle taste of muscovado. And sometimes a fluffy dollop of whipped cream on top. In the style of a chocolat viennois. The cream, much like a cherry on the cake makes the hot chocolate gourmand.
And whenever Paprika proposes to prepare one, I find really difficult to say no...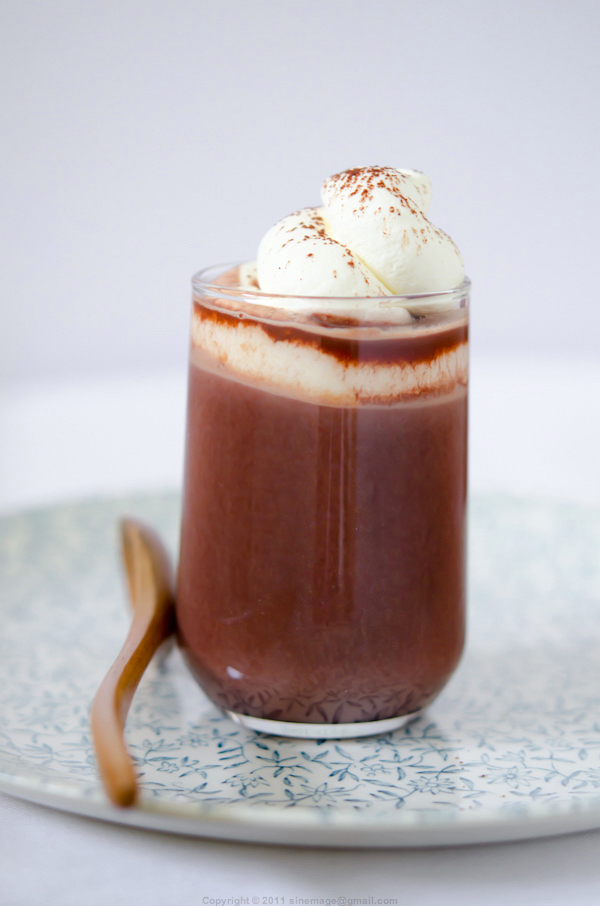 Hot Chocolate (for 2 mugs)
2 cups milk 8 heaped tsp unsweetened cocoa powder, sifted 2-3 tsp muscovado or sugar cane
In a bowl mix together cocoa powder, sugar and a little bit of milk to make a thick paste without any lump. In a pan over medium fire, heat the milk and add the cocoa mix. Stir continuously until hot but not boiling. Serve hot with a dollop of whipped cream and sprinkle extra cocoa powder on top.
_ _ _ _ _ _ _ _ _ _ _ _ _ _ _ _ _ _ _ _ _ _ _ _ _ _ _ _ _ _ _
Il est encore trop tôt pour parler de printemps par ici, mais il est sans aucun doute en chemin, comme les jours deviennent plus longs et plus lumineux.
Les petits matins et les nuits restent fraîches néanmoins. Et l'un des petits plaisirs de la saison est non seulement de se régaler de petits plats réconfortants mais également d'apprécier une boisson chaude.
De temps à autre, le soir, Paprika et moi aimons avoir un chocolat chaud au lieu d'un dessert. Une douce, facile et rapide façon de se garder chaud.
Selon votre goût ou restriction alimentaire, vous pouvez adapter votre chocolat chaud et l'épicer, le préparer avec du chocolat ou avec un lait végétal... Le plus important est d'utiliser les ingrédients de meilleure qualité possible.
Ici, notre préférence va pour un chocolat chaud épais, fait avec du lait cru, riche en cacao, relevé d'une note subtile de muscovado. Et parfois une dose de crème fouettée, aérienne, pour couronner le tout. Dans le style du chocolat viennois. La crème, comme une cerise sur le gâteau, rend le chocolat chaud vraiment gourmand.
Et quand Paprika propose d'en préparer un, il m'est difficle de dire non...
Chocolat Chaud (pour 2 tasses)
450ml de lait 8 c.à.c bombées de cacao en poudre, tamisé 2-3 c.à.c muscovado ou sucre de canne.
Dans un bol mélanger le muscovado, le cacao et un peu de lait pour obtenir une pâte épaisse et lisse. Dans une casserole sur feu moyen, chauffer le lait et ajouter la pâte de cacao. Mélanger continuellement jusqu'à ce que le lait soit chaud mais pas bouillant. Servir chaud avec de la crème chantilly sur le dessus, saupoudré d'un peu de cacao.
---
Comments
Le chocolat chaud est pour moi aussi le meilleur moyen de me réchauffer et de me réconforter… un petit plaisir des jours frisquets! Jolies photos, simples comme je les aime! Bises… dominiques
That final shot is deliciously beautiful. I remember being in Europe and seeing hot chocolate served in glasses instead of mugs. The glasses make a pretty presentation. Snippets of Thyme
I like it, strong and not too sweet :-) Alessandra
It looks absolutely fabulous! A wonderfully comforting drink. Cheers, Rosa Rosa May
Thanks Vanille, it looks yummy! JulieB.
Dominique, merci ! Alessandra, yes the way we like it ;) Rosa, thank you ! JulieB, merci de ta visite ! Snippet of Thyme, thank you. Vanille
Lovely. I like a less sweet version also. barbara
Oh they look so good, I want one now :) Beautiful pics :) Mairi @ Toast
Can I have one of those right now please? Its so hot here we are sweating like pigs but I can totally have that glass of hot chocolate right now, maybe will cool it off with a chcolate ice cream later :-) Its always a pleasure visiting your blog! [email protected]
I missed coming to your blog! I have been out of town visiting families for 6 weeks, so during that time I hardly visited other blogs. I love opening up your blog and see your new photos. This post gave me such a warm and fuzzy feel. I love it. It's interesting to hear people talk about spring in August since I'm not familiar with that. I love the feel of the end of winter and spring approaching. Enjoy the weather. Lovely hot chocolate! Kaho
delicious, I too prefer a less sweet version of hot chocolate, this looks soo good, I could have one now (if only I hadn't used the last of the milk in this morning's coffee) jas
Oh! Lovely and the absolute comfort food, indeed! Especially when one's Significant Other prepares it… Je t'embrasse de Bretagne, où il fait beau et doux (pas pour longtemps). flomakanai
Real comfort food, er, drink :) We are enjoying some absolutely brilliant weather here at the moment. Hope you're getting the sunshine over the Tasman too, Vanille. shaz
I'm licking the screen! LOL! Just Beautiful! Peter G @ Souvlaki For The Soul
Yum! This looks so comforting and warming. Your photography is gorgeous. Might have to go and make myself one now! timeforalittlesomething
I wish I could find raw milk where I am, I bet it makes for a delicious hot chocolate. Sylvie @ Gourmande in the Kitchen
Rien de mieux qu'un chocolat chaud maison pour les longues soirées d'hiver! Blandine
Absolutely delicious photos my friend! Bravo! I am forever amazed at the vibrant colors that you seem to have, in comparison to our muted tones. (as illustrated by your previous post) Enjoy those longer days as ours continue to shorten~ xx kimberly taylor
Yummy! Gorgeous photo ^_^ xxx plume_d_argent
Beautiful, I have started putting a dash of brandy in mine too sometimes! Alli
Mmm….delicious with great flavors.. first time here..love ur space.. awesome presentation.. Am your happy follower now..:) do stop by mine sometime.. Tasty Appetite Jay
Magnifiques photos, ça a l'air vraiment dé-li-cieux! En même temps, je ne peux pas résister à ce chocolat chaud! Lulu from Voyage Gourmand
Gorgeous…I love how austere the recipe is until that dollop of cream. It's definitely still cold enough to warrant several of these on a nightly basis! hungryandfrozen
[…] At Down Under is a very pretty blog. The food looks amazing! And I'm wanting to try the hot chocolate. […] Best Blog Award | Time for a Little Something
[…] Hot Chocolate (from At Down Under) […] Kick off TV Premiere Week with Foods from Your Favorite Shows | Yummly