Ngahuru
May 07, 2011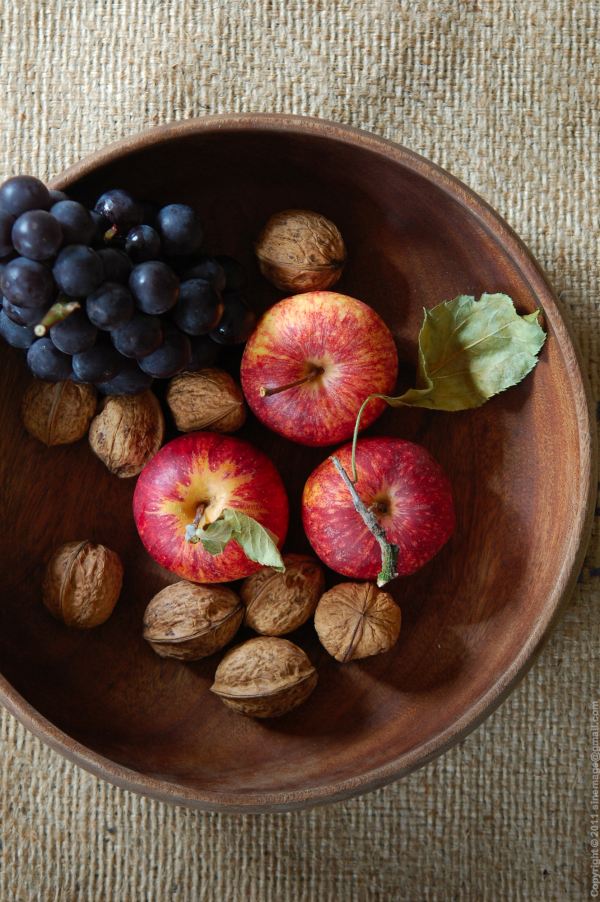 </br>
"Ngahuru, kura kai, kura tangata" means 'harvest-time, wealth of food, the wealth of people' in Maori. I'm always keen on knowing local expression, so thank you Mike for adding this phrase to the invitation of the potluck dinner organized a couple of weeks ago with the theme 'Autumn'.
Useless to say I liked the idea. This season is not only beautiful, with warm shades outside, but offers indeed plenty of food including some of my favourites.
After a long hesitation, I finally decided to go for a seasonal salad and chestnut flans. And that night was a hit with an array of dishes reflecting the variety of the season.
</br>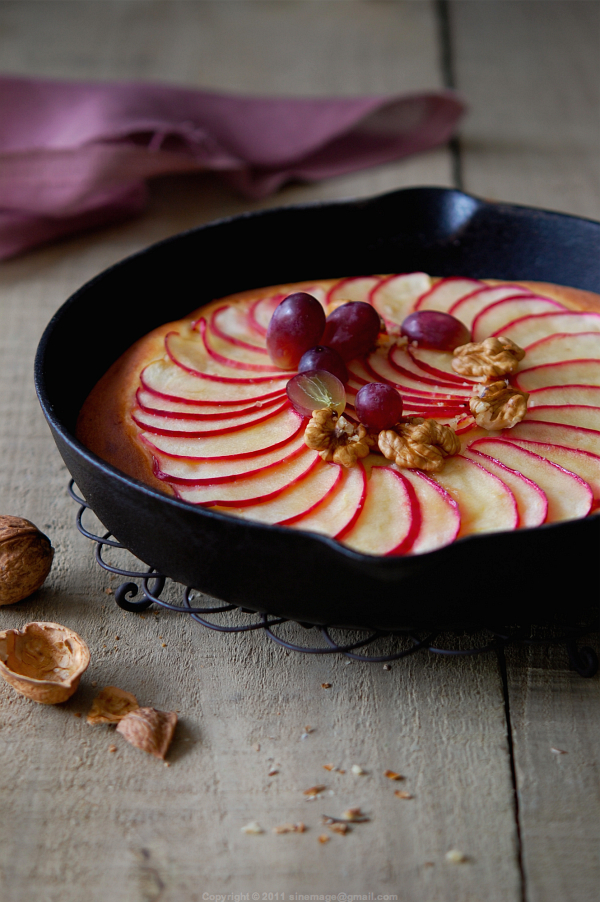 </br>
At first, I had no particular intention to bake with those seasonal ingredients pictured above. The inspiration came afterwards.
It was a wet, foggy and cold day, the kind when a baking smell emanating from the oven is cheering and you wait patiently sipping a hot cup of tea.
I prefer to enjoy this snack still warm when the fine slices of apples melt in the mouth, the brioche-like base is fluffy and freshly cracked walnuts bring a bit of crunch. At that time the black NZ grapes were all gone, so I used seedless grapes and it was just fine.
</br>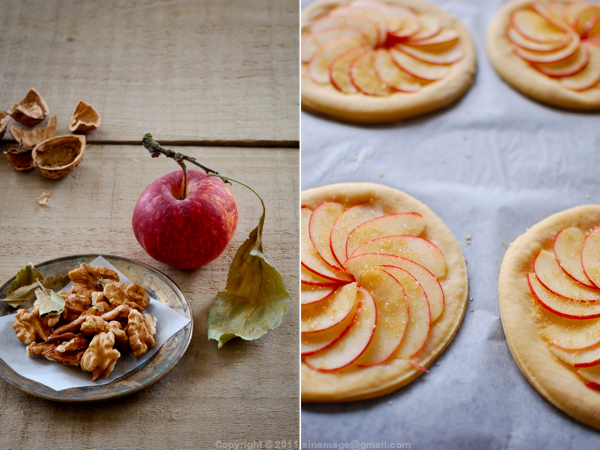 </br>
Autumn Tarte Briochée
250g flour
40g caster sugar
50g butter at room temperature, chopped
150 ml lukewarm milk
1 egg yolk
20g fresh yeast or 1 packet of instant dry yeast
One pinch of salt
2 small apples, finely sliced, preferably with a mandolin
Handful of grapes
6 walnuts, freshly cracked open
Brown sugar to sprinkle</p>

For the glaze (optional) I didn't go for it this time.
1 sheet of gelatin 25ml water 50g caster sugar</em>

Proof fresh or instant dry yeast in the lukewarm milk with a pinch of sugar // In a large bowl mix together flour, sugar, salt // Add butter and with your finger tips make a fine crumble // Incorporate egg yolk and mix // Pour in the milk and the proofed yeast // On a working bench, knead the dough for 10 minutes // Let the dough rest for at least one hour at room temperature in a greased bowl covered with a clean tea towel // Preheat oven to 210°C // Transfer the dough on a slightly dusted surface // With a rolling pin gently roll down the dough and keep a thicker edge all around // Place the dough on a baking tray lined with baking paper // Prick the dough leaving the edge free. Arrange slices of apples and sprinkle brown sugar on top // Bake for 10-15 minutes or until edges are nicely golden // In the meantime, place the sheet of gelatin in a bowl of cold water for 5 minutes // Over a low fire, make a syrup with water and sugar // Wring the sheet of gelatin, add it to syrup and stir // Brush the edge of the tarte briochée with the glaze // Before serving garnish with grapes and walnuts.</em>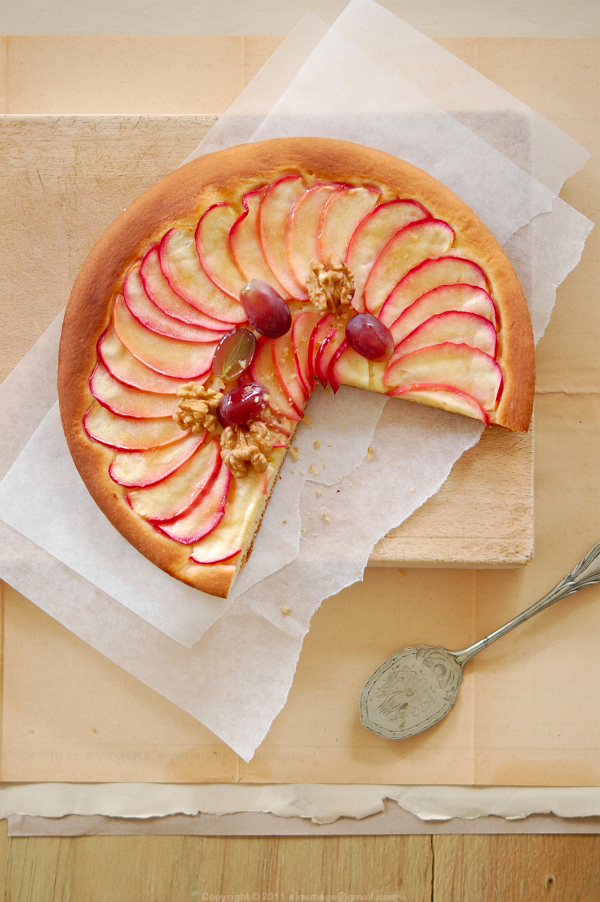 </em>

_ _ _ _ _ _ _ _ _ _ _ _ _ _ _ _ _ _ _ _ _ _ _ _ _ _ _ _ _ _ _

"Ngahuru, kura kai, kura tangata" signifie en Maori 'le temps de la récolte, la profusion, la richesse du peuple' Je suis toujours curieuse de connaître des expressions locales, donc merci à Mike pour avoir ajouté cette phrase à l'invitation du diner organisé il y a quelques semaines autour du thème 'Automne'.

Inutile de dire que j'ai aimé cette idée. Cette saison est non seulement très belle avec ses couleurs chaudes, mais offre, en effet, une abondance de nourriture, dont certaines comptent parmi mes favoris.

Après une longue hésitation, je me suis décidé pour une salade de saison et des flans à la châtaigne. Cette soirée fut un grand succès, avec une gamme de plats reflétant la variété de la saison.

Au départ, je n'avais pas l'intention particulière de cuisiner avec les ingrédients photographiés sur la première image. L'inspiration est venue après coup. C'était un jour pluvieux, brumeux et froid, le genre de jour où une douce odeur émanant du four est réconfortante et que l'on attend patiemment en sirotant une tasse de thé chaud. Je préfère déguster ce snack encore tiède, lorsque les tranches de pommes fondent dans la bouche, que la base briochée est toute légère et que les noix fraîchement cassées apportent un peu de croquant. A ce moment là il n'y avait plus de raisins noirs néo-zélandais, alors j'ai utilisé une autre variété sans pépins qui a fait l'affaire.

Tarte Briochée d'Automne

250g farine
40g sucre en poudre
50g beurre à température ambiante, coupé en morceaux
150 ml lait tiède
1 jaune d'oeuf
20g levure fraîche ou un paquet de levure de boulanger
Une pincée de sel
2 petites pommes finement tranchées, de préférence avec une mandoline.
Une poignée de raisins
Quelques noix, fraîchement craquées
Sucre de canne pour saupoudrer</p>

Pour le glaçage (facultatif) Je ne l'ai pas fait cette fois-ci.
1 feuille de gélatine 25ml eau 50g sucre en poudre</em>

Faire mousser la levure dans le lait tiède avec une pincée de sucre // Dans un large bol mélanger la farine, le sucre et le sel // Ajouter le beurreet du bout des doigts travailler pour obtenir une texture sableuse // Incorporer le jaune d'oeuf et bien mélanger // Verser le lait avec la levure // Pétrir la pâte pendant 10 minutes // Laisser reposer la pâte pendant une heure à température ambiante dans un bol graisséet recouvert d'un linge propre // Préchauffer le four à 210°C // Transférer la pâte sur une surface légèrement recouverte de farine // Etaler doucement la pâte au rouleau et conserver le bord un peu plus épais // Mettre la pâte sur une plaque de cuisson recouverte de papier sulfurisé // Piquer le fond de la pâte tout en laissant les bords libres Disposer les tranches de pommes et saupoudrer de sucre de canne sur le dessus // Cuire pendant 10-15 minutes ou jusqu'à ce que le bords soient bien dorés // Pendant ce temps, tremper la feuille de gélatine dans un peu d'eau froide pendant 5 minutes // Dans une casserole sous feu doux, faire un sirop avec l'eau et le sucre // Essorer la feuille de gélatine, ajouter-la au sirop et mélanger // Badigeonner le bord de la tarte briochée avec le glaçage obtenu // Avant de servir garnir de raisins et de noix.</em>

--- ## Comments > *Dominique, bon week-end à toi également ;) Sylvie, you're welcome too ! Sukaina, I've done the glaze previously here. It makes a nice finish but I'm not so keen on for the taste. Rosa, thank you. It's been more than 3 years here now, but unfortunately I can't say I'm very familiar with Maori culture... Asha, sure you'll love it ! Flo, oui on ne se refait pas ;) Alessandra, ah ah, I should take lessons then ;)* > **Vanille** > *Superbement gourmand!!* > **[flo makanai](http://www.makanaibio.com)** > *Can I invite myself over too ;-) I'll bring whatever you want!* > **[Sylvie @ Gourmande in the Kitchen](http://gourmandeinthekitchen.com)** > *Je m'invite, j'apporte le thé... Bonne fin de semaine, bises!* > **[Dominique (De vous à moi...)](http://devousamoi-dominique.blogspot.com/)** > *Your tart looks lovely and I'm sure the crunch of the nuts and souness of the apple go in perfect harmony. I have never seen gelatin used as a glaze though. Very unusual.* > **[Sukaina](http://lick-my-spoon.blogspot.com)** > *Oh, I love this time of the year! Your tart looks just divine. Maori people and their culture have always intrigued me. Cheers, Rosa* > **[Rosa](http://www.rosas-yummy-yums.blogspot.com)** > *This is such a gorgeous tart!! I love that the yeast adds the rise to the tart.. I have to try it out asap!!* > **[[email protected]](http://www.forkspoonnknife.com)** > *He tino pai rawa atu koe ki te tunu keke! You are very good at making cakes!* > **[Alessandra](http://alessandrazecchini.blogspot.com/)** > *Superb.....food and photos.* > **[Barbara](http://www.winosandfoodies.com)** > *a admirer tes photos, je n'ai qu'une envie c'est que l'automne soit la , ici aussi delicieusement gourmandes comme d'ahbitude, je suis fan je te fais de gros bisous bon week end a toi Delphine* > **[delphcotecuisine](http://leplaisirdesmets.over-blog.com)** > *Love that it is autumn in Australia - lovely blog you have & this tarte looks amazing!* > **[marla](http://www.familyfreshcooking.com/)** > *As always your photos are delightful. They feel so warm and I love them. The food looks so live. Now I want to go shop for apples to make Tarte Briochée.* > **[Kaho](http://chuzailiving.wordpress.com)** > *Thank you for stopping by. I do live in New Zealand not Australia.* > **Vanille** > *Alright. Your blog is taking my breath away. And you are reminding me that fresh fruit is just dang gorgeous. I'll be back.* > **[Mariko](http://www.thelittlefoodie.com)** > *I am just in love with your photo on FoodGawker. And now I have discovered a lovely, lovely blog. New Zealand!! I have never met someone from New Zealand. I am way down in Texas, US Nice to "meet" you!* > **[Snippets of Thyme](http://rileymadel.blogspot)** > *Beautiful looking blog you have here. I am only just now ~that we have moved to Australia~ coming across other NZ blogs. So glad I found yours :-)* > **[emm](http://mydarlinglemonthyme.blogspot.com)** > *So, so beautiful! Even though I'm sad to see summer go, I love the seasonal fruit that comes in Autumn. Like feijoas :) I love that this tarte has a brioche base, much cooler than regular pastry.* > **[hungryandfrozen](http://www.hungryandfrozen.blogspot.com)** > *Barbara thank you. Delphine, oui il faut profiter du charme de chaque saison. Bonne semaine à toi ! Kaho, thank you dear. Go and indulge, yo won't be disappointed ;) Mariko, welcome ! Snippets of Thyme, thank you. I'm a French living in the "land of long white cloud". Nice to "meet" you too. Emm, thank you and welcome. Laura [Hungry and Frozen], I totally agree, feel sad seeing Summer gone but feijoas are here to cheer us up ;) Heather, oh I'm tad jealous of your fast approaching Summer, so enjoy it twice for me ;) The serving piece was found in a thrift shop. I like it too.* > **Vanille** > *Your tart looks absolutely fabulous!* > **[Julia @ DimpleArts](http://dimplearts.com/blog)** > *ce petit mot pour te dire qu'il y a un petit prix aujourd'hui pour toi bisous bisous Delphine* > **[delphcotecuisine](http://leplaisirdesmets.over-blog.com)** > *I think all the adjectives I wanted to use to describe your tarts have been all overused by everyone above, but still, I have to say they look gorgeous and just makes me wish for autumn (don't have them here in my country - tropical climate for the whole year)! :D* > **[Christy](http://yumyumbites.blogspot.com)** > *You always strike that perfect balance between simplicity and elegance with your creations. I look forward to those flavors coming back into season here; though I do welcome the summer produce with open arms! That serving piece is lovely, too. An antique find, heirloom? *Heather** > **[heather](http://squirrelbread.wordpress.com/)** > *That is so beautiful. Your photos are like paintings, so filled with light! I've never had a tart with a brioche base before, sort of like sweet pizza? Must try. But I bet mine won't even look half as good as yours :)* > **[shaz](http://www.testwithskewer.blogspot.com)** > *Vanille.. missed a lot of your posts. really busy at this end with the upcoming trip. I could linger here for ever absorb in my heart the beauty of your blog and photographs.* > **[Soma](http://www.ecurry.com)** > *Vanille the delicate beauty of your pastries never cease to amaze me. The pink of the left-on apple skin is particularly pretty. And I observe you have the very same cast iron skillets I prize so much...* > **[sylvie in Rappahannock](http://www.LaughingDuckGardens.com/ldblog.php/)** > *Superbe Comme ce n'est ni l'Automne ni le Printemps ici, j'ai plus de chance de trouver pommes noix et raisins que fraises et autres rhubarbes Les photos sont absolument splendides* > **[Cuisine Framboise](http://framboisecuisine.blogspot.com/)** > *Beautiful. I'm loving the contrast of colours between the apple skin and flesh. So autumnal, so perfect for right now :)* > **[milliemirepoix](http://milliemirepoix.wordpress.com)** > *J'adore votre blog! I am incredibly inspired by it all - the photography, the food, the creativity. Bravo mon amie~ magnifique! xx* > **[kimberly taylor](http://kimberlytaylorimages.com)**