Bread, The Flat and Express Way
February 11, 2011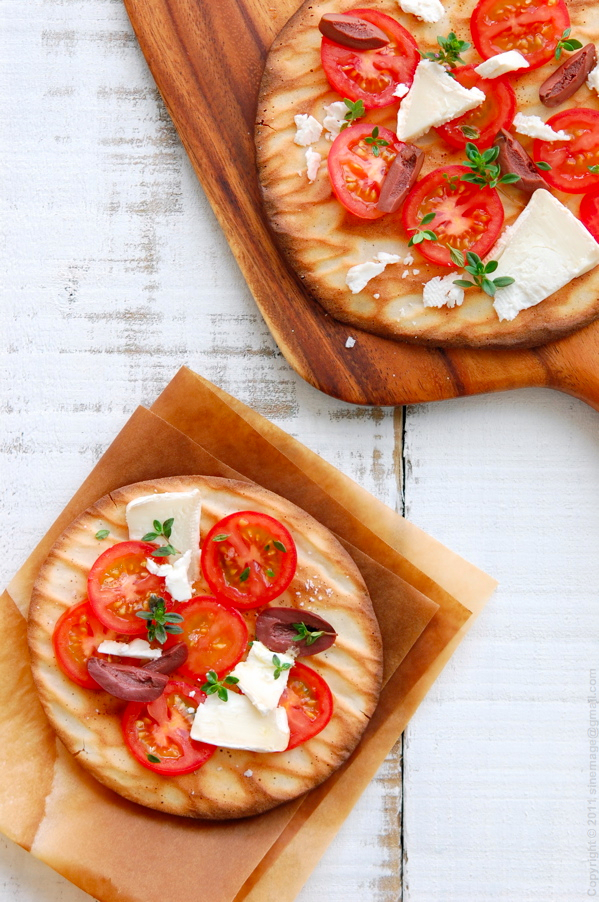 It all started with a generous salad I had prepared for lunch and realized afterward we were running out of bread at home. Little moment of disappointment. Puzzled. And ultimately an improvisation...
Minutes later, after watching closely through the oven door, I removed a light sourdough flatbread*, with a crisp skin and slightly chewy inner. A result that exceeded my expectations and was served with the salad.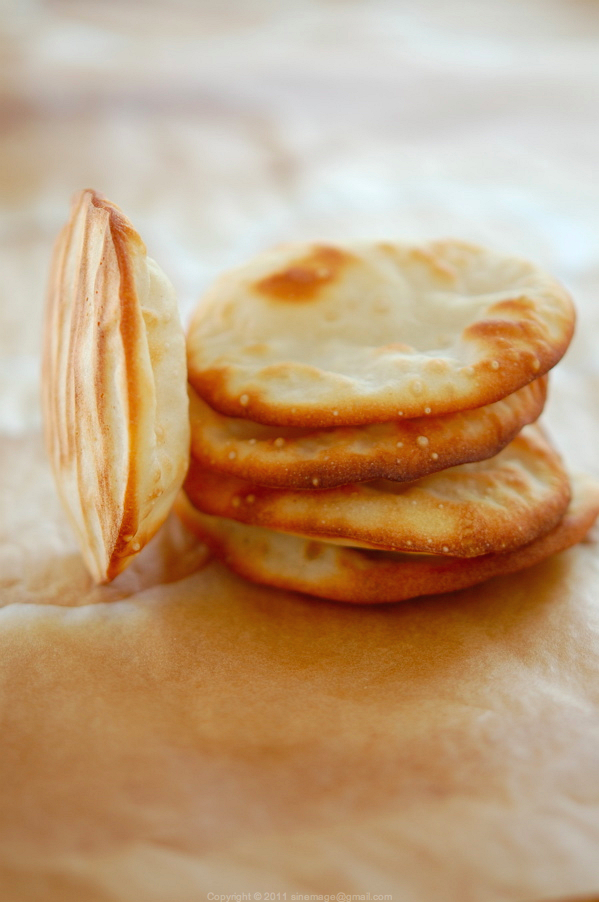 I make from time to time Clotilde's sourdough crumpets, a quick and easy way to use the excess of levain.
This flatbread is no different in proportion and ingredients, yet the result really differs just because the way it's cooked.
Baked at high temperature like a pizza on the stone, the sourdough starter simply mixed with salt, sugar and baking soda gives a good and express alternative to the traditional loaf.
Since the first time, I've made large and small ones, served as toast to spread cheese or eggplant dip, and even as a base for a cheat pizza with fresh tomatoes, goat cheese, olives and lemon thyme...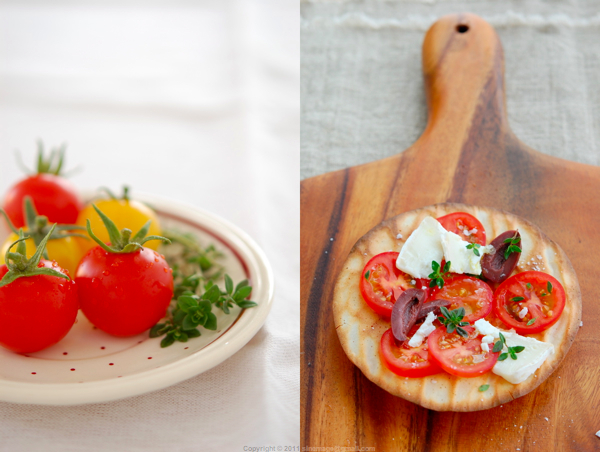 Sourdough Flatbread (Adapted from Chocolate & Zucchini)
- 270 gr (1 cup) "100%" natural starter/levain
1 tsp sugar
1/2 tsp sea salt
1/2 tsp baking soda</em>
Preheat oven to 235°C (455°F) with a pizza stone inside. In a large bowl, mix together the starter, salt, sugar and baking soda until well combined and the batter is light and foamy. Line a baking tray with baking paper and pour the batter to form regular disc (paying attention not to spread over the size of your baking stone) When the oven has reached the temperature, carefully slide the baking paper with disc(s) of batter on the baking stone. Depending on the size bake for 8-10 minutes.
*Flatbread are usually unleavened. For more info please read the Wikipedia article.
More Sourdough Bread:
Macatia, a bun from Reunion Island. Sourdough Bread 1.2.3 Method.
_ _ _ _ _ _ _ _ _ _ _ _ _ _ _ _ _ _ _ _ _ _ _ _ _ _ _ _ _ _ _
Tout a commencé avec une grosse salade que j'avais préparé pour le déjeuner et j'ai réalisé un peu tard que nous n'avions plus de pain à la maison.
Petit moment de déception. Perplexe. Et au bout du compte, une improvisation...
Quelques minutes plus tard, après avoir observé de près la cuisson à travers la porte du four, j'ai retiré une galette de pain, toute légère avec une peau croustillante et un intérieur moelleux. Un résultat au delà de mes attentes, qui a été servi avec la salade.
Je fais de temps en temps les crumpets au levain de Clotilde, une façon rapide et facile d'utiliser le surplus de levain.
Ces galettes de pain ne diffèrent pas en proportions et ingrédients, et pourtant le résultat change en raison de la méthode de cuisson.
Cuit à haute température comme une pizza sur une pierre, le levain simplement mélangé à du sel, du sucre et du bicarbonate de soude donne une alternative bonne et ultra rapide à la traditionnelle miche de pain.
Depuis ma première fournée, j'ai fait des petits et des grands, je les ai servis comme des toasts avec du fromage ou un caviar d'aubergine et même comme base pour une sorte de pizza avec tomates fraîches, fromage de chèvre, olive et thym ...
Galette(s) de pain au levain (Adapté de Chocolate & Zucchini)
- 270g de levain "100%"
1 c.à.c de sucre
1/2 c.à.c de sel
1/2 c.à.c de bicarbonate de soude</em>
Préchauffer le four à 235°C avec une pierre à pizza à l'intérieur. Dans une jatte, mélanger le levain, le sel, le sucre et le bicarbonate de soude jusqu'à ce que l'ensemble soit homogène et mousseux. Recouvrir une plaque de cuisson de papier sulfurisé et verser la pâte pour former un/des disques réguliers (en prêtant attention à ne pas dépasser les dimensions de la pierre à pizza) Lorsque le four est suffisamment chaud, faîtes glisser délicatement la feuille de papier sulfurisé sur la pierre à pizza. Selon la taille des disques de pâte, cuire entre 8-10 minutes.
Plus de Pain au Levain:
Macatia, de l'île de la Réunion. Pain au levain, méthode 1.2.3.
---
Comments
These look exceptionally good. Such a beautiful pattern on the breads. One thing, is the sugar totally necessary? I know it helps to activate yeast, but could someone on a sugar free diet just omit it? Alice
Those look fantastic! Great flatbreads that delicious and very practical. Cheers, Rosa Rosa
This looks wonderful, Vanille, and I will definitely try it. Thanks for sharing! clotilde
I did not try without sugar, but I suppose it should work fine too. Let me know how it turns out for you. Vanille
[…] This post was mentioned on Twitter by Clotilde Dusoulier and Gail Boisclair, berangereIgou-Lloret. berangereIgou-Lloret said: RT @clotildenet: another great way to use up an excess of sourdough starter: sourdough flatbread http://bit.ly/hlr0Rx […] Tweets that mention Bread, The Flat and Express Way « At Down Under – Topsy.com
Dear Vanilla, I discovered your blog a few weeks ago and I just love your photographs and recipes! Fast and delicious flatbreads! This one I'll try it soon! Mercè
The flatbreads look wonderfully light and puffed, what a nice accompaniment to your salad. Sylvie @ Gourmande in the Kitchen
My kind of spring or summer lunch! crisp flatbread topped with fresh veggies & fresh cheese and herbs. Bliss. Soma
*For as much as I love long, drawn-out bread-baking forays, there are times when baking the "express" way is just right. The look and description of these breads has me longing for summer, when tomatoes and herbs are plentiful, and our pizza oven is stoked. This recipe of yours is starred, flagged, bookmarked and twirled around with a pretty ribbon so I don't forget it in a couple months. Cheers and enjoy the rest of your weekend, *Heather** heather
I've only just recently got into baking bread (I know! What is with that?) and am intrigued to try making sourdough starter as well… I'd love to make these, they look so quick and delicious! Millie
j'adore l'idée de cette recette, resultat est plus que tentant et comme tes photos sentent bon le soleil et l'été miam miam bisous bisous Delphine delphcotecuisine
Ah, from the photos, at first I thought it was pizza. Then I realised it was something more exciting :) Sounds delicious Vanille, I really need to get my act together and start a culture! shaz
<p>Rosa, thank you !</p> Clotilde, you're welcome ! Mercè, thank you. Wish you good baking! Sylvie, thank you. The flatbread is so versatile, it went well with the salad. Millie, I really encourage you to go and jump into the sourdough adventure, you won't regret it. And it's not complicate at all. Heather, your words never fail to make me happy. Thank you ! Soma, so agree with you ! Delphine, merci tout plein. Shaz, couldn't help but think about you when writing down this post ;) So, the sourdough starter is still on the to do list… Give it a go ! Vanille
Love such good surprises that come out of initial disappointment :-) What popping and eye catching colors! [email protected]
[…] 3.  Jeepers…this is a divine delicious looking summer snack!! […] Friday Froth | Studio Home
Magnifiques! de retour d'Inde, je suis dans les pains plats jusqu'au cou, c'est si bon… Flo Makanai