Easy Days
January 26, 2011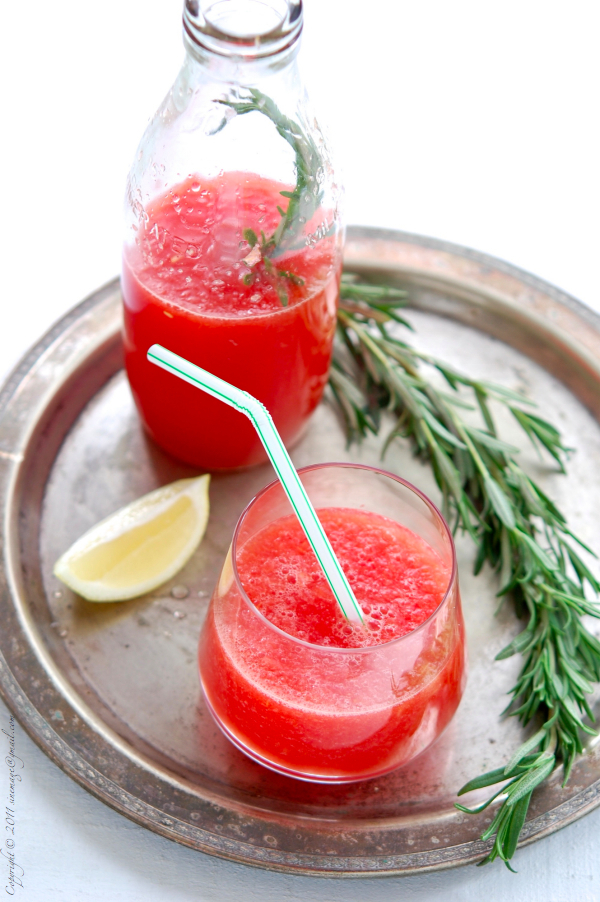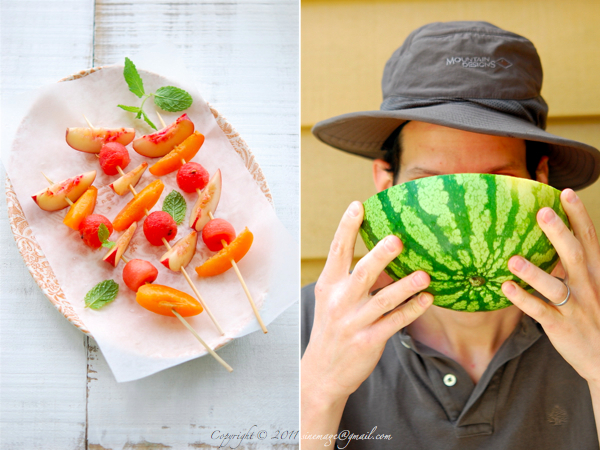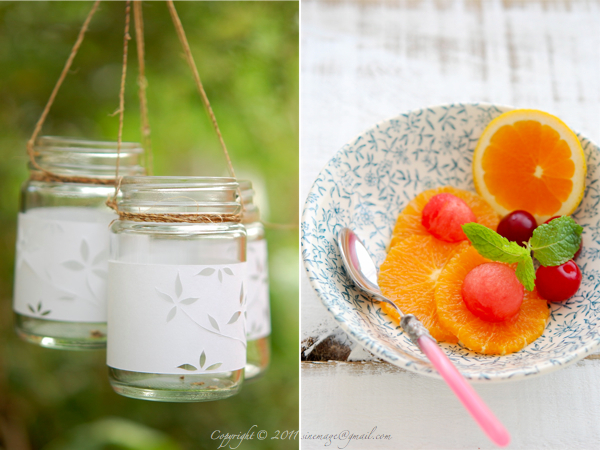 It's his fruit. From all the Summer bounty, the watermelon has his preference. Paprika es a görögdinnye -Paprika and the watermelon.
As thirst-quenching as a sorbet, watermelon is now frequently eaten after lunch or as an afternoon snack: Always chilled, generously sliced, mixed in a fruit salad, skewered, or in smoothie.
Yes, our latest way to enjoy the watermelon. Mixed with a lemon juice and flavored with a rosemary sprig, it's so refreshing, we can drink litres of that ! And no additional sugar is required if the watermelon is sweet enough.
You can't make it more simple, can you ?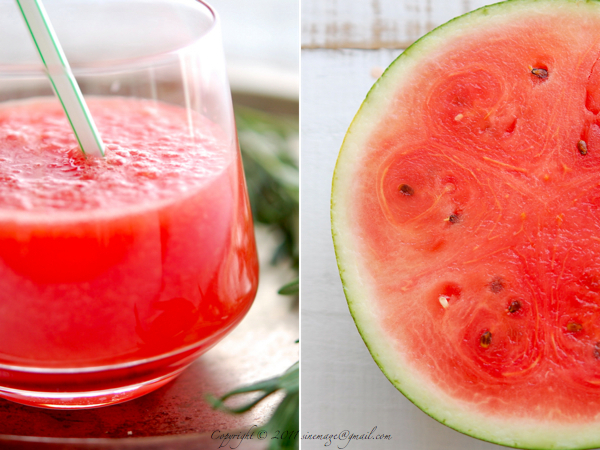 _ _ _ _ _ _ _ _ _ _ _ _ _ _ _ _ _ _ _ _ _ _ _ _ _ _ _ _ _ _ _
C'est son fruit. De tous les fruits d'été, la pastèque a sa préference. Paprika es a görögdinnye -Paprika et la pastèque.
Aussi désaltérant qu'un sorbet, la pastèque est dégustée fréquemment en ce moment après le déjeuner ou dans l'après-midi: Toujours glacée, généreusement tranchée, mélangée à une salade de fruits, embrochée, ou en smoothie.
Oui, notre dernière façon d'apprécier la pastèque. Mélangée à un jus de citron et aromatisée avec une branche de romarin, c'est tellement rafraîchissant, on en boirait des litres ! Et pas de sucre supplémentaire nécéssaire si la pastèque est bien sucrée.
On ne peut pas faire plus simple, n'est-ce pas ?
---
Comments
quel est ton objectif? julia
Ces belles couleurs estivales font très envie… allez, un peu de patience! Tes photos sont toujours aussi belles!!! Bises… Dominique (De vous à moi…)
Watermelon is one of my fav fruits and it's juice is the most refreshing drink ever! love the addition of rosemary! [email protected]
Lovely shots! So colorful. Cheers, Rosa Rosa
trop belles photos! julia
That sounds so yummy! I'm so jealous of our seasonal differences! Kaitlin
un vrai regal, l'été dernier je l'ai mariée au melon et quelques feuilles de menthe. tes photos sont tjs aussi splendides bises de France Delphine delphcotecuisine
*Gorgeous colors! I always enjoy cutting a watermelon in half to see those swirls – like a shapely tree or how the dust flies when a jet or helicopter touches down. We made watermelon granita this past summer, with a splash of lime juice, and it was wonderfully refreshing. What I'm really loving are those skewers! I need a melon baller. Cheers, *Heather** heather
Julia, merci. J'utilise l'objectif AF-S Micro NIKKOR 60mm f/2,8G ED. Dominique, merci. Oui, l'approche du printemps devrait doucement se faire sentir dans ta région du Sud de la France… Rosa, thank you ! Kaitlin, I guess I'll be jealous too when you'll happily bask in sun in the coming Summer months ;) Delphine, merci. Pastèque / menthe doit également faire un excellent duo ! Heather, the granita is another good idea, I'll try this very soon ! The melon baller is a total gadget, but I like it ;) Vanille
i love watermelon juice. So refreshing. Have you tried it in a salad with Feta cheese? It makes a good match. Barbara
Watermelon Splash Cocktails taste as good as your Easy Days! Try out the recipe that I found on four green steps Isabelle
Beautiful post Vanille. I am loving summer fruit right now. I love watermelon - it reminds me of being in Greece and eating watermelon salads every day :-) Sue Couscous & Consciousness
[…] This post was mentioned on Twitter by bron marshall, Vanille. Vanille said: Lazy [Blog Post] of mine : http://t.co/LJSqnpt - Easy Days […] Tweets that mention Easy Days « At Down Under – Topsy.com
Stunning! I love the watermelon drink! Peter G @ Souvlaki For The Soul
Barbara, I will surely try this salad, sounds delicious ! Asha, you'll team up with paprika then ;) Sue, that's true I remember eating a lot of watermelon in Summer there too ! Peter, thank you ! Vanille
Absolutely lovely…the color is out of this world! I am book marking this drink for summertime! foodies at home
Oh my!!! What gorgeous photos. I felt like I was reading a magazine. I love watermelon, too. My husband doesn't like it though! How can you not like them, you know?? Your photos are a true eye candy. Your ideas, angle, colors, all for me to learn. Thanks! Kaho
Your wonderful photographs are making me crave one of my fav. fruits! Can't wait for the watermelon season & I am going to use to the rosemary time! Soma
Your photos and recipes are amazing!!! You are really talented!…May I ask, what kind of camera do you use? Thank you very much! Dimitra
Watermelon juice with rosemary how refreshing! I will have to try this when it's summer here for me. And you must try the suggestion made above for watermelon with feta. I like to make it with chunks of watermelon and feta with some fresh mint on top. Sylvie @ Gourmande in the Kitchen
I love watermelon, juice or on it own! :) mycookinghut
I bet that it's a perfect summer day in a cup. The rosemary must compliment so well! Dana
tes photos sont magnifiques! et comme l'an dernier, me donnent envie que l'hiver se termine très rapidement! Botacook
Deliciously colored and summerly and sweet post, refreshing too of course (even though I don't need to be refreshed : temp below 0° C here in France). In The GlutenFreeGirl's latest book, there's a watermelon gaspacho that is also extremely appealing. Vivement l'été! flo makanai
Oh I love that photo of Paprika and his watermelon :) Never thought to flavour the jiuce with lemon and rosemary but I'm definitely going to try it out. This coming week is supposed to be a scorching one, I'm going to have to stock up on watermelon. shaz
Superb colorful pictures! And I love watermelon. Catherine
I have to confess that everytime I see a comment from u I jump with joy inside and look forward ur remark :-) Love everything about this post specially the popping colors. Feels cool and summery! A feeling we really need in this weather :-) [email protected]
What a fabulous way to enjoy watermelon and of course the photos make me want it even more:-) wizzythestick
les photos son trop belle! J'adore (comment se dit "watermelon?" How refreshing! So wonderful in the weeks to come over here! Nice to find your blog! Hope you'll visit mine to share more photos and recipes. Bren
Something to look forward to when watermelons are in season… not until July at best… I adore the simplicity of your wartermelon-ade! sylvie in Rappahannock
Looks amazingly refreshing. Did you add the juice from one lemon? And just stirred the rosemary through to flavour it? I made watermelon cocktails this summer too; they seem to taste so fantastic this year. I haven't seen too many with seeds though… will have to go to a farmer's market to find one I guess. Steph Bond Hutkin @ Bondville
[…] found via Pinterest: credit  / credit / […] Sweet Summertime Smoothie Ideas Full of Bright Fruits & Veggies | Branding, Identity & Graphic Design, Custom Website & Development, and Brand Consulting in Chicago and Oak Park Illinois. Step Brightly does what you need, and we do it with sty