Across The Sea
June 11, 2010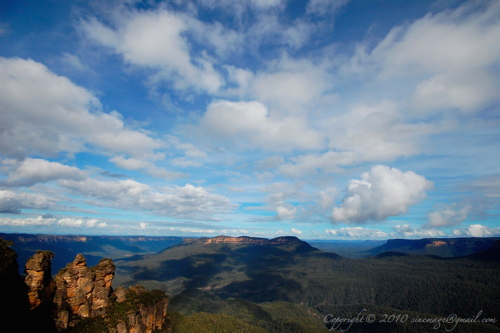 It was late in the night and after going through a couple of turbulence, our plane landed on Wellington airport under the rain.
We were happy to be back and also pleased with our trip in Sydney.
Despite the wet weather which followed us across the Tasman sea, we enjoyed the mild temperature and a well-balanced program mixing culture, nature, food and shopping.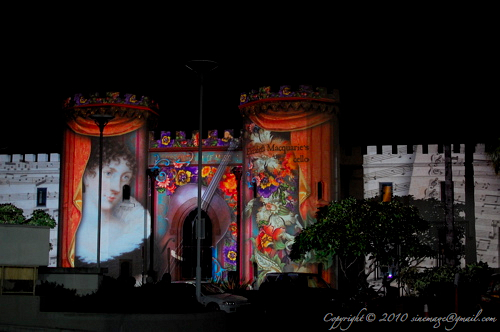 We were lucky and glad to meet there fellow blogger [and excellent cook!] Razz and his wife. Razz is a Sydneysider who shared spontaneously and generously with us the love for his city and country. Please go and read the colourful story he's posted on his blog regarding our first meeting in the city.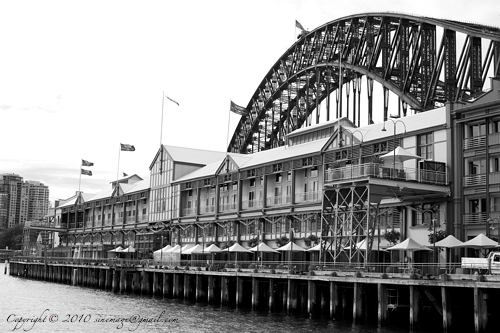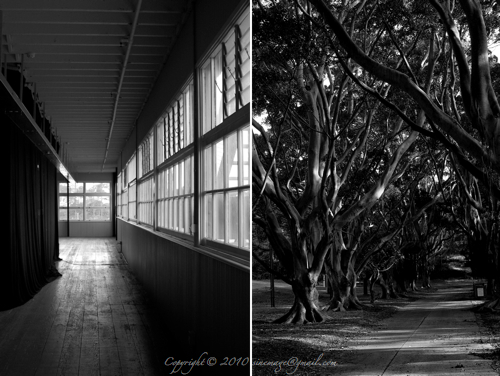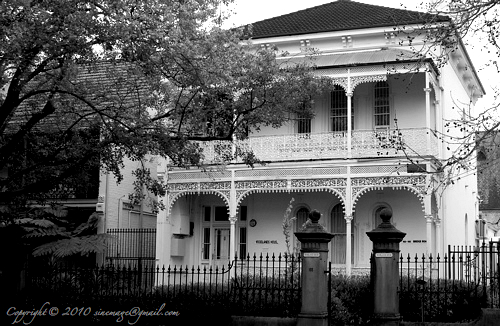 The imposing harbour bridge, the architectural curves of the Opera House, the historic area called The Rocks and the lush Royal botanic Gardens… We did most of the major touristic attractions, but we also took the time to just wander randomly in different areas and feel the pulse of the city.
Our accommodation in Surry Hills was conveniently located and surrounded by many little restaurants, a good bakery and all the amenities.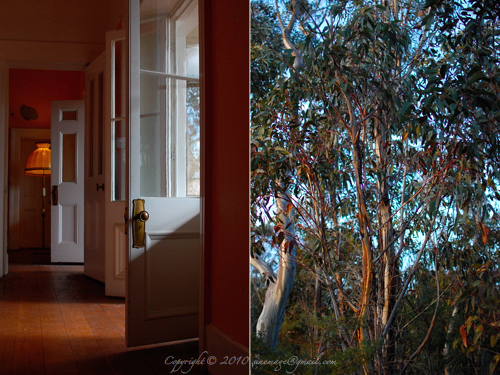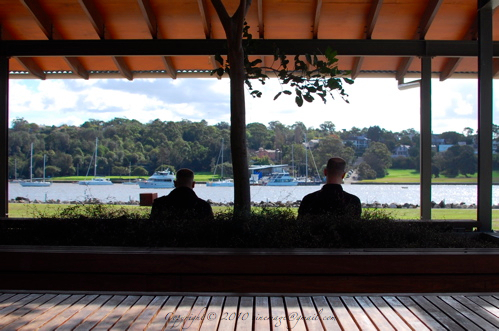 We also spent a full day in the Blue Mountains with Razz. And what a day ! In the morning when we arrived, the clouds were laying down in the valley like a white carpet and gave a kind of mysterious atmosphere to the place. A couple of hours later, they were all gone. Like if someone had removed a curtain, the impressive depth of the escarpments was revealed and I almost felt dizzy. At the end of the day, on the way back, we stopped one more time and looked at the fabulous landscape lit by a nice golden light.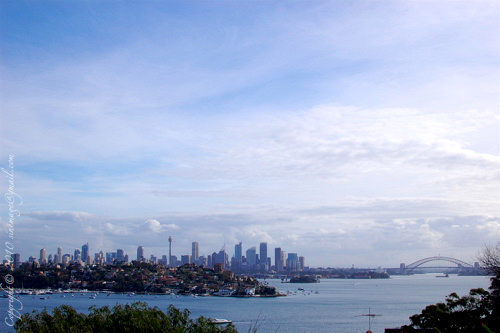 The day before we left, we jumped into the ferry for Cocaktoo Island and enjoyed a 360° view of the harbour on the way. The day went by quickly between the visit of the historic island and exhibits of Sydney Biennale displayed there.
To sum it up I would say it was a short, intense and colourful vacation.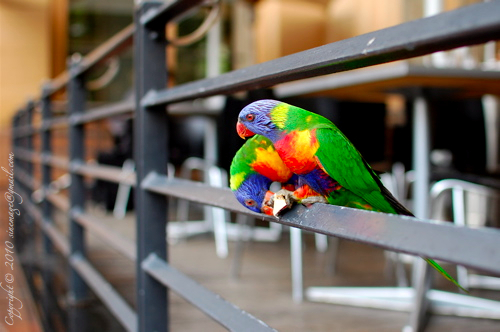 Across the sea, we've seen a big city. Across the sea, we've seen big mountains. Across the sea, we've met nice people…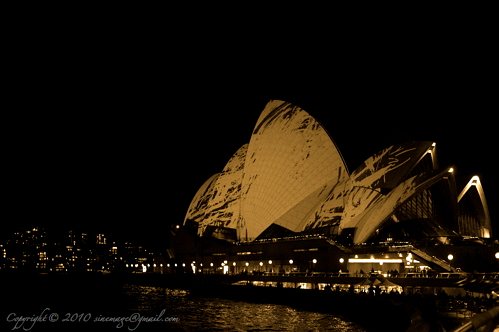 _ _ _ _ _ _ _ _ _ _ _ _ _ _ _ _ _ _ _ _ _ _ _ _ _ _ _ _ _ _ _
C'était tard dans la nuit et après être passé à travers quelques turbulences, notre avion a attérri à l'aéroport de Wellington, sous la pluie.
Nous étions contents d'être de retour et aussi satisfaits de notre séjour à Sydney.
En dépit du temps pluvieux qui nous a suivi de l'autre côté de la mer de Tasman, nous avons apprécié la douceur des températures et un programme équilibré melant culture, nature, gourmandise et shopping.
Nous avons eu la chance et le plaisir de rencontrer sur place Razz, blogger et excellent cuisinier, et sa femme. Razz est un Sydney-sider qui a partagé spontanément et généreusement avec nous son amour pour sa ville et son pays. Vous pouvez lire l'histoire haute en couleur qu'il a publié sur son blog concernant notre première rencontre en ville.
L'imposant pont, les courbes architecturales de l'Opéra, le quartier historique appelé The Rocks et le luxuriant jardin botanique… Nous avons fait la majeure partie des principales attractions touristiques, mais nous avons aussi pris le temps de nous balader au hasard dans différents quartiers et sentir le pouls de la ville.
Notre hébergement à Surry Hills était idéalement situé et entouré par de nombreux petits restaurants, une bonne boulangerie et toutes les commodités.
Nous avons également passé une journée entière dans les Blue Mountains avec Razz. Et quelle journée ! Le matin lorsque nous sommes arrivés, les nuages tapissaient la vallée et donnaient une atmosphere mystérieuse au site. Quelques heures plus tard, tout avait disparu. Comme si quelqu'un avait retiré un rideau, l'impressionnante profondeur des falaises était révélée, me donnant presque le vertige. En fin de journée, sur le chemin du retour, nous nous sommes arrêtés une dernière fois pour admirer le fabuleux paysage éclairé par une belle lumière dorée.
L'avant-dernier jour, nous avons pris le ferry en direction de l'île Cocaktoo et nous avons profité d'une vue à 360° du port de Sydney. La journée a filé rapidement entre la visite de cette île historique et les oeuvres exposées pour la Biennale de Sydney.
En résumé, je dirais que c'était des vacances courtes, intenses et colorées.
Au delà de la mer, nous avons vu une grande ville. Au delà de la mer, nous avons vu de grosses montagnes. Au delà de la mer, nous avons rencontré des personnes sympathiques…
---
Comments
Your pictures are splendid! I really love the black and white ones. What a lovely house. Great architecture! Cheers, Rosa Rosa
Really wished I'd been around Vanille. Your photos are stunning, all these places are familiar spots but seeing them through your lens, all I can say is WOW! I've said this before and I'll say this again, you are an incredibly talented photographer. Glad you had a good trip. shaz
Look at them parrots, the colours! Love that Victorian house. Nice photos. Elisa
Beautiful photos! I haven't been to Sydney for ages… hey, I put your name on a chain on my blog, free to follow on or not :-) Alessandra
Hi Vanille, Lovely blog! I wanted to get in touch to see if you'd be interested in entering our competition to find New Zealand's Top Food Blogger? The prize includes tickets to see Rick Stein on his tour of NZ, your blog entry published in the program - and so read by hundreds of foodies - plus loads of Rick Stein goodies. Bit too many details to post here, but please email [email protected] and I'll send you all the details if you're interested. Best wishes, Roz Roz Wilson
Hi there Vanille, came across your blog from Razzbufnik's. These photos are great, glad you had a great time over here on this side of the Tasman Greetings from Tasmania Tony
All your pictures are fantastic. The one with the birds tho. Sigh. Maybe one day I will be even half as good as you are. Wizzythestick
It's so nice to see my town through the eyes of someone else. Especially when they are such good photographers. It was great to meet up with you guys and I hope you visit Sydney again. razzbuffnik