In the Orchard: Penray
March 30, 2010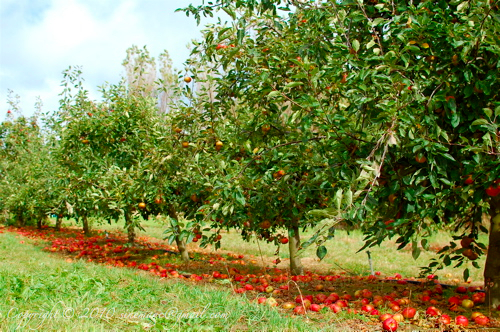 Instead of going to our usual Sunday farmers market, we went to Penray garden on Saturday. The initial idea was to go and pick up seasonal fruits such as apple and pear, but our basket got filled with much more goodies along the way…
I don't remember exactly how the idea came out. On Friday, I reminded Paprika to get more information from one of his colleagues about the location and on Saturday morning we hit the road, direction Otaki.
After a late breakfast, we quickly got ready and drove along a rough sea and under an overcast sky on Kapiti coast.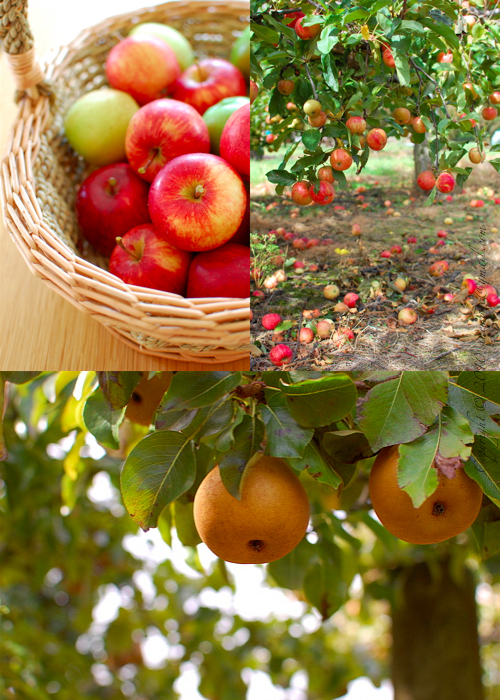 We nearly missed the entrance of the orchard along SH1. It was midday when we arrived and the parking was quite full.
Basket and bucket in hands we made our way in the orchard. Apple trees were loaded with fruits. We had too much to choose from ! A real pleasure to pick apple and pear directly from the tree.
Afterward we moved on to a big warning sign reading 'no eating strawberry' ! Indeed, the sweet scent of strawberries was like an invitation to swallow them right away. We started to pick one or two and finally the basket got filled with these fruits too…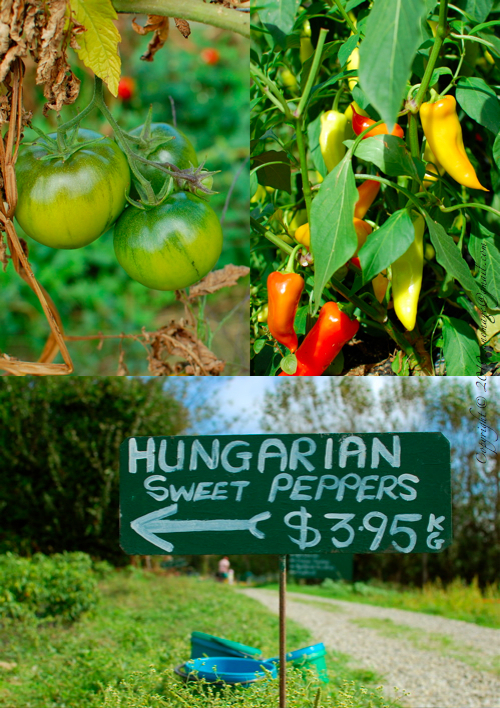 The rest of the garden is planted with vegetables: tomatoes, roma and beefsteak; pattypan squash, zucchini and even their flowers. What a treat ! I cooked them in the evening fried and filled with ricotta and fresh herbs. A delight !
A big part of the garden was also allocated to chillis and peppers. Any kind, colour and shape. I smiled while looking at my very own Paprika happily picking Hungarian peppers in the field and few steps away an Indian family busy filling generously their bucket with hot chillis.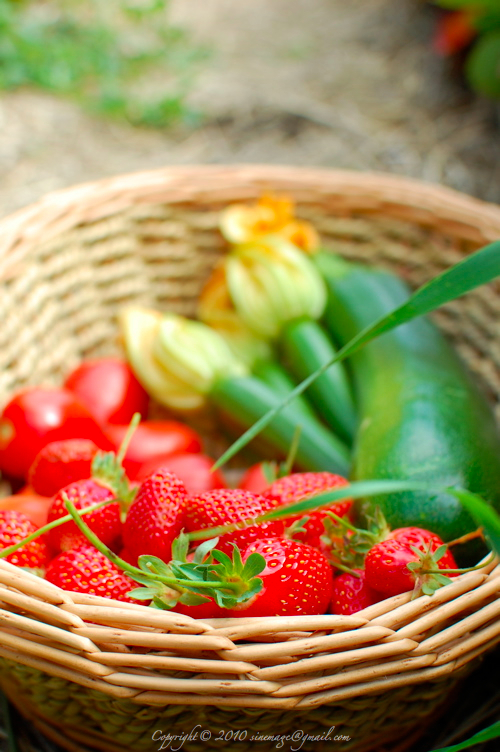 Simple yet that was enough to make us happy for the day.
And now, I have to go and make a good use of all these apples…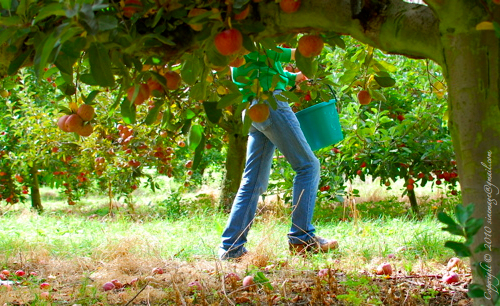 _ _ _ _ _ _ _ _ _ _ _ _ _ _ _ _ _ _ _ _ _ _ _ _ _ _ _ _ _ _ _
Au lieu d'aller comme à l'accoutumé au marché du dimanche, nous nous sommes rendus le samedi à Penray garden. L'idée de base était de collecter quelques fruits de saison à savoir poires et pommes, mais notre panier s'est rempli de bien plus de choses en cours…
Je ne me rapelle plus vraiment comment l'idée est venue. Le vendredi, j'ai rapellé à Paprika de se renseigner auprès de son collègue sur la localisation du verger et le samedi matin nous étions sur la route en direction d'Otaki. Après un petit déjeuner tardif, nous nous sommes préparés rapidement et nous avons roulé sur la côte Kapiti, le long d'une mer agitée et sous un ciel couvert. Nous avons failli râté l'entrée du jardin depuis la nationale 1. Il était midi lorsque nous sommes arrivés et le parking était déjà bien rempli.
Panier et seau à la main nous avons démarré notre visite du verger. Les pommiers étaient chargés de fruits. Nous avions l'embarras du choix ! Un vrai plaisir de cueillir le fruit de l'arbre. Nous nous sommes dirigés ensuite vers un grand panneau sur lequel on pouvait lire no eating strawberry ! En effet, l'odeur sucrée des fraises était comme une invitation à la dégustation immédiate. Nous avons commencé à cueillir une ou deux, puis le panier s'est retrouvé rempli de fraises également…
Le reste du jardin est consacré aux légumes: tomates [italienne et beefsteak], pâtisson, courgettes et même leurs fleurs. Quelle surprise ! Je les ai préparé le soir même en friture, garnies de ricotta et herbes fraîches. Un délice ! Une grande partie du jardin était également alloué au piments et poivrons. De toutes les couleurs, formes et origines. Cela m'a fait sourire de voire mon petit Paprika collecter gaiement les poivrons doux hongrois dans les champs et à quelques pas de là une famille indienne remplir généreusement son seau de piments.
Simple et pourtant cette petite visite à Penray a suffit à nous rendre contents pour le reste de la journée.
Et à présent, il faut que j'aille faire bon usage de toutes ces pommes…
---
Comments
What a beautiful way to spend a Saturday. Those strawberries look so good, I think I would have sneakily eaten one or two :) shaz
*what a gorgeous haul! and a perfect place to spend a sunday. i envy you so much – your natural surroundings are idyllic. glad you're enjoying it! the rest of us will live vicariously through your photos. thanks! cheers, *heather** heather
Oh, what a gorgeous place! So pretty! Cheers, Rosa Rosa
Superbe compte rendu photo de votre promenade. Cela donne envie de prendre son panier. Je ne pense pas le faire du côté de chez moi, et pourtant ça doit exister. C'est le début des fraises à Plougastel, il faut que je me renseigne! Dominique (De vous à moi…)
Oh, fantastic harvest. Where the peppers really Hungarian??? ciao Alessandra Alessandra
Rosa, yes, it's pleasant and fun too. Dominique, bonne cueillette et dégustation de fraises. Shaz, ;))) Heather, I'm sure you will enjoy the outdoors soon with a Spring blooming and a Summer ahead ! Alessandra, yes there were Hungarian types. They have so many kind of peppers in Hungary though… Vanille
I must leave a reply…i'm hungarian…my blog's name is Paprika&Paprika…how can i ignore yr post??? Beautiful photos !!!Happy to find you! Ciao Aniko Aniko
HOw fabulous. Looks like a nice outing. barbara