Little Gems of Summer
December 09, 2009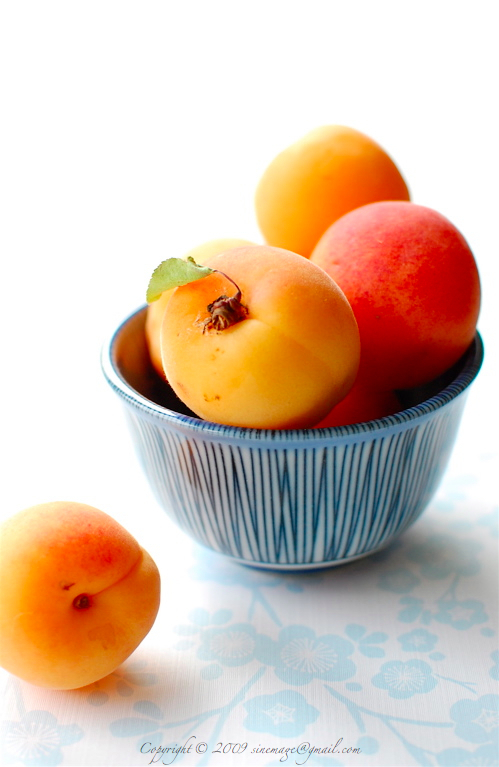 Aren't they cute these little babies ?! Oh, yes I love apricots !
It's maybe a little bit early for the season, but when I saw them at the farmer market last Sunday, I couldn't resist and bought a handful of them.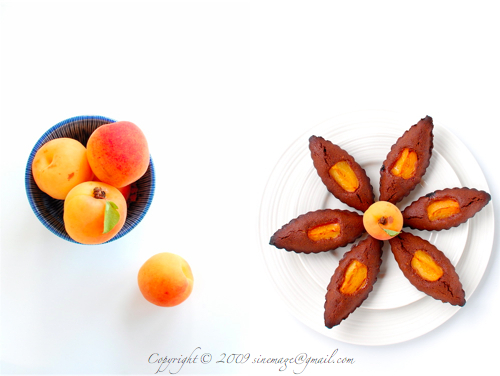 I baked some in little chocolate cakes and I also prepared some in salad.
The cakes tasted good but were unexpectedly hard. It was like a cookie crunch with the look of a friand ! So I'll have to make an other batch with an improved recipe…
For the salad, easy, I just mixed chopped light roasted macadamias, fresh mint and a bit of syrup on the apricot slices. Have you ever tried the mint/apricot combination ? It was my first time and I would say that they compliment well each other in colour and taste.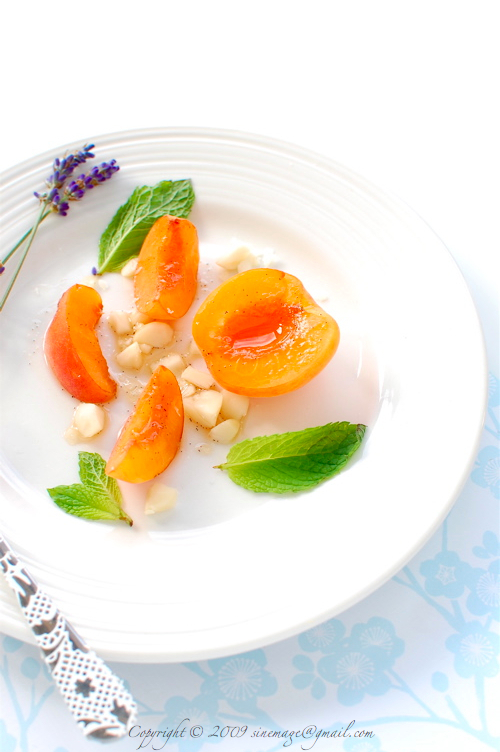 _ _ _ _ _ _ _ _ _ _ _ _ _ _ _ _ _ _ _ _ _ _ _ _ _ _ _ _ _ _ _
Ne sont-ils pas beaux ces petits ?! Oh, comme j'aime les abricots !
C'est peut-être un peu tôt pour la saison, mais lorsque je les ai vus dimanche dernier au marché, je n'ai pas pu résister, j'en ai pris quelques uns. J'en ai préparé certains dans des petits gâteaux au chocolat et d'autres en salade.
Les gâteaux avaient bon goût mais étaient anormalement durs. C'était comme manger des cookies avec une allure de friand ! Je ferai donc un autre essai avec une recette améliorée…
Pour la salade, facile, j'ai juste mélangé des macadamias concassées, de la menthe fraîche et un peu de sirop sur les tranches d'abricots. Avez-vous déjà essayé la combinaison menthe/abricot ? C'était mon tout premier essai et je dirais que les deux se complètent plutôt bien en couleur et en goût.
---
Comments
Your dishes are great ways to enjoy apricots :) Karine
Malar Ghandi, thank you for the invite, I'll try my best, but not though I'll have time to post in the next following weeks… Alessandra, thank you dear for your support ! Myzzythestick, you have for sure great fruits where you live that we can't enjoy here… We can't have it all ! Karine, thank you ! Vanille
*those little financiers are darling and that salad is gorgeous. a lively remembrance of summer – thanks for that! cheers, *heather** heather
Hello! Your photography is really breathtaking. I've been reading your blog for a little while but felt compelled to comment after seeing these apricots - I got excited at the market last Sunday, too, and picked up a bagful to put in a tart. It wasn't nearly as gorgeous or elegant as your little cakes/cookies or salad, though. I must try mint and apricots together - I've got a big mint plant in the garden just dying to be used in something! :) Millie @ Gusty Gourmet
Those apricots look amazing! I haven't seen any good ones here yet. Still waiting.. Y
I love your photos!! Good shots! I love apricots too.. :) mycookinghut
Heather, thank you ! Millie, thank you for joining the conversation ! I really hope you will enjoy this apricot/mint combination too. Delectable to eat on a warm day (Definitely not today ! ;) ) Y, this year I'll make some jam with. Preserving for the cooler months… MyCookingHut, thank you girl ! ;) Vanille
Dear, I know, you're a Great cook and I adore your blog. I am hosting an Event in my site about Kitchen Mishaps! Please check it out: http://www.kitchentantra.com/2009/12/kitchen-mishaps-event-announcement.html Would you like to participate? I will greatly appreciate your contribution. Thanks Malar Gandhi www.kitchentantra.com Malar Gandhi
Vanille, your styling and photos are just stunning! Alessandra
Makes me wish apricots grew here:-( Wizzythestick
ah, oui, les abricots. moi aussi j'adore…et vraiment tes photos me font rever de l'ete - surtout qu'on juste recu 50 cm de neige ce week-end! Sylvie, Rappahannock Cook & Kitchen Gardener
Thank you for some good information. Salome Organek