Up Side Down
October 10, 2009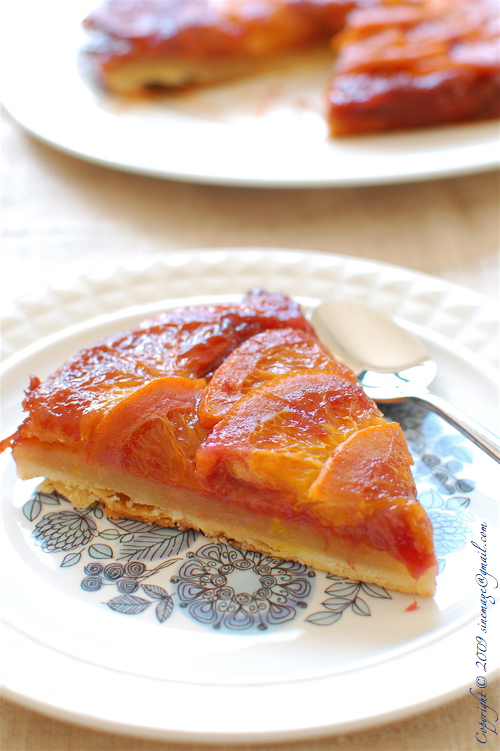 Each time I see rhubarb on a food stall, I can't help but buy it.
That's weird actually, because I'm not so keen on tangy fruits -even if rhubarb is a vegetable…
And the weirdest thing was to crave for a tart -an upside down one- that combines orange with rhubarb. Can't really say that orange makes it sweeter, but I pretty liked that combination.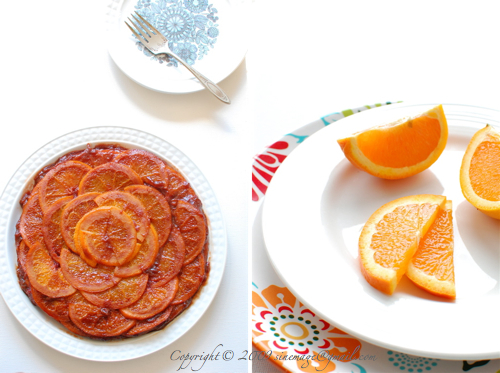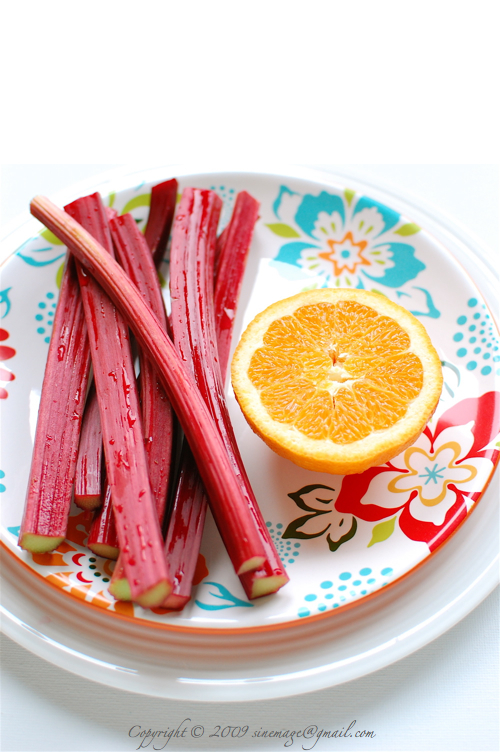 Have a lovely week-end !
_ _ _ _ _ _ _ _ _ _ _ _ _ _ _ _ _ _ _ _ _ _ _ _ _ _ _ _ _ _ _
A chaque fois que je vois de la rhubarbe sur un étal, je ne peux m'empêcher d'en acheter.
C'est assez étrange en fait, parce que je n'aime pas tant que ça les fruits acidulés -même si la rhubarbe est considérée comme un légume…
Et le plus étrange est d'avoir envie d'une tarte -inversée- qui associe l'orange et la rhubarbe. On ne peut pas vraiment dire que l'orange adoucit le tout, mais j'ai plutôt bien aimé cette combinaison.
Bon week-end !
---
Comments
Merci: originale combinaison! pour la rhubarbe je vais devoir l'acheter surgelée (dommage!) ou attendre le printemps… ou venir la manger chez toi… Dominique (De vous à moi…)
Hum ! Orange-rhubarbe ça doit etre détonnant commme mélange. Aricia
A very original combination! Your upside down cake looks ever so scrumptious! Cheers, Rosa Rosa
Oh my Vanille that is the most gorgeous tart ever!! I adore rhubarb too, we have some growing but it is not the brilliant red stemmed variety. I must fix that and plant some so I can have both! Bron
How lovely looking the tart is!! I love your combinations! :) mycookinghut
I think that rubharb and orange go very well together, and the tart looks spectacular :-) Alessandra
lovely photos! this looks oh so yummy! Ann Marie
Je pense que même en n'étant pas fan d'"acidulé" je me laisserai bien tenter : cela a l'air excellent !!! Tes photos sont géniales : Digne d'un "ELLE DECORATION" : j'adore !!!! Dad
je decouvre ton blog, et je suis sous le charme ! emi
Dominique, c'est quand tu veux, je t'attends ! ;) Aricia, oui, un mélange haut en couleurs et en saveurs Rosa, thank you ! Bron, it's true that the pink is more eye catching, but the taste is the most important, right ? You are so lucky to have some in your garden ! Emi, merci et bienvenue ! Vanille
la dernière photo est remarquable, j'aime le côté frais et mouillé de la rhubarbe sur ton cliché, miam!!!!!! Miss B
*pretty! it seems strange that an citrus upside-down cake never has crossed my mind, but lo and behold, it hasn't! great idea. and lovely. cheers, *heather** heather
Your recipes look just great and really tasty. Thank you for this beautiful and delighted time I spent through your blog. rêves de tables