About Nature... Again !
October 05, 2009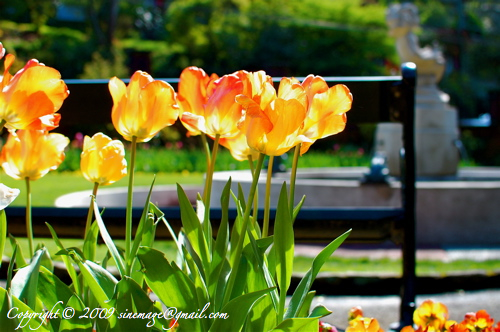 Hope you don't mind to stay a little bit more in the garden, because that's where I bring you again !
First at the Botanic Garden to catch a glimpse of tulips. Some of them were already wilted when I visited… Nature doesn't wait !
And then at a friend's garden.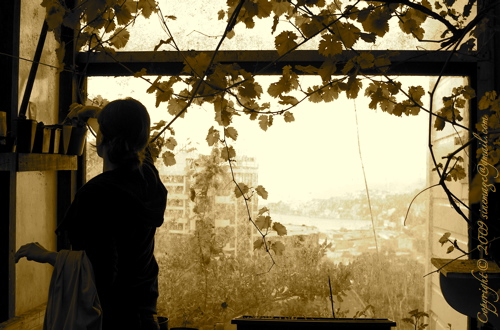 Julie, keen gardener, takes care of her seedlings in a former jacuzzi adjoined to the mainhouse. Inside the shed, an old vine climbs along the wall and nicely frames the vista of Wellington harbour. I like this place…
In the garden itself, amongst many other plants and flowers, there's a plum tree. I like the green and shiny skin of these growing little fruits !
Next time, a different topic I promise !
_ _ _ _ _ _ _ _ _ _ _ _ _ _ _ _ _ _ _ _ _ _ _ _ _ _ _ _ _ _ _
J'espère que ça ne vous dérange pas de rester dans le jardin, parce que c'est là que je vous emmène encore !
D'abord au jardin botanique de Wellington pour jeter un coup d'oeil aux tulipes. Certaines étaient déjà en train de se fâner lorsque j'y suis passé… La nature n'attend pas !
Puis dans le jardin d'une amie. Julie, passionnée de jardinage prend soin de ses semis dans un ancien jaccuzi attenant à la maison. A l'intérieur de l'abris une vieille vigne court sur le mur et encadre la vue panoramique sur la baie de Wellington. J'aime cet endroit…
Dans le jardin lui même, parmi les différentes fleurs et plantes, il y a un prunier. J'aime la peau verte et brillante de ses petits fruits !
La prochaine, je promets sera un sujet différent !
---
Comments
*I agree with Bron, the photos are lovely, especially the vine-framed seedling shed! Keep 'em coming. Cheers, *Heather** heather
I do miss the flowers in New Zealand. Beautiful. barbara
pour le jardin est un endroit où j'aime me promener, merci c'est charmant! Line
Tulips aremy favorites. My passionate love forever and ever. b.u.t.ful (; You have a good eye for catching such simple bu gorgoeus moments. Eglė
magnificent shots! Cheers, Rosa Rosa
I see nothing wrong with these topic, your photos are nothing short of gorgeous!! Bron
I don't mind posts about your garden at all. Each time I come here, I feel uplifted and guilty that I need to get back to doing my other type of photography as well. Cynthia
et alors, ca ne te donne pas envie de jardiner tout ca? Sylvie, Rappahannock Cook & Kitchen Gardener