Nature's Bounty In a Basket
September 21, 2009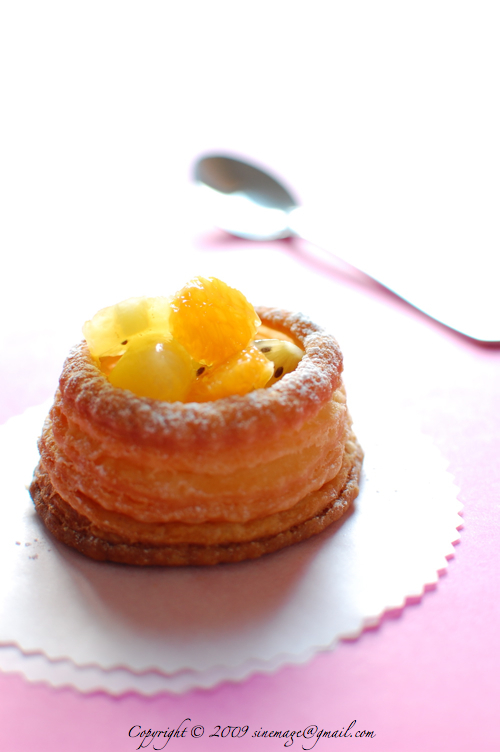 Inspiration is everywhere and sometimes in the simplest thing.
A friend came for lunch at home the other day and brought a fruit salad for dessert. Simple and yet delicious.
This colourful mix of fruits started to draw an image in my mind: vanilla custard and fresh fruits in a crisp home-made vol-au-vent case.
I imagine all the variations that could be made around this dessert depending on the season.
Summer with stone fruits and whipped cream.
Fall with apple, pear and chocolate pâte feuilletée.
Winter with citrus fruits and lemon custard…
And finally Spring !
Bloom ♥
Colour ♥
Light ♥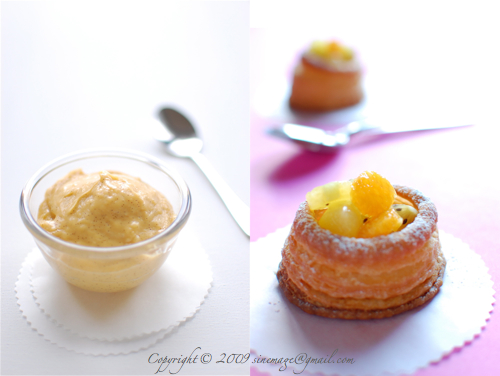 If you fell too lazy or you are short in time, store bought vol-au-vent will make the trick. Although the laminated dough can be prepared many days ahead and stored in the fridge or freezer. All you will have to do then is bake vol-au-vent cases (20minutes) and prepare the custard.
Printable recipe: Sweet Spring Vol-au-Vent
_ _ _ _ _ _ _ _ _ _ _ _ _ _ _ _ _ _ _ _ _ _ _ _ _ _ _ _ _ _ _
L'inspiration est partout et parfois même dans les choses les plus simples.
Une copine est venue déjeuner à la maison la dernière fois et a apporté une salade de fruits pour le dessert. Simple et pourtant délicieuse.
Cet assortiment de fruits colorés a formé comme une image dans ma tête: crème pâtissière et fruits frais dans un croustillant vol-au-vent.
J'imagine toutes les déclinaisons qui peuvent se faire autour de ce même dessert en fonction des saisons:
Eté avec des fruits à noyaux ou des fruits rouges et de la crème fouettée.
Automne, pomme, poire et pourquoi pas une pâte feuilletée chocolatée.
Hiver, agrumes et une crème au citron…
Et enfin le printemps !
Fleur ♥
Couleur ♥
Lumière ♥
Si vous vous sentez d'humeur paresseuse ou si vous manquez de temps, vous pouvez acheter des vol-au-vent prêts à l'emploi qui feront aussi l'affaire. Néanmoins la pâte feuilletée peut se préparer à l'avance et être refrigérée ou même congelée. Tout ce qu'il vous restera alors à faire est de cuire les vol-au vent (20 minutes) et de préparer la crème pâtissière.
Recette imprimable: Vol-au-vent du printemps
---
Comments
They are so beautiful! I love that sweet version. Cheers, Rosa Rosa
magnifique, je craque!!! Merci pour le commentaire et bon lundi! Miss B
Looks sensational, beautiful colours! Do you sell your images? Syrup magazine
De bon matin, tu me tentes très fort et je craque ! Eleonora
Rosa, thank you ! Miss B, merci. Bonne semaine à toi aussi ! Syrup magazine, thank you ! ;) Eleonora, merci de laisser une trace de ton passage ! Vanille