Pure Gourmandise
August 22, 2009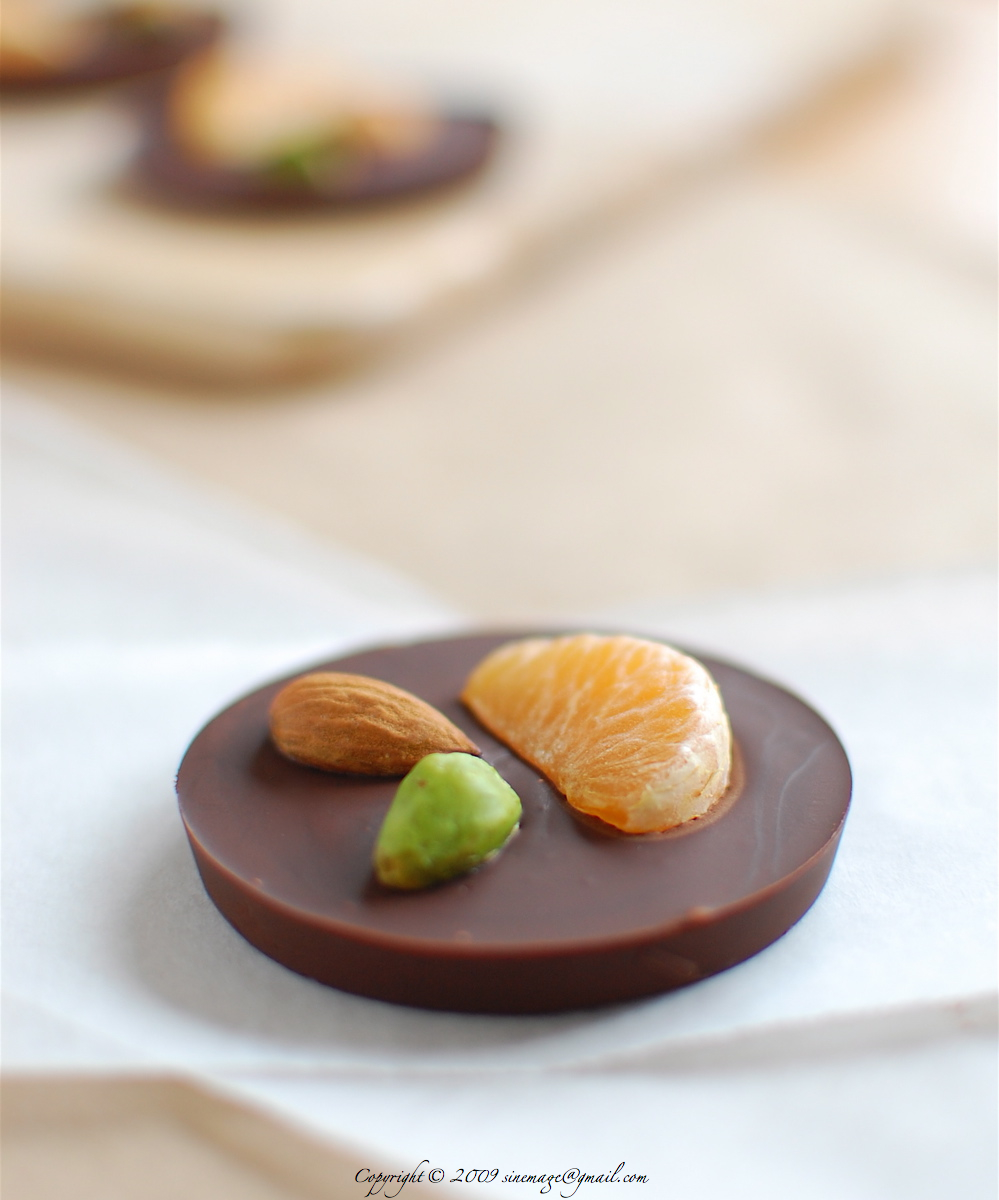 Here it comes the little round and sweet thing I promised you earlier. A way to bring a personal touch when serving coffee. Or wrapped in a favor box, to please someone you care - and you don't have to wait for the end of the year for that ! Or just eat them whenever you want. Nut and chocolate lovers, here is your simple little treat.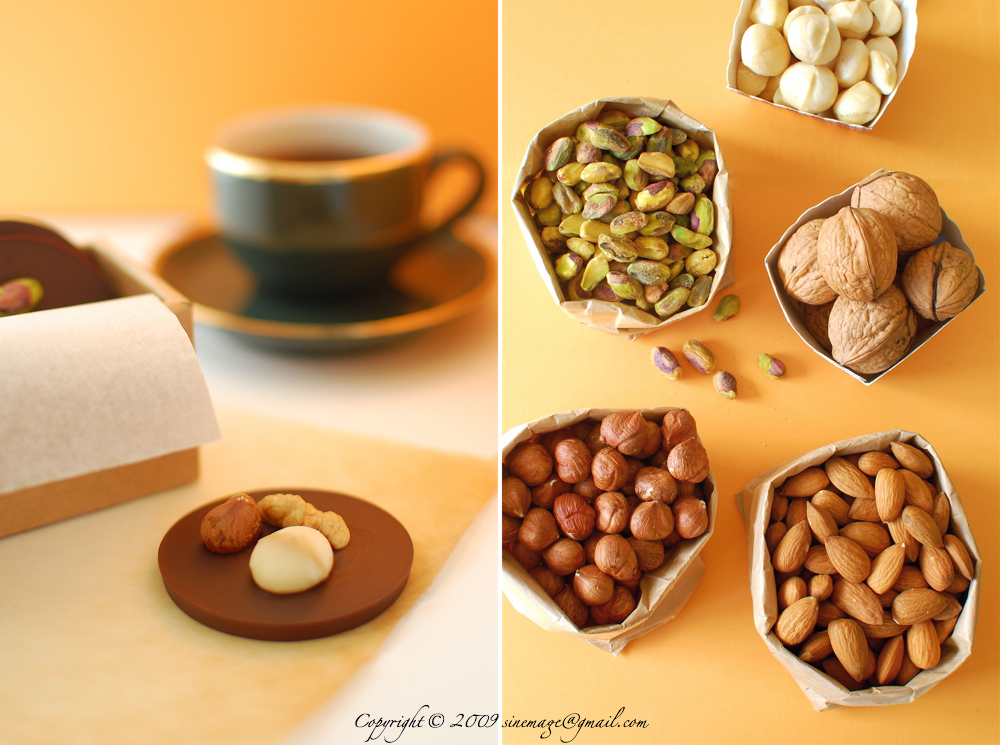 All you have to do is melt in a water-bath 120g of dark chocolate. Then pour the chocolate in the bottom of a 6 silicon muffin pans. It's important that pans are made of silicon, for an easy turning out. You wait for a while until the chocolate starts to firm up. Then you delicately place on the top nuts, sliced dry apricot, diced orange confite, dry grapes or what you fancy really and let them cool completely before turning out of the pans. And tada ! Here you have little mendiants as we call them in French.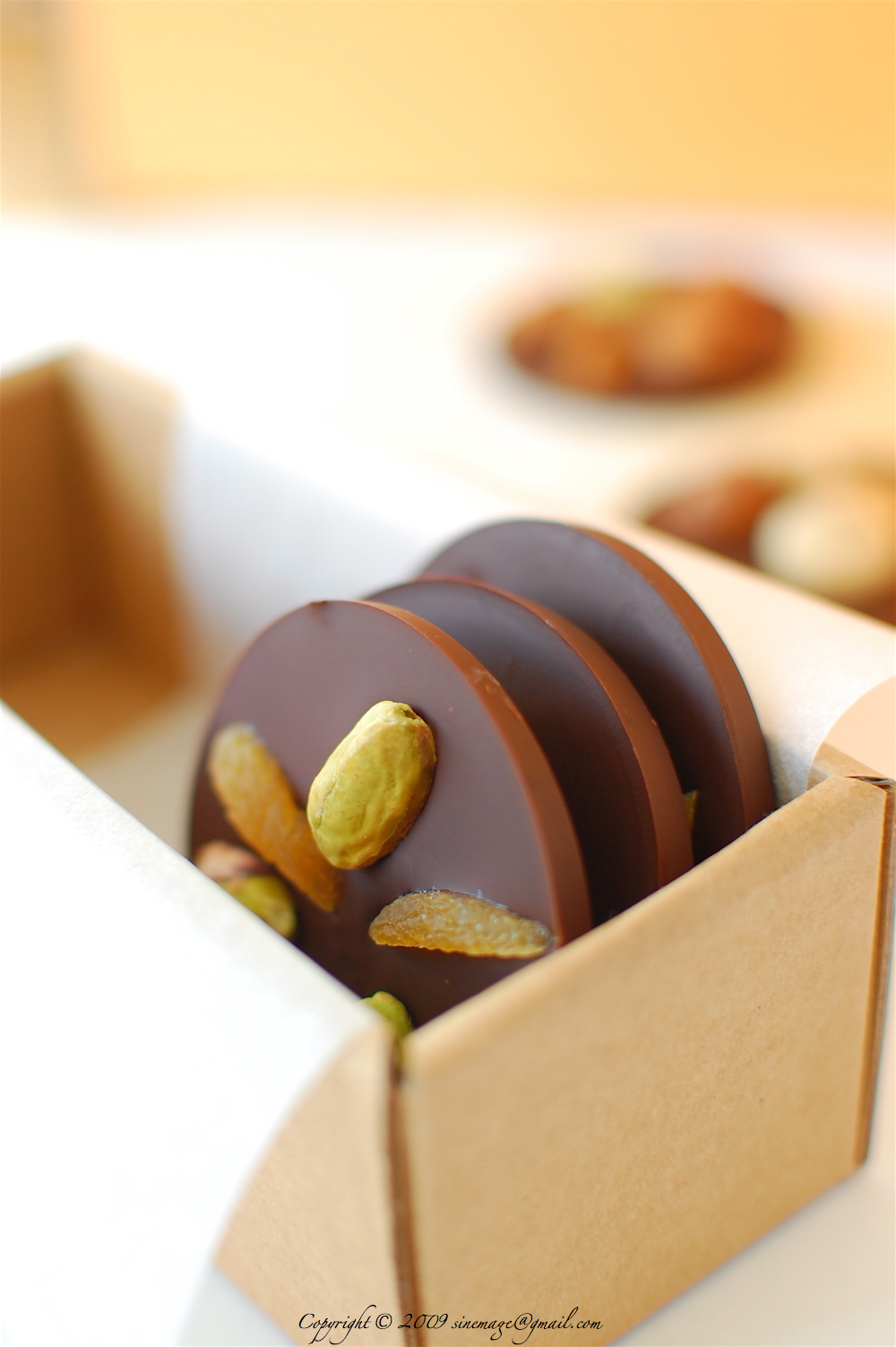 Have a nice week-end !
_ _ _ _ _ _ _ _ _ _ _ _ _ _ _ _ _ _ _ _ _ _ _ _ _ _ _ _ _ _ _
Les voici ces petites choses rondes et sucrées que je vous avais promises dans le précédent billet. Une façon d'apporter une petite touche personnelle au moment du café. Ou emballés dans une petite boîte, pour faire plaisir à quelqu'un que vous appréciez- et inutile d'attendre la fin de l'année pour cela ! Ou les manger tout simplement quand ça vous chante. Amateur de chocolat et noix en tout genre, voici une petite douceur toute simple réaliser. Tout ce que devez faire, c'est fondre au bain-marie 120g de chocolat noir. Verser ensuite le chocolat dans le fond de 6 moules à muffin siliconés. Il est important que les moules soient en silicone pour un démoulage facile. Attendez que le chocolat raffermisse un peu. Placer alors délicatement les noix de votre choix, des petites tranches d'abricots séchés, des oranges confites, des raisins secs -bref, ce que vous aimez !- et vous laissez complètement refroidir avant de démouler. Et voilà, des petits mendiants !
Bon week-end !
---
Comments
A delicate treat! Cheers, Rosa Rosa
Silicone pans can be sooo useful! Looks very nice, especially like the last photo. nicisme
*wow, those are amazing! i have no words. you make it sound so simple, but really, you've outdone yourself. one of those would be lovely right now! cheers, *heather** heather
Such lovely and pretty mendiants!! I have learnt something new today and this is a great idea of gift. :) mycookinghut
Tada!!!! en effet, ca a l'air bien somptueux. Ca me fair presque vouloir acheter des moules en slicone… Sylvie, Rappahannock Cook & Kitchen Gardener
So beautiful for such a simple idea! Hana
Really professional treat! I hope you will post to Flickr too, it looks very good. I have 3 bars of dark chocolate sitting somewhere.. Elisa
Hé bien, ces "petites choses" sont tout à fait appétissantes, et les photos superbes, comme d'habitude. J'en croquerais bien un en guise d'en-cas réconfortant :) Botacook
J'ai tout à coup des envies de chocolat! C'est vrai qu'avec un bon café, c'est divin… merci Dominique (de vous à moi…)
So sweet…and always amazed by your beautiful pics. Back downunder soon, maybe I should buy some good melting chocolate before returning… Alessandra
Gorgeous! peabody
Rosa, thank you ! Nicisme, yes I'm doing so many things in those silicone muffin tins !… Heather, thank you. It really is simple to do. A pity that they don't travel so well… MyCookingHut, thank you ! Sylvie, oui tu ne regretteras pas ton achat, c'est si pratique ! Botacook, très difficile de dire non à du chocolat, nest-ce pas ?! Dominique, oui avec un café bien fort c'est excellent ! Alessandra, thank you. Hope you enjoy the end of your summer holidays ! Peabody, thank you ! Hana, thank you ! Elisa, thanks. You really should give it a try. Not so happy with my pics lately, therefore the lack of post on Flickr, but will come back soon ! Vanille
Your blog is good for me - I am all smiles at the warmth and sentiment of the post. Cynthia
What a delish treat!! Looks gorgeous! Talita
Just stumbled across your fantastic blog! Love you're little sweet chocolate rounds of delight! I'll be visiting again! Ash
I found your blog via a post on Oh Joy! So many beautiful pictures and wonderful recipes. Thanks for making my day :) Novi
Yum! That looks like such a nice thing to have with a coffee. I'm travelling at the moment, so I won't be able to try making it for about another three months. In the meantime, I'll go back to making myself sick with Belgian truffles. razzbuffnik
So cute! Now I just have to buy myself some silicone muffin pans… Little Bear's Kitchen
[…] Chocolate and Nuts Mendiant from At Down […] Chocolaty Weekend Links : Chocolate Bytes - All About Chocolate – Delicious Chocolate Recipes
Cynthia, thank you for your supportive words. Talita, thank you ! Ash, thank you and you are welcome. Novi, thank you ! Razzbuffnik, you make me dream with your Belgian truffles…. Little Bear's Kitchen, thank you ! Vanille
yummy, i will definately give these a try. They look so pretty (so does your blog). You've got a new follower! Eva
ooohhh I want to go out to get silicon pans JUST for that :P lol Zahra
[…] tip from At Down Under via Shennigans yielded some very uniform discs in no time, but they are a little thicker than […] Mendiants « some say cocoa, some say cacao
Wow, I'm so happy to find this post! I went to your 'elsewhere' and saw that you were featured in "oh joy!". I think she's very talented, too! Anyways, I think this is so simple yet pretty and perfect for a party like baby shower, birthday party and holiday party. Thanks for sharing the recipe and your gorgeous photos!! Kaho
[…] I put my efforts yesterday afternoon into making les Mendiants, a french confection – pure gourmandise,  At Down Under.  Gorgeous desserts and fantastic photography.  What more could you want when […] les Mendiants » Life Comes 'Round