Baking For The Cure
July 24, 2009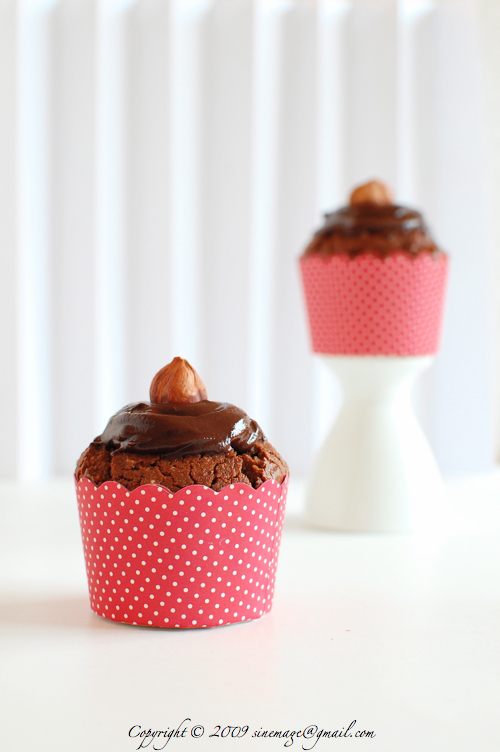 I'm going to see This Way of Life, this afternoon ! I missed yesterday an other movie I really wanted to see. The weather was some what apocalyptic and there was no way I put my nose outside… Instead, I baked. Something to cheer me up and put a smile on Paprika's face when he'll be back home. Something comforting. Something with chocolate and hazelnuts…
What a contrast: Outside, the wind was blowing and the rain lashing the window, while inside, the air was warm and imbued with a nice scent of chocolate.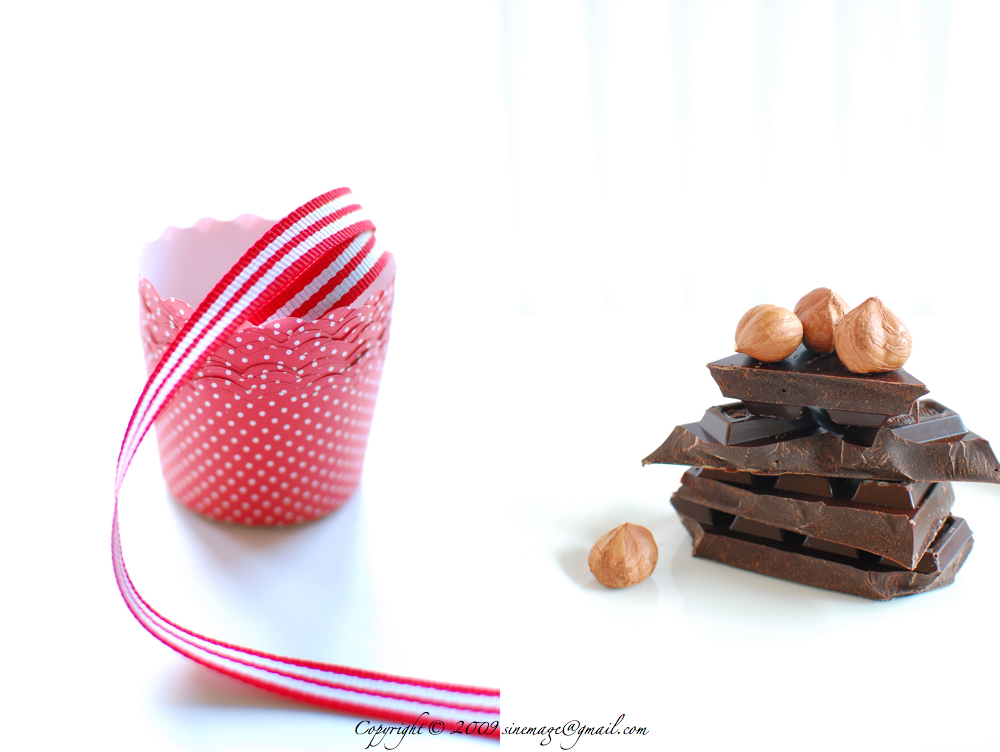 I tried last year this recipe for the first time and kept on making it since.
This time, I baked a version with hazelnut that I ground myself. These hazelnuts are produced locally in Marlborough and just taste really good ! I like the way how the nuts build a crunchy crust on the top of the cake and a soft texture inside…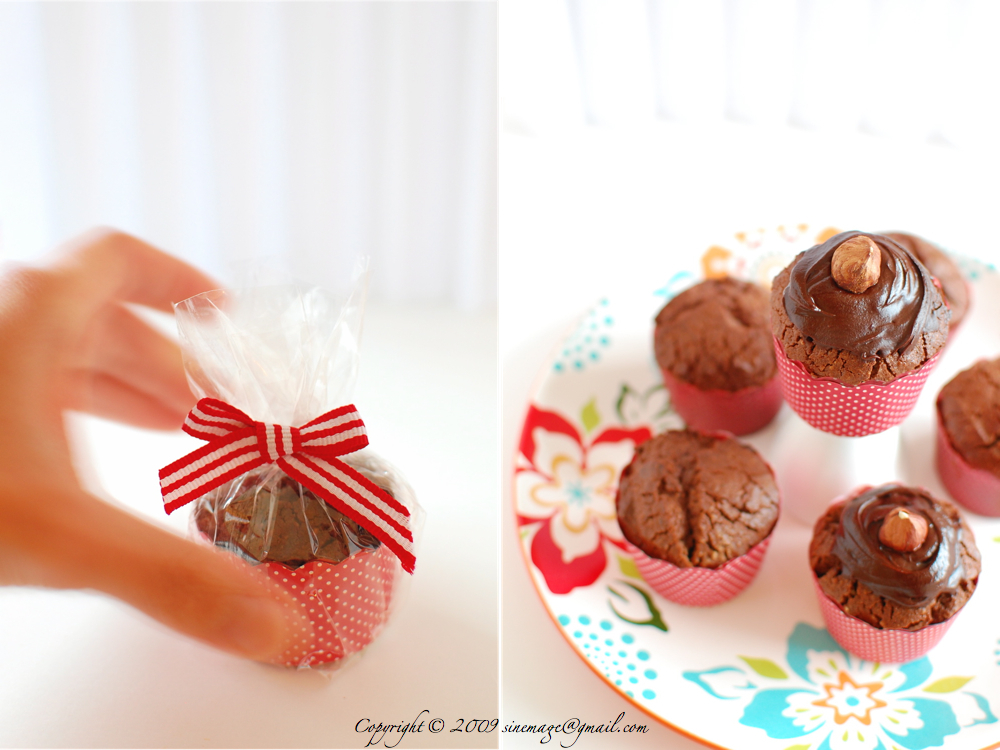 I have to go now or I'll miss again my movie !
______________________________________________
Je vais voir cet après-midi This Way of Life ! J'ai râté hier un autre film que je voulais vraiment voir. Le temps était quelque peu apocalyptique et il n'y avait pas moyen que je mette un pied dehors… Alors, je me suis mise au fourneau. Pour cuire quelque chose qui me remonterait le moral et plairait à Paprika quand il rentrera. Quelque chose de réconfortant. Quelque chose avec du chocolat et des noisettes…
Quel contraste: Dehors, le vent soufflait et la pluie battait le carreau alors qu'à l'intérieur l'air était chaud et empreint d'une douce odeur de chocolat.
J'ai essayé l'année dernière cette recette pour la première fois et j'ai continué depuis à la faire.
Cette fois-ci, j'ai préparé une version avec des noisettes que j'ai moulu moi même. Ces noisettes sont produites localement dans le Marlborough et sont tout simplement goûteuses ! J'aime la façon dont les noix apportent une croûte bien croustillante sur le dessus du gâteau et une texture moelleuse à l'intérieur…
Je vous laisse à présent ou sinon je vais encore râté mon film !
---
Comments
Oh I get you. I think this cake is perfect for the cold and rainy days of winter. Let us know about the movie. I checked the link you provided and it sounded interesting. Anh
A great way of making one smile… Very comforting, beautiful and delicious! Cheers, Rosa Rosa
*Nothing cheers up a dreary day better than baking, especially when it's as sweet as that! Cheers, *Heather** heather
where did you get the cake liners- they are lovely! tess
Anh, the movie was really nice. Paprika and I had a good time and got the bonus at the end of the screening to see the cute children from the movie ! Rosa, thank you ! Heather, thank you girl ! Tess, I purchased the cupcake papers in a shop, here in Wellington, but the brand has a site you can check. Vanille
your sweet confections always look so perfect you know, both on the eyes, and taste wise… impeccable! Sylvie, Rappahannock Cook & Kitchen Gardener
Enjoy your cold rainy weather. I'm jealous ;-) Natalie
Sylvie thank you. I still have a lot to learn… Natalie, thank you for stopping by ! I'm also jealous but for your summer ! Vanille
Your pictures are gorgeous and I love the adorable polka dot wrappers. veron
ohmy!!! that picture just captivated me right there. its lovely:) amy
Ces petits gâteaux sont superbes, j'aime beaucoup les caissettes aussi! Je vois ce que tu veux dire avec le contraste dehors/froid et dedans/réconfortant. C'est quelque chose que j'aime aussi beaucoup en automne-hiver! Quant aux noisettes, je me fournis aussi chez un producteur local près de chez moi, quel bonheur ces noisettes bien parfumées! A bientôt! :) Botacook
Lucky Paprika, what a lovely surprise! I should try those hazelnuts. Alessandra