Teeny
May 14, 2009
Last week was just rain. To make it up, the weather gave us fabulous blue and sunny days this week.
To enjoy the last colour of Fall, I went yesterday for a walk. On my way back home my attention was caught by little colourful spots on the ground.
I first thought it was big berries, but after a closer look I realised it was apple ! Very tiny ones. I find them so cute ! I did not resist and collected some.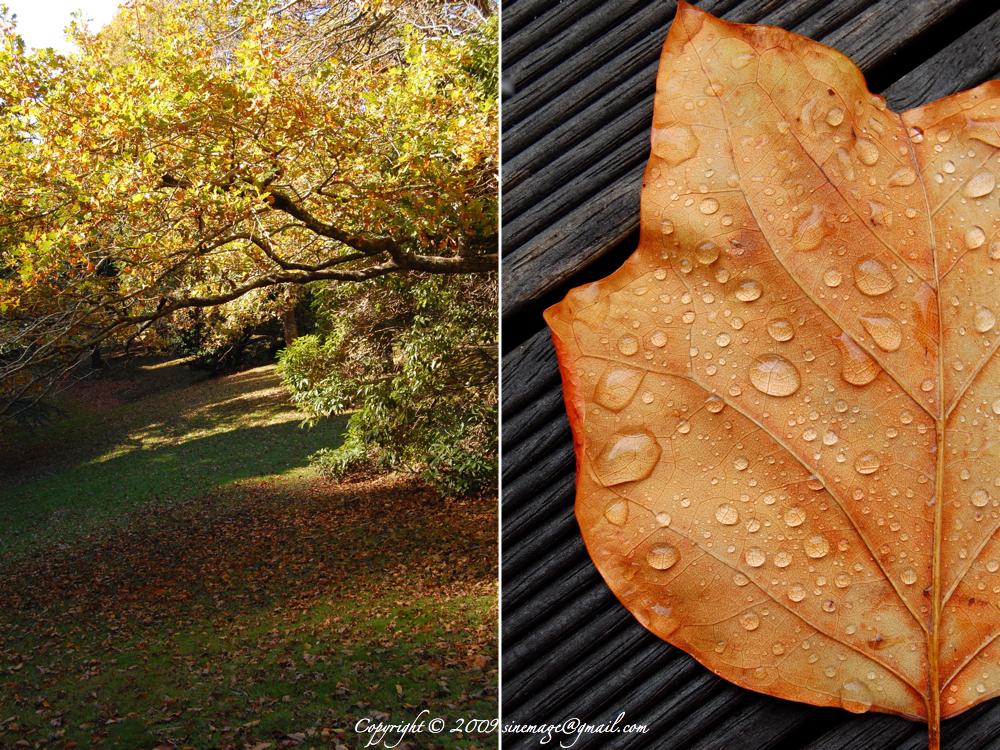 They remind me cherries: probably because of their size and the stem.
These little unexpected fruits were indeed the cherry on the cake of this nice day !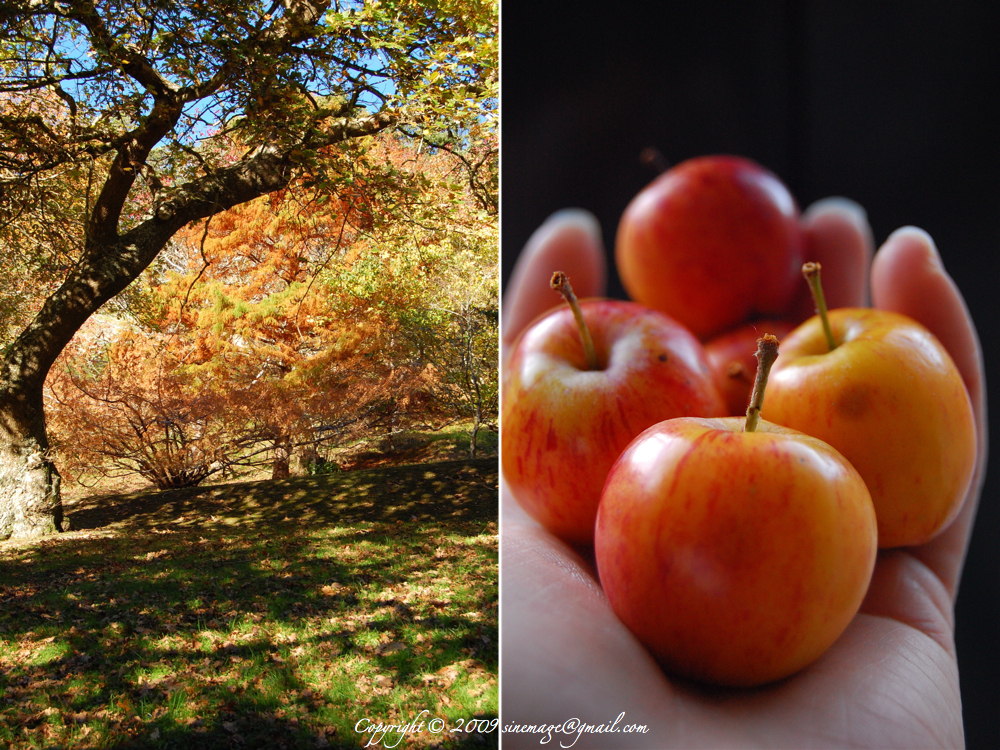 You probably know what type of apple is it. Please let me know…
______________________________________________
La semaine dernière n'était que pluie. Pour se faire pardonner, le temps nous a donné cette semaine de fabuleuses journées ensoleillées.
Pour profiter des dernières couleurs de l'automne, j'ai fait une balade hier.
Sur le chemin du retour, mon attention a été attiré par de petites tâches colorées au sol.
Au départ, j'ai pensé que c'était de grosses baies, mais en regardant de plus près je me suis aperçu que c'était des pommes ! Toutes petites. Je les trouve adorables ! Je n'ai pas pu résister et j'ai ramassé quelques unes.
Elles me rapellent des cerises: de par leur taille et la queue aussi.
Ces petits fruits inattendus ont été en effet la cerise sur le gâteau de cette belle journée !
Si vous connaissez de quel type de pomme il s'agit, merci de me le dire…
---
Comments
I love the colour and lighting in the first shot. razzbuffnik
In my home country we call them Paradise apples ;) They're small, cute and really sweet. Eglė
*Sadly I have no clue what kind of apple they are. We always called the little ones that were the last to fall in Autumn deer apples, because we'd feed them to the deer. Clever, right? Ha. Beautiful photos yet again! Cheers, *Heather** heather
Tes photos sont superbes! belle ballade… je ne connais pas ces pommes. Mes pommiers en donnent des toutes petites, mais pas autant! Dominique (de vous à moi…)
Razzbuffnik, thank you ! Eglé, thank you for the name ! Heather, thank you. That's a funny way to call them indeed ! Dominique, merci. J'ai eu raison d'en profiter, aujourd'hui c'est pluie !!… Vanille
If they're sour, they're crab apples (in New Zealand) and make really good jelly. Bronwyn
What gorgeous photos! I think they're called paradise apples here too..? They're the perfect size for making into toffee apples. Y
So cute! They look like cherries! Cheers, Rosa Rosa
Très joli leur petit nom Paradise apple! La nature est magnifique à cette saison! Tes photos toujours aussi sublime! bisous plume_d_argent
Bronwyn, I confirm they are sour. Thank you for the info. Y, thank you ! Toffee apple, a good idea ! Rosa, ;) Plume d'Argent, merci ! Vanille
The lighting, colours and textures of your photographs always brighten my day when I visit. Cynthia
They are called Crab apple in the US too. Great to make cider and jelly. Cook as side to game meat, or to spice up an apple sauce made with sweeter apples. Sylvie, Rappahannock Cook & Kitchen Gardener
Adorables ces pommes! Je ne crois pas en avoir déjà vu ici, en Europe. C'est rigolo, nos saisons inversées, ici on a déjà les fraises tandis que toi tu manges des pommes… ;) Botacook
They look like crab apples, if so, even if they are sour, I have a jelly recipe here (second page) http://www.smartmailpro.co.nz/SmartmailWebsite/accounts/1208/d/NZG_0508_food.pdf Beautiful photos, as always :-) Alessandra
Cynthia, thank you for these sweet words. They cheer me up ! Sylvie, I was sure you would know these apples ! Is there any plant or fruit you don't know anyway ?! ;) Botacook, oui elles sont trop mimi ! Je ne me rapelle pas en avoir jamais vu en France non plus… Alessandra, thank you for this link ! Vanille