Colchiques Dans Les Prés...
April 17, 2009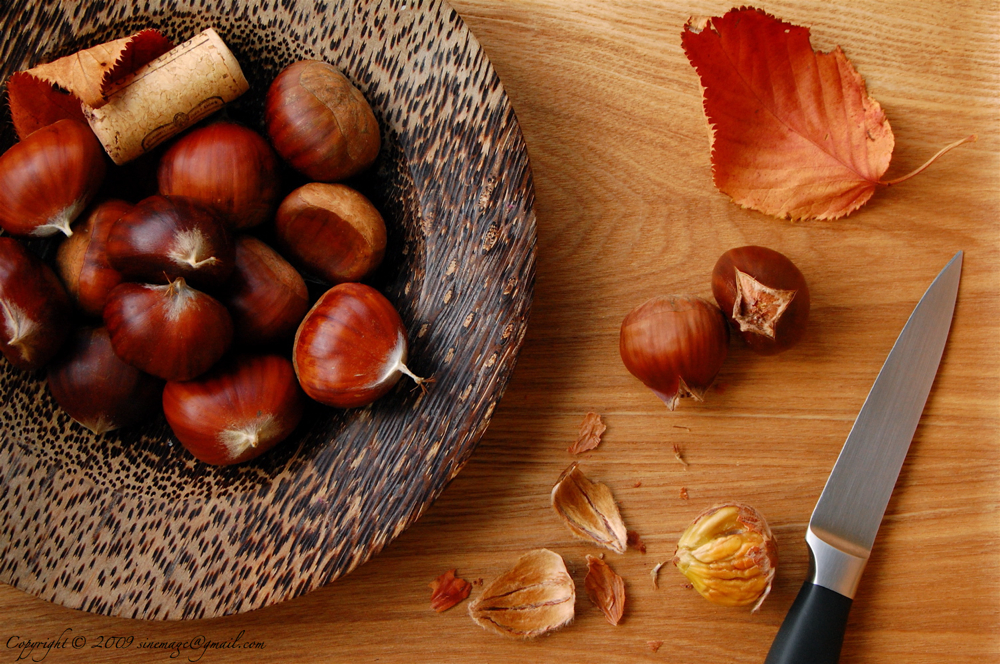 The wind is back. Sign of cooler months to come.
When summer ends I feel a twinge of sadness. Already! It's like I waited for it all year and then it's gone…
Nevertheless, how can I not be under the spell of Autumn. The light, subtle. The color, vermilion. The scent, quince and feijoa.
But for now, it's an other fall's gem : les marrons ! (chestnuts). Simply grilled in the oven and eaten still warm…
If I find some this week-end at the market, I will make a chestnut cream. I love this! When I was kid I could eat a whole tube of Clément Faugier chestnut cream.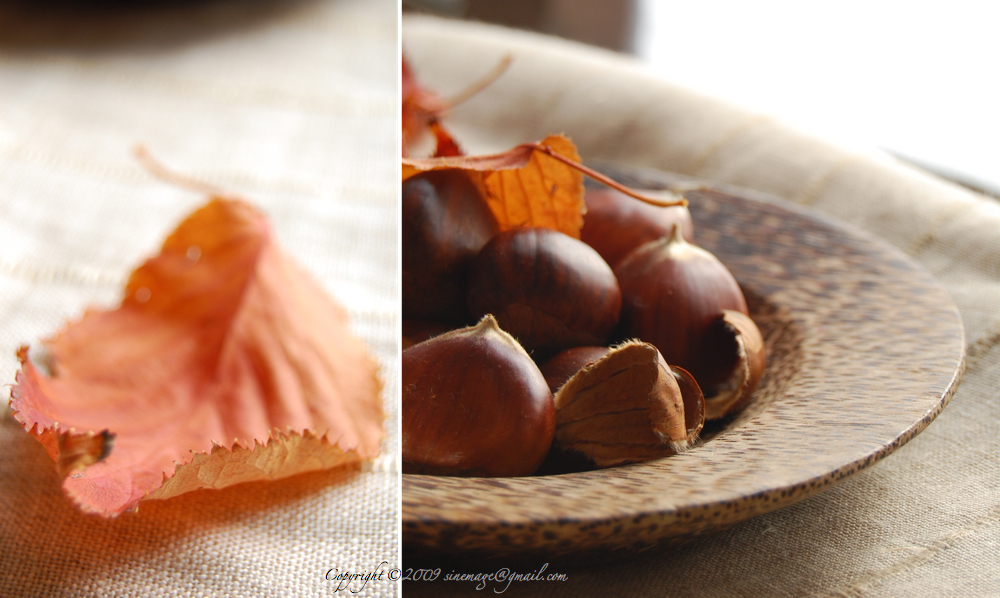 It took me years to appreciate seasons and I still can't say that I like winter…
But I guess the main thing is to enjoy the beauty that every moment has to offer …
______________________________________________
Le vent est de retour. Signe de mois plus frais à venir.
Quand l'été s'achève, j'ai un pincement au coeur. Déjà! C'est comme si je l'avais attendu toute l'année et voilà il s'en est allé…
Néanmoins, comment ne pas être sous le charme de l'automne ? La lumière, subtile. La couleur, vermillon. Le parfum, coing et feijoa…
Mais pour l'instant c'est une autre pépite de l'automne: les marrons ! Simplement grillés au four et mangés tout chaud…
Si j'en trouve toujours ce week-end au marché, je ferai une crème de marrons. J'adore ça ! Quand j'étais gamine je pouvais manger tout le tube de crème de marrons Clément Faugier.
Ca m'a pris des années pour apprécier les saisons et je ne peux toujours pas dire que j'aime l'hiver…
Mais je suppose que l'essentiel est de savoir savourer ce que chaque moment a de plus beau à offrir…
---
Comments
I love autumn… I'm really happy to be in spring, though! Cheers, Rosa Rosa
*What a treat! I agree with Rosa on being ecstatic it is [finally] Spring here… but Autumn is a blessing that I am already looking forward to. Enjoy! Cheers, *Heather** heather
Encore quelque chose qu'on a en commun, j'adore les marrons et moi aussi enfant, je m'enfilais un tube de crème de marron Faugier, hihi! bisous plume_d_argent
also - if there was no winter, there would be no daffodils, no currants, no cherries, no chestnuts!!! What wonderful autumnal pictures! Sylvie, Rappahannock Cook & Kitchen Gardener
I love the colors of autumn…I love chestnuts, too =) Claire
salut! ah c'est l'autumn???! ah c'est bizarre, l'inverse des saisons entre les hémisphères…tu as mangé seulement un seul tube de crème de marrons? ahaha moi je peux manger le grand boit entier! mais je prefere de l'utilise pour faire un mousse…mmmm. meh et oui il faut que tu achete un krumkake iron. c'est absolutement necessaire :P j'aime beaucoup ton blog. expats sont toujours un inspiration pour moi. malloryelise
Lovely photos, especially the one of the leaf. I must look out for the chestnut cream over here, sounds super! Nicisme
Oh there is something rather mesmerizing about being under the colour-spell of autumn. I find the colouring rather attractive and have replicated it at various times in my living room and bedroom. So warm and cosy :) listen to me go on… Cynthia
Chestnuts are my favourite! The local chestnuts are not as nice as the ones u have now. I am so envy! What a stunning shot! lk
Thank you everyone for your kind comments ! Vanille