Fush and... No Chups
March 12, 2009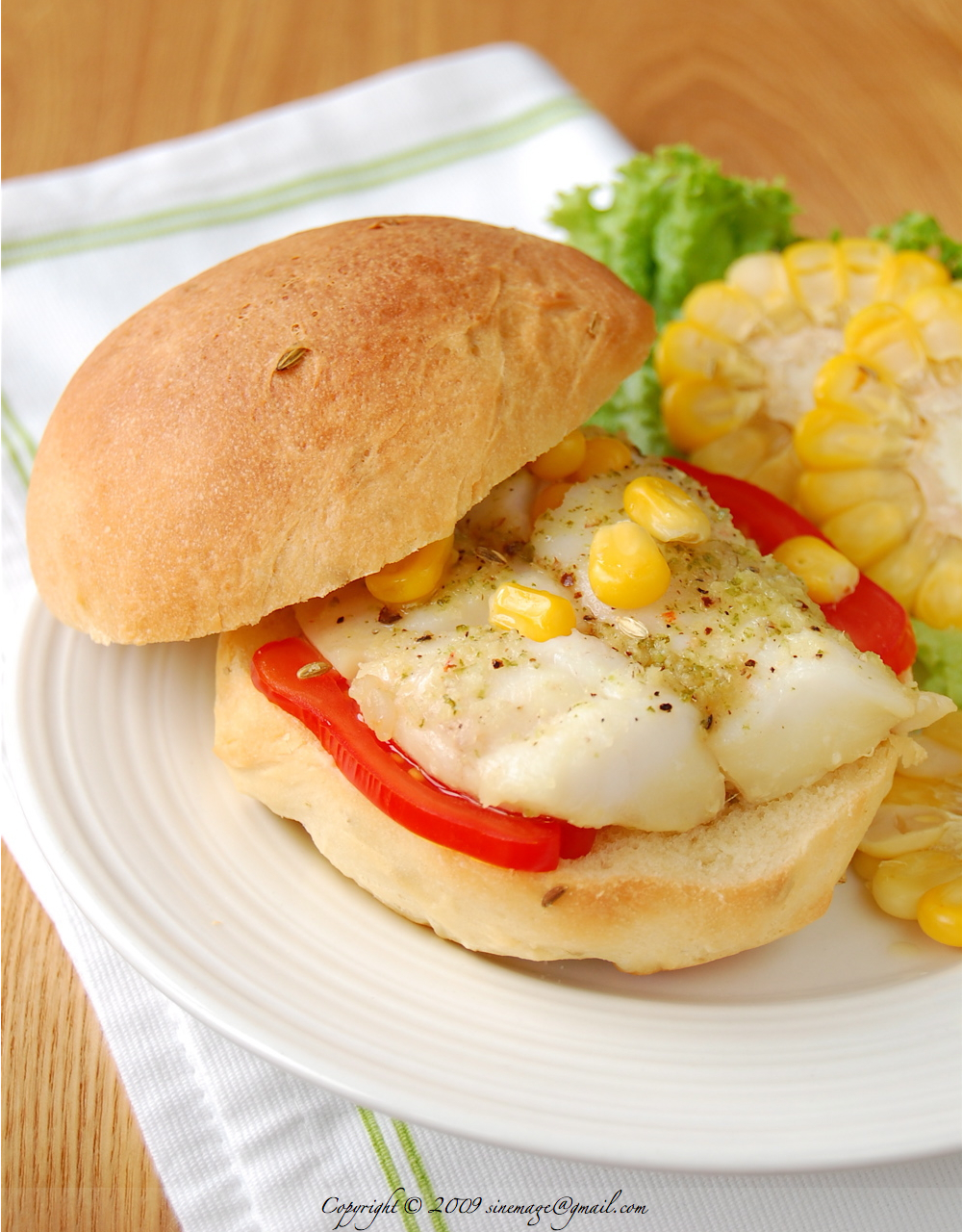 It seems that good things never last long enough…
Eric Bibb's concert on Sunday was great ! I could spend all night listening to his voice and looking at his fingers running on the guitar…
Summer. Officially, not over yet, but it's slowly fading… Temperature drops down in the night and days are already getting shorter…
But I want to enjoy Summer until the last drop.
This snack is widely inspired by our holiday in the South Island and all the good produce available at this time of the year.
Orange roughy filets, seasoned with ginger and kaffir lime (combava) wrapped in a soft bun made with olive oil and flavored with fennel seeds. Slices of cooked sweet corn replace traditional fries. Tomatoes, lettuce, avocado or what you fancy will complement easily this fresh and simple snack.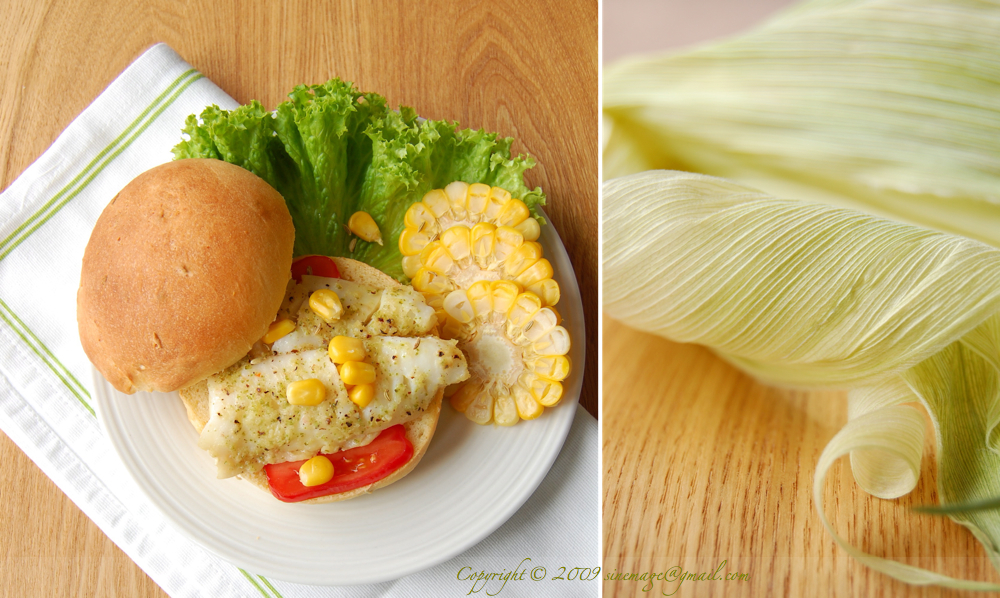 Buns Dough (makes 4)

250g flour 15g caster sugar 150ml milk 50g olive oil 1 egg yolk 1 sachet instant dry yeast 1-2 tsp fennel seeds 1 tsp salt

Filling

2 fish filets (orange roughy) 1 sweet corn Kaffir lime grated zest Ginger finely chopped Olive oil, salt flakes, pepper Proof instant dry yeast in lukewarm milk + pinch of sugar // In a large bowl mix together flour, sugar, egg yolk and olive oil // Add the proofed yeast and milk and knead for 10 minutes // Cover the dough with a clean and dry tea towel and let it rest for 1 hour // Then cut the dough in 4 equal pieces and shape them in a ball-shape and let them rest for 30 minutes on a baking tray covered with baking paper// Preheat oven to 180°C // Bake for about 15 minutes // Remove from oven and let them cool on a wire rack Boil sweet corn with salt for 1 hour // Let it cool and cut thin slices Preheat oven to 210°C //Brush fish filets with olive oil, kaffir lime zest, ginger, salt flakes, pepper // Place fish in aluminum foil and close tightly // Cook the fish for 12-15 minutes

Other related post: Botacook, Parfums de la Reunion papillote de bar

______________________________________________

Les bonnes choses ne durent jamais suffisamment longtemps…

Le concert d'Eric Bibb dimanche dernier était super ! J'aurais pu passer la nuit entière à écouter sa voix et regarder ses doigts courir sur la guitare…

L'été. Officiellement pas encore à son terme, mais il s'estompe tout doucement… La température chute pendant la nuit et les jours se font déjà plus courts…

Mais je veux profiter de l'été jusqu'au dernier moment.

Ce snack est largement inspiré de nos vacances dans l'île du Sud et de tous les fruits et légumes disponibles en cette période de l'année.

Des filets d'empereur, assaisonnés avec du gingembre et du combava pris en sandwich dans un pain brioché à l'huile d'olive et arômatisé aux graines de fenouil. Quelques tranches de maïs pour remplacer les traditionnelles frites. Tomates, salade verte, avocats ou ce que vous aimez agrémenteront facilement ce snack simple et frais.

Pâte à pain brioché (Pour 4 pains)

250g farine 15g sucre en poudre 150ml lait 50g huile d'olive 1 jaune d'oeuf 1 sachet de levure de boulanger 1-2 c.à.c de graines de fenouil 1 c.à.c de sel

Garniture

2 filets de poisson (empereur) 1 épis de maïs Zest de combava râpé Gingembre finement coupé Huile d'olive, fleur de sel, poivre Laisser lever la levure dans du lait tiède avec une pincée de sucre // Dans un large bol mélanger farine, sucre, jaune d'oeuf et huile d'olive // Rajouter le mélange de lait et de levure et pétrir la pâte pendant 10 minutes // Couvrir la pâte d'un linge propre et laisser reposer pendant 1 heure // Découper la pâte en 4 parts égales et les façonner en forme de boule puis laisser reposer 30 minutes sur une plaque de cuisson recouverte de papier sulfurisé// Préchauffer le four à 180°C // Cuire pendant 15 minutes // Retirer du four et laisser refroidir sur une grille Faire bouillir le maïs dans un grand volume d'eau salé pendant 1 heure// Laisser refroidir et découper le en fines rondelles Préchauffer le four à 210°C // Badigeonner les filets de poisson avec l'huile d'olive, le combava, le gingembre, la fleur de sel et le poivre // Placer chaque filet dans une feuille d'aluminium et fermer soigneusement// Cuire au four pendant 12-15 minutes

Autre lien: Chez Botacook, Parfums de la Réunion Papillote de Bar
---
Comments
Du poisson aromatisé au combava et gingembre, ça marche bien, et dans un pain brioché ça doit être le top :) Botacook
Botacook, c'est vrai que le combava relève fort bien le poisson et donne une excellente alternative au citron vert… Merci encore ! Vanille
perfect sandwich! Aran
and thank you for the bun recipe. I never knew that was pain brioche. Sometimes, I don't recognize the obvious… and you know, combava is one of my favorite herbs! Sylvie
It's late here and I should not be thinking of eating but your pic just makes me insanely hungry! Cynthia
Oh yum! That picture just leaps out at ya (and straight into my mouth :P), and you made your own burger buns! Y
Looks really good! mycookinghut
Aran, thank you. Sylvie, now that I have made my own bun, it's yogurt time !! ;) Combava, yes ! The smell always brings me 'home'… Cynthia, you know what, I have exactly the same problem sometimes when I go to bed. I have a sneak peek at my feeds and discover luscious food !… That's a good way to make some 'sweet' dreams actually ! Y, I ate a very good pain brioché with fennel seeds during my holidays and I try since then to reproduce it because it was so good ! A slice with a drop of olive oil was like heaven ! My Cooking Hut, thank you. Vanille