Mon Petit Plaisir à Moi
September 27, 2008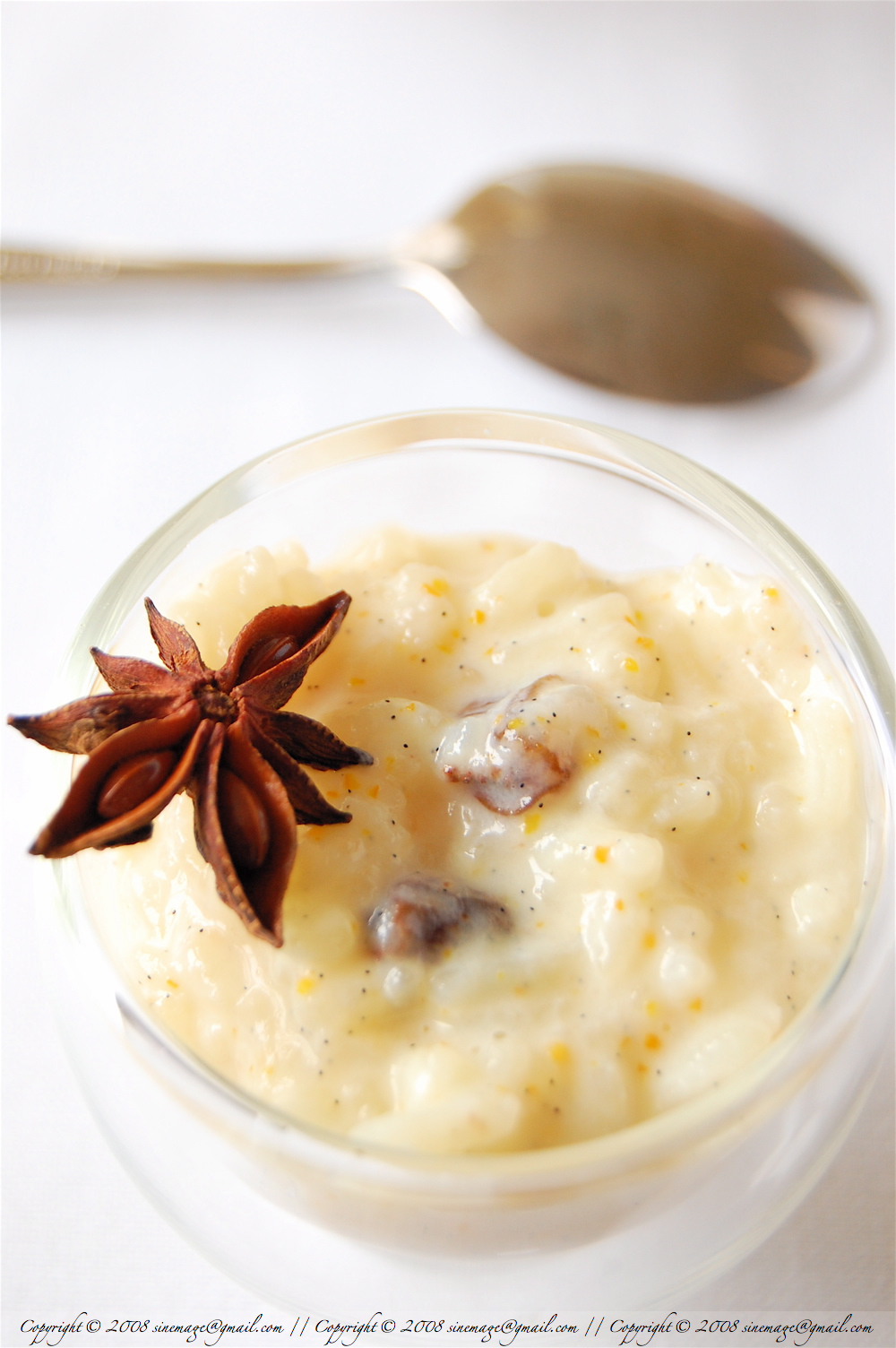 It's not the first time I go to the supermarket and then I'm puzzled in front of an empty shelf where the rice is supposed to be stocked. I can read instead a little note to apologize for the rice shortage. That's a global issue, I know… The problem is instinctively, next time I'll buy a lot when it will be available and make this way, my own stock.
I feel that's not the right behaviour, so I try now as much as I can not to throw away leftover rice. Then, the question is what should I do with it ?
My first suggestion is to prepare the most delicious comfort dessert: riz au lait !- or creamy rice.
The way to make it, reminds me a pot-pourri - except that you can eat it this one ! - just drop in flavors you like with sugar and milk and you will get the best riz au lait customized to your taste !
For me it's flavored with star anise, vanilla bean, and orange rind.
Usually, riz au lait is made from uncooked rice, but this version is equally good and probably quicker to make as the rice has been already cooked a first time.
That's not Paprika's favorite dessert so this my little pleasure…
Riz au lait (Makes 4)

125g cooked rice (I did it with thaï rice leftover) 320ml milk 1 vanilla bean split into two 1 star anise Half orange rind (finely grated + a piece) 50g caster sugar A handful of dry grapes In a pan pour milk over the rice, add sugar, star anise and a piece of orange rind // Cover and simmer over low fire for 1 hour or until milk is almost fully evaporated // Stir regularly to check consistency // Then remove from fire and take off orange rind, vanilla bean (eventually scrape remaining vanilla seeds from the bean) and star anise // Add finely grated orange rind, dry grapes and mix thoroughly // Cool completely before serving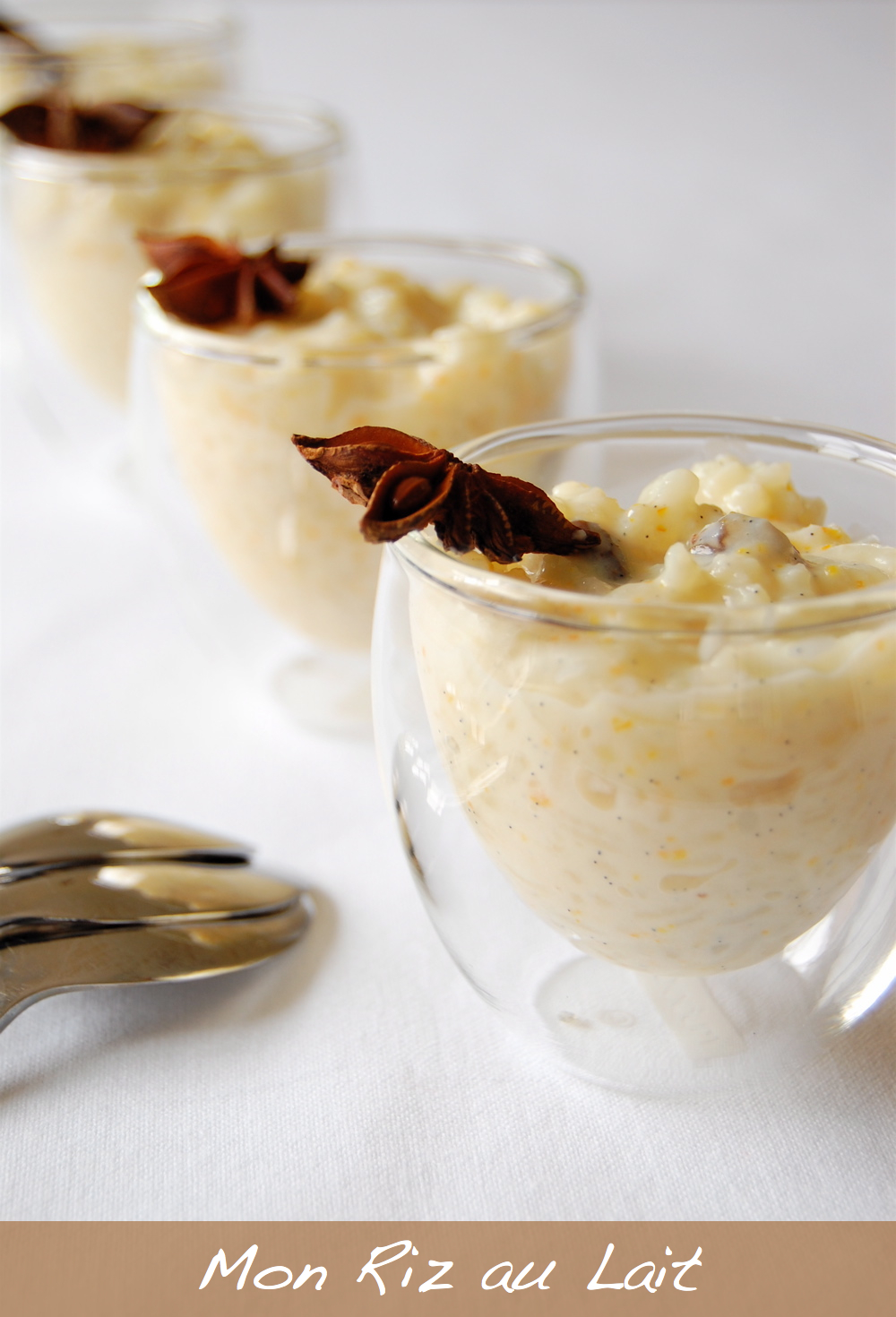 _____________________________________________

Ce n'est pas la première fois que je vais au supermarché et que je me retrouve perplexe devant l'étagère vide où le riz est supposé être en rayon. Je peux lire à la place une petite note d'excuse pour la rupture d'approvisionnement de riz. C'est un problème global, je sais…Instinctivement j'acheterai en quantité dès qu'il y en aura en rayon et je constituerai ainsi mon propre stock.

Je sens bien que ce n'est pas la meilleure façon d'agir, alors j'essaie à présent, autant que faire se peut, de ne plus jeter la petite quantité de riz cuit restant. La question alors, est que puis-je en faire ?

Ma première suggestion est de préparer le plus délicieux des desserts réconfortants: un riz au lait !

La façon de le faire, me rapelle un pot-pourri - exceptez que celui là on le mange ! Il suffit de mettre les arômes que l'on aime avec du sucre et du lait et on obtient le meilleur riz au lait personnalisé à son goût !

Pour moi c'est anis étoilée, vanille et zest d'orange.

Généralement le riz au lait est préparé avec du riz non cuit, mais cette version est tout aussi bonne et probablement plus rapide puique le riz a été cuit préalablement.

Paprika n'est pas fan de ce dessert, c'est mon petit plaisir à moi…

Riz au lait (Pour 4)

125g riz cuit (je l'ai fait avec un reste de riz thaï) 320ml lait 1 gousse de vanille fendue 1 anis étoilé Moitié d'un zest d'orange (finement rapé+ 1 morceau) 50g sucre en poudre Une poignée de raisins secs Dans une casserole verser le lait sur le riz, ajouter le sucre, l'anis étoilé et le morceau de zeste d'orange // Couvrir et laisser mijoter sur feux doux pendant 1 heure ou jusqu'à ce que le lait est presque complètement évaporé // Remuer régulièrement et vérifier la consistence// Ensuite retirer du feu, ôter le zeste d'orange, la gousse de vanille (eventuellement râcler les graines restantes de la gousse) et l'anis étoilé // Ajouter le zest d'orange finement râpé, les raisins secs et mélanger // Laisser refroidir complètement avant de servir Recette imprimable Riz au Lait
---
Comments
Franchement, tes photos sont toujours aussi magnifiques! Et cette recette, je veux bien goûter! Mais tu habites trop loin… ;) Botacook
Je sens que ça ne va pas rester que ton petit plaisir à toi ! Dorian
Humm… J´adore riz au lait! Lucia Roxo
Ce n'est pas le dessert favori de mon mari non plus… Malheureusement je suis incapable de cuire le riz au lait en petite quantity seulement, donc quand j'en fait, j'en mange pendant longtemps… In winter, it's one of my favorite "comfort food". PS: Comment dit-on "comfort food" en francais? Sylvie, Rappahannock Cook & Kitchen Gardener
Merci à tous pour vos commentaires ! Sylvie, I got the same trouble finding the right way to translate 'comfort food'… Vanille
Your servings cups are very adorable! :3 frostings
Not only did I enjoy this post, I have the oven on for a casserole and I was inspired to make a un riz au lait tonight as well! Like Paprika, Himself isn't a fan so I've cut it down for two serves… no raisins in mine, but a heap of cinnamon in the mix, formidable! kiwidutch