SHF, You Drive Me Nuts !
September 18, 2008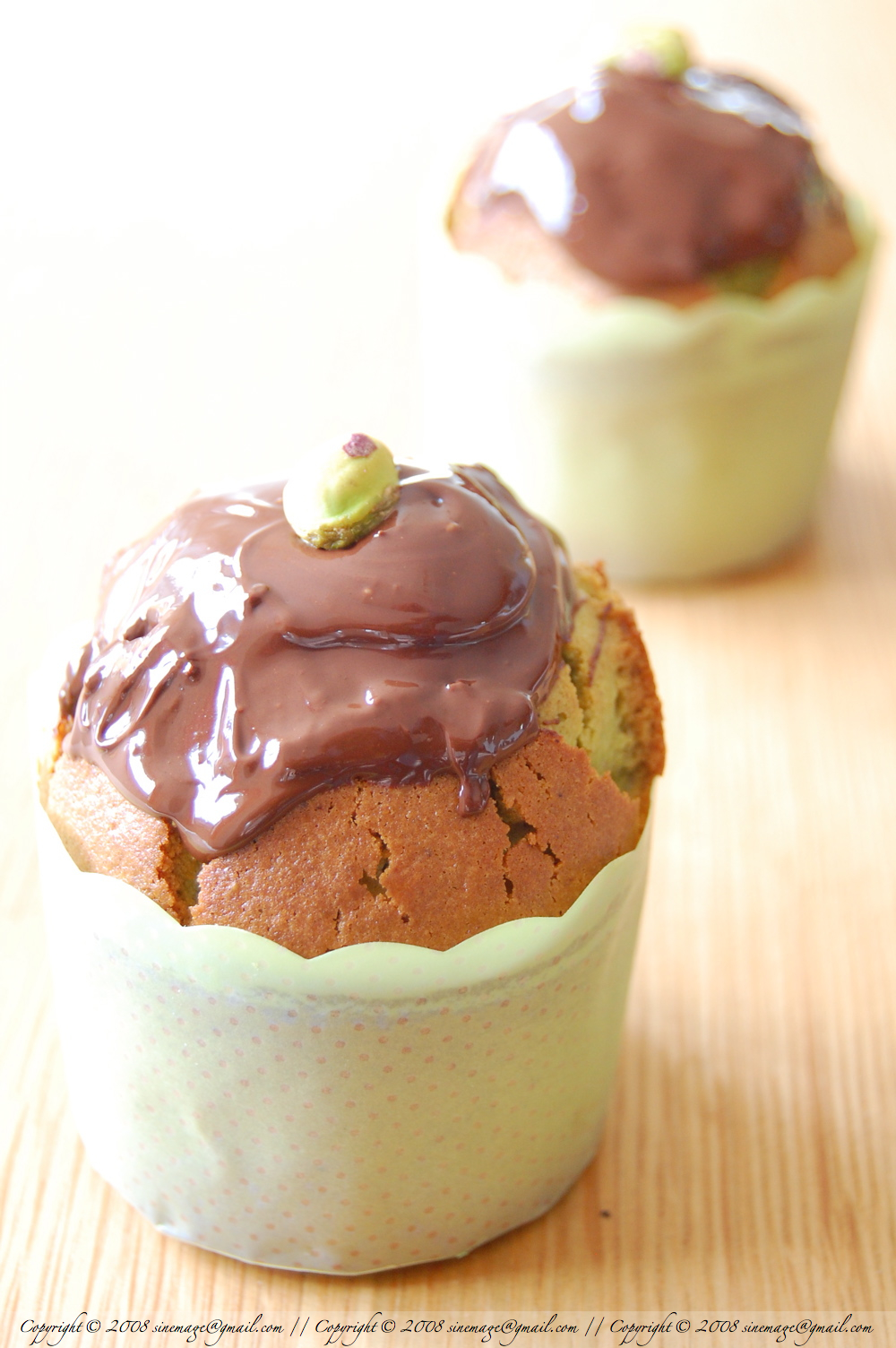 Do you remember the time when I was dreaming to have a pestle ?
This time is over ! Now, I have an electric grinder. Even better ! I've tried cardamom, poppy seeds, almonds, walnuts… Almost everything !
Then, Fanny of Foodbeam announced at the beginning of this month, SHF is 'cupcake'.
I had many ideas and made different attempts - not always successful- but I definitely wanted to make cupcakes with nuts !
So I choosed pistachio cupcakes with a chocolate icing. To be honest they didn't come out how I wanted. Useless to say, I'm not used of making cupcakes. And I should practice more for topping, icing, frosting or whatever you call it !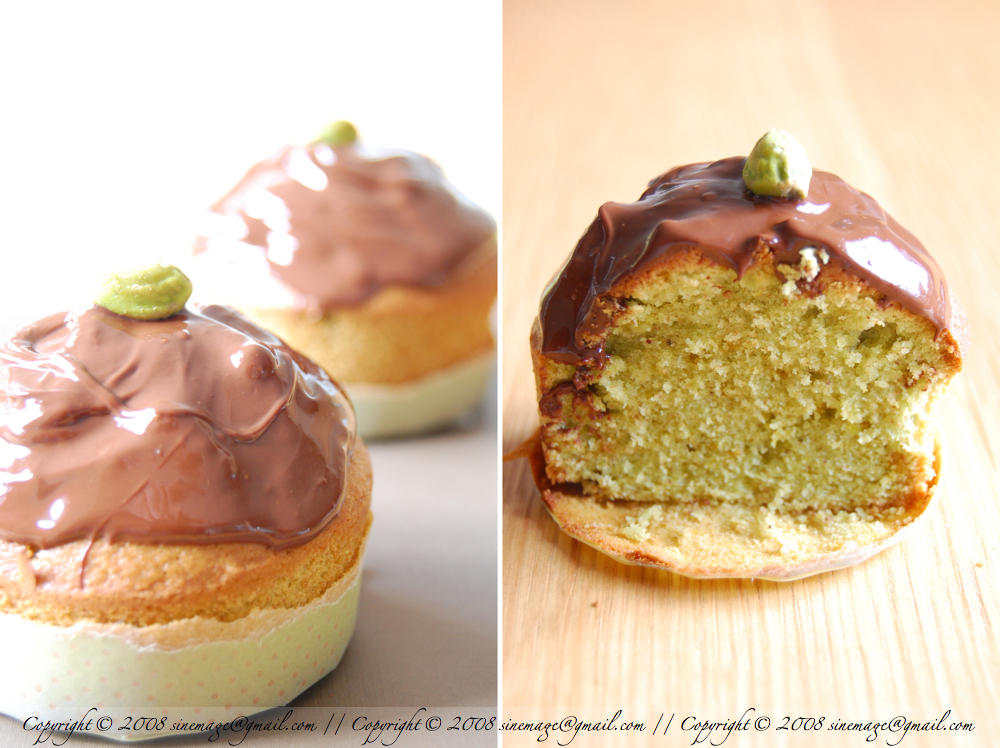 Then I thought to try coffee cupcakes. So I bought coffee beans. Beautiful. The color, the regular shape and the aroma ! Such a pleasure to smell this exhilarating flavour ! And once ground the smell is even more intense…
Paprika and I are big tea drinkers, so at home, you never smell coffee in the morning nor after lunch. Anyway, I like coffee and this freshly ground coffee was so tempting I had first to drink a cup of coffee and then I was ready to prepare cupcakes !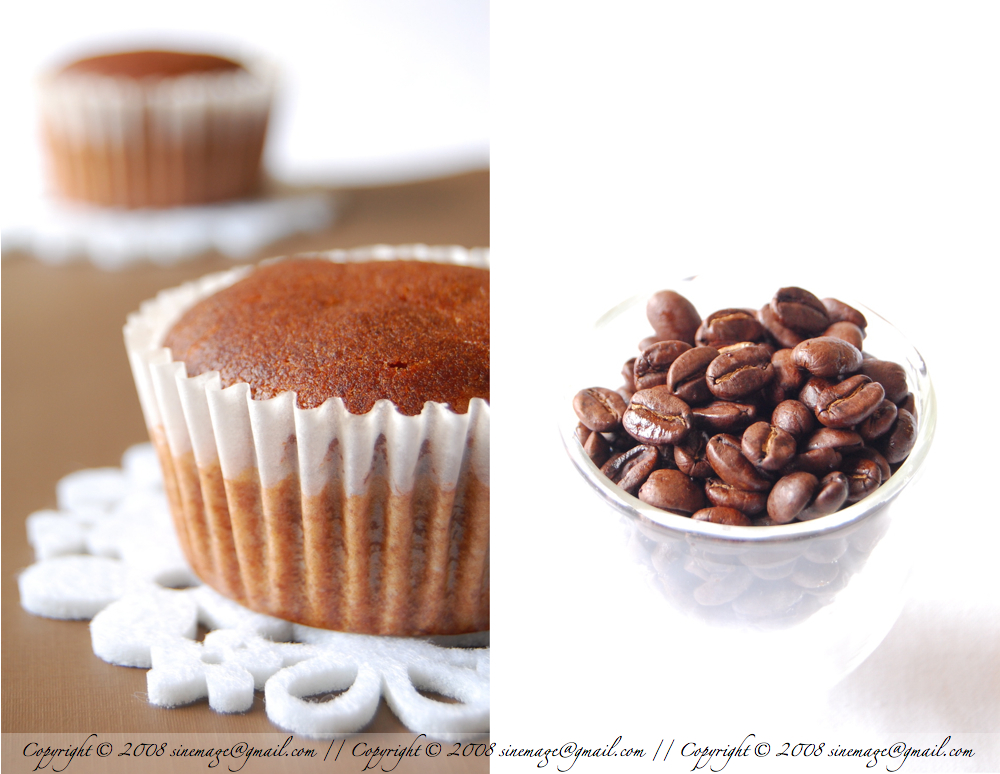 I associated walnuts to these ones and simply topped them with a whipped crème fraîche to get a light crème chantilly.
Both recipes are very similar, just different flavours.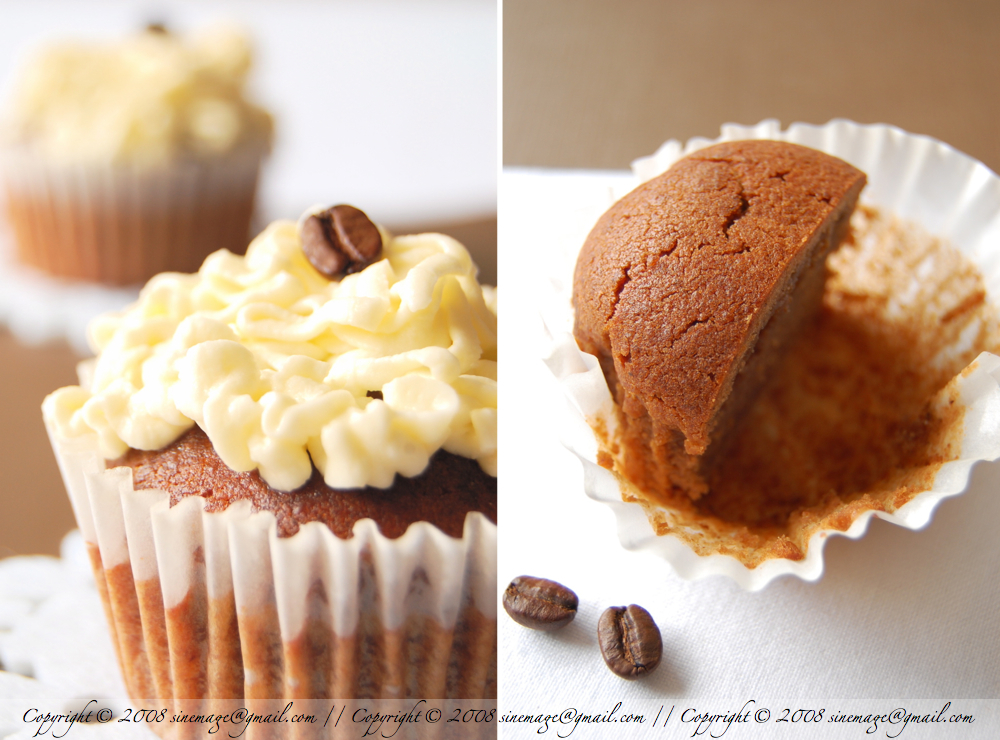 Pistachio Cupcakes (makes 6 big cupcakes)

For cupcakes

160g ground pistachios (+6 whole pistachios for decoration) 160g flour 2 eggs 160g caster sugar 60g melted butter 150ml milk 1/2tsp baking powder Drops green food coloring (optional)

For icing

100g dark chocolate 1tsp icing sugar

Preheat oven to 175°C // In a large bowl mix flour, ground pistachio and baking powder // In an other bowl whip eggs and sugar, then add melted butter // Stir batter into mixed flour and mix thoroughly // Add milk and keep on mixing until smooth // Fill cupcakes and bake for 30 minutes // Remove from the oven and place on a cooling rack // In a pan, melt chocolate on low fire // Add icing sugar and stir thoroughly // Spread or pipe melted chocolate on top of completely cool cupcakes.

Printable recipe Pistachio Cupcakes
Coffee Cupcakes (makes 6)

For cupcakes:

160g flour 60g ground walnuts 2 eggs 100g caster sugar 40g melted butter 200ml cup of very strong coffee 1/2tsp baking powder

For topping:

200ml liquid crème fraîche 2tsp icing sugar

Preheat oven to 175°C // In a large bowl mix flour, walnuts and baking powder // In an other bowl whip eggs and sugar, then add melted butter // Stir batter into mixed flour and mix thoroughly // Add coffee and keep on mixing until smooth // Fill cupcakes and bake for 30 minutes // Remove from the oven and place on a cooling rack // In a large bowl, whip crème fraîche and icing sugar until a light texture (crème chantilly) // Refrigerate for half an hour // Then pipe it on top of cupcakes

Printable recipe Coffee Cupcakes

------------------------------------------------

Vous rappelez-vous la fois où je rêvais d'avoir un pilon ? Ce temps est révolu ! A présent j'ai un moulin électrique. Encore mieux ! J'ai essayé la cardamome, les graines de pavots, les amandes, les noix... presque tout ! Ensuite Fanny de Foodbeam a annoncé au début de ce mois, Sugar High Friday sur le thème du 'cupcake'. J'avais plusieurs idées et j'ai fait différents essais -pas toujours réussis- mais je voulais définitivement faire des cupcakes avec des noix. J'ai donc choisi de faire des cupcakes à la pistache avec napage au chocolat. Pour être honnête, ils ne sont pas vraiment sortis comme je le souhaitais. Inutile de dire que je ne suis pas familière des cupcakes. Et je devrais pratiquer davantage l'art du glaçage, topping, icing, frosting ou peu importe comment vous l'appelez ! Ensuite, j'ai voulu essayer des cupcakes au café. J'ai donc acheté des grains de café. Trop joli ! La couleur, la forme et l'arôme ! Quel plaisir de sentir cette odeur énivrante ! Et une fois moulu, l'odeur était encore plus intense... Paprika et moi sommes grands consommateurs de thé, donc à la maison, il n'y a pas d'odeur de café le matin ou après le déjeuner. Néanmoins, j'aime le café et ce café fraîchement moulu était si tentant que je me suis fait couler une tasse de café et j'étais ensuite d'attaque pour préparer les cupcakes ! J'ai associé des cerneaux de noix à ces cupcakes au café ensuite pour la décoration j'ai simplement battu de la crème fraîche en crème chantilly légère. Les deux recettes sont très similaires, juste des parfums différents. Cupcakes à la Pistache (Pour 6 gros cupcakes)

Pour les cupcakes

160g de pistaches moulues (+6 pistaches entières pour la décoration) 160g de farine 2 oeuf 160g sucre en poudre 60g de beurre fondu 150ml de lait 1/2 c.à.c de levure chimique Quelques gouttes de colorant alimentaire vert(optionnel)

Pour le icing

100g chocolat noir 1 c.à.s de sucre glacePréchauffer le four à 175°C // Dans un large bol mélanger la farine, la poudre de pistaches et levure chimique // Dans un autre bol fouetter les oeufs avec le sucre et ajouter ensuite le beurre fondu // Incorporer le tout dans le mélange de farine et bien mélanger // Ajouter le lait et continuer à mélanger jusqu'à obtenir un mélange onctueux // Remplir les cupcakes, cuire au four pendant 30 minutes // Retirer du four et laisser refroidir complètement sur une grille // Dans une casserole, faire fondre le chocolat sur feu doux // Ajouter le sucre glace et bien mélanger // Répartir le glaçage (ou avec une poche à douille) sur les cupcakes. Recette à imprimer pour cupcakes à la pistache Cupcakes au café (Pour 6 cupcakes)

Pour les cupcakes

160g farine 60g noix moulues 2 oeufs 100g sucre en poudre 40g beurre fondu 200ml café (une tasse de café très fort) 1/2 c.à.c levure chimique

Pour le topping

200ml crème fraîche liquide 2 c.à.c sucre glacePréchauffer le four à 175°C // Dans un large bol mélanger farine, la poudre de noix et levure chimique // Dans un autre bol fouetter les oeufs avec le sucre et ajouter ensuite le beurre fondu // Incorporer le tout dans le mélange de farine et bien mélanger // Ajouter le café et continuer à mélanger jusqu'à obtenir un mélange onctueux // Remplir les cupcakes et cuire au four pendant 30 minutes // Retirer du four et laisser refroidir sur une grille // Dans un bol battre la crème fraîche et le sucre glace jusqu'à l'obtention d'une crème chantilly // Mettre la crème chantilly au rérigérateur pendant une demie-heure // A l'aide d'une poche à douille décorer les cupcakes de crème chantilly Recette à imprimer pour cupcakes au café --- ## Comments > *Nicisme, thank you ! I should make a try at your banoffee cupcakes cause they are very tempting ! Plume d'argent, merci. Le 'caster sugar' c'est du sucre en poudre tout simplement. :-)* > **[Vanille](http://atdownunder.wordpress.com)** > *Très jolis, bravo, ça donne envie :)* > **[Botacook](http://botacook.blogspot.com)** > *Ils ont l'air vraiment fabuleux, dis moi le "caster sugar" c'est du sucre non raffiné? Je ne connaissais pas ce terme. Bises* > **[plume_d_argent](http://monilepassion.canalblog.com)** > *My Sweet & Saucy, thank you ! But I think I have to learn a lot from you to make such perfect looking cupcakes ! ;-) Patricia, thanks. It was hard to take pictures first. I just wanted to gulp them, specially the pistachio ones !* > **[Vanille](http://atdownunder.wordpress.com)** > *How lovely! Great flavours and texture of the cakes. Those cupcake papers in the top photos are really complementary too.* > **[Nicisme](http://cherrapeno.blogspot.com)** > *Oh, darling! I love pistachios and these look mouthwatering! Not to mention very pretty, too.* > **[Patricia Scarpin](http://www.technicolorkitcheninenglish.blogspot.com)** > *What adorable and tasty looking cupcakes! Beautiful all around!* > **[My Sweet & Saucy](http://www.mysweetandsaucy.com)** > *I love the espresso ones!! You did a wonderful job with these!!* > **[Tartelette](http://www.tartelette.blogspot.com)** > *Botacook & Tartelette, thank you for your kind comments !* > **[Vanille](http://atdownunder.wordpress.com)** > *Ils sont adorables ! J'aime aussi beaucoup les caissettes en papier qui les enveloppent.* > **[Bea](http://www.latartinegourmande.com/)** > *i love pistachios! pistachio and chocolate.. crazy combo! and i'm loving it!* > **[Sihan](http://fundamentally-flawed.blogspot.com/)** > *Béa, merci. Les caissettes ont été une bonne source d'inspiration, j'avoue... Sihan, it seems we have same tastes ! ;-)* > **[Vanille](http://atdownunder.wordpress.com)** > *[...] Read this article: SHF, You Drive Me Nuts ! « At Down Under [...]* > **[SHF, You Drive Me Nuts ! « At Down Under | Recette](http://www.oneclic.com/acook/recettes-desserts/shf-you-drive-me-nuts-%c2%ab-at-down-under/)** > *[…] Read all the instructions at atdownunder.com […]* > **[Pistachio Cupcakes | Recipes Home](http://recipes-home.com/pistachio-cupcakes/)**