La Vie En Rose... And Red Also !
August 04, 2008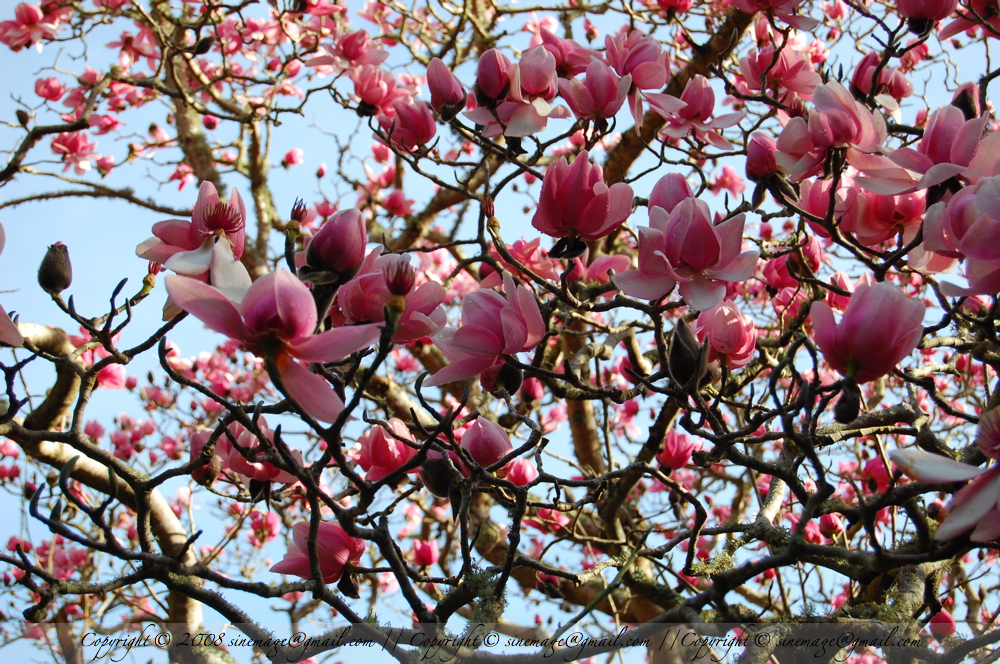 It's been a couple of days already I noticed these bright colours poping around and specially in Wellington Botanic Garden. That's a natural gift of such beauty ! Flowers in winter ! Naked trees but colours !
So, on one of the day, exceptionaly dry*, I went for a walk there to enjoy this colourful show !
The first time I visited, I did not like so much Wellington Botanic Garden. I had in mind Auckland Domain with its wide green lawns, its majestic old trees and the summer sun…
No, the Botanic Garden, is completely different, alike Wellington city: compact and steep. But I learnt to appreciate it. How couldn't I ? Each season offers a new surprise ! After fall with trees dressing in red and gold, winter brought some shrubs -and trees- with red and pink flowers !
This magnolia is 73 year-olds ! I wish I could be so beautiful at this age !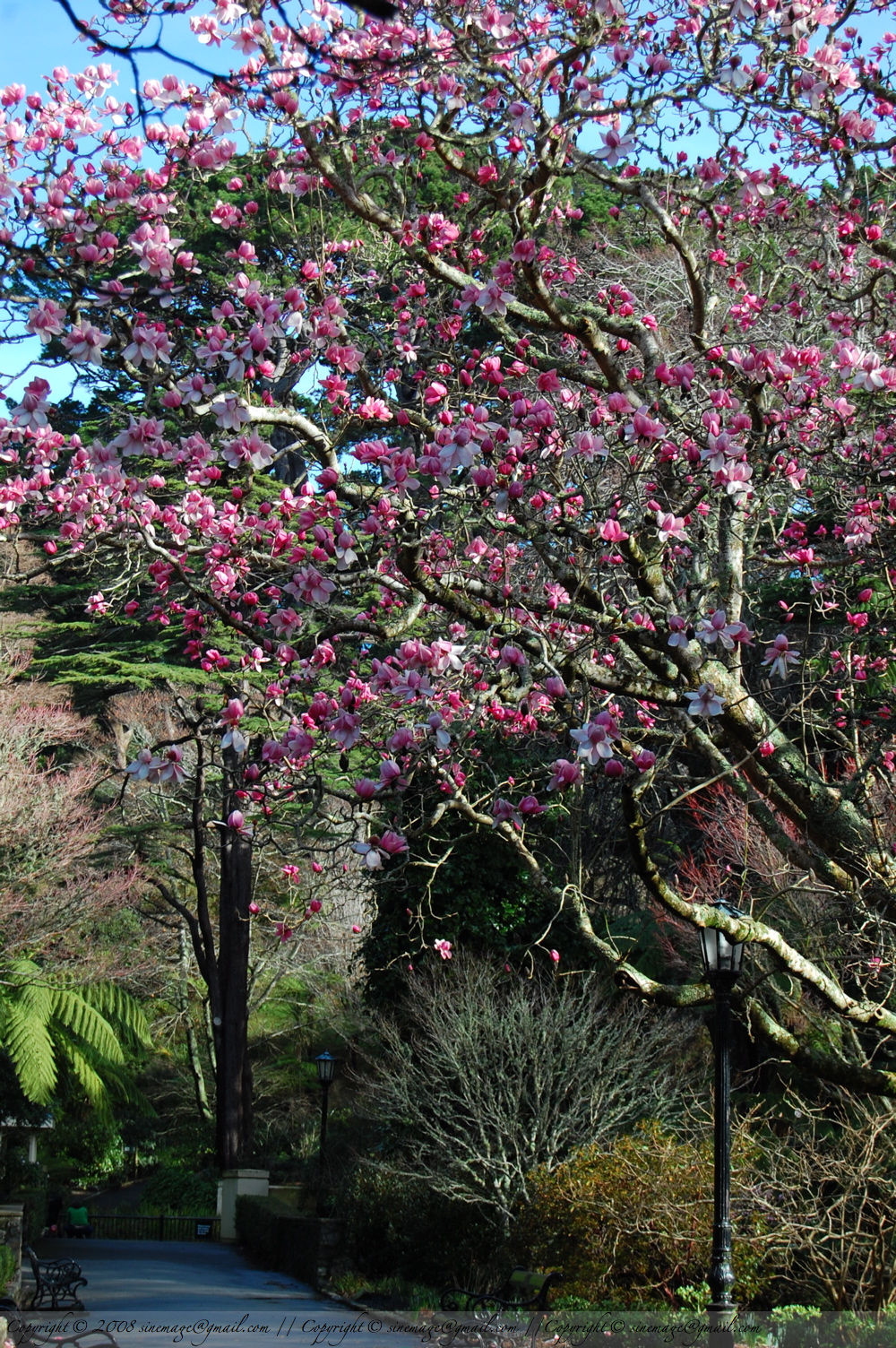 The garden was also filled sometimes with a delicate scent, but I could not source where it comes from. It was like in a wonderland !
I am a total neophyte and can not tell you which shrub is this, with these scarlet flowers but I love it !
I was surprised by the followings pictures, the light and the colours would never let you guess it's winter !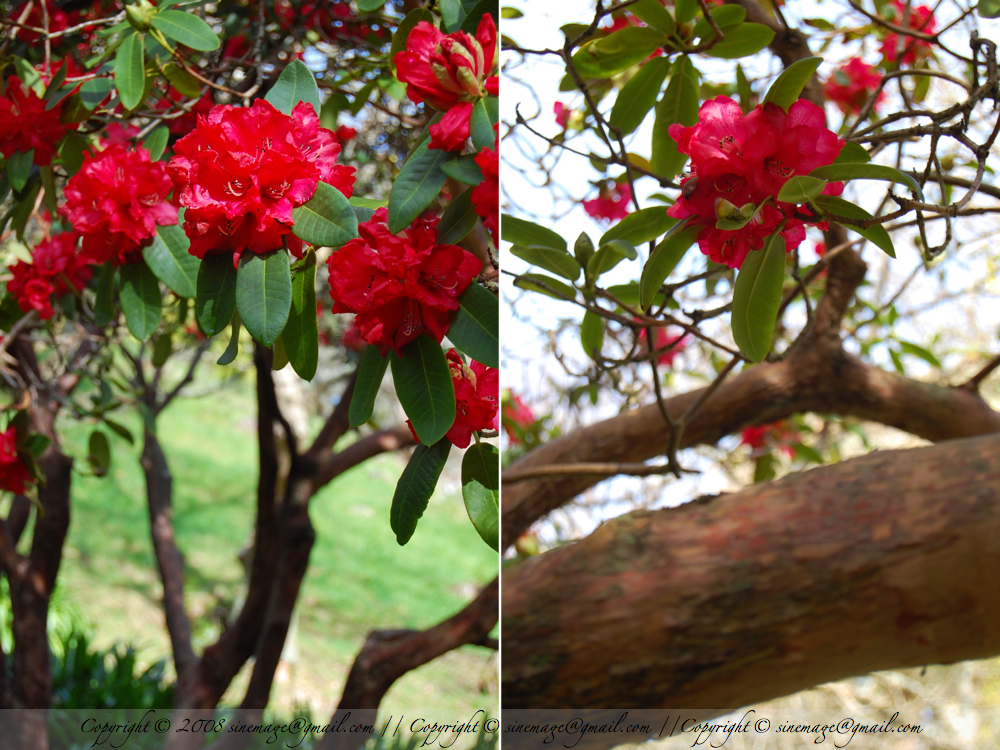 * The weather has been awful for many days, just rain, rain and rain again...

Cela fait quelques jours déjà que j'avais remarqué ces touches de couleurs vives surgir un peu partout et plus spécialement au jardin botanique de Wellington. C'est un cadeau de la Nature d'une telle beauté ! Des fleurs en hiver ! Des arbres nus, mais des couleurs !

Donc l'un des jours exceptionellement sec*, je suis allée me balader et profiter pleinement de ce spectacle coloré !

La première fois que je l'ai visité, je n'ai pas vraiment apprécié le jardin botanique de Wellington. J'avais en tête le Domaine d'Auckland, avec ses grandes pelouses verdoyantes, ses vieux arbres majestueux et la lumière du soleil d'été…

Non, le jardin botanique de Wellington est complètement différent, à l'image de sa ville, Wellington: dense et escarpé. Mais j'ai appris à l'apprécier. Comment n'aurais-je pas pu ? Chaque saison offre une nouvelle surprise ! Après l'automne avec ses arbres parés de rouge et d'or, l'hiver apporte des arbustes -et arbres- aux fleurs rouge et rose !

Ce magniola a 73 ans ! Je souhaite être aussi belle à cet âge !

Le jardin était parfois rempli d'une délicate scenteur, mais je n'ai pas pu déterminer d'où ça provenait. C'était comme au pays des merveilles !

Néophyte que je suis je ne saurais vous nommer cet arbuste aux fleurs écarlates, mais j'adore !

J'ai été surprise par la couleur et la lumière sur les dernières photos, on ne devinerait jamais qu'elles ont été prises en hiver !
Le temps n'a été que pluie, pluie et pluie ces derniers jours…
---
Comments
Ah yes, Magnolia x soulangeana (saucer magnolia or tulip magnolia) will lift your spirit in very early spring and reminsd you that indeed, Spring is coming. The other shrub is an early rhododendron/azalea, possibly Rhododendron arboreum (tree rhododendron) - given its shape, its size (what I can see in the photo), its color and bloom time. Both wonderful specimens, and both great photos! Please show us more plants that intrigue or enthrall you, Vanille! Sylvie, Rappahannock Cook & Kitchen Gardener
Superbe magnolia! L'autre arbre est un rhododendron! J'adore :D Botacook
PS : je t'ai taguée! Botacook
Oui, bon… Ce sont des arbres, quoi. OK, je rigole :o) Très chouette, vraiment ! Gillou