Rainbow In My Plate
July 25, 2008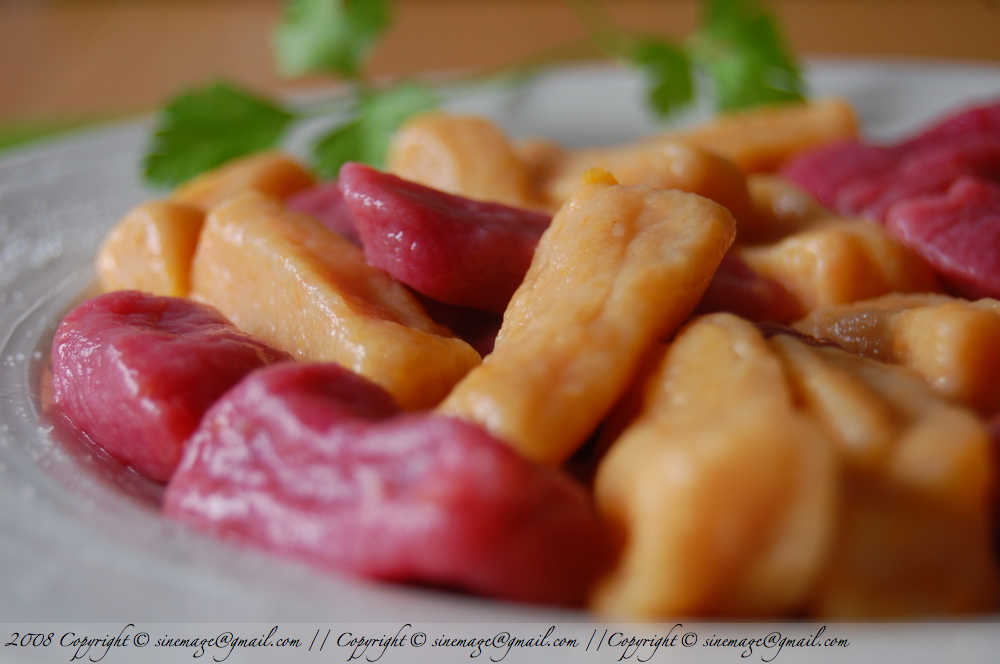 I have to confess that I'm a bit jealous about all these cooking blogs I read with colorful summer fruits everywhere ! Here it's winter and wind, rain and even storm are bursting out !…
A good way to tolerate this season is to think ahead -Soon it'll be Spring !- and to distil good mood in every day life !
When days are not so sunny, colors may help to brighten up. Colours hit the headlines of the last edition of a kiwi deco magazine. I discovered a smart and colourful set of dishes designed by Morph for Joseph Joseph; And to gather my thoughts, I purchased lately a colourful Paperchase notebook. So colours were just missing from my plate ! They are known to interact on your appetite and I've read an interesting post about it on ColourLovers. Experiments show that people's taste is more influenced by what they see than what they truly taste ! Amazing ! Smurf's colour remains to avoid anyway in food coloring -Except maybe for kids...
Gnocchi are a good comfort food and to make it more fun, I dyed them ! One carrot and one beetroot were enough to make these bi-color gnocchi. A pity that I didn't have spinach, I would have done it ! I did a simple and creamy mushroom sauce to eat with and that was fine. I didn't taste so strongly the beet -probably distracted by the color- and that was perfect.

Beet & carrot gnocchi

400g potatoes 1 carrot 1 small beetroot 2 eggs 145g flour 1 tsp olive oil Salt Peel potatoes and carrot and halve them // Rinse beetroot // Steam potatoes, carrot and non-peeled beetroot until tenderly cooked // Let them cool then peel beetroot // Mash vegetables separately // Mix 2/3 potatoes with mashed beet and 1/3 with mashed carrot // In each part add one egg and in proportion flour, oil and salt // Kneat quickly to form a dough non sticky but slightly wet // Divide the dough in equal parts // Then on a floury surface, roll each piece into a long snake shape (about 1-cm diameter) // Then divide into regular pieces (about 2-cm long) // Customize your gnocchi with a fork if you wish // Keep them on a dusted flour plate or dish // In a large saucepan, bring water to a boil // Pour gnocchi and let them cook until they rise to the surface of the boiling water // Serve with your favorite pasta sauce.

Still about colour, did you see these new born twins from a mix-raced German couple ? Surprising, no ?!

La suite en français…

Je dois avouer que je suis un peu jalouse de tous les blogs de cuisine que je lis, saturés par les couleurs vives des fruits d'été ! Ici, c'est l'hiver et le vent, la pluie et même l'orage se déchaînent !…

Un bon moyen de supporter cette saison est de penser au futur -bientôt nous serons au printemps !- et de distiller un peu de bonne humeur dans le quotidien !

Lorsque les jours ne sont pas si lumineux, les couleurs aident à les ensoleiller. D'ailleurs , les couleurs font la une de la dernière édition d'un magazine kiwi de déco, j'ai découvert un set de plats intelligent et bariolé conçu par Morph pour Joseph Joseph et pour rassembler mes idées, j'ai acquis récemment un carnet bigarré de chez Paperchase. Il ne manquait plus que les couleurs dans mon assiette ! Elles sont connues pour agir sur notre appétit et j'ai lu un article intéressant à ce sujet sur ColourLovers. L'expérience montre que le goût des gens est davantage influencé par ce qu'ils voient que ce qu'ils goutent réellement ! Surprenant ! La couleur bleue reste toutefois à éviter en tant que colorant alimentaire -Sauf, peut-être pour les enfants…

Les gnocchi sont un bon choix pour se réchauffer et les faire en couleur rajoute un côté ludique ! Une carotte et une betterave sont suffisants pour réaliser ces gnocchi bi-colore. Dommage que je n'avais pas d'épinards, je les aurais fait aussi ! J'ai accompagné cela d'une sauce toute simple à la crème et aux champignons et c'était très bien. Je n'ai pas trop senti le goût de la betterave -probablement distraite par la couleur ?!- et c'était parfait.

Toujours à propos de couleur, avez-vous vu ces jumeaux nouveaux-nés , issus d'un couple allemand mixte ? Surprenant non ?!

Gnocchi à la betterave et à la carotte

400g de pommes de terre 1 carotte 1 petite betterave 2 oeufs 145g de farine 1 cuillère à soupe d'huile d'olive Sel

Eplucher les pommes de terre potatoes et la carotte et couper les en deux // Rincer la betterave // Faites cuire à la vapeur pommes de terre, carotte et betterave non épluchée // Laisser refroidir un peu et éplucher la betterave // Ecraser séparement les pommes de terre, la carotte et la betterave // Mélanger 2/3 des pommes de terre avec la betterave et le tiers restant avec la carotte // Ajouter un oeuf dans chaque purée et mettre en proportion la farine, l'huile et le sel // Prétrir rapidement pour former une pâte non collante mais légèrement humide // Diviser les pâtes en parts égales // Sur une surface farinée, rouler du bout des doigts chaque part pour former un tube d'environ 1cm de diameter // Découper ensuite chaque rouleau en part régulière d'environ 2cm long // Personnaliser vos gnocchi avec un fourchette si vous le souhaitez // Conserver les sur un plat ou une assiette farinés // Faites bouillir de l'eau dans une grande casserole // Verser les gnocchi et laisser les cuire jusqu'à ce qu'ils remontent à la surface // Servir avec votre sauce favorite.
---
Comments
I love gnocchi and would be more than glad to have something as beautiful as this! Patricia Scarpin
Well, think about this way…when we are stuck with winter produce you will be rocking it with the summer ones….and it will be here before you know it! The gnocchi look wonderful! Tartelette
The Nest 8 Kitchenware is getting a lot of praises in the blogosphere. I like that the colors and its space saving feature. I can imagine the results with spinach. A trio would be fun. Your gnocchi would be a hit at a kid party. It may be a good way to trick them in eating something that is good for them. At Home with Kim Vallee
Merci pour ton commentaire, je découvre ton merveilleux blog! Quelle chance tu as de vivre en Nouvelle Zélande, tes photos respirent ce pays, j'adore! C'est une recette de gnocchis très appétissante que tu nous proposes là, je n'aurais jamais pensé à utiliser de la betterave. Plume_d_argent