Apple of my eyes
July 09, 2008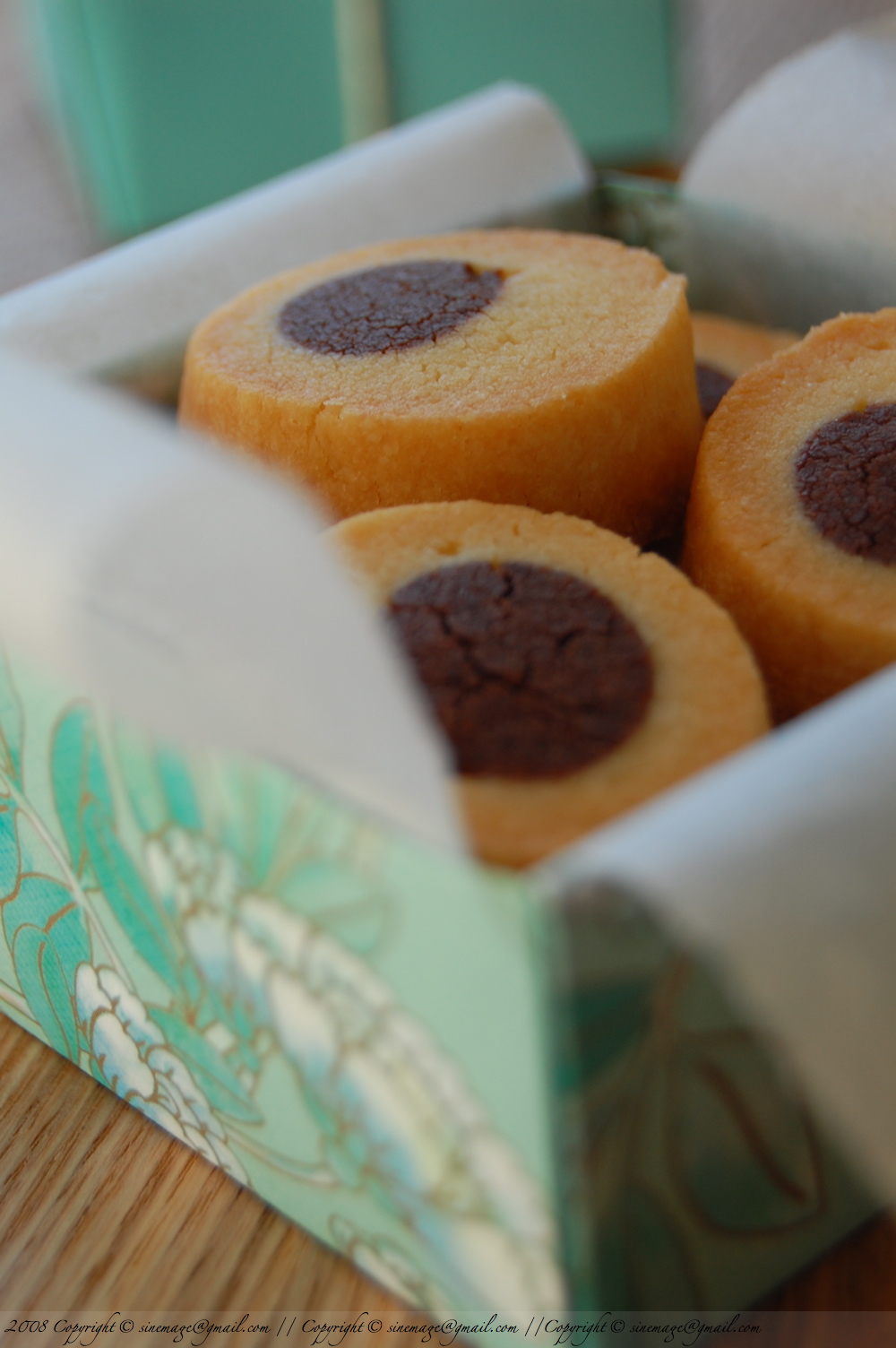 I have been searching desperately for a specific origami box on the Net and complain to Paprika that I could not find the pattern. It's not really a box actually, there is no lead. I like the design with triangular petals and double sided paper -like the one I bought last week. I did it once from a book we had in Paris -unfortunately we had to get rid of when we moved.
Of course, my natural eagerness, pushed me to go for an other option and I did a simple square box. Like a favor box. As soon as I did it, I felt a little bit puzzled. What could I put in ? Jewels ? Beads ? … No ! I imagine little sweets in !
Last night, Paprika did find out the pattern of THE box -I guess in 5 minutes, like usually ! - and send it to me by email to surprise me ! Isn't it sweet ? I will be able to show you one soon.
Why sometimes, when I don't know, should I keep it simple and I don't ? 'Même pas peur' !… Instead of making plain cookies, I had in mind Fanny's lovely sablés ! I liked the bi-color idea and decided to go for a cocoa version. It was fun to do it, but as you can see on the pictures, my sablés look like finger food ! They are only 3cm diameter. The reason is I divided proportions into two. I don't have a couple of hungry children at home so I did not want to end up with 30 sablés !
Never mind, they are tiny, but edible and not too sweet, I prefer ! Just ready to offer !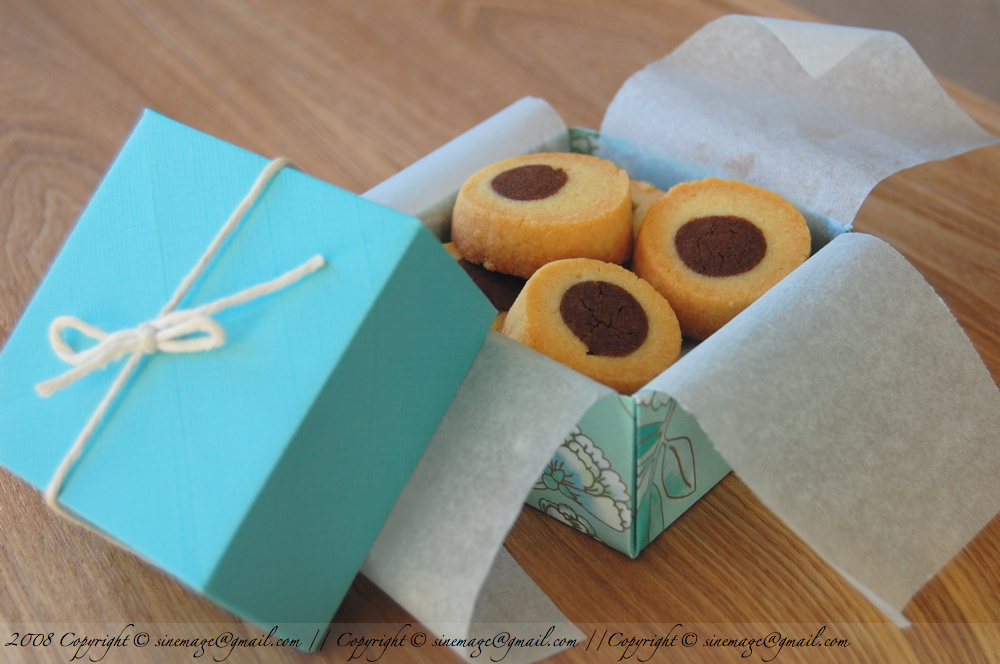 Sources: Recipe from Fanny at Foodbeam
La suite en français
J'ai cherché désespéremment sur le Net une boîte spécifique en origami et je me suis plainte, hier, auprès de Paprika que je ne trouvais pas le patron. Ce n'est pas vraiment une boîte en fait, il n'y pas de couvercle. J'aime le design avec des pétales triangulaires et le papier à double face -comme celui que j'ai acheté la semaine dernière. J'en avais fait une d'après un livre que nous avions à Paris -malheureusement dont on a dû se débarasser lors du déménagement.
Bien sûr, mon impatience naturelle, m'a poussé vers une autre option et j'ai fait une boîte carrée toute simple. Comme une boîte à présent. Aussitôt après l'avoir faite, j'étais un peu perplexe. Que vais-je mettre dedans ? Des bijoux ? Des perles ? … Non ! J'imagine des douceurs dedans !
Hier soir, Paprika a trouvé le patron de LA boîte -j'imagine en 5 minutes comme d'hab' !- et me l'a envoyé par email pour me faire une surprise ! N'est-ce pas adorable ? Je vais pouvoir vous la montrer bientôt.
Pourquoi parfois, lorsque je ne connais pas et que je devrais faire simple je ne le fais pas ? Même pas peur !… Au lieu de faire des cookies natures, j'avais dans la tête les adorables sablés de Fanny ! J'aime l'idée que ce soit bi-colore et j'ai donc décidé de faire une version au cacao. C'était marrant, mais comme vous pouvez le voir sur les photos, mes sablés ressemblent à des amuses bouches ! Ils ne font que 3 cm de diamètre. La raison est que j'ai divisé les proportions par deux. Je n'ai pas d'enfants affamés à la maison et je n'avais aucune envie de me retrouver avec une trentaine de sablés !
Ce n'est pas grave, ils sont petits, mais comestibles et pas trop sucré, comme j'aime ! Juste prêts à offrir !
Sources: Recette de Fanny sur Foodbeam
---
Comments
hi! I just discovered your blog and I love it!! I like your take on Fanny's sables and between the two of you, I think you've convinced me to try the recipe myself… sadly, I don't know if I'll have the will power to half the recipe, haha… oh, well, 30 sables it is! Antonio
these look great! Mansi
fanny always has excellent recipes and photos. the box is beautiful! nice job. Becky
That box is perfect for those perfect cookies ! :) Y
Those are absolutely darling and the box is just too cute! joythebaker
Thank you all for your kind comments ! Vanille
These look delish and the box is adorable! Patricia Scarpin
Hi, the box look really pretty. May i ask how did you do it? Jacelyn
Hi Jacelyn, you will be able to find tutorial on Kristina Werner's blog: http://kwernerdesign.com/blog/2007/10/tutorial-origami-box.html Hope you will share with us your box(es) ! ;-) Vanille
Good post. I just found this Origami-inspired Twitter icon at Digg, which you can use on your blog if it is running WordPress. Origami Lover