Fresh As...
September 13, 2013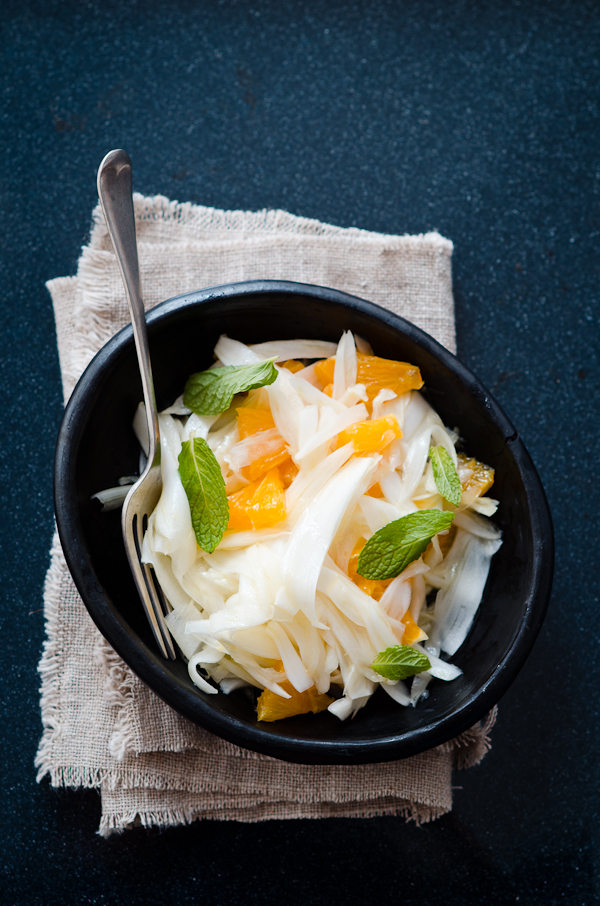 I remember eating this salad for the first time at Mike's place during one of his potluck dinners. I instantly liked the combination of flavours and textures. I've made this salad countless of time since; Sometimes with finely sliced red onion thrown in the mix, also with couscous or quinoa for a substantial version.
Here in Sydney, the weather seems to be one season ahead. Winter was like spring and spring already feels like summer... So today I prepared this lunch for one. Just a matter of minutes and here it was, a fresh and colourful salad gracing my plate.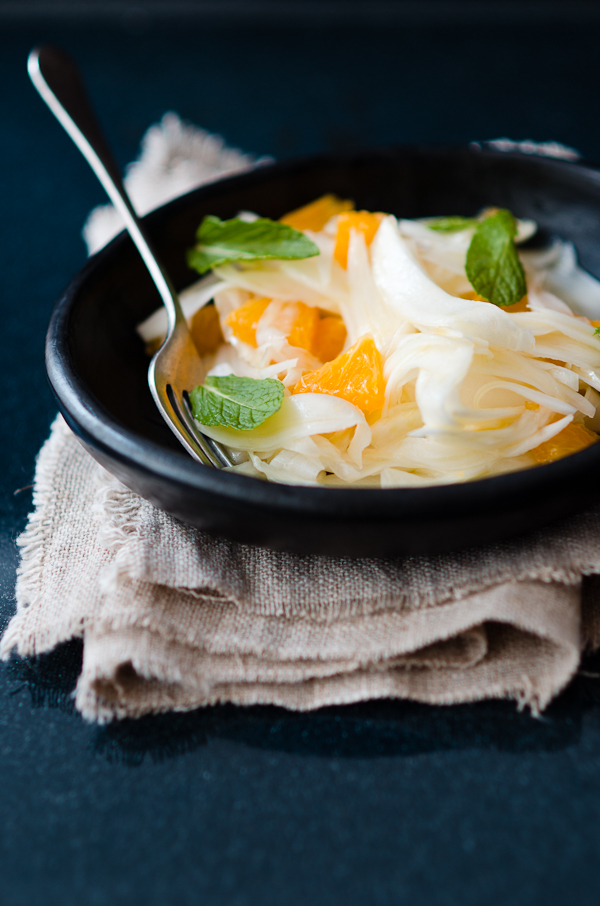 All images © Viviane Perényi

  Fennel Orange and Mint Salad (For one)

1 small fennel bulb, trimmed, finely sliced 1 navel orange, peeled and diced A handful mint leaves Olive oil, salt and pepper

In a bowl mix the fennel and orange together. Drizzle olive oil on top and season with salt and freshly cracked pepper. Let it rest for a couple of minutes. Toss mint leaves just before serving.

_ _ _ _ _ _ _ _ _ _ _ _ _ _ _ _ _ _ _ _ _ _ _ _ _ _ _ _ _ _ _

 

Je me souviens avoir goûté cette salade pour la première fois chez Mike lors d'un des dîners qu'il organise. J'ai tout de suite aimé la combinaison de saveurs et textures. J'ai fait cette salade un bon nombre de fois depuis. Parfois avec un peu d'onion rouge finement haché, ou avec du couscous ou du quinoa pour une version plus consistante.

Ici à Sydney, le temps semble avoir une saison d'avance. L'hiver était comme un printemps et le printemps ressemble déjà à l'été... Alors aujourd'hui je me suis préparé ce déjeuner. Juste une question de minutes et mon assiette était garnie d'une salade fraîche et colorée.
---
Comments
A gorgeous salad! Refined tasting and extremely enjoyable. Cheers, Rosa Rosa Mayland
Perfect salad although rather more suited to your summery spring in Sydney than our Wellingtonian version. Hope you're having fun and enjoying your new home. Domestic Executive (@domesticexec)
Killer combo! Screams summer. Love it. elizabethjaneclarke
Fabulous combination and so simple. I love it. I can imagine the crunchy fennel with the soft juicy orange. Lovely. tinywhitecottage
I love fennel salads and am always looking for new ones. This is a beautiful presentation and sounds delicious! R
This looks simply delicious! Thank you! Dena
Interesting variation with mint, never tried it! I hope your life in Sydney is good, certainly the amount of fennels and other European veggies available will be greater that NZ :-). Ciao Alessandra Alessandra Zecchini (@AleZec)
Alessandra, P and I do enjoy our life here ;) I can't tell yet for the veggies as we are still new around here… but I don't remember having trouble to find fennel in NZ, or at least in Welly… Vanille
Superbe salade ! Gisèle
I love incorporating citrus with fennel – it's like a match made in food haven :) Kiran @ KiranTarun.com
Yum looks so fresh definitely bookmarking this kristapriest
A gorgeous salad. Refreshing indeed. Lail | With A Spin
Oh that looks divine, such colours too! c cecilia
Rosa, thank you ! Tinywhitecottage, I'm glad to know you enjoy it ! R, if you love fennel you will like this one too ! Dena, you're welcome ! Domestic Executive, yes, I know the beginning of Spring in Welly remains fresh… It's a bit of a change from our life in NZ, but we love it ! Kiran, agree ;) Kristapriest, glad to know you'll try it Lail, thank you. Cecilia, thank you dear ! Vanille
I have been reading your blog and I adore your style in writing and photographs. I have been gearing to make some of your recipes yet did not get a chance to do just yet. I am always looking forward in one of your post. Shobelyn
Lovely light photos! I have some fennel in the fridge, and a grapefruit lying around - might try a version of this for lunch, thank-you. Bon appetit! Frances