Cabbage Rolls
July 27, 2013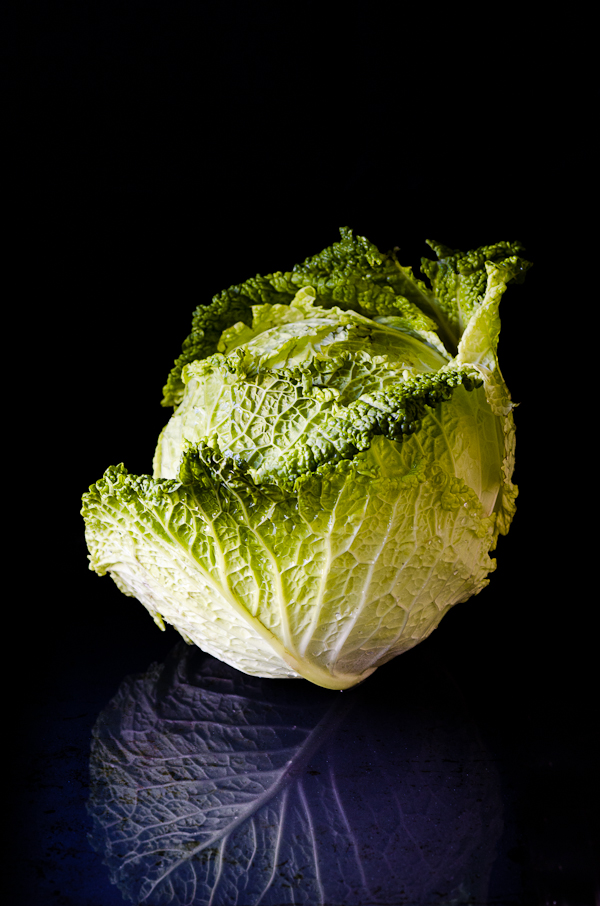 Commonly found in winter time, dressed in deep purple or nice shades of green with beautiful textured leaves, here's the cabbage.
From my childhood, I remember cabbage slowly cooked in my mother's potée de chou or finely sliced in her spicy achard de légumes. But for today it's a Hungarian inspired dish I share with you.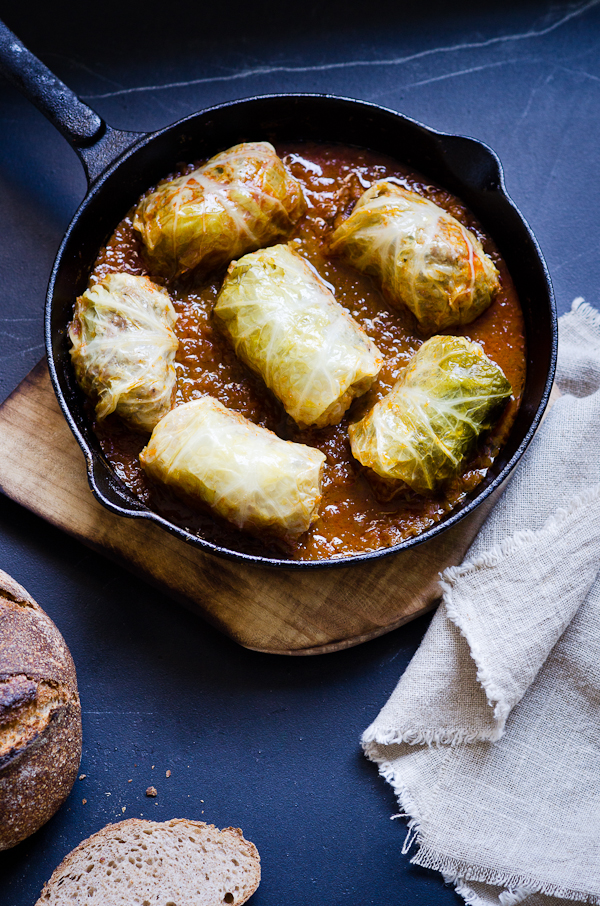 Half way between a töltött káposzta -stuffed cabbage- and a pörkölt these cabbage rolls are a personal interpretation. I used fresh savoy cabbage leaves instead of the traditional pickled ones and simmered the filled rolls in an onion rich and paprika flavored sauce. These little parcels are perfect comfort food on a chilly winter night.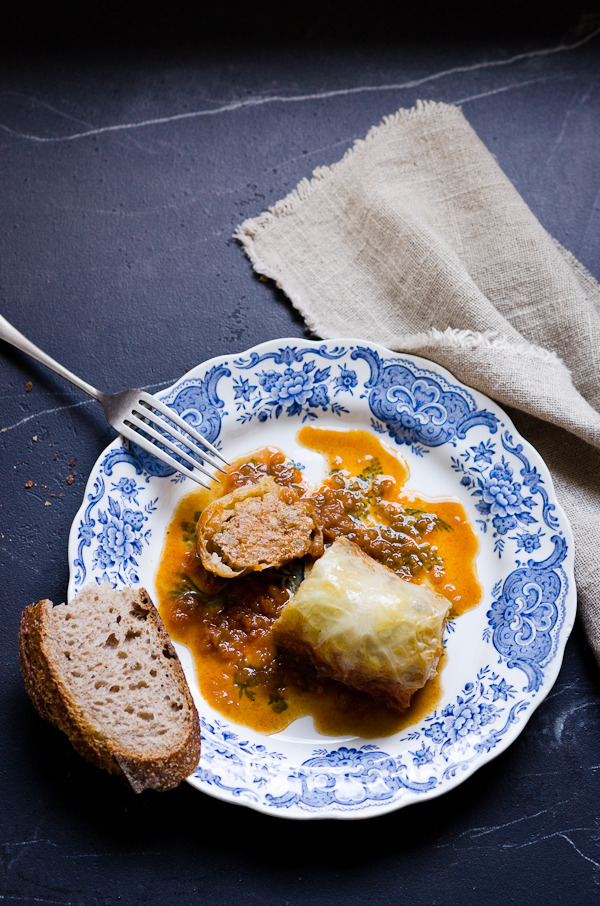 Cabbage Rolls Makes 6
385g pork mince 100g cooked rice 6 cabbage leaves salt, pepper Good pinch of paprika powder Fresh thyme and rosemary finely chopped 1 garlic clove, mashed
1 big onion, finely chopped 1 heaped tsp good quality paprika powder 250ml stock Olive oil
In a large bowl mix together mince meat, rice, garlic, chopped herbs, paprika and season liberally with salt and pepper. With a sharp knife cut horizontally to thin the thick part of the central vein of each cabbage leaf. In a large saucepan filled with boiling water, blanch one by one cabbage leaf for a minute or two and drain well. Fill each leaf with two teaspoons of meat mince, placing the filing on the base of the leaf where the vein is large. Roll the leaf on itself and fold the sides towards the centre before closing the roll. In a large saucepan, under slow-medium heat, pour olive oil to cover generously all the bottom of the pan (half cm of oil). Slowly cook onion, stirring from time to time, until the onion is soft. This may take up to 10 minutes. You want to release the juice from the onion and get them very soft. Remove the pan from the heat and add paprika and stir. Place cabbage rolls in the pan. Make sure each roll sits with the opening part facing down, touching the bottom of the pan to secure each roll while cooking. Pour the stock, season with salt and pepper, gently stir and cover. Simmer under slow-medium heat for about an hour, until the sauce has thicken. Adjust seasoning and serve hot.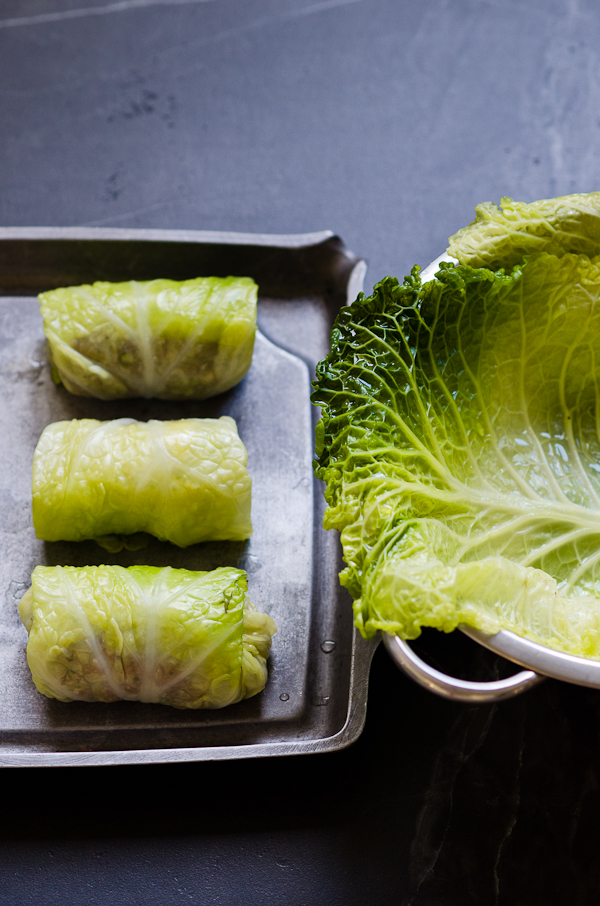 _ _ _ _ _ _ _ _ _ _ _ _ _ _ _ _ _ _ _ _ _ _ _ _ _ _ _ _ _ _ _
Coup de projecteur aujourd'hui sur le chou, que l'on trouve communément sur les étals pendant l'hiver, habillé de rouge ou de belles nuances de vert, avec des feuilles joliment texturées.
De mon enfance, je me rapelle le chou cuit longuement en potée de chou ou finement débité dans l'achard de légumes épicé que préparait ma mère</em>. Mais pour aujourd'hui, c'est un plat d'inpiration Hongroise que je partage avec vous.
A mi chemin entre un töltött káposzta -chou farci- et un pörkölt ces rouleaux de chou farci sont un interprétation personnelle. J'ai utilisé les feuilles d'un chou de Milan au lieu du chou à la saumure et j'ai laissé mijoté le tout dans une sauce riche en oignon et relevé au paprika. Ces petits rouleaux de chou farcis sont parfaitement réconfortants par une nuit froide d'hiver.
---
Comments
Scrumptious! A wonderfully comforting dish. Fabulous clicks, as always. Cheers, Rosa Rosa Mayland
Great photos. Thanks! Dena
Love your work! This is something my mother(and I) made often over the decades… I have yet to make them for my Peter. We were just talking about them the other day. lizzygoodthings
I love cabbage rolls, my grandma used to make this for me in soup, and I could never wrap as beautifully as hers. Your rolls look amazing, I keep having to scroll up and down to look at the pictures again and again! ~ Phuong ~
wonderful :)) Alacarte Kriszti
Oh… that dish is very common in my country-Poland (perhaps eastern Europe in general) and it is called GOŁĄBKI :) I love it! My Mother and Grandmother used to do it same as you. It is made of fresh cabbage mostly during summertime. I like your blog very much but it is first time I let my comment, so warm greetings to you :) Karolina
Oh, I'm finding myself wishing it was winter in this part of the world so I could justify making this! It's bookmarked for October, yum yum! limeandbarley
Your photos are absolutely stunning… bitebymichelle
Yummy and so comforting!!! Kiran @ KiranTarun.com
I made cabbage rolls the other week and put up on my blog, they too bring back childhood memories :-) kristapriest
I can almost smell those…and they are beautiful, too! Betsy
These cabbage rolls look scrumptious! Ada ~ More Food, Please
Yesterday was a challenging day, so the perfect answer was cabbage rolls. Yours look and sound fabulous. My husband ha Ukranian ancestry so here's my take on what he calls "little birds" Thanks, Glyn glyn50
[…] View Recipe Ingredients & Preparation Instructions […] Cabbage Rolls | Recipe Archive
Rosa, thank you dear ! Kiki, I'm glad to hear ! Food memories are the sweetest. Karolina, you're right it's a popular dish in all East European countries. Thank you for sharing and naming the Polish version and your kind words are much appreciated ! LimeandBarley, let me know how it turns out for you then ! BitebyMichelle, thank you very much ! Kiran, indeed ! Kristapriest, we are on the same wave length then ;) Betsy, thank you ! Ada, thank you ! Kriszti, köszi szépen ! Dena, you're welcome ! Lizzy, thank you. That's indeed a satisfying meal ! Vanille
I grew up with these "golubtsi" and eat them from time to time when I'm feeling nostalgic. I love the plated image with the open cabbage roll. Tanya Zouev
Bringing back memories with this dish.. I'm from a Greek background and my grandmother used to make it all the time. I haven't had it since I was a child and I think I'm going to have to make this recipe! Thank you x webber03
Amazing! We make something similar in Greece, as mentioned before, either with lemon or with tomato sauce. We love it! Thank you for your all your wonderful posts! Dimitra
delicious little parcels of goodness! Jasmine
Gorgeous, everything….the images, the food, the presentation, absolutely fabulous. :) Nelly Andon
[…] on her cooking. You can find french clafoutis and madeleines, hungarian kalács, túrós táska and cabbage rolls aside with recipes that are inspired by the natural produce of New Zealand and La Réunion, where […] Food blogs I love: @ Downunder | nadel&gabel
OH wow! I am absolutely loving the look of these leafy rolls? This is just something I am craving for. I love cabbage rolls, as they are packed with surprise whenever we eat them! purabinaha
Your recipe brings back lovely memories - my grandmother used to make these for the whole family every once in a while. Now my mother and godmother cook it once in a blue moon… Kiki
[…] Töltöt káposzta egyik kedvenc bloggeremtől  […] Válogatás és egy frappé - etelerzes.hu
[…] roll, simmered in stock. Traditional, but perhaps… a little bland sounding? Then I found this recipe from At Down Under which takes the simplicity of the golabki to a more interesting place, with […] Risotto-stuffed cabbage parcels in tomato sauce | Lime & Barley